Chicken with Caramelized Onion Cream Sauce
Pan Seared Chicken Quick Recipe
Succulent pan-seared chicken with creamy caramelized onions is most loved French inspired chicken recipe. Foundation for this recipe is caramelized onions. Caramelizing onions releases sweet onion flavor and addition of little heavy cream results in a silky creamy sauce.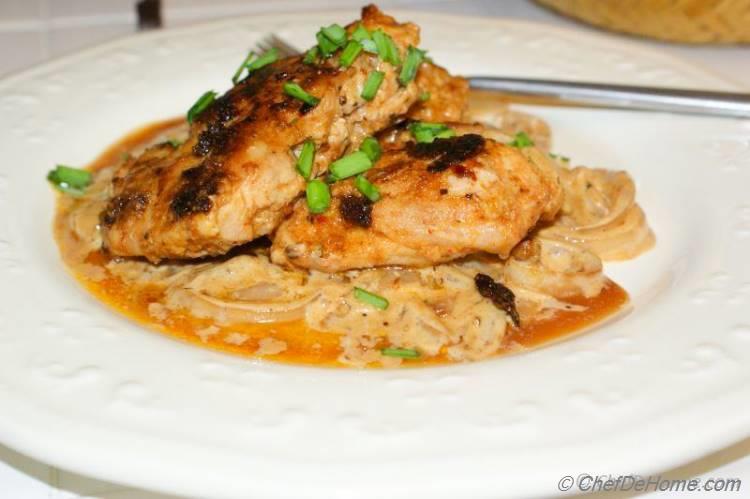 For some extra flavor, I have marinated the chicken instead of using just salt and pepper. Marination will help chicken adsorb a lot of flavor and that really enhances the taste and texture.
If you do not like cream sauce, you can even serve this marinated pan-seared chicken on top of a pasta marinara or pasta carbonara.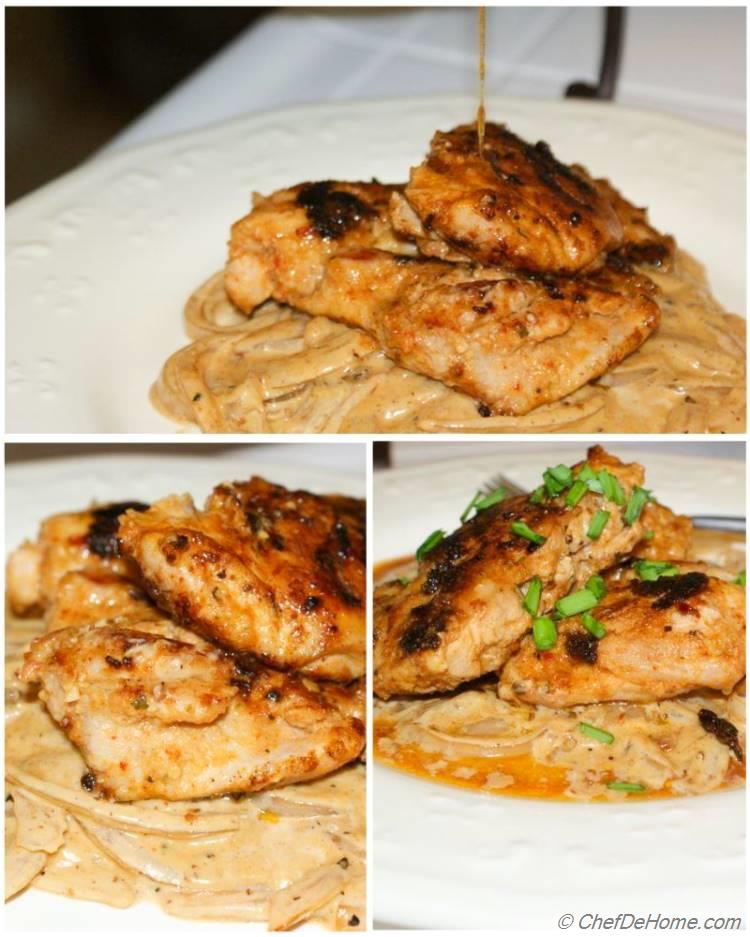 While searing chicken, make sure to reserve the juices collected at the bottom of pan. These juices drizzled over cream sauce take dish to whole new level. 
Chicken with Caramelized Onion Cream Sauce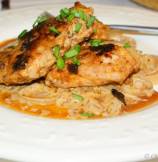 Total Time:
Prep Time:
Cook Time:
Cuisine:
American
(

Main Course

)
Difficulty:
Easy
Yields:

2 Servings

- Serves:

2
Ingredients
1 lbs Chicken

(Chicken Breasts)

1/2 Cup Heavy Cream

1 White Onion

(cut discs or half moons)

Salt and Black Pepper

(to taste)

1 tbsp Garlic

(2-3 fresh garlic cloves, fine minced, or use paste)

2 tbsp Orange Juice

1/2 tsp Red Pepper Powder

1/2 tsp Salt

1 tsp Ginger

(paste)

1/2 tsp Grill Mates Chicken Seasoning

(if can't find, make your own, check in notes.)

1 tsp Coriander Powder

1/4 tsp Red Chili Paste

(sambal chili paste or sriracha, optional, use only if you like spicy.)

3 tbsp Olive Oil

(1 tbsp for marinade and rest to sear chicken)
Directions
1.

In a bowl, mix all ingredients for marinade : 1/2 tsp salt, red chilli paste, coriander podwer, red pepper powder, ginger, garlic, grill mate seasoning and olive oil.

2.

Marinate Chicken in this marinade for 10 to 30 minutes.

Additional Notes:

For better flavor, marinade at least for 30 minutes.

3.

Heat 2 tbsp oil in pan, when oil is hot, sear chicken until fully cooked, about 7-8 minutes each side. Make sure not to press chicken with spatula while cooking because that release all good juices and chicken will end up being very dry.

Additional Notes:

If in hurry, I loosely cover chicken breasts in plastic wrap and then pound gently with back of a heavy bottom pan until about 1/4 inch thick. This tenderizes the chicken, chicken stays moist when cooked, and above all makes it super quick to cook, just 2-3 minutes per side.

4.

Transfer the cooked chicken to a plate. Also reseve the juices collected in the pan. In the same pan, add sliced onion and cook until onions are slightly caramelized.

Additional Notes:

You can also keep chicken warm in oven while working on the sauce.

5.

Onion will become soft when caramelized and will absorb all chicken flavor from pan.

6.

Add salt, pepper,cream and then cook on low heat.

7.

Cook on low heat until cream has thickened, reduced and has taken wonderful caramel color from onions.

8.

Serve chicken pieces on bed of caramelized onions cream sauce. Drizzle reserved juices (collected in the pan in which chicken was resting) on top and garnish with some fresh chives. Serve immediately.
Savita's Recipe Notes:
I have used Grill Mates Montreal Chicken Seasoning by McCormick. To make you own chicken seasoning, Mix 1 teaspoon each of garlic powder, onion powder, black pepper, dried parsley, dried oregano, and 1/2 teaspoon of crushed black pepper, paprika, cayenne, and salt. Keep remaining seasoning in an air-tight container. Perfect for grilling chicken, Use as dry rub or like I added to this wet chicken marinade.
Reheating - If not serving immediately, cream sauce tends to get very dry. Keep both, cream sauce and chicken refrigerated until ready to serve, in separate containers. Before serving, add cream sauce to a pan, add 1/4 cup chicken stock and bring to a simmer stir well to loosen the sauce, remove from heat. Warm the chicken and serve as suggested in the directions.
© Chef De Home. All contents and images are copyright protected. DO NOT copy or re-use content/images/videos. For all content/post mentions with link back, contact ChefDeHome for permission.