This recipe is Copyright of ChefDeHome.com

Pasta in Vodka Cream Sauce
Tomato Cream Sauce
Try step by step recipe for Pasta in Vodka Cream Sauce. Prepared with Tomato, cream and little vodka, this is an easy yet very elegant recipe. You can also make sauce ahead of time and refrigerate it for later use.
Craving for more?
Join us: Weekly Newsletter, Facebook, Google, Twitter, Pinterest
Shop products we use: CDH Amazon Shop (affiliate links)
Pasta in Vodka Cream Sauce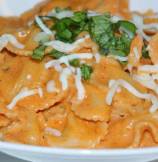 Total Time
Prep Time
Cook Time
Serves
2
Ingredients
1 and 1/4 Cup

Marinara Sauce

(Or use canned tomato sauce (like Hunts Tomato Sauce))

1/4 to 1/2 Cup

Heavy Cream

1/4 Cup

Vodka

1/2 lbs

Pasta

(Bow Tie Or Penne Pasta)

1/2 Cup

Parmesan Cheese

(grated Parmesan Cheese)

5-6

Basil

(fresh basil leaves)

1 tbsp

Olive Oil

Salt

(adjust per taste)

1/4 tsp

Black Pepper

(Crushed)
Directions
1.

To boil pasta, bring pot of water to full boil and add generous amount of salt (Approx. 1 tbsp). Boil pasta in this water till al-dente or cook pasta as per package directions (regular penne pasta takes about 6-8 minutes).

2.

Heat 1 tbsp oil in a pan. Add marinara sauce and cook for 2 minutes. Now add vodka and continue cooking for 2 more minutes. Never pour vodka in hot pan straight from bottle, always use a small cup to add required quantity.

Additional Notes

If using plain tomato sauce, saute (for 30 seconds) 1 fine minced clove of garlic in oil before adding tomato sauce for some extra flavor.

3.

Now add 1/4 cup heavy cream, add crushed black pepper, taste and adjust salt. If sauce feels very tart, add 1-2 tbsp more cream, cook with cream for 1 minute and then remove from heat.

4.

Add cooked pasta, all but 2 tbsp of Parmesan cheese (leave 2 tbsp for garnish) and 2 tbsp of pasta water to marinara. Toss everything very gently. Garnish with fresh basil leaves and some remaining grated Parmesan Cheese. Serve immediately and enjoy easy Italian at home!!
© Chef De Home. All contents and images are copyright protected. DO NOT copy or re-use content/images/videos. For all content/post mentions with link back, contact ChefDeHome for permission.

Craving for more?
Join us: Weekly Newsletter, Facebook, Google, Twitter, Pinterest
Shop products we use: CDH Amazon Shop (affiliate links)
What would you like me to cook next?: Request a Recipe