Pasta in Vodka Cream Sauce
Delicious and easy Tomato Cream Sauce flavored with Vodka and Cream, for a restaurant quality Penne Alla Vodka dinner at home!
Posted On:

Sep, 7
| Author:

Savita
Let's skip the delivery!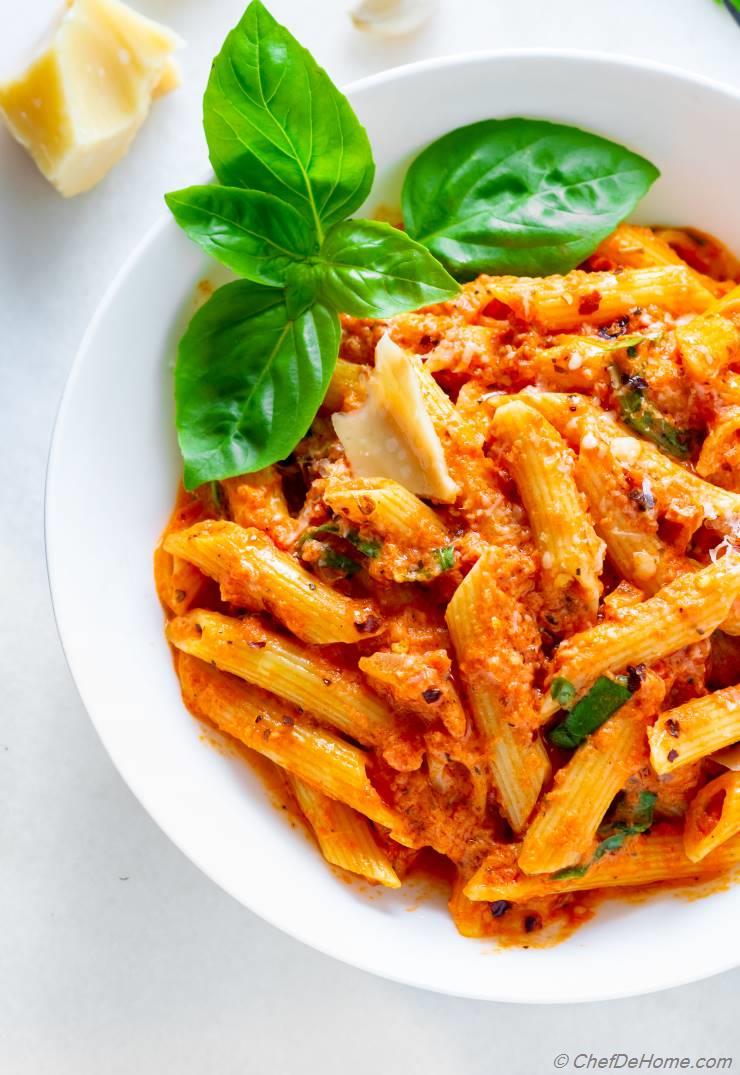 Try step by step recipe for Pasta in Vodka Cream Sauce. Prepared with tomato, cream and vodka, this is an easy yet very delicious Pasta Sauce recipe. You can also make sauce ahead of time and refrigerate it for later use, add chicken or veggies for restaurant-style Pasta Dinner at home. Only 20 minutes Cook Time starting with made-from-scratch Tomato Sauce. 
The addition of few basic pantry ingredients, vegetables, vodka, and a splash of cream (okay - a generous splash of cream) transforms an humble tomato sauce into a much more luxurious Vodka Cream Sauce. You will love the flavors.
This recipe for Vodka Sauce with cream is one of our family-favorite Pasta Sauce. No kidding! This is the reason, I shared Vodka Pasta on blog, (one of very initial recipe) 5 years ago.  In-fact, there are many variations of Tomato Cream Sauce such as Pasta Penne Rosa, Masala Pasta that I have shared in these years.
Recently, when I made pasta with this creamy vodka sauce again, I decided to revive this recipe. Today, I'm updating the pictures, description, improving the directions, and also adding additional details to make Marinara (the base tomato sauce for Vodka Pasta) Sauce from scratch.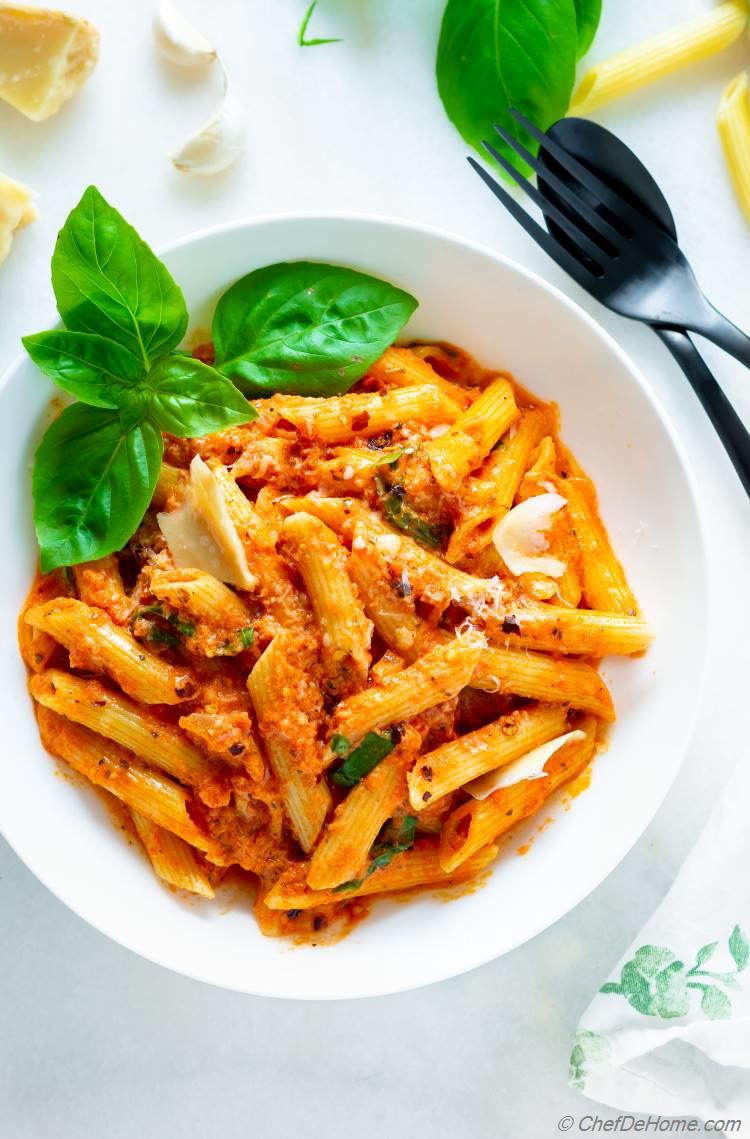 Original recipe called for using a good quality marinara/tomato sauce. When I don't have store-bought Marinara Sauce in-hand, I often reach for a can of plum tomatoes from pantry. This is one ingredient I always have in plenty. Really, there are endless list of recipes which needs Tomato Sauce. So, good Canned tomatoes gives me option to make a restaurant quality tomato sauce in minutes. Pasta Puttanesca, Pasta All Norma.. all need magic of Tomato Sauce. 
Note: I'm soon updating my all-purpose Marinara (Tomato Sauce). Check back again.
Key Ingredients for a Tasty Vodka Sauce:
Clearly, Vodka Tomato Cream Sauce.. the name says it all. The quintessential three ingredients which make a killer tasty Vodka Sauce are 1) Vodka, 2) A good quality Tomato Sauce, 3) Cream. You can pull a delicious family pasta dinner of Penne All Vodka if you have penne pasta and above three. 
Vodka Tomato Sauce:
To make Tomato Sauce, I start by sauteing onion and garlic until onions are just soft. I use mixture of olive oil and butter for more flavor and rich creamy sauce. Once onions are soft, I cook aromatic for 1 minute before de-glazing pan with Vodka. It is important to cook-off alcohol in vodka before adding tomatoes. (about 3 minutes on medium high heat and onions are infused with delicious and subtle vodka flavor, plus alcohol is gone.) 
Next, I add pureed plum tomatoes. Pureeing tomatoes before adding to sauce saves time. I don't re-puree the sauce after it is cooked. I personally don't prefer the cooked pureed sauce because it muddles the color/shine/flavor of sauce, making it more soup-like. (If you don't like the onions in sauce, you can puree the sauce after cooking. In that case, you can even use whole crushed tomatoes and puree everything later).
Once aromatics and tomatoes are cooked, the oil surfaces on top. This is the clear indication of a good, robust and delicious tomato sauce.
Creamy Sauce:
In my humble opinion, cream makes Vodka Sauce the Best Vodka Cream Sauce! 
My family will only eat pasta Vodka Sauce with cream. For silky, signature (restaurant-style) vodka sauce, cream is must have. It is even more important than vodka. :)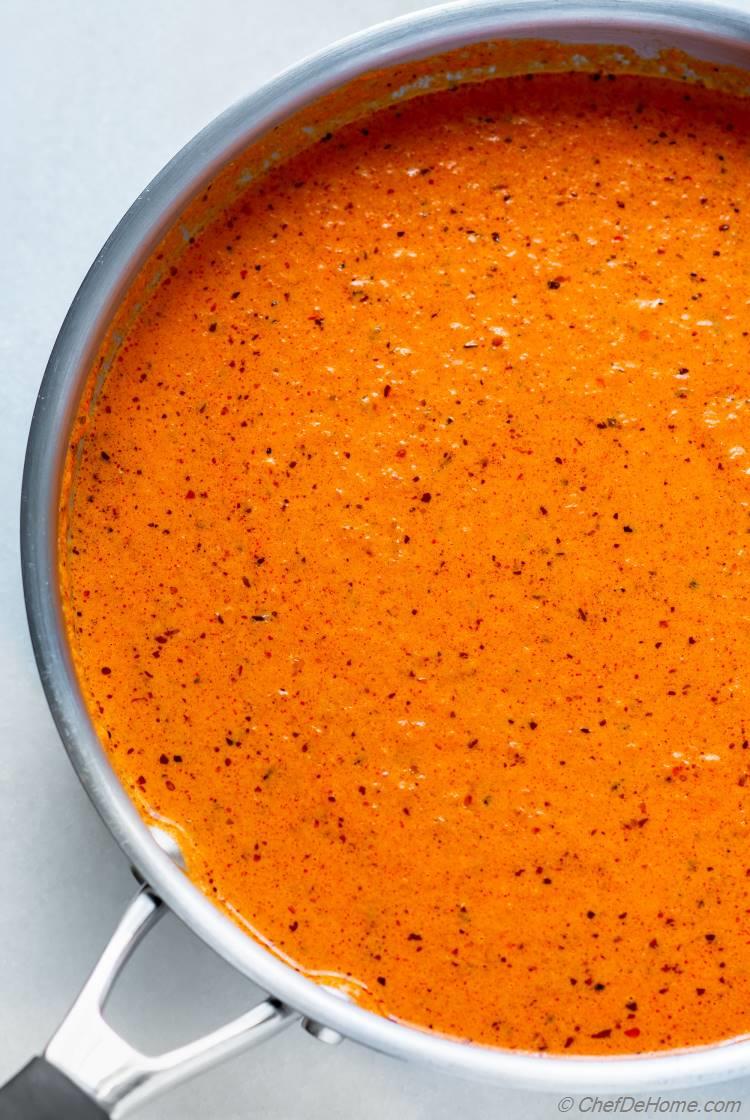 I add cream and heat sauce very briefly until it thickens a bit and comes together. Cream makes sauce smooth, also mellow-down the flavor of tomato sauce. For best results, use good quality heavy cream (double cream).
Note: Half and half (half cream, half whole milk) does good job too and make sauce bit lite.
Make Vodka Sauce Ahead of Time
Vodka Sauce can be made up-to 3-4 days ahead of time. Only make sure that ingredients used for the sauce were within freshness date. I'm specially referring to cream. Check the fresh date of cream or use following approach:
1. Make-ahead Vodka Sauce up-to step 3 in directions. At this time, it will be a Tomato Vodka Sauce. Let it cool and come to room temperature. Pour in tight lid container, refrigerate until ready to use.
2. When ready to use, Add back to pan (no more oil needed). Add heavy cream and heat until sauce is creamy. Use as desired.
(If you plan to use Vodka Sauce within few days, and cream used is freshly bought. It is okay to even make complete sauce ahead of time and refrigerate.)
Pasta for Vodka Cream Sauce
Pasta with Vodka Cream Sauce is the best way to enjoy this homemade sauce. In pasta, I often use one that has groves to hold on to creamy sauce such as Penne or fold into creamy sauce such as Spaghetti. Bow Tie Pasta (used for this recipe when I shared first time, old picture below) also works well.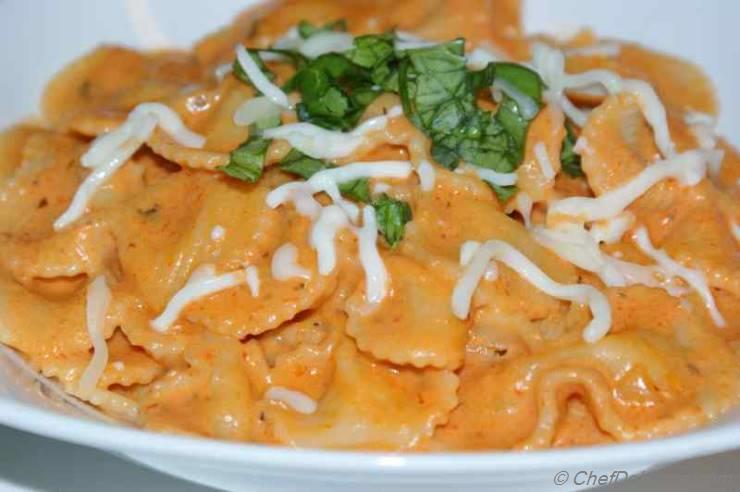 Use of penne makes this recipe signature Penne All Vodka. Use of spaghetti makes this Spaghetti Marinara Cream Sauce Pasta! SO many options! (this is the magic of cooking at home). Add a serving of chicken or veggies and this pasta sauce will still be well received. I promise. 
Oh, I also recommend layering Vodka Cream Sauce in Lasagna, or use as base for Ratatouille (my personal favorites).
Thank you for listening to this Home Chef. :)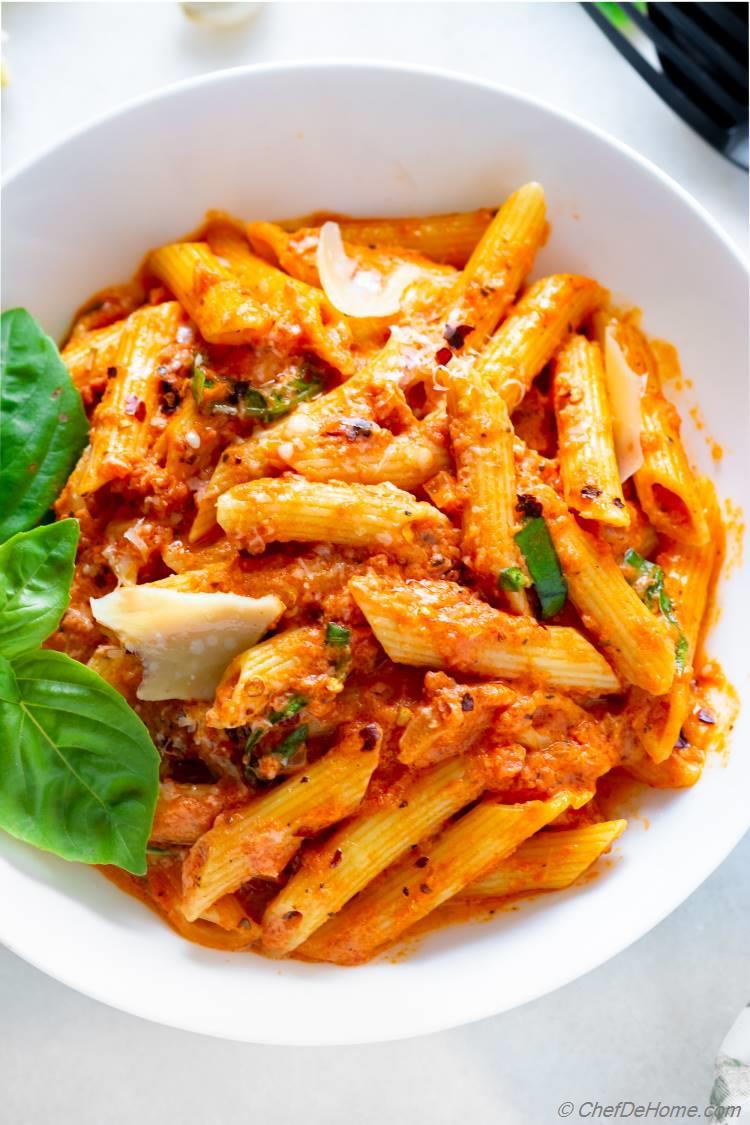 Save Time - Cook Pasta while Making Sauce:
To make Pasta with Vodka Cream Sauce, I cook pasta at the same time I'm making the sauce. This dual work saves me lot of time. By the time pasta cooks, the sauce is almost ready. It needs about 15-20 minutes to make this cream sauce for pasta. Most general pasta brands take 10-12 minutes to cook al-dente plus the water boiling time. (both done about the same time)
Once pasta is cooked, add it to ready cream sauce with Parmesan cheese, fresh basil. (Reserve some pasta water to adjust consistency of sauce.)
Note: Use a wide, deep saute pan to make sauce, so that you can assemble whole pasta dish in one pan.
That's it!
Vodka Cream Sauce Pasta is ready to devour!
Enjoy!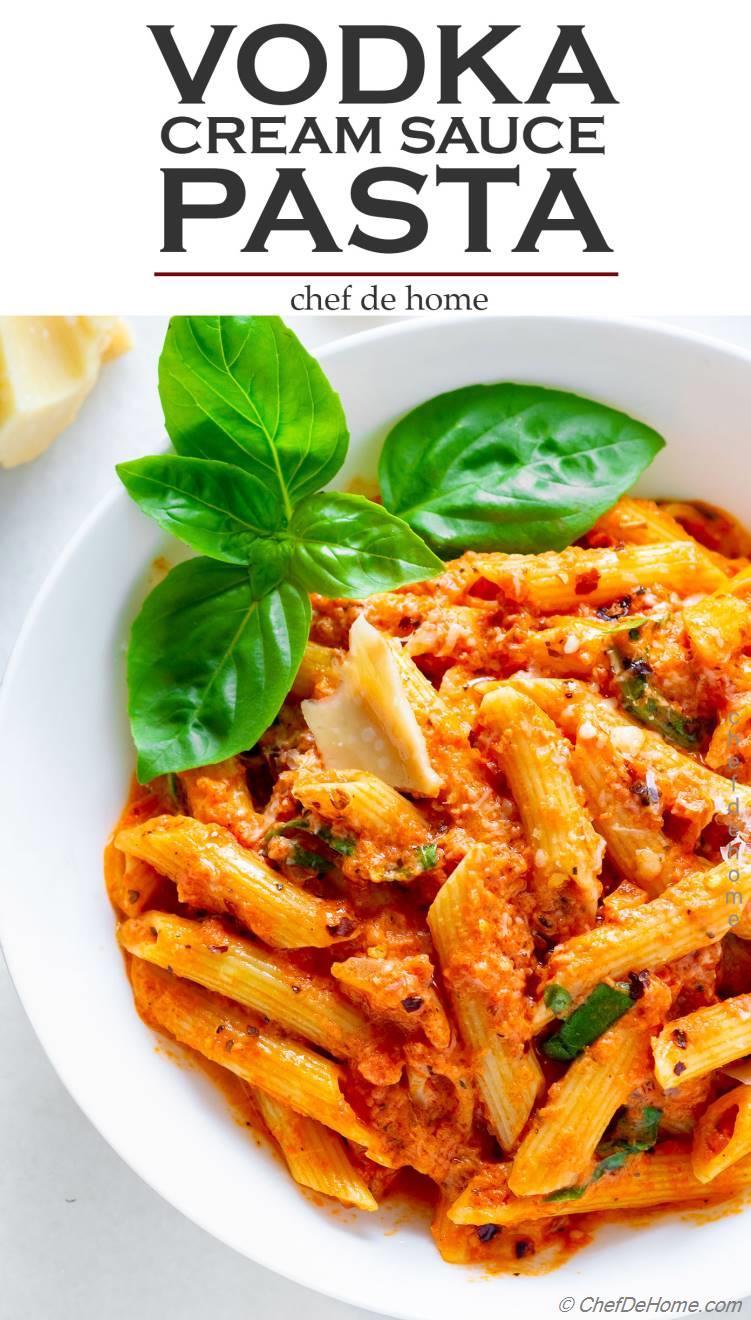 Leftovers are perfect to pack for lunch. (But in-case you enjoyed it all? :) I hope you save some Vodka Sauce because you will be craving "Vodka Cream Sauce Pasta" soon, again!)
-Savita x

Pairing Ideas:
Pasta in Vodka Cream Sauce
review

)
(1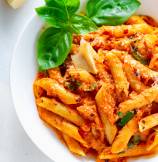 Total Time:
Prep Time:
Cook Time:
Cuisine:
Italian
(

Pasta, Main Course

)
Difficulty:
Easy
Yields:
4-5 Cup Sauce
- Serves:
4
(

No. of servings depends on serving size.

)
Ingredients
Vodka Cream Sauce
Cream Sauce Pasta
Directions
1.

Cook Pasta: To boil pasta, bring pot of water to full boil and add generous amount of salt (approx. 1 tbsp). Boil pasta in this water until al-dente or cook pasta as per package directions (regular penne pasta takes about 11-12 minutes).

2.

In a wide, deep, heavy bottom pan, heat 2 tbsp oil and 1 tbsp of butter. When butter melts, add diced onion, and garlic. Sweat onions in oil until they are just soft. (2 minutes. Don't let garlic/onion burn.) Add herbs, and chili flakes and continue cooking for 1 minute. Now add vodka and cook for 3 minutes so that alcohol evaporates leaving behind the flavor only. Add pureed tomatoes, with 1/2 tsp of salt. Cook covered for 7-8 minutes or until oil shows on top.

Additional Notes:

Vodka Sauce with *Pre-Prepared Tomato Sauce. Use Step-2 as described in Notes.

3.

To make Vodka Cream Sauce, add 1/2 cup heavy cream, and crushed black pepper. Mix well, taste and adjust salt. If sauce feels tart/need more creaminess, add few more tbsp heavy cream, cook with cream for 1-2 minute and then remove from heat.

4.

Add in cooked/drained pasta, all but 2 tbsp of Parmesan cheese (leave 2 tbsp for garnish) and couple of tbsps of pasta water to sauce. Toss everything very gently. Garnish with fresh basil leaves and some remaining grated Parmesan Cheese. Serve immediately and enjoy easy Italian at home!!
Savita's Notes:
*Store Bought Marinara Sauce:
Step-2 when Using Prepared Marinara Sauce In a wide, deep, heavy bottom pan, heat 1 tbsp oil and 1 tbsp of butter. Add garlic and let perfume oil for 30 seconds. (don't let garlic burn). Add chili flakes, and dried herbs. Continue cook for 30 seconds. Now add **vodka and continue cooking for 2 minutes so that alcohol evaporates leaving behind the flavor only. Now, add marinara sauce and cook for 2 minutes on medium heat.

**Never pour vodka in hot pan straight from bottle, always use a small cup to add required quantity.
DID YOU MAKE THIS RECIPE?
Tag
@SAVITACHEFDEHOME
on Instagram and hashtag it
#SAVITACHEFDEHOME
© Chef De Home. Post content including video and photos are copyright protected.
We Think You'll Love