Vegan Asparagus Soup
Vegan, gluten free, and creamy fresh Asparagus Soup without creams.
Posted On:

Apr, 6
| Author:

Savita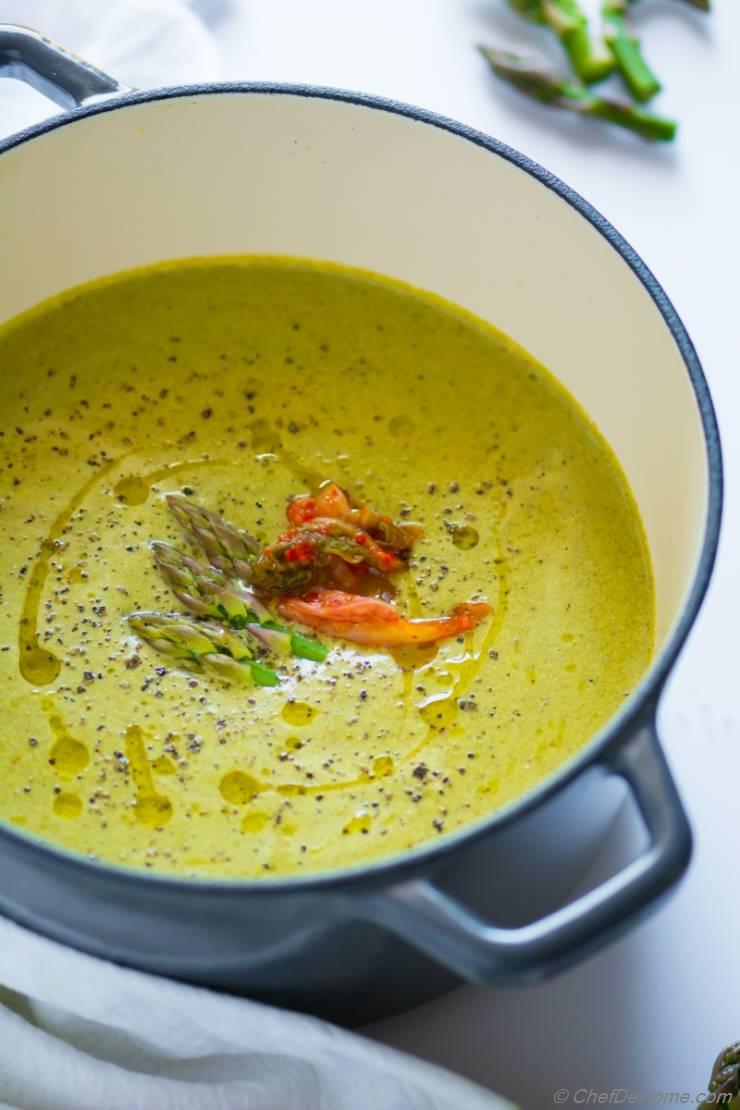 Creamy Asparagus Soup with a subtle spicy kick, prepared with fresh asparagus, sweet leeks, spinach and no creams... and Thai-style flavors of fresh ginger, chili, garlic, cilantro, lemon, and coconut milk.. Plus can't beat the tangy-spicy finish with kimchi.. with bonus of gut-friendly pro-biotics. Gluten free, vegan, also Whole30 diet friendly.
I must add that this mighty-bowl soup is not just healthy but also filling and PERFECT meal for this season of fresh spring mornings and still cold breezy nights.
Above all, it is an easy asparagus soup recipe which comes together super fast! Just in 20-25 mins.
I call such quick fixes a perfect weekday dinner! Easy, fast, delicious, and healthy too!
Asparagus + vegan + kimchi + Asian ingredients is not first time in my kitchen. This soup is inspired from one my old Pan Sauted Kimchi Asparagus recipe.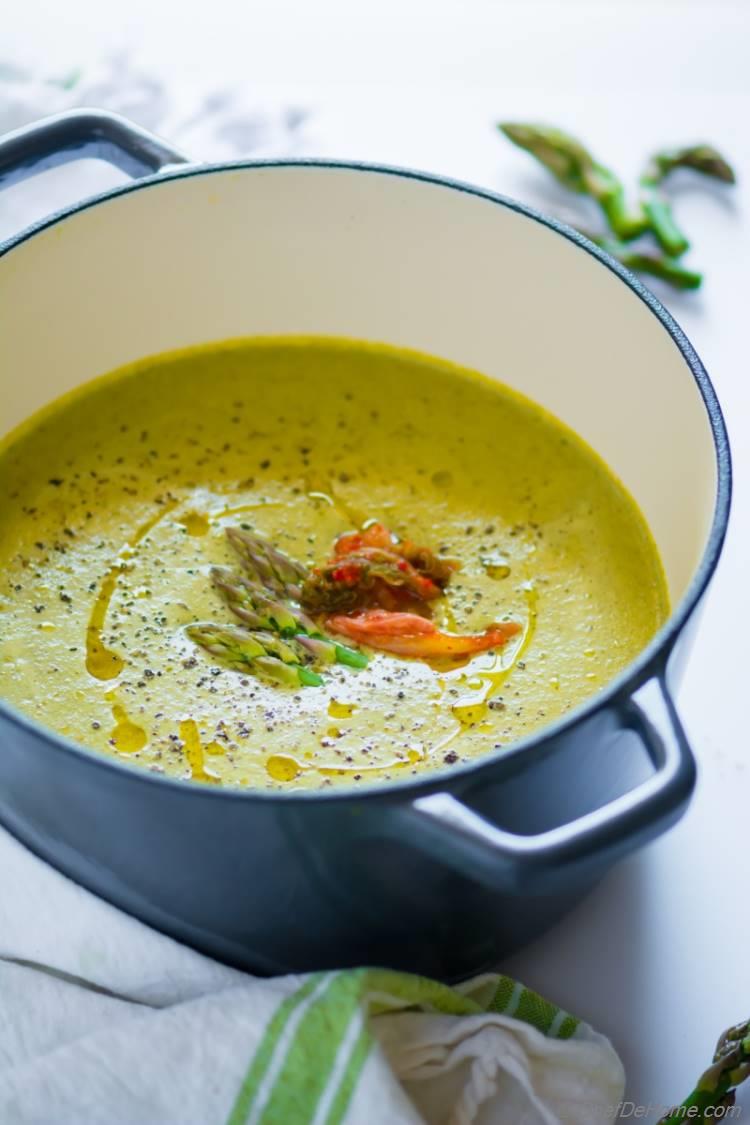 Why Asparagus Soup?
You guys! Asparagus is must-have in month of April!
Don't you think?
Even though we see it for many months during spring-summer season... March-April crop is so plum, fresh, and sweet.
Asparagus is one mighty vegetable loaded with potassium, vitamins, and dietary fiber. so good for you. Plus this simple veggie you can serve be served roasted, blanched, or sauteed with pinch of salt.. and it will still make any plate of food healthy and delicious. I usually call asparagus Better Than Green Beans
It is very important to cook asparagus properly. Just like green beans, too long cooking will make'em pale and mushy.
However, when used in soups.. it will be okay to cook'em a little more. Yes, the soup color will not be as green but taste will be amazing. Actually, if you just starting to use asparagus in cooking? I would say, start with an easy soup such as this one. Asparagus is a little expensive vegetable. So, soup will be a perfect way to not worry about wastage and make a delicious seasonal vegetable dinner.
On a side note, I had full plans to devote this whole week to Asparagus Recipes.. but life got in the way. Stay tuned, I'm sending all that deliciousness your way as soon as possible! :)
Did I say, this soup fly from kitchen to dinner Table?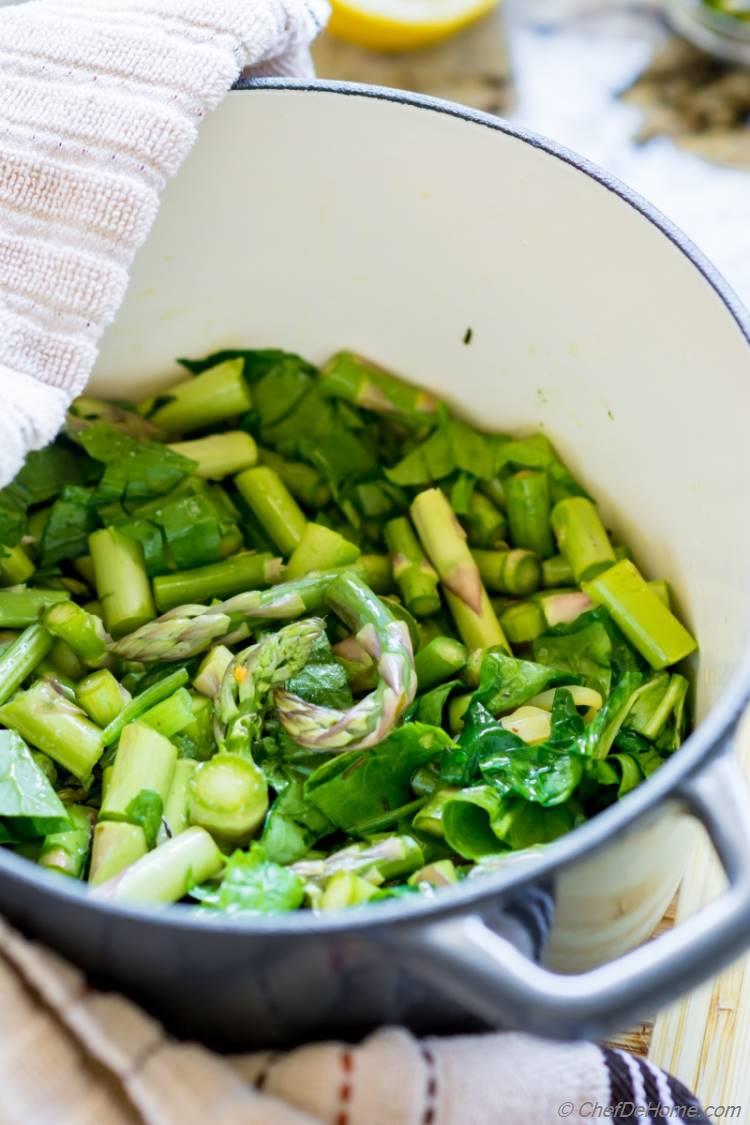 To prepare asparagus soup, I start by trimming the hard stems of asparagus, peel ginger and rough chop all veggies along with yellow part of leeks. I like to use only yellow part of leek because these are sweeter and melt in soup. (I usually reserve green parts to make vegetable stock.)
Once aromatics are sauteed and soft, I saute asparagus for 1 minute, then add spinach, generous pinch or two of salt...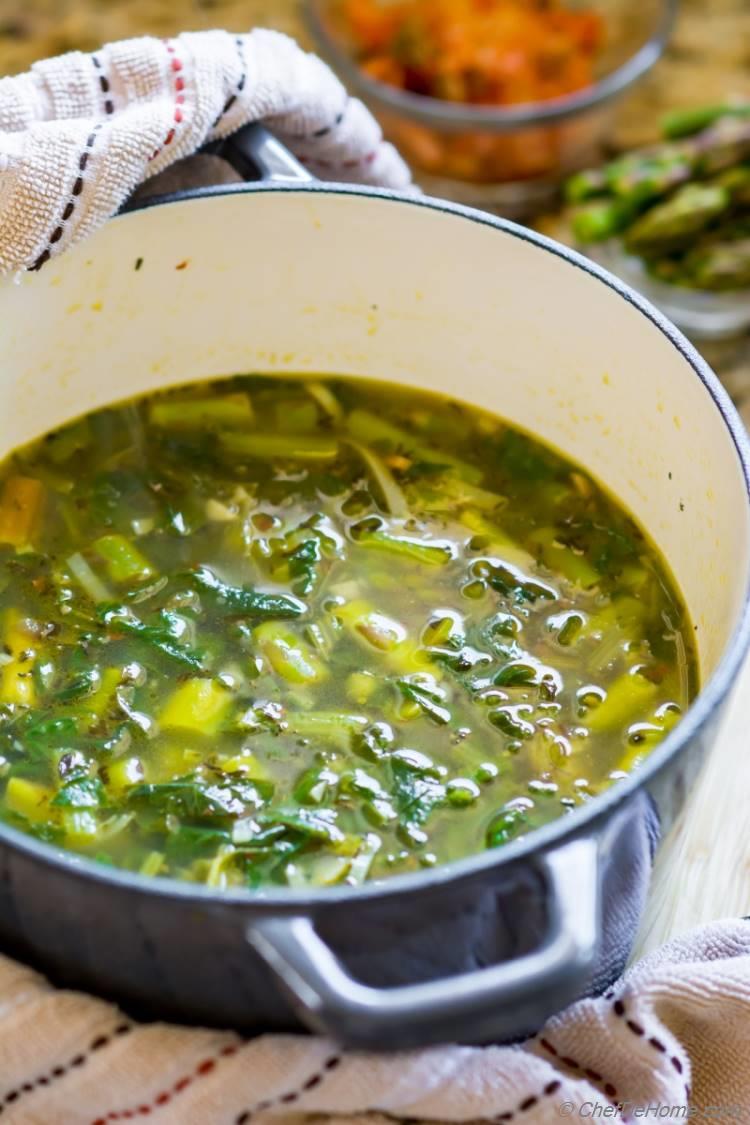 ...and vegetable stock diluted with some water.
Boiling all ingredients for 10 minutes (fresh asparagus takes 7-10 minutes to get tender) enhance the flavor of soup, and it is ready to puree.
I have used immersion blender to puree this batch of soup. You can also puree it in stand mixer. Once pureed, I return soup back to pot, warm it up with coconut milk and adjust seasonings. At this point, I taste and adjust seasonings. (very important)
That's it! Soup is ready to serve! Was it fast or waHt?
Notes:
1) I was after the nutrients of asparagus and spinach... So, I decided to cook both together with homemade vegetable stock. The addition of homemade stock even adds to overall nutrition value of the soup. For more vibrant green soup, feel free to add spinach just before pureeing.
2) Also, due to acidity of lemon, cream-bases tend to curdle. I recommend adding coconut milk just before serving. Serve immediately is the key.
3) If you thinking: Kimchi, how is it vegan? Well, I found a brand recently which was vegetarian and vegan. So all those kimchi lovers, now you can eat vegan kimchi now!
PS: I'm not paid or a spokesperson for this brand. Please use if you like. Asparagus soup is vegan with this kimchi or without.

Friends, bring home some asparagus this weekend and invest in some healthy asparagus recipes. Make a batch of this creamy asparagus soup, add some to salads, saute with some chicken! Enjoy the veggie of season.
Have a wonderful weekend!
-Savita
Vegan Asparagus Soup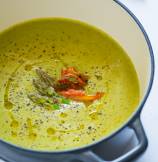 Total Time:
Prep Time:
Cook Time:
Cuisine:
American
(

Soup, Side Dish

)
Difficulty:
Easy
Yields:
1.5 quart soup
- Serves:
5
Smart Swap: Soup is pretty smart already!
Directions
1.

Saute Aromatics

:

Heat 1 tbsp of oil in a heavy bottom pot. Add chopped leeks, garlic, chili flakes, ginger, and thyme. On medium heat, saute until leeks are soft (4-5 minutes) Don't let garlic burn.

2.

Simmer Soup with Asparagus and Spinach

:

Add rough chopped asparagus with 1/4 tsp of salt and saute for 1 minute. Then add chopped spinach, 1 cup water and 4 cup vegetable stock. Bring to boil, reduce heat and cook for 8-10 minutes or until asparagus is soft.

3.

Puree Soup

:

Add chopped cilantro, lemon juice. Using immersion blender or stand mixer, puree soup in 2-3 batches. Return soup to pot (heat on), add coconut milk and mix well. Taste and adjust salt (I added about 1/2 tsp salt). Add black pepper to taste.

4.

Garnish and Serve

:

Serve immediately with garnish of kimchi and asparagus shoots. Drizzle remaining olive oil and black pepper before serving (optional). Enjoy!
DID YOU MAKE THIS RECIPE?
Tag
@SAVITACHEFDEHOME
on Instagram and hashtag it
#SAVITACHEFDEHOME
© Chef De Home. Post content including video and photos are copyright protected.
We Think You'll Love