Easy Ratatouille Stew
Posted On:

Aug, 8
| Author:

Savita
Today, I captured all flavors of my old Ratatouille Recipe to give you this easy and simple Ratatouille. Ready in half time, vegan, and gluten free.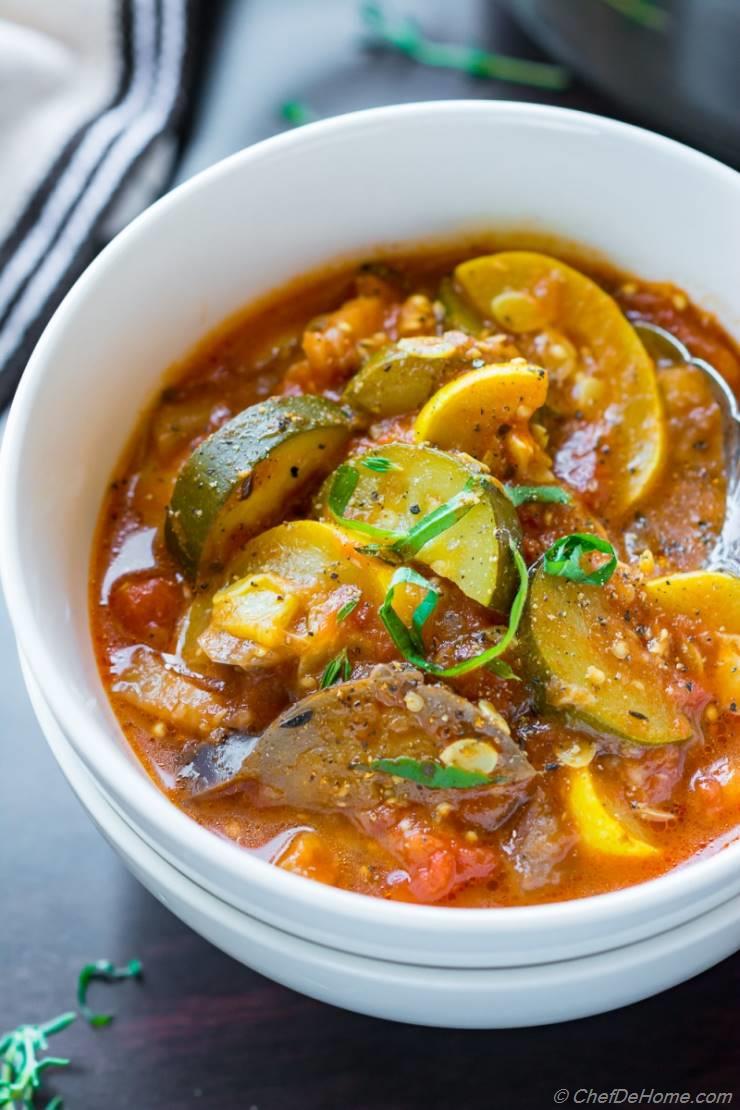 If you love Ratatouille, you will fall in love with this easy ratatouille, prepared like a stew. This is my simple and quick take on traditional Ratatouille recipe. Also, it is vegan, paleo, gluten free, and whole 30 diet friendly. 
Growing up, I was not squash or eggplant fan. I don't have kids and I always thought kids don't like these veggies. But your amazing emails, of kids demanding ratatouille, surprised me. Conclusion is, if a veggie is related to kid's movie and prepared just like movie.. Kids will eat it. Not just that, will also demand for it. So, if you are planning to impress your picky eaters - I recommend trying my original ratatouille recipe (fancy like ratatouille movie). If they are already on-board, then this easy ratatouille stew will save you ton of time.
This recipe is not fancy but carries same flavors of slow-cooked oven ratatouille casserole. Also, with this post I'm covering all your complaints of - ratatouille recipe needs time.
So, let's make easy version of Remy's Ratatouille!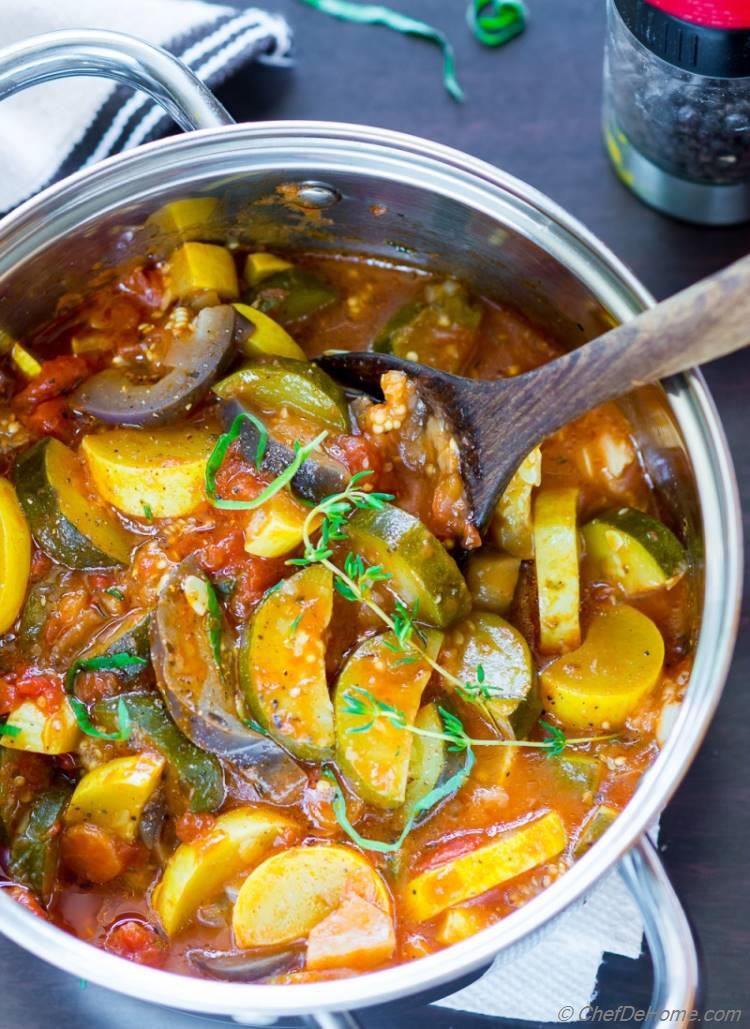 This recipe is also special to me because I cooked it (for above pictures) while on the move. I had not held camera for a long time and had limited access to my pantry. One day, I was missing blog cooking and was reading bunch of your emails for old recipe.. That made me crave for this comforting dinner. After a quick look in refrigerator, my pantry box**, and gauge of my limited kitchen resources… I decided to cook an easy ratatouille on stove stop. And made it stew style so that we can eat gravy with rice.
I clicked these pictures on a wooden table with few rays of light from small room window. So so excited to finally get to share this with you.
**I have to tell you this. My pantry box was a small make-shift plastic container. I carry it when we are on long travel. It was full of my favorite cooking spices - turmeric, coriander, cumin, fennel, cardamom, black pepper, dried herbs - oregano, basil, parsley, olive oil, and chilies - dry red chilies, chipotle, and even some paprika. These few gems helped me cook variety of food including this Ratatouille stew. Seriously, it was kitchen away from kitchen. Now I think, why did I not click a picture to share with you.. Darn it!
I will be sharing my move with you for many days to come.. Now, let's get back to today's star - Ratatouille dish. :-)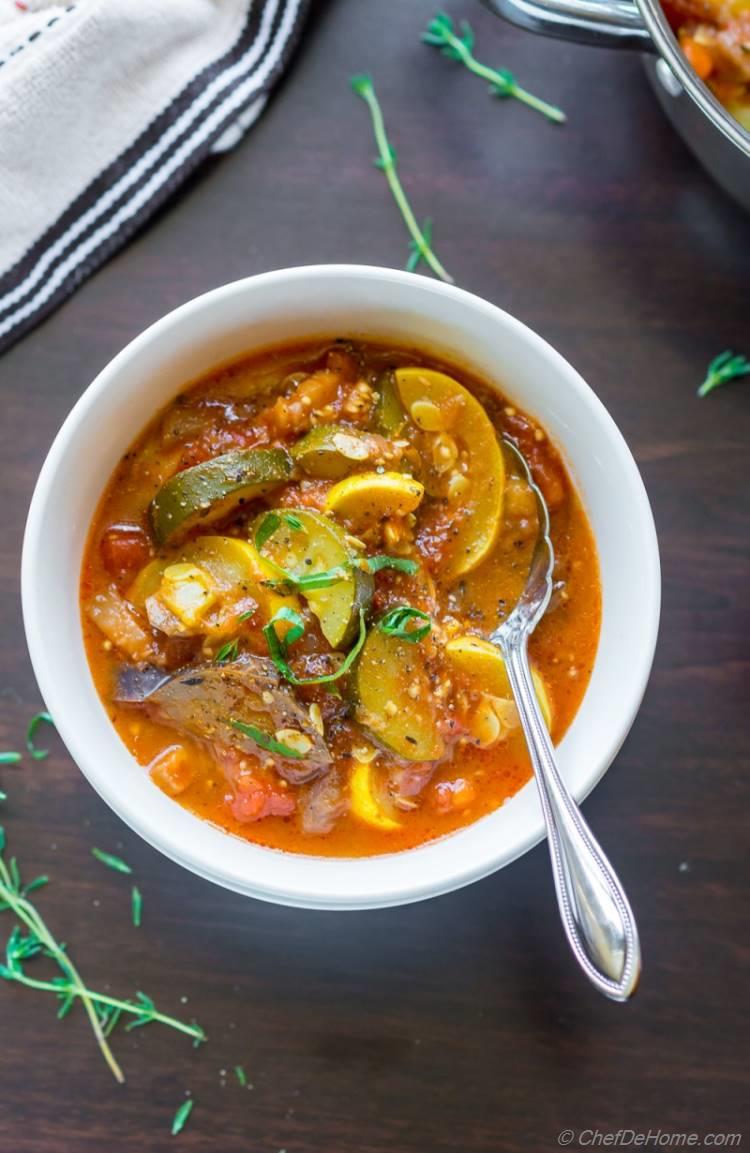 Easy Ratatouille but Same Classic Flavor
Ratatouille dish as "stew" or "soup" is my favorite way to enjoy this French classic when I have less time in hand, don't need fancy casserole, and need quick turnaround. That day, a quick dig of ratatouille ingredients - zucchini, yellow squash, potatoes (optional), eggplant, garlic, thyme, basil... and 25-30 minutes and Ratatouille was ready to devour. The flavor of stewed zucchini, eggplant, and tomatoes reminded me of original slow cooked ratatouille.
Traditional ratatouille recipe does not have potatoes but I often add potatoes to my ratatouille casserole/soup to make it a hearty meal. If you are looking for a no-starch dinner, feel free to skip potatoes. If not, I highly recommend adding some. Specially in stew, potatoes help thicken the gravy without flour or creams. I like to cook potatoes a little more than rest of veggies so these melt in tomato sauce and make gravy thicker.
Vegan and Gluten Free
This ratatouille recipe is gluten free and also vegan.
Remember I added béchamel in my ratatouille casserole for creamy texture? The stew does not need that. Just potatoes and tomatoes make an amazingly creamy gravy which is hard to resist. I must admit that I intended to make this recipe gluten free but vegan. If I have access to cream, or sour cream.. I would like to finish the stew with a hint of cream or with a dollop of sour cream. When I made this stew I had no cream in refrigerator. So finished it with drizzle of olive oil and black pepper. By virtue of just pantry ingredients in hand, this ratatouille stew is vegan, paleo, keto, and whole 30 diet friendly.
I leave the choice of finishing with cream on you. Serve it as per your diet preferences. Add cream, leave or add potatoes or yellow squash.. make it your own. Whenever you cook it, don't forget to take a picture and share with me on Instagram.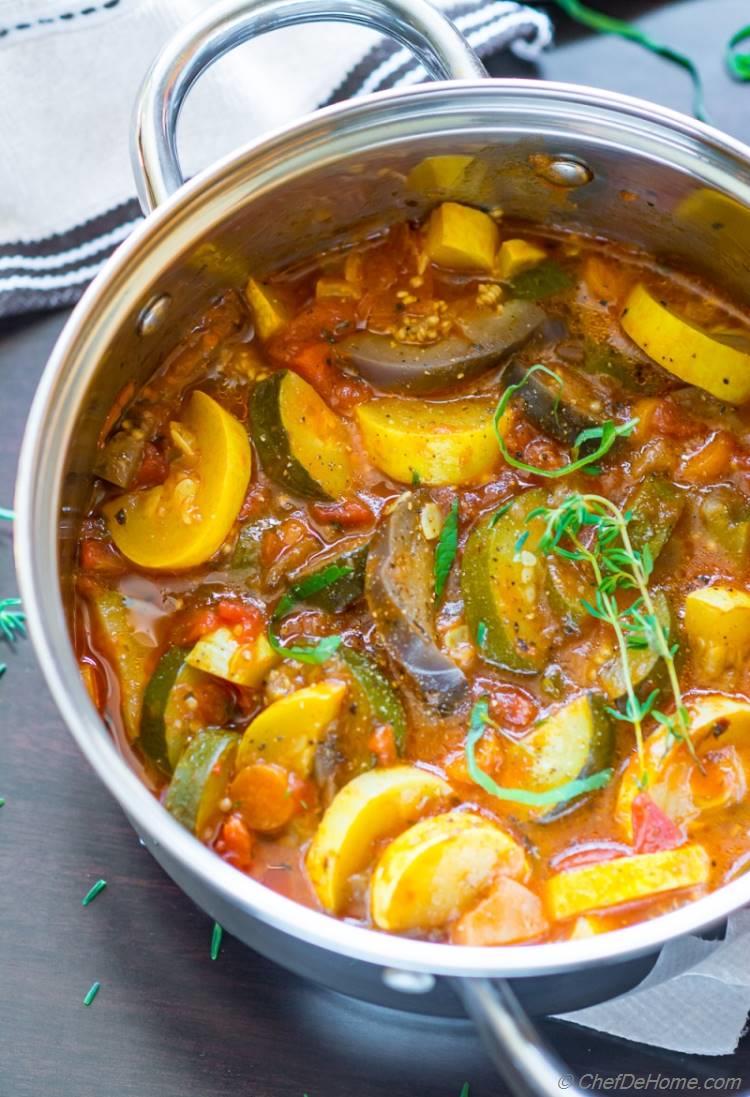 To make Ratatouille Stew, I start by slicing the veggies - eggplant, zucchini, squash, garlic, potatoes (when using), carrots and celery. There are two differences, in Ratatouille and Ratatouille Stew, when it comes to slicing veggies. For stew, veggies are sliced thicker and can be rough chopped. The thick cut of veggies ensure these will not melt away in stew. A little bit bite is must for that classic taste. Worth mention, quick chop also makes stew recipe easy and saves lot of time.
Once veggies are sliced, I heat olive oil in a deep pan/Dutch oven. Sauté whole garlic, thyme, and black peppercorns until oil is fragrant. Then I add potatoes, celery, and carrots and cook until carrots and celery are soft.
Next, I add the tomatoes with some salt and water. Let it cook covered for 20 minutes or until potatoes are tender (if using).
Before last 10 minutes, I add in sliced zucchini, eggplant, and squash. I don't like mushy veggies in Ratatouille stew. Cooking these in last 10 minutes brings together stew while leave a little bite in veggies. In meantime, tomatoes cooking with herbs, mirepoix, and potatoes become creamy, silky, and amazingly flavorful. If acidity of tomatoes is not per my taste preference.. I add a few teaspoons of red wine vinegar and salt to bring out the flavor.
That's it! Ratatouille stew is ready to serve!
Before you head to detailed cooking directions, let me summarize this simple and easy version of ratatouille recipe in few lines.
This Ratatouille is:
1) An easy version of my classic ratatouille recipe with fast turnaround time. Stewed and prepared on stove top.
2) Hearty meatless meal which is perfect for no-fancy, effortless, and comforting Sunday/Weekday Dinner!
3) Gluten free, vegan, paleo, and also whole 30 diet friendly.
4) An all-round recipe which you can cook on stove top in any season - fall, winter, or even summer.
5) Very versatile and flexible - add or leave potatoes/yellow squash. Finish with cream or olive oil per your diet preferences.
6) Last but not least, a meal that you can prepare while on the go, in your RV or temporary residence, with just 6-7 main ingredients (salt, pepper, oil on the house) and an induction cook top in hand. :) This is how I cooked it for above pictures.
Drum rolls!!!!
Now, finally we are in our permanent residence… still sitting in middle of piled high boxes but loving every bit of it. Can't wait to unpack stuff, and cook in new kitchen. While on the go, I met lots of my new favorite recipes and new favorite restaurants. So will be soon starting to test, try (times 10), recreate, and then share with you.
Check back soon! -Savita xo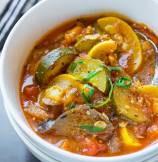 Total Time:
(Idle Time:

5 mins

)
Prep Time:
Cook Time:
Cuisine:
Italian
(

Main Course, Stew

)
Difficulty:
Easy
Yields:
4 Servings
- Serves:
4
(

Number of servings depend on serving size.

)
Directions
1.

Heat oil in a heavy bottom pot. Add half of thyme, oregano, garlic cloves, chili flakes, and pepper corns (if using). Saute for 1 minute to perfume oil, don't let garlic burn.

2.

Add potatoes, celery, and carrots with generous pinch of salt, and cook stirring often for 2-3 minutes or until carrots are soft. (fish out garlic cloves at this stage, if prefer subtle garlic flavor) Add crushed tomatoes and continue cooking for 2-3 minute (on medium-high heat) to deepen the flavor of tomatoes. Now, add 3 cups of water (or stock). Bring to rolling boil, cover and simmer on medium-low for 20 minutes or until potatoes are soft.

Additional Notes:

If not using potatoes, you can reduce simmering time. Extra time is to ensure potatoes are tender.

3.

In last 10 minutes, add in sliced squash, eggplant, and zucchini with remaining thyme and 3-4 basil leaves chopped. Mix well. Continue cooking until veggies are tender to your liking.

4.

When done cooking. Fish out thyme sprigs. Taste and adjust salt. Serve over rice or as-is with drizzle of olive oil (optional) and some fresh black pepper and fresh basil leaves. Enjoy!

Additional Notes:

Optional - you can finish stew with some cream.
DID YOU MAKE THIS RECIPE?
Tag
@SAVITACHEFDEHOME
on Instagram and hashtag it
#SAVITACHEFDEHOME
© Chef De Home. Post content including video and photos are copyright protected.
We Think You'll Love