Shaved Brussel Sprout Salad
Posted On:

Oct, 24
| Author:

Savita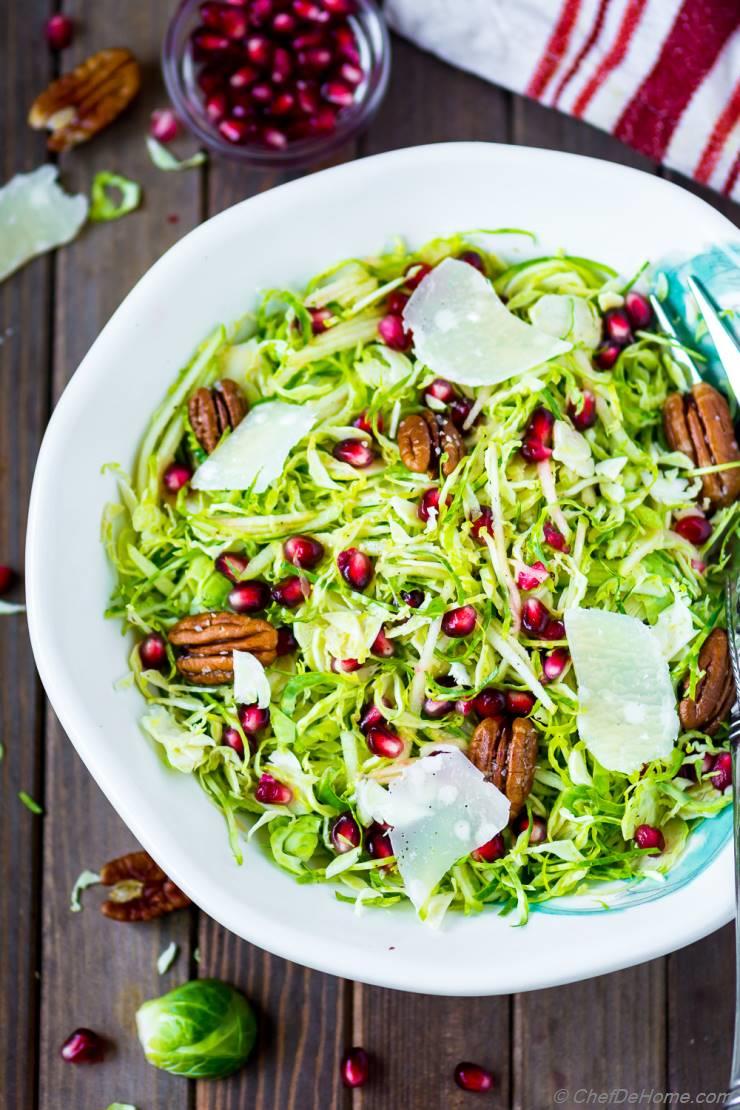 Shaved Brussel Sprout Salad, a mighty nutrient rich, delicious and crunchy raw brussel sprout salad with sweet and tangy green apple, pomegranate seeds, parmesan, and sea salted pecans. Every ingredient in this salad compliments each other. You will LOVE the flavors. 
Shaved or Shredded Brussel Sprout Salad was on my to-post list since long.. I have been super-fan of raw brussel sprouts lately... So thought why not share my experience and this recipe with you too! 
This is my go-to recipe for eating these raw. Brussel sprouts are like tiny cabbage with leaves packed super tight. When shredded, the resulting sprouts look like slaw or a green hay stack. Shredding make'em mild, less chewy, also perfect size to absorb lots of flavor from dressing. 
The best parts of this salad? Delicious sweet and sour flavor, and a nutrient rich side ready in just 15 minutes.
If you have never tried raw brussel sprout  before? Today is the day! I'm also sharing 4 ways to dress these little greens for a salad that packs a punch. (Please don't miss salted pecans because those are like cherry-on-top!)
So, let's shred some brussel sprout and make a delicious salad! Shall we?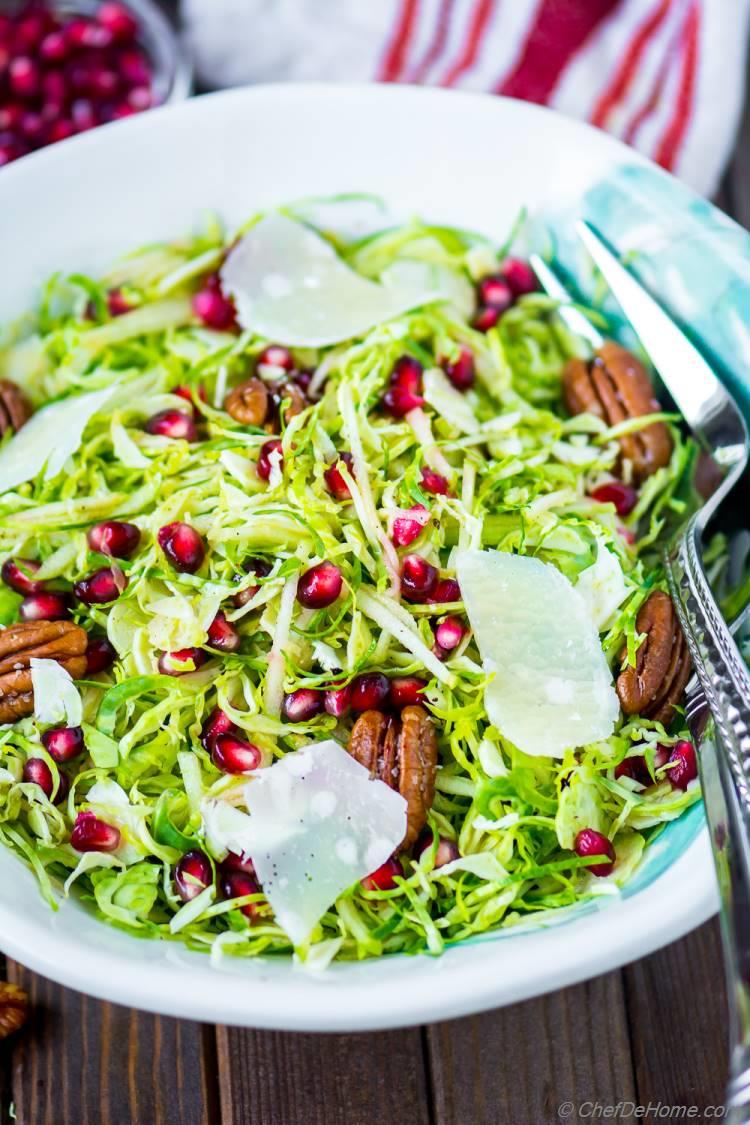 A few words for nutrient value of this salad. Any kind of raw salads are nutrient powder house. So is this one. Brussel sprout belong to family of cruciferous vegetables such as broccoli, and cauliflower. These are good source of antioxidants, potassium, calcium and vitamin-C. Vitamins and antioxidants are also in abundance in seasonal green Granny Smith apples and Pomegranate seeds. What I am saying is: you are not just trying a delicious salad, it is also very healthy. This is also very filling just like my Cauliflower Broccoli Detox Salad. 
PS: If serving for detox, I recommend using raw pecans. And skip cheese if you prefer.
Often, brussel sprouts are roasted, fried, cooked in some way.. My first introduction to brussel sprouts was with cooked ones.. Actually, pan-fried with lots of chilies, garlic, and lemony sauce (one of my favorite till date). To replicate the recipe (of course :)), when I brought brussel sprout home... I immediately connected with the aroma of raw ones. Raw turnips is my favorite sweet and pungent root vegetable on earth and raw brussel sprouts have same aroma. This made me fall in love with'em instantaneously. Since then I often bring some home to make shreded raw healthy salad.
How to shred Brussel Sprout?
To shred brussel sprout, always use a medallion. Mandoline slicer (thin potato chip slicer) results in most perfect shaved brussel sprouts. In my experience, any other method such as knife or so does not shred sprout evenly. Even thickness is crucial to an appetizing Shaved Brussel Sprout Salad. You can buy a mandoline slicer from any good Kitchen Appliance Store or purchase it online. (affiliate link)
Other than mandoline, a food processor with slicer attachment will also be good for the job. 
In short, a salad this good looking needs right tool. :)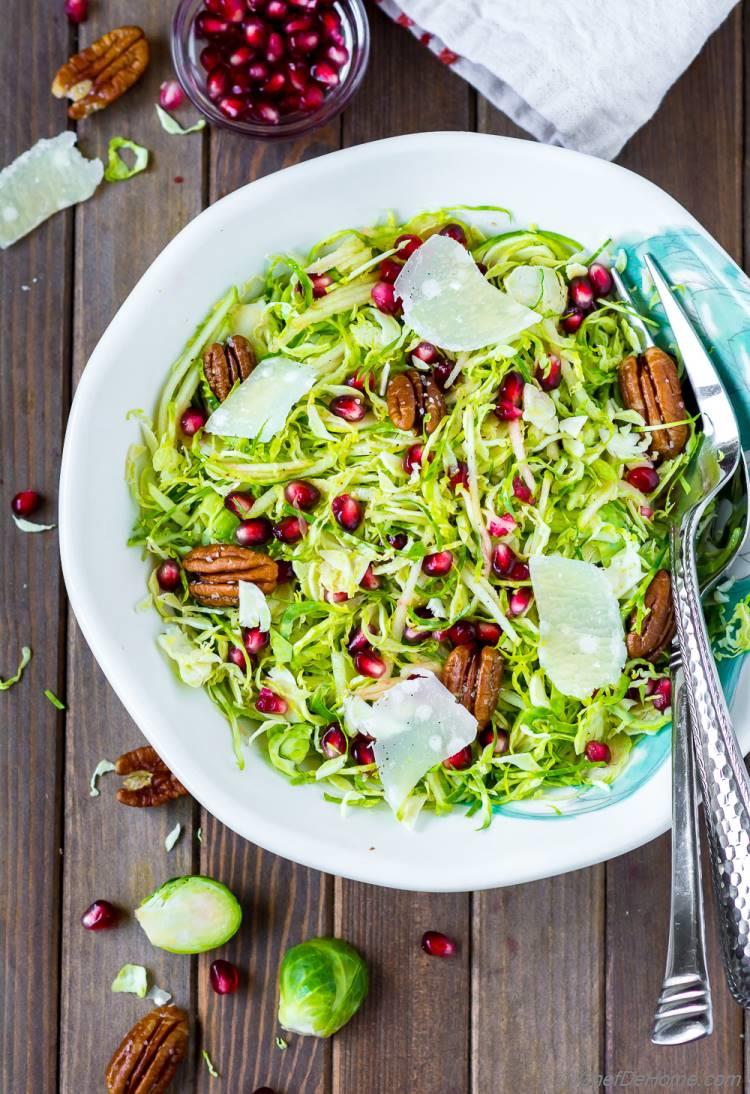 Other than the star: Brussel Sprout, other three delicious component in this salad are : tart apple, sea salt pecans and dressing.
I shred apples just like shre brussel srpout. So that both have sme even thickness. The sweet and tang of apples pair so well with brussel srpouts that both taste like meant for each other. Simply in-separable.
Making roasted sea salt pecan takes 2 minutes and these taste phenomenal. Yes, pecans can be baked. But I simply pan roast'em with a teaspoon of oil and hit it with flaky sea salt moment these are out of pan. That's it. This simple recipe makes pecans taste heavenly. These give delicious salty crunch to brussel sprout salad. I highly recommend trying.
This salad is very versatile. Any dressing with sweet and sour notes will go great with it. My favorite of all is : lemon-honey-olive oil. Today, I used this one while clicking pictures for blog. 
Vishal only likes cooked, charred brussel sprouts. He could not stop eating this raw salad. Credit goes to dressing.
In no particular order, my other favorite dressings are listed below. I shared'em on blog with other salad recipes. These will go great with shaved brussel sprout salad as well.
1) Honey Ginger Dressing
2) Lemon-Honey Oregano Dressing
3) White Balsamic Vinaigrette
Addition of cheese is optional. This salad is gluten free. Can be vegan when cheese not used and honey replaced with regular sugar.

Friends, don't let fall season come in the way. Eat your greens. Brussel sprout is fall vegetable and hidden green nutrient-rich gem. Add it to your diet with my delicious raw shaved brussel sprout salad.
Have a wonderful day!
-Savita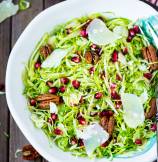 Total Time:
Prep Time:
Cook Time:
Cuisine:
American
(

Salad

)
Difficulty:
Easy
Yields:
4-5 Servings
- Serves:
4
(

2-3 substantial servings or 4-5 side servings.

)
Directions
1.

Salted Pecans: Heat a tsp oil in skillet. Add pecans and toast for 2-3 minutes. Keep a close eye, don't let nuts go dark or brown. Once toasted, remove in a plate. Immediately toss with generous 1-2 pinches of sea salt. Set aside. (don't cover)

2.

Clean the Brussels sprout. Don't cut-off hard stem. Shave thin on mandoline holding the hard stem as safety guard (or use safety guard of mandoline). Also core and slice apple on julienne setting of medallion.

3.

In a jar, add all vinaigrette dressing ingredients. 1.5 tablespoon lemon juice, 2 tablespoon olive oil, 1 tablespoon honey, generous pinch or two of salt and 1/4 teaspoon fresh-cracked black pepper. Shake well to emulsify. Add to shaved Brussels sprout and apples, toss gently.

Additional Notes:

This salad also goes great with Honey Mustard dressing, Red Wine vinaigrette. I have listed a complete suggestion list in recipe description.

4.

Top with pomegranate seeds, toasted pecans and shaved parmesan cheese. Serve immediately.
DID YOU MAKE THIS RECIPE?
Tag
@SAVITACHEFDEHOME
on Instagram and hashtag it
#SAVITACHEFDEHOME
© Chef De Home. Post content including video and photos are copyright protected.
We Think You'll Love