Grilled Shrimp Avocado Salad
Sweet and spicy, grilled shrimp and avocado salad with vibrant Citrus Vinaigrette Dressing. A lite, healthy and delicious summer meal.
Posted On:

Jun, 7
| Author:

Savita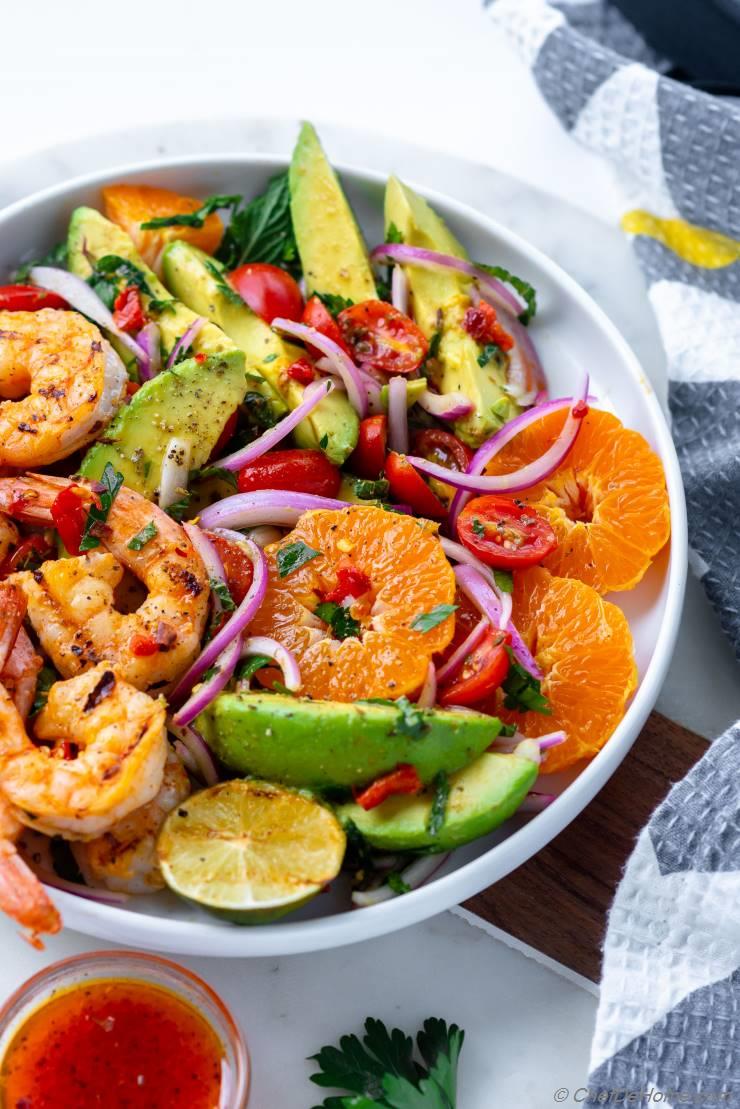 Sweet and spicy Grilled Shrimp with creamy avocado, tomato and onion salad coated in a vibrant citrus dressing. With only 10 minutes prep, clean, lite and delicious flavors, this Shrimp and Avocado salad is a perfect summer meal. Gluten free, dairy free, keto, offers good fats and protein. It is a south-beach diet-salad which will not make you feel on-diet for a second! What not to like?! 
Shrimp and avocado in salads, is often in our menu all summer long for two reasons:
Quick cooking time
Healthy protein and fats
If you too love combination of Shrimp and Avocado? I'm sure you will love one of my top reader-favorite recipe - Chipotle Shrimp Avocado Zoodles. 
One more favorite to your recipe repertoire with this zesty Shrimp Salad recipe! Let's get cooking.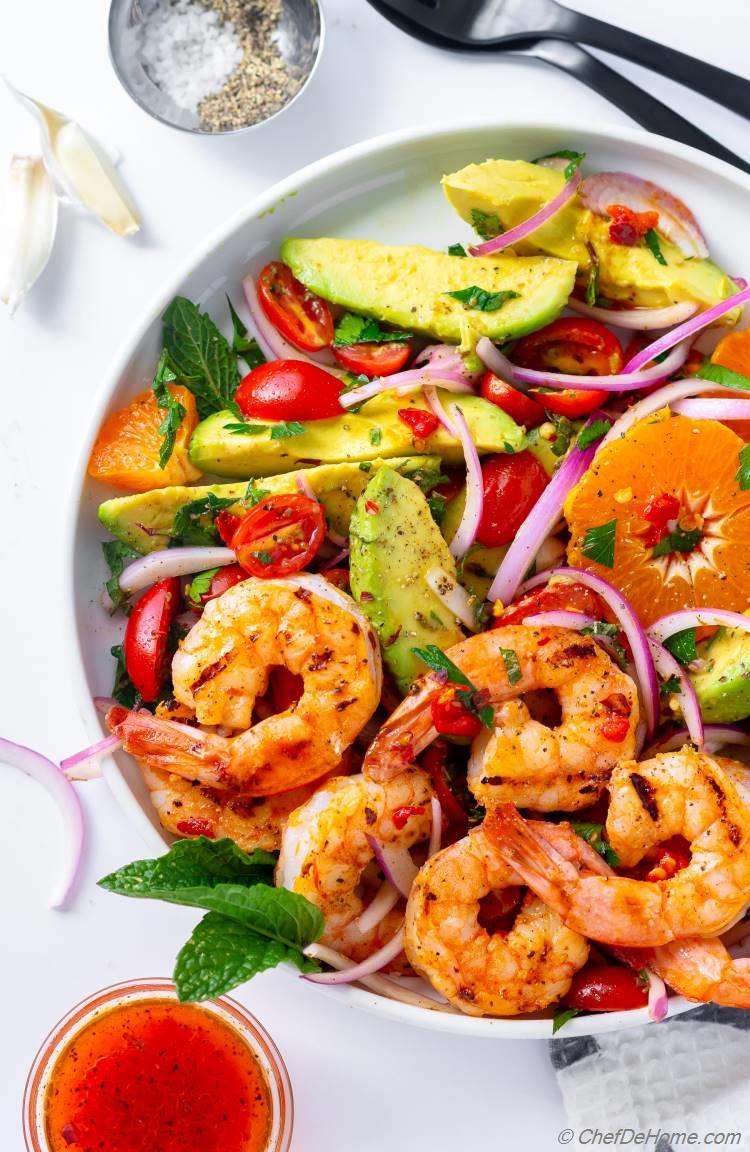 Without doubt, star ingredients of this salad are - Shrimp and Avocado! Good quality perfectly cooked shrimp (continue reading for tips) and ripe avocado with citrus make this salad, The Shrimp Avocado Salad. You will love the flavors!
That said, overall it is a humble salad with easy-to-find ingredients. Most of it you will already have in pantry or refrigerator. The ingredients for this Shrimp Salad are: 
Tail-on Shrimp (cleaned)
Avocado
Tomatoes - Cherry tomatoes or roma tomatoes sliced
Red Onion
Orange - Clementine, cara-cara or navel orange segments
Lime juice 
Fresh mint and parsley
Seasonings
Base of greens (optional)
Salad gets natural sweetness from Orange Juice. (I used clementines) And heat from hot sauce.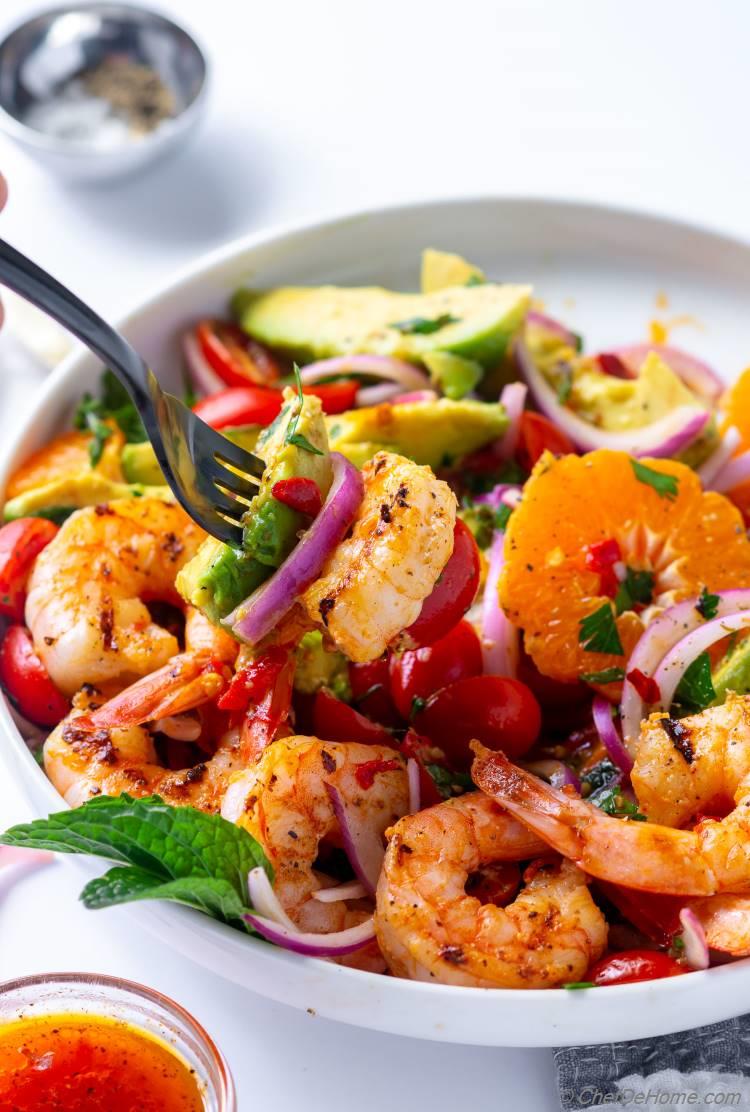 To make the shrimp salad, I start by cleaning the shrimp. You can also buy shrimp pre-cleaned. Or if you love shrimp like I do. Keep a bag of frozen, clean tail-on shrimp in freezer. It is economical and also perfect way to make healthier protein dinner any time. Frozen shrimp thaws quickly. And shrimp is fastest cooking protein on the planet earth. Save money, save time, eat healthier. win-win!
Salad dressing for this grilled shrimp salad is a Citrus Vinaigrette. It is refreshing, sweet and spicy which compliments shrimp very well. Citrus Vinaigrette plays two role for this salad: 1) Marinate for shrimp 2) dressing for avocado tomato salad.
To marinate shrimp, I divide half of citrus dressing in a bowl, add shrimp with generous 2 pinches of salt. Coat and set aside while I prepare rest of ingredients. Slice avocado, cherry tomatoes, red onion, and chop fresh herbs.
In remaining half of the dressing, I mix in sliced tomato, avocado and onion. By the time, shrimp is grilled. Tomatoes and onion soak flavor from citrus dressing. Sweet and tangy with perfect amount of delicious bite. Citrus in dressing also prevents browning of sliced avocado.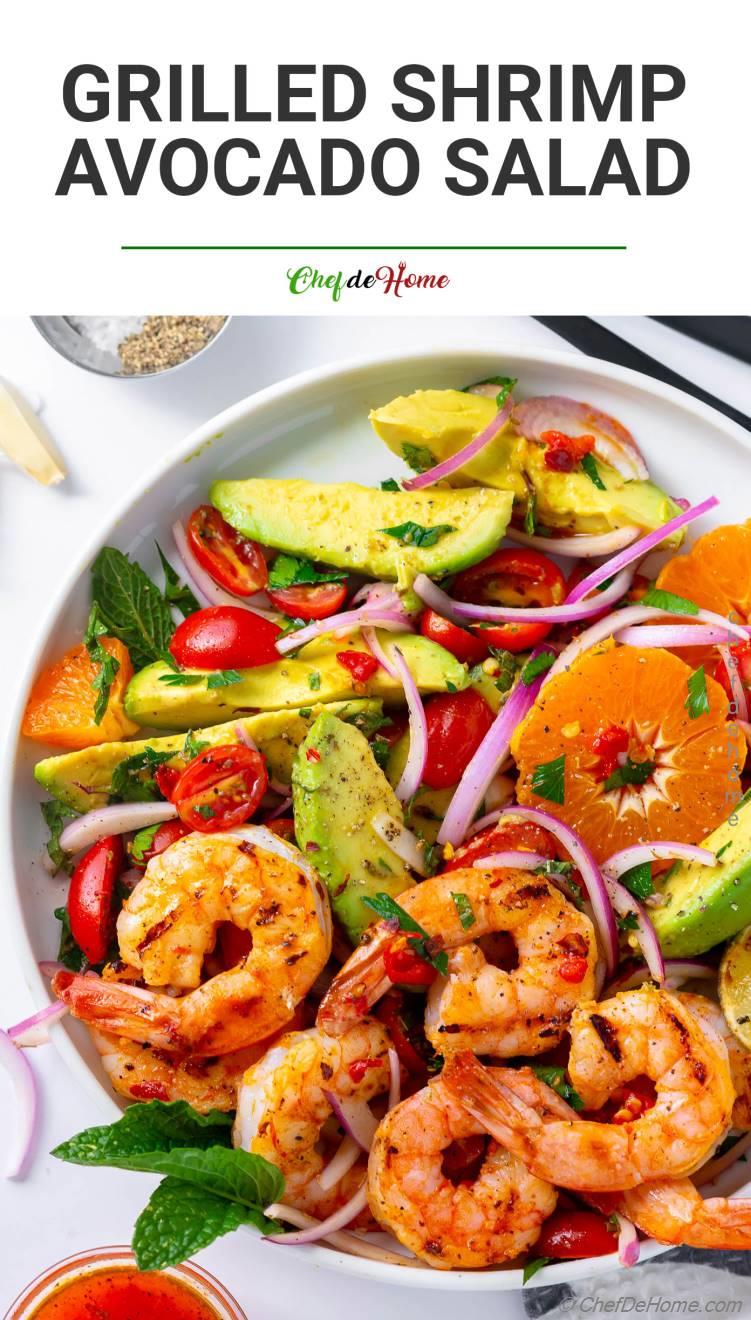 How to Cook Shrimp for salad?
For this grilled shrimp salad recipe, you can grill shrimp many ways and not limited to barbecue grill. Depending upon time and availability:
Grill shrimp on an outdoor barbecue 2-3 minutes each side.
Grill in grilling pan on stove top.
Roast under broiler 6-7 minutes.
No matter how you decide to cook it, only make sure to not overcook the shrimp. Shrimp cooks very fast. As soon as it curls and is pink from both sides.. It is ready.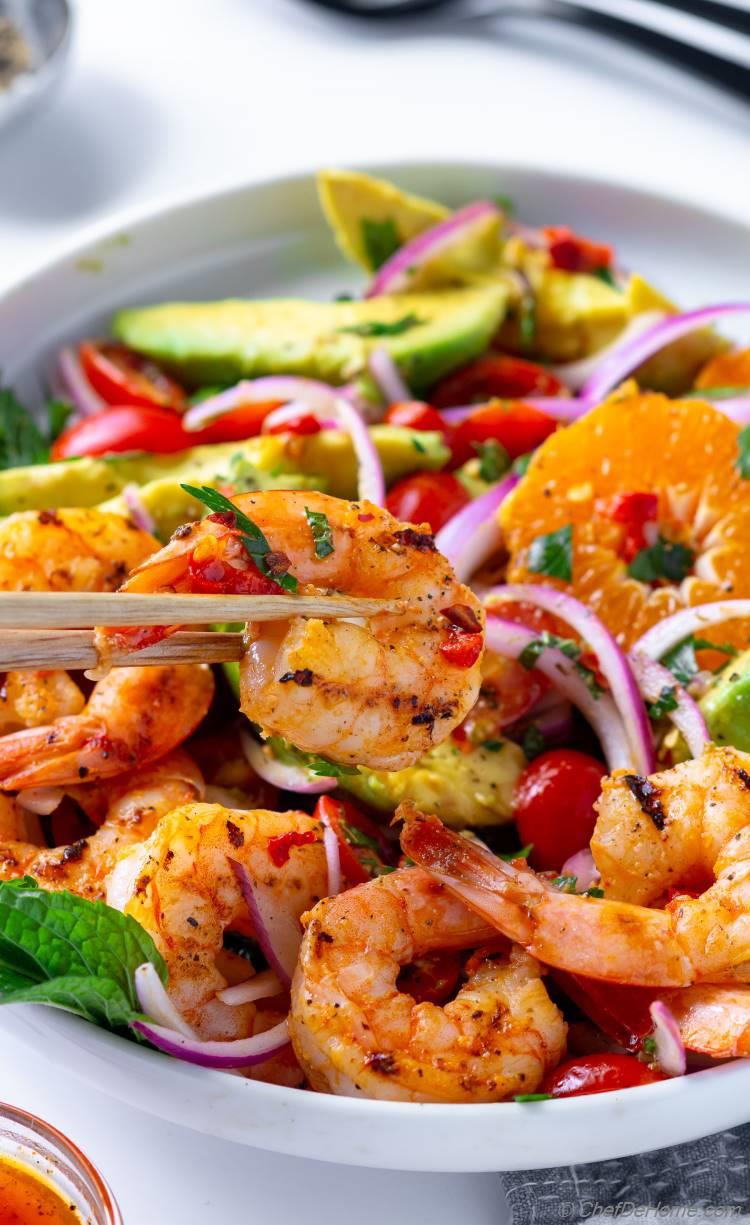 Why Tail-on Shrimp? Always grill shrimp tail-on. Shrimp curls as it cooks and shrinks in size. Tails don't let curled shrimp fall off the grill. It also makes shrimp easier to flip on the grill.
What to serve with Shrimp Salad?
I love to serve toasted garlic bread on side of Shrimp Salad to make this salad a complete meal. 
Salad is gluten free. To serve is gluten free, include a base of greens such as :
fresh baby spinach
romaine lettuce
or arugula
A green salad with shrimp and avocado is perfect for a lite summer meal. It is loaded with nutrients - protein, good fats, and vitamins. Plus it is filling. This salad will never let you feel you are dieting.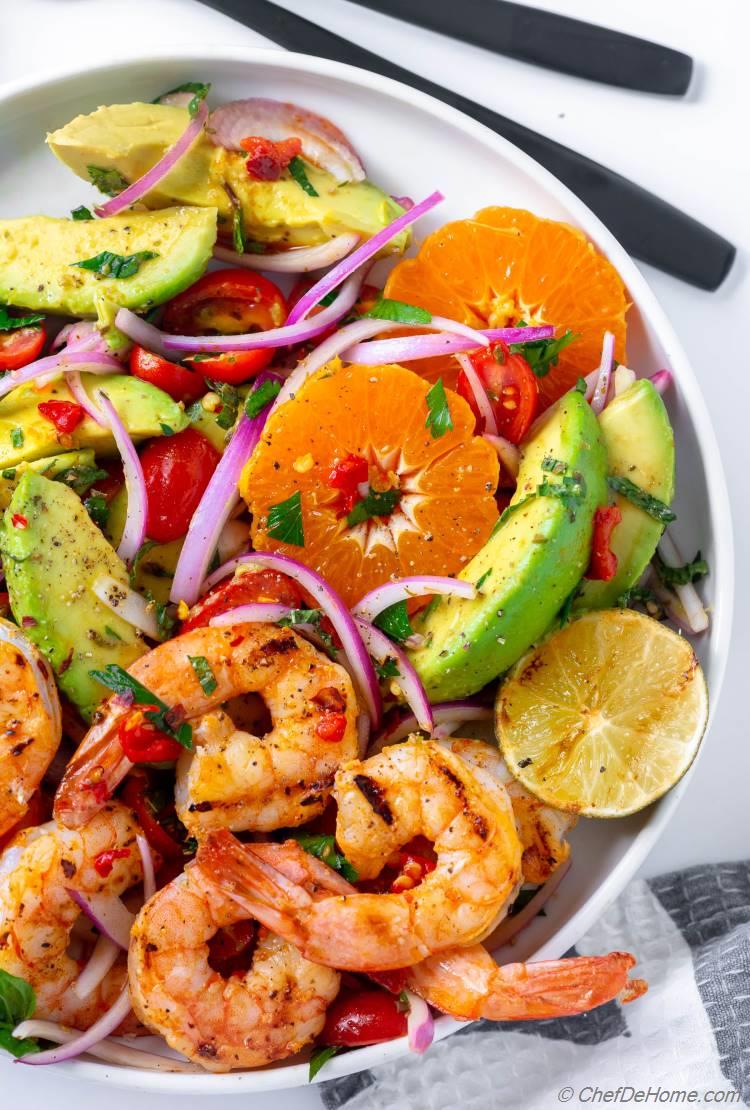 More Shrimp Recipes to try this summer.
Shrimp is one of the most frequent summer-favorite protein in our home. WE love adding it to the summer salads, grilled or sauteed in pan. If you love shrimp like we do? I'm certain you will enjoy this collection of Shrimp Salads:
You will also enjoy:

Flavor-up weekend dinner with this easy, clean and healthy Shrimp Avocado Salad. You already have all ingredients in your refrigerator. Make some tonight!
Have a great weekend!
-Savita x
Grilled Shrimp Avocado Salad
reviews

)
(11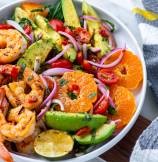 Total Time:
Prep Time:
Cook Time:
Cuisine:
Mediterranean
(

Salad, Lunch, Dinner, Vinaigrette

)
Difficulty:
Easy
Yields:
2 Servings
- Serves:
2
(

2 substantial or 4 side servings.

)
Ingredients
Grilled Shrimp Avocado Salad
Citrus Vinaigrette Dressing
Directions
1.

Make Citrus Vinaigrette Dressing

:

Add all ingredients for Citrus Vinaigrette Dressing in a salad bowl. Whisk to emulsify. Transfer half of dressing in ziploc bag. Add shrimp and close bag. Massage shrimp in bag to cover in marinade dressing. Set aside.

2.

Grill Shrimp

:

Pre-heat outdoor barbecue grill or a grilling pan. Spray with cooking oil spray. Cook marinated shrimp on grill until shrimp curls and is pink from both sides. Don't over cook.

Additional Notes:

Grilled shrimp may not get grill mark but will be still fully cooked.

3.

Assemble Shrimp Salad

:

In salad bowl with remaining dressing, add sliced red onion, cherry tomatoes, orange segments, sliced avocado and chopped herbs with generous two pinch of salt. Toss to coat everything in dressing.

4.

Plate, Garnish and Serve

:

Transfer to serving platter. Top with grilled shrimp. Sprinkle fresh cracked black pepper on top. Garnish with more herbs if prefer. Serve and enjoy!
Savita's Notes:
For this salad, you can cook shrimp many ways and not limited to barbecue grill. Depending upon time and availability, you can either:
Grill shrimp on an outdoor barbecue 2-3 minutes each side.
Grill in grilling pan on stove top.
Roast under broiler 6-7 minutes.
  2. Flavor of salad is Sweet and Spicy - It gets natural sweetness from Orange Juice. (I used clementines) And heat from hot sauce. 
DID YOU MAKE THIS RECIPE?
Tag
@SAVITACHEFDEHOME
on Instagram and hashtag it
#SAVITACHEFDEHOME
© Chef De Home. Post content including video and photos are copyright protected.
We Think You'll Love