This recipe is Copyright of ChefDeHome.com

6 ingredients, 2 clean salad dressings, and so many ways to use.
Eating salads can't get clean and delicious than this!
Creamy, sweet and savory carrot-ginger dressing from our favorite Japanese Restaurants. 6 ingredients and 5 minutes for a condiment that goes well on salads, dipping-sauce for appetizer, and even as marinade. Dairy free, Nuts free, and Vegetarian. 
Clearly, this week set the tone of dressings with my favorite Romesco Sauce. So, I decided to continue the theme with this creamy carrot ginger dressing. 
All ingredients of this dressing offer some health benefit. Carrots are good source of vitamin, miso (fermented soy bean paste) is good for digestion, ginger is healing, warm and good for digestion. I sweetened the dressing with agave syrup instead of refined sugars or artificial sweeteners. Agave gives dressing perfect amount of sweetness without much sugar calories. 
Above all, the ingredients are clean, dairy-free, egg-free and nuts free. 
Two Dressings One Recipe:
I'm so excite to share that this recipe is two-in-one. You can make two types of carrot-ginger dressing using the same ingredients. Literally, all same ingredients. How's that possible? You might ask?!
The secret, my friends, is carrots. You will love how carrots can make difference here:
1. Creamy Dressing: Use whole peeled carrot for delicious creamy texture. Perfect for hearty salads, marinades, and also spread.
2. Vinaigrette: Use carrot juice for lite vinaigrette style dressing. Great for lite leafy salads, or dipping sauce.
First-time, i tried carrot-ginger dressing with a A-choy salad in an Asian eatery. A-choy is a kind of Asian lettuce. The salad was very simple leafy salad. The choy was very much like Romaine lettuce. What won me more than lettuce was creamy carrot ginger dressing. The punch of miso, sharp ginger with savory flavor. Loved it.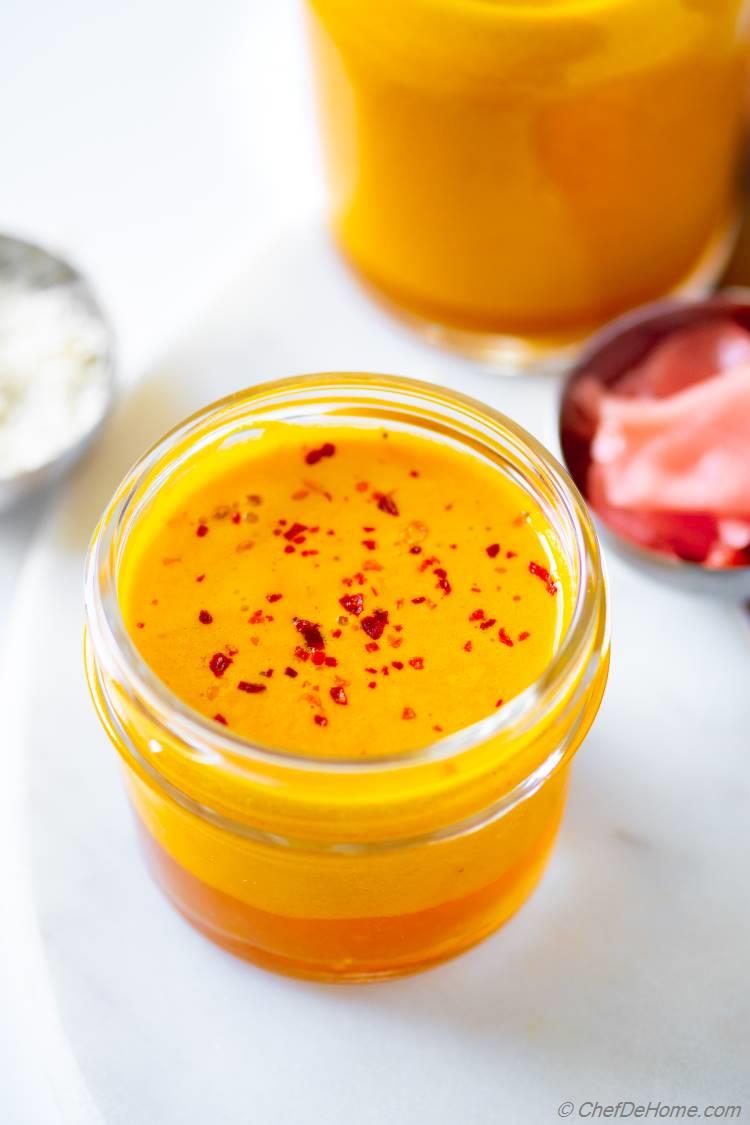 Let me sum-up this dressing recipe for you.
1. A healthy and clean salad dressing.
2. Multi-purpose. One dressing can be for salad, marinade (specially with salmon. yumm!)
3. One recipe, try two way. Try creamy version or lite vinegratte. 
4. Above all, it's homemade, without artificial colors, or preseratives.
I say, grab your favorite greens, make some carrot-ginger dressing and enjoy a lite healthy lunch which is not boring. (A+ in my book)
Wish you a wonderful weekend.  (Look out for the meal-prep coming Sunday.)
Enjoy!
Craving for more?
Join us: Weekly Newsletter, Facebook, Google, Twitter, Pinterest
Shop products we use: CDH Amazon Shop (affiliate links)
Carrot Ginger Dressing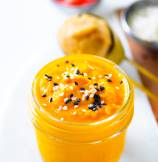 Total Time
Prep Time
Cook Time
Difficulty
Easy
Yields
1/2 Cup
Serves
5
Notes
Serving Size: 2 tbsp
Nutrition
100 calories per serving
Ingredients
1 tbsp

Miso Paste

(white miso)

1/4 Cup

Rice Vinegar

2 tbsp

Agave Syrup

1 tsp

Soy Sauce

(low-sodium tamari sauce)

1 tsp

Sesame Oil

1.5 tbsp

Olive Oil

Salt

1 Cup

Carrots

(**read notes)

2 inch

Ginger

(fresh ginger root)
Directions
1.

Creamy Dressing: Peel ginger and rough chop. Peel carrots and rough chop. Add to blender jar with remaining ingredients, and 2 tbsp water. Pulse on high until dressing is pureed, smooth and creamy. Taste and adjust salt. Use as needed. Refrigerate until ready to use.

2.

Vinaigrette Dressing: In a jar with lid, combine 1/2 cup carrot juice with remaining ingredients and 1/4 tsp salt. Secure the lid. Shake well to emulsify. Use as needed. Refrigerate until ready to use.
Savita's Notes:
**Carrots: Same recipe can be used for two kinds of dressing. For creamy version which uses whole carrots. Use pre-peeled finger-carrots, or 1 large carrot peeled. For vinaigrette dressing, use 1/3 cup unsweetened carrot juice instead.
© Chef De Home. All contents and images are copyright protected. DO NOT copy or re-use content/images/videos. For all content/post mentions with link back, contact ChefDeHome for permission.

Craving for more?
Join us: Weekly Newsletter, Facebook, Google, Twitter, Pinterest
Shop products we use: CDH Amazon Shop (affiliate links)
What would you like me to cook next?: Request a Recipe