Winter Detox Healthy Broccoli Salad
Raw, full of nutrients, clean, and delicious Broccoli and rainbow Carrots Salad. Gluten free.
Posted On:

Nov, 29
| Author:

Savita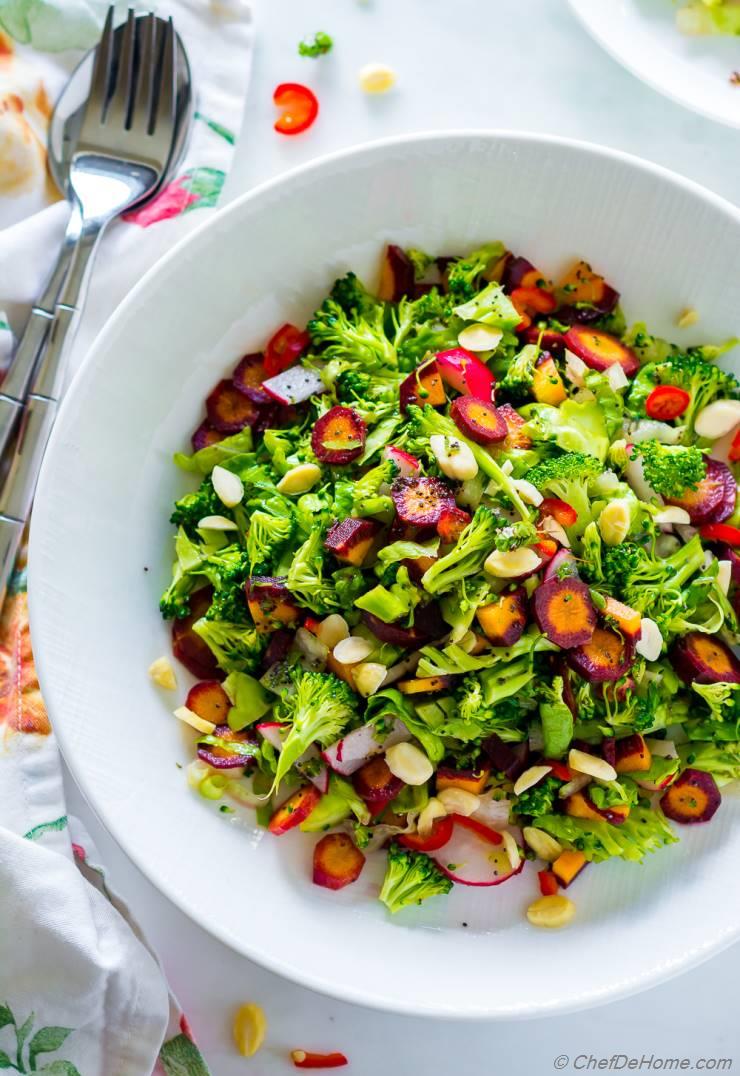 More than anything, this healthy Broccoli Salad is my favorite way to enjoy winter vegetables and herbs in purest form. Raw, full of nutrients, clean, and so delicious. 
Specially after heavy festive indulgence.. such lite no-carb salads are so refreshing. Isn't it? 
Oh! Remember our detox-diet recipe series? This broccoli salad is also new addition to detox-diet collection. Every ingredient of this salad brings value to the meal. I have also created a thoughtful dressing which makes it perfect for winter detox. 
(For your reference, I'm listing all detox recipes on blog, at the end of post. Feel free to jump and take a look.)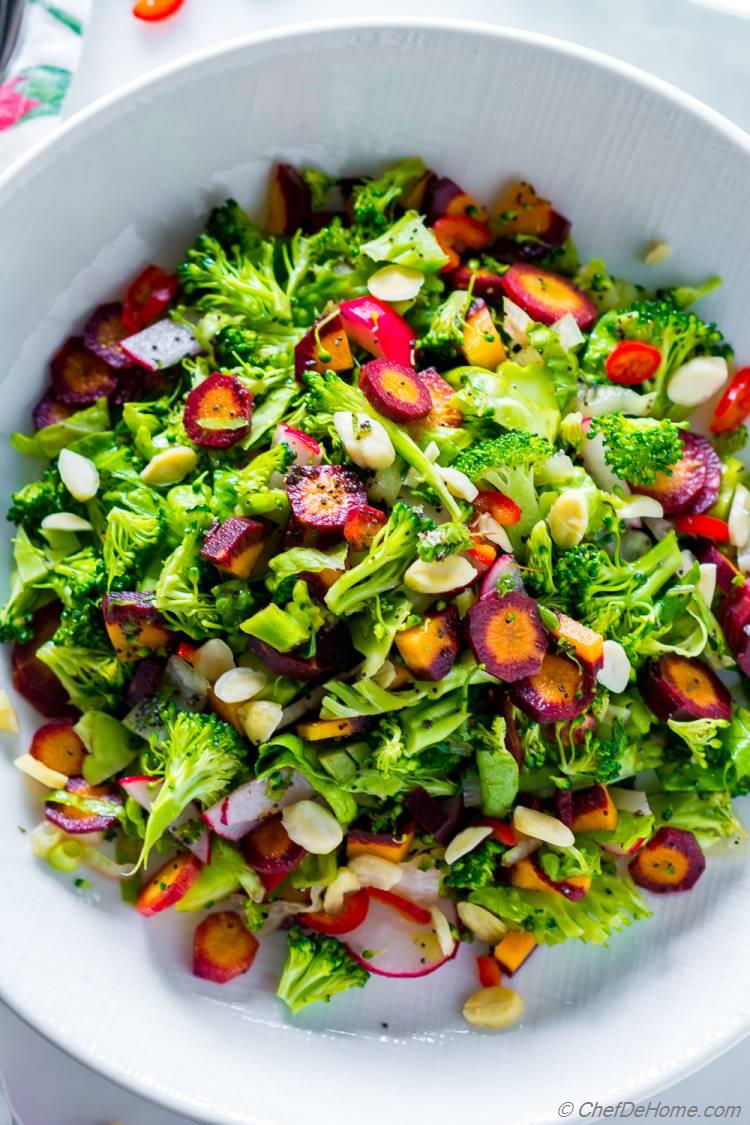 In my home, salads and greens are not just for summer.. Fall-winter produce yield colorful salad.
Does this look colorful or what? 
Bold colors of raw veggies are not just for looks. These are packed with nutrients. Good for eyes, hair, nails, blood.. nourishing in ways more than you can imagine. Plus these raw vegetables are option for low or no-carb diet which in my opinion is a pure bonus. 
When I work on recipes with "diet" or "health" in mind... I always make sure that food look delicious, taste awesome and still is not high in oil, carbs, or sugar. That's the whole point of detox! Isn't it? Stay away from bad stuff. Now, see if healthy does not look or taste delish.. Nooo one will buy it. Even your own mind can ditch you..
You know what I mean? 
So if you planning to stay fit coming year? Remember the motto of healthy eating - keep it fresh, good looking and also flavor packed. 
Here is how I keep oil, carbs and sugar in control:
1) Oil can be checked by keeping dressing lite. Also, oil in salads is raw. So using good Omega-3 rich oil such as Extra Virgin Olive Oil or Avocado Oil is beneficial. Remember my Cabbage Detox Soup? For recipes such as this soup, I replace oil with olive oil cooking spray. Spray can reduce the amount of oil to almost negligible.
2) Sugar and diet never go together. But all salt and no sweetness is not for everyone. In salads, I replace sugar with low glycemic-index sweeteners such as agave. Or I add half a fruit for natural sweetens without refined sugar.
3) Carbs are easy to replace or even omit. Like this salad gets crunch, and filling fiber from raw broccoli, carots, and greens. It is filling enough that grains are not required.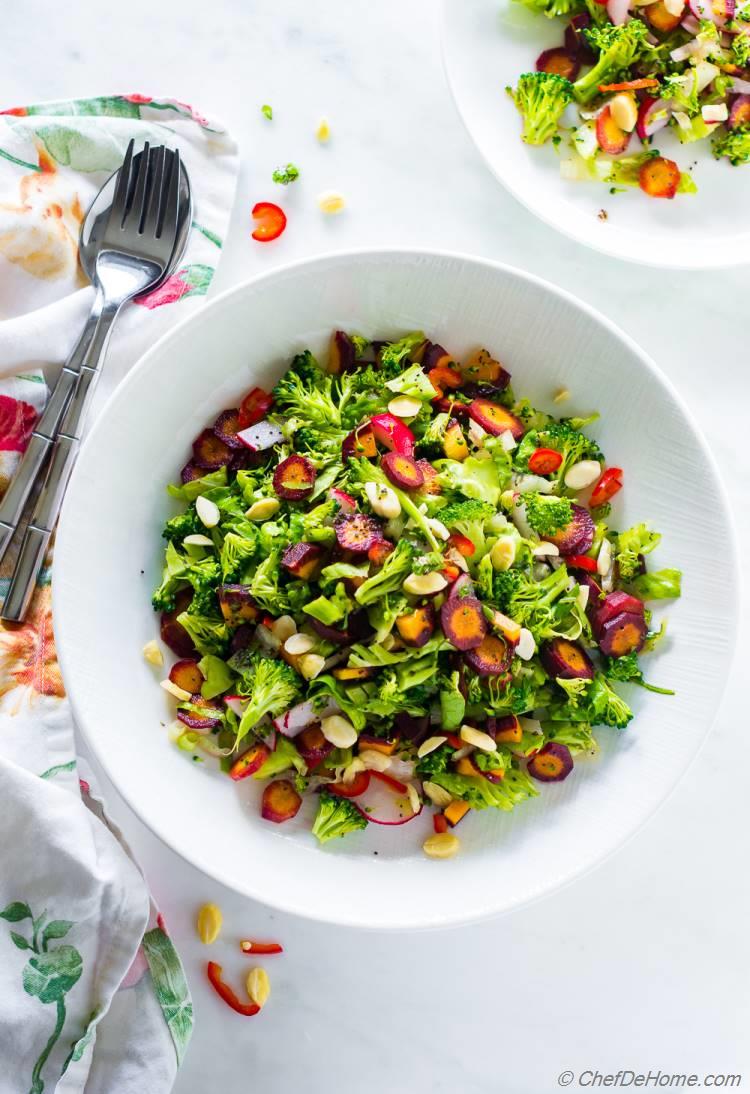 Carrot-Thyme Poppy Seed Dressing
When I was working on this recipe, I paid special attention to this broccoli salad's dressing. I wanted a dressing which is lite, healthier. And one that also enhance the flavor of raw sturdy broccoli. Also, something that can take this Broccoli Salad a step further... Making it the Broccoli Detox Salad. My win-win ingredients to bring flavor and heath in this dressing were - fresh oregano and thyme, which help healthy metabolism and strength the immune system. Plus the aroma keeps you digging more.
I call this dressing Carrot-Thyme Poppy Seed Dressing. It has fresh squeezed carrot juice, agave, ginger, thyme, oregano, apple cider and poppy seeds.
Btw, name is totally invented based on what I wanted to achieve for this salad with this dressing.

Did you decide to skip the post and jump to the end of post to check all my detox recipes? I'm not going to disappoint you. I have included the list below. But before that, let'me recap this salad for you.
What is this Broccoli Salad?
1) It is healthy Raw Broccoli Salad with puple carrots, radish, greens, and red bell pepper.
2) Salad is dressed in lite and refreshing Carrot-Thyme Poppy Seed Dressing. Salad stands well in dressing and it tastes even more aromatic and delicious the next day.
3) Not just a detox salad but a healthy side. It is a complex-carb and complex-sugar free side for winter meals.
4) Great way to enjoy more winter produce.
Ok, now comes the list of all Detox Recipes on blog. I'm thinking to include all these recipes in one post for easy reference. But, for now including the list below.
1) Cauliflower Broccoli Detox Salad
2) Detox Vegetarian Cabbage Soup
3) Celery Detox Salad
4) Quinoa Power Detox Salad
5) Spicy Greens Detox Smoothie

I recommend trying this salad even if you not planning a diet-regime. Even packing a delicious and nutrient-rich salad for lunch or serving on side increase the health-quotient of our every day meals.
Like I always say, eat your greens. No need to starve yourself but include healthy options such as this detox salad in everyday diet.
Enjoy!
-Savita 
Winter Detox Healthy Broccoli Salad
reviews

)
(3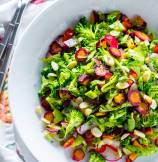 Total Time:
Prep Time:
Cook Time:
Cuisine:
American
(

Salad

)
Difficulty:
Easy
Yields:
4 Servings
- Serves:
4
Ingredients
Salad
Dressing
Directions
1.

In a jar, add all vinaigrette dressing ingredients. Shake well to emulsify.

2.

Clean and thin chop all vegetables. Small chop broccoli, slice carrots, radish, bell pepper, greens. Add to a bowl and set aside.

3.

Add dressing to chopped salad vegetables, and toss gently. *Check serving suggestions in notes.
Savita's Notes:
*Serving: This salad holds dressing well. I make and portion it for weekdays. Or Serve for dinner and pack leftovers for a healthy lunch.
DID YOU MAKE THIS RECIPE?
Tag
@SAVITACHEFDEHOME
on Instagram and hashtag it
#SAVITACHEFDEHOME
© Chef De Home. Post content including video and photos are copyright protected.
We Think You'll Love