Grill Corn in Husk
Learn to grill corn in husk. Grilling Corn in husk keeps it moist and sweet. Try my Sour Cream-Cajun rub for a yummy Corn on Cob!
Posted On:

Jul, 3
| Author:

Savita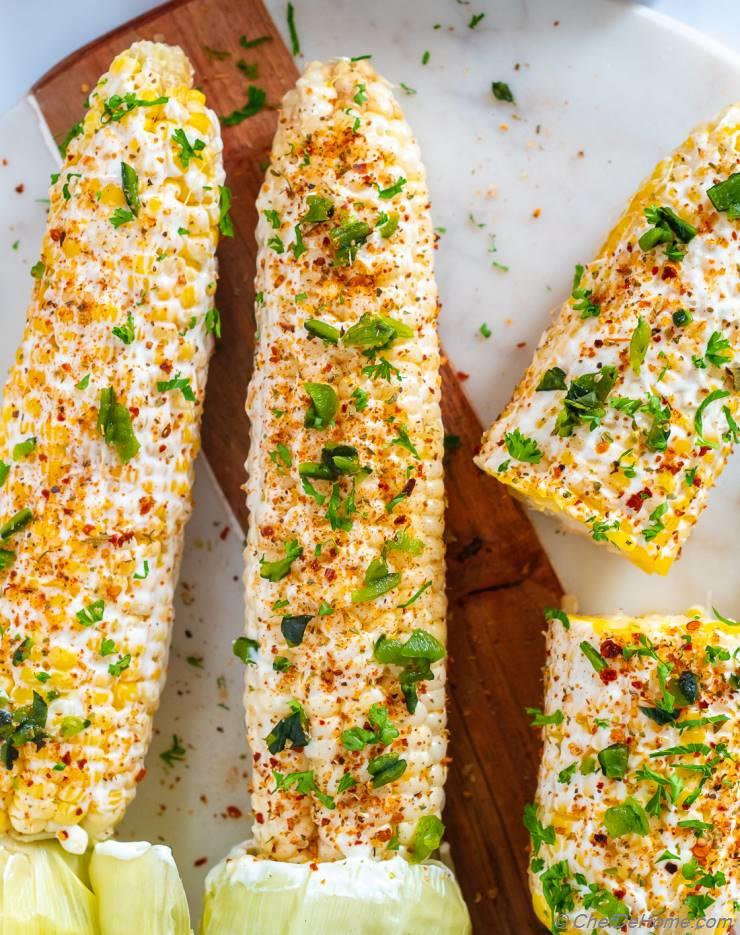 This is a two-in-one recipe, a complete guide on how to Grill Corn in Husk and Spicy Corn on the Cob with sour cream, roasted poblano, and a sprinkle of Cajun seasoning. Grilled corn in husk stays moist and grilling brings out its sweetness. Topped with small diced char-grilled poblano, with a layer of sour cream and seasoning makes an irresistibly delicious combination. You will love the flavors.
Grilled corn in husk reminds me of County Fair. Often there are 5+ vendors selling grilled corn in husk. Whenever we visit fair, this is our first stop. On order, corn husk is removed and hot corn rubbed with butter is in your hand. What next? 
Sprinkle of seasonings - tajin, Cajun, hot sauce, lemon-pepper (yummm). And devour!
Today, I bring to you same Fair Corn experience, in comfort of your own backyard grill. The recipe is so easy, I'm sure once you try you will grill corn this way all summer long!
To make it even easier, I'm also going to include a 50 seconds video. (check above recipe card)
So, let's dig-in.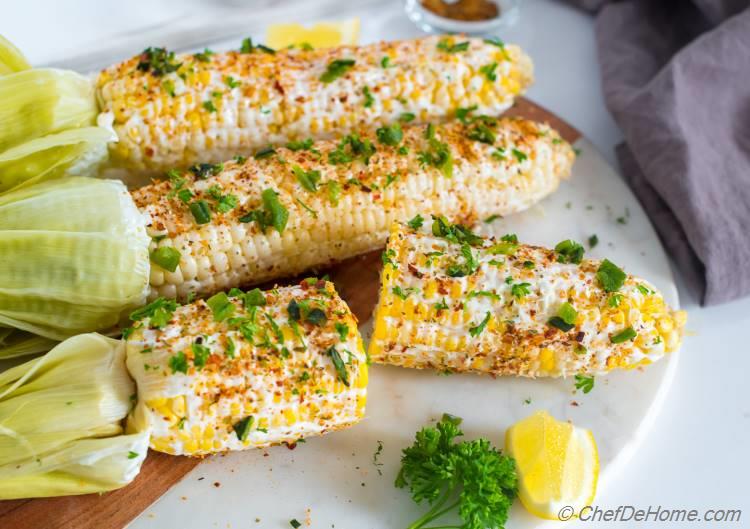 Grill Corn in Husk or Out?
Whether grill corn in husk or out (without silk) depends on what kind of grilled corn you want to eat and available time. Let me explain:
1. Type of Grilled Corn:
We like to grill corn two ways:
1) Grilled without husk, on direct flame for that charred smokey corn flavor. My Esquites Recipe features char grilled corn.
2) Grilled in husk (pre-soaked) which is similar to steamed corn. 
When corn is grilled in husk, it steams in the moisture of pre-soaked husk (leaves). The resulting grilled corn has moist and tender kernels. It is the perfect way to cook corn when serving on side of barbeque. Also, good for seasoned corn on the cob like I shared today.
The flavor of grilled corn in husk is like steamed or boiled. It has no char or grill marks. It is sweet and ready to take on any flavor. If you looking for this flavor profile, grilling corn in husk is the way. No need to boil pots of water or carry pressure cookers. Simply soak cobs in water while you prep grill and then grill the corn on medium-heat away from direct flames.
2. Soak Time:
Grilling corn in husk needs addition at least 20-30 minutes of time to soak the corn with husk in water. During this time, husk absorbs the water. That is the key step to perfect grill steamed corn. If husk (or silk) is not fully wet (soaked well in water), it may catch on fire before corn is fully cooked. 
For best result, always keep 20-30 minutes soaking time when planning to grill corn in husk.
Grill Time: Grill time for corn in husk varies depend on grill heat. On medium heat without direct flame, it will take about 15 minutes. Please, note corn kernels will not have grill marks.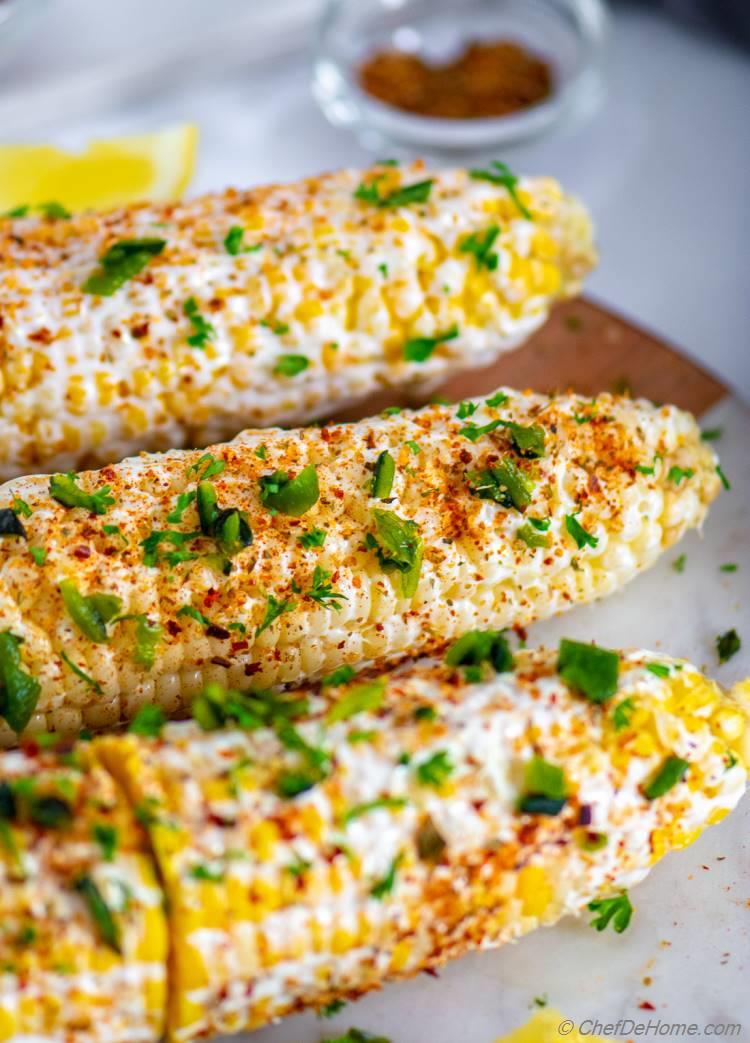 Grill Corn on Charcoal or Gas Grill:
Grilling corn in husk needs medium heated grill away from direct flames. This way it cooks low-slow without drying-out or burning the husk quickly. This ensures consistent perfect cooked corn on the cob.
Honestly, if you know your grill, it does not matter if using charcoal or gas grill. From knowing your grill means, 1) heating it to right temperature 2) and finding the right side of the grill which has medium heat for grilling corn.
The idea of "grill heat" comes with practice, especially when using a charcoal grill.
On a gas grill, you can simply:
1) Heat the grill on high.
2) Set one of the burners to low-medium flame.
3) Place all pre-soaked corn in the husk on that side. (And continue to grill rest of stuff on another side.)
4) Turn corn once-twice so all sides are cooked. By the time corn is ready, husk will be almost dry and will have lite grill marks.
That is easy! Right?
To make it even easier, I'm also going to include a 50 seconds video. (check above recipe card)
Benefits of Grilling Corn in Husk:
Let me summarize the benefits (what-to-expect) of grilling corn in the husk.
1. Moist: It stays moist and does not dry out like char-grilled corn without husk.
2. Fresh Longer: It stays fresh longer. Once grilled, I leave it on the coolest part of the grill where it still stays warm but does not dry out. You can even dab some water to prevent burning of leaves.
3. Sweeter: This is the best way to sweeter corn. Just like boiled and steamed corn... This corn works perfect for recipes like Seasoned Corn on Cob, Corn served with barbeque or seafood.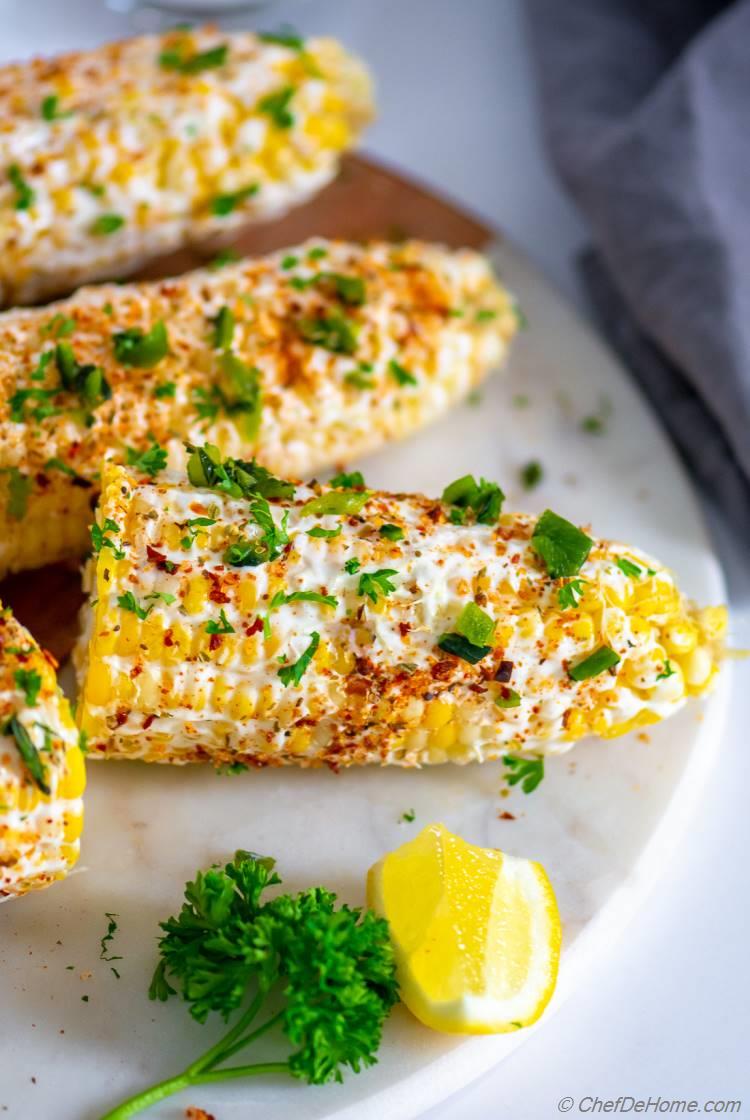 Toppings or Seasoning for Grilling Corn:
1. The best way to serve grilled corn in husk - salted butter on hot corn which is just grilled and came out of the husk. Butter melts on corn and it tastes just like the one you get in street fairs.
Just like street fairs, after butter, add any topping like. Tajin, Cajun seasoning, Lemon-Pepper. Any of the three is a perfect compliment to sweet corn.
2. Today's recipe I decided to go beyond butter. This recipe has a creamy coating of the mixture of sour cream and whipped cream cheese with a generous sprinkle of Cajun seasoning. For an additional spicy bite, I grill a poblano chile while grilling the corn. Once the poblano skin is blistered, I take it off the grill and let it sweat. Small diced char-grilled poblano sprinkled on sweet corn with a layer of sour cream is simply amazing. You will love the flavors.
If you planning to serve corn on the side with barbeque? I say, let's upgrade simple corn to this sweet and spicy grilled corn recipe.
Wish you all Happy 4th. Have fun and stay safe.

Watch Video
How To Grill Corn in Husk
Learn how to grill corn in husk. Grilling Corn in husk keeps it moist and sweet. Try my Sour Cream Cheese and Cajon rub for a yummy Corn on the Cob.
I have few more corn recipes for you:
Grill Corn in Husk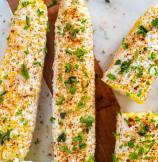 Total Time:
Prep Time:
Cook Time:
Cuisine:
American
(

Side Dish

)
Difficulty:
Easy
Yields:
4-5 Servings
- Serves:
4
(

No. of servings depends on serving size.

)
Directions
1.

Soak Corn with Husk

:

Wash corn, until the husk is dirt free, under running water. Dip corn (husk intact) in a pot full of room temperature water. Leave soaking for 30-40 minutes (no more than an hour).

2.

Preheat Grill

:

Preheat gas or charcoal grill to medium. Take out corn cobs from water and discard the water.

3.

Grill Corn on the Cob

:

Place on medium-heat side of the grill (avoid direct flame) and grill covered for 5 minutes. Turn and continue grill another 5-10 minutes until light grill marks appear, the husk is almost dry, and loose husk starts to burn at edges. Take out of grill Or leave on the top rack of the grill away from direct heat until ready to serve.

4.

Grill Poblano Pepper (if serving)

:

While corn grills, brush oil on poblano pepper and place on grill. Grill until skin is blistered. Remove and leave aside covered to sweat and loosen the skin.

5.

Make Corn Topping

:

In a bowl, mix room temperature cream cheese, sour cream, and lemon juice. Mix until well combined. Remove and discard skin/seeds of grilled poblano. Small dice the flesh. Chop cilantro for garnish (if using).

6.

Assemble and Serve

:

When ready to serve, remove the husk from cooked corn. (You can also tie it at the back with one leaf or thread for presentation or simply remove and discard it). Brush corn with cream cheese mixture. Sprinkle with Cajon seasoning. Top with chopped poblano pepper, and cilantro. Serve when still warm. Enjoy.
DID YOU MAKE THIS RECIPE?
Tag
@SAVITACHEFDEHOME
on Instagram and hashtag it
#SAVITACHEFDEHOME
© Chef De Home. Post content including video and photos are copyright protected.
We Think You'll Love