Meatless Baked Ziti with Red Kuri Squash
Baked Ziti without meat, and loaded with meaty mushrooms and kuri squash. Friends, it is new way to Baked Pasta.
Posted On:

Sep, 12
| Author:

Savita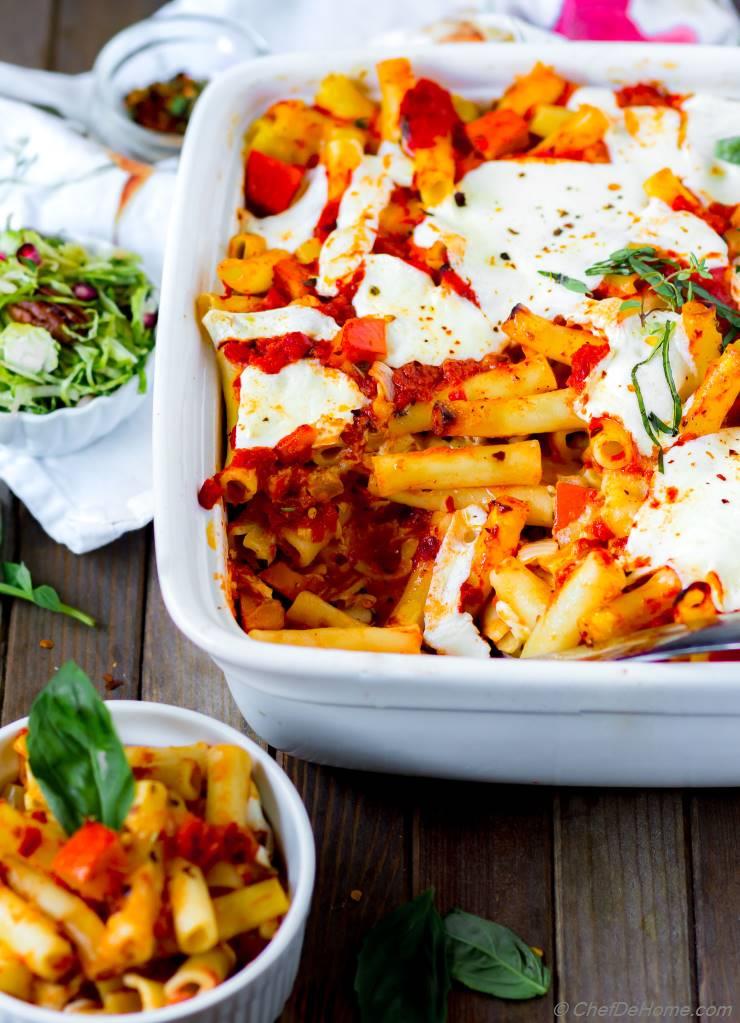 Meatless Baked Ziti with Red Kuri Squash, mushroom, flavorful tomato sauce and mozzarella cheese. This recipe is special for two reasons; 1) A lite no-meat take on everyone's favorite comfort food - Baked Ziti; 2) and a baked pasta recipe with a squash that you don't have to peel. Yes! Red Kuri Squash has edible skin. It is also loaded with vitamins, and has delicate chestnut kind of flavor. Perfect to welcome fall.
I flavor the no-meat sauce with mushrooms, parmesan, herbs, and spices. It can be made a week ahead which makes this meatless Ziti dinner even perfect for weeknights!
So, let's make some No Meat Baked Ziti! Shall we?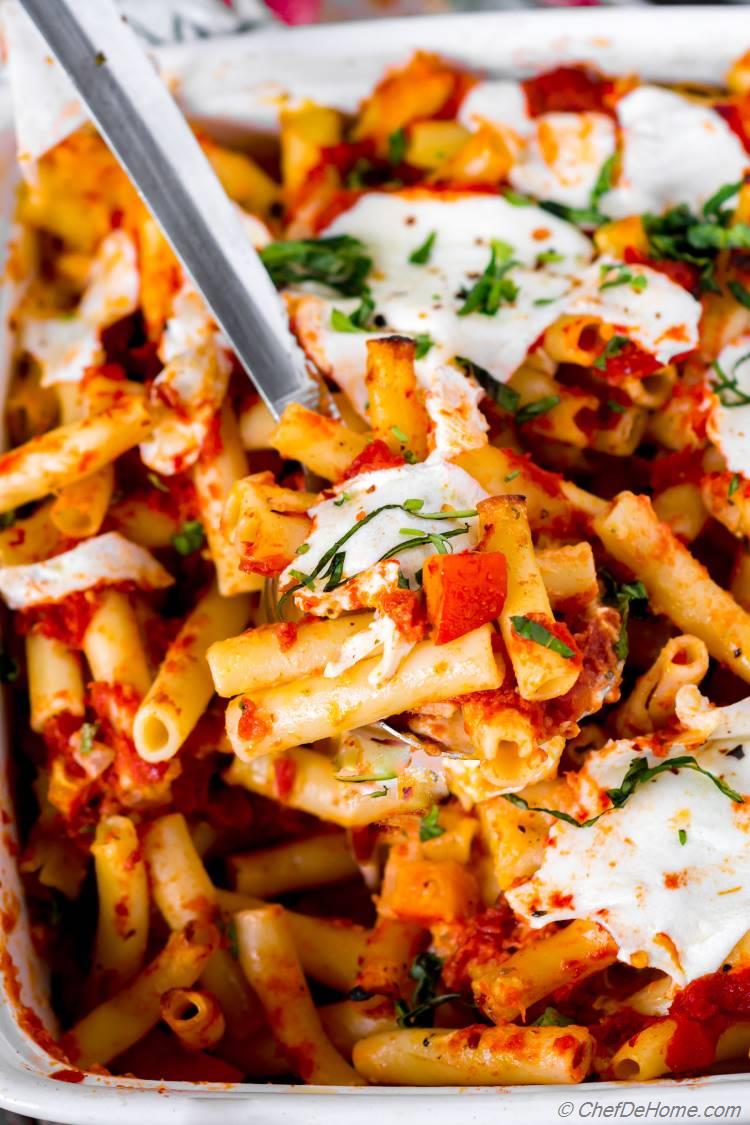 How to Make Flavorful No Meat Tomato Sauce for Baked Ziti?
Whenever I plan a meatless version of classic meaty recipe... I pay special attention to adding lots of flavor. Honestly, this is the only way my family's picky meat-lovers like a no-meat main course. How about yours?
To make no-meat Tomato Sauce flavorful I do following:
Good Quality Tomato Sauce:
To make baked ziti without meat, I use a good quality tomato sauce. I have an amazing recipe of Tomato Sauce. When time pressed, I only buy Rao's Marinara Sauce. One of my favorite, by far. Even Food Network's top chef such as Ina Garten use it. Hands down it's flavor is always spot-on. In-fact, I even re-created one of Rao's spicy marinara sauce - Arrabbiata. (it is pretty close to original, if you like to try).
Meaty Vegetarian Additions:
I also fortify sauce with fresh herbs, spices, sauteed yellow onion, kuri squash, and meaty mushrooms. In this recipe, I used two kinds of mushroom, crimini and button. For smooth texture pasta, I chop the mushrooms in food processor. This makes mushrooms disappear in sauce almost like minced meat. No one need to know this is meatless Baked Ziti. :-)
Why Kuri Squash and not others?
Kuri squash's skin is edible. Drum roll!!!
It is not very heavy or thick squash. Just like a medium Acorn Squash, Kuri is easy to slice. It freezes well and cooks fork-tender in just 15 minutes. Plus you don't have to peel the skin. Actually, skin of squash is full of vitamins and good for you. It also gave meatless baked ziti some texture.
On contrary to it's name, Kuri is actually orange in color, and gets even brighter orange when cooked. Below are two pictures of Red Kuri Squash - Whole, and sliced. Now, you can easily find it in pile of squashes, in Farmer's market.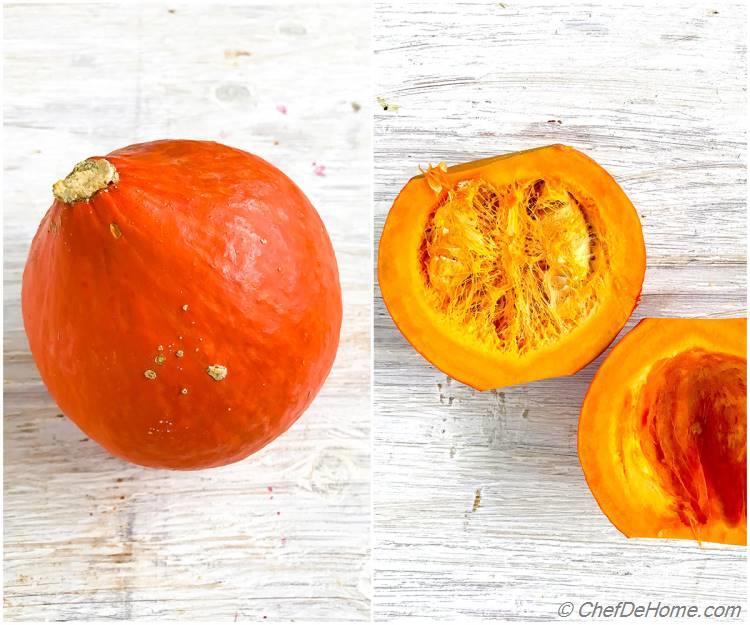 Friends, this fall bring home so Red Kuri Squash. Simply slice, and cook! Add to salads, soups or make some meatless Squash Loaded Baked Ziti.
To cook Red Kuri Squash, you can either boil or microwave it.
I slice the squash in half. Remove and discard the seeds. Bring a pot of water to rolling boil. Season with salt. Add squash halves into water, or chop squash into bite size pieces then add to water. Boil until just fork tender. Discard water and use squash as needed. (I even freeze some to use another day).
Note: Check Microwave Method in recipe directions.
Lite Baked Ziti:
Baked Ziti is a classic baked pasta recipe, often loaded meat and cheese such as Ricotta and Mozzarella. My meatless version is certainly a good option for anyone on vegetarian diet. Also, great for a change of flavor for meat lovers. 
When I planned this recipe, I decided to go lite on cheese. The vegetarian sauce is not heavy as meat. So I replaced ricotta with 1/2 cup parmesan. Sauce is also packed with flavor, and parmesan gives this perfect bite. A layer of sliced baked Mozzarella Cheese and garnish of fresh basil is just perfect. Serve a bread on side for scooping the sauce.
Make Ahead:
Sauce can be made ahead up-to one week. (which I do all the time.)
Also, you can assemble sauce with pasta and freeze to bake later. (Follow up-to Step 6 in Recipe Card.) That way prep work is reduced to 2-3 minutes. Just take out of freezer, thaw, bake and enjoy!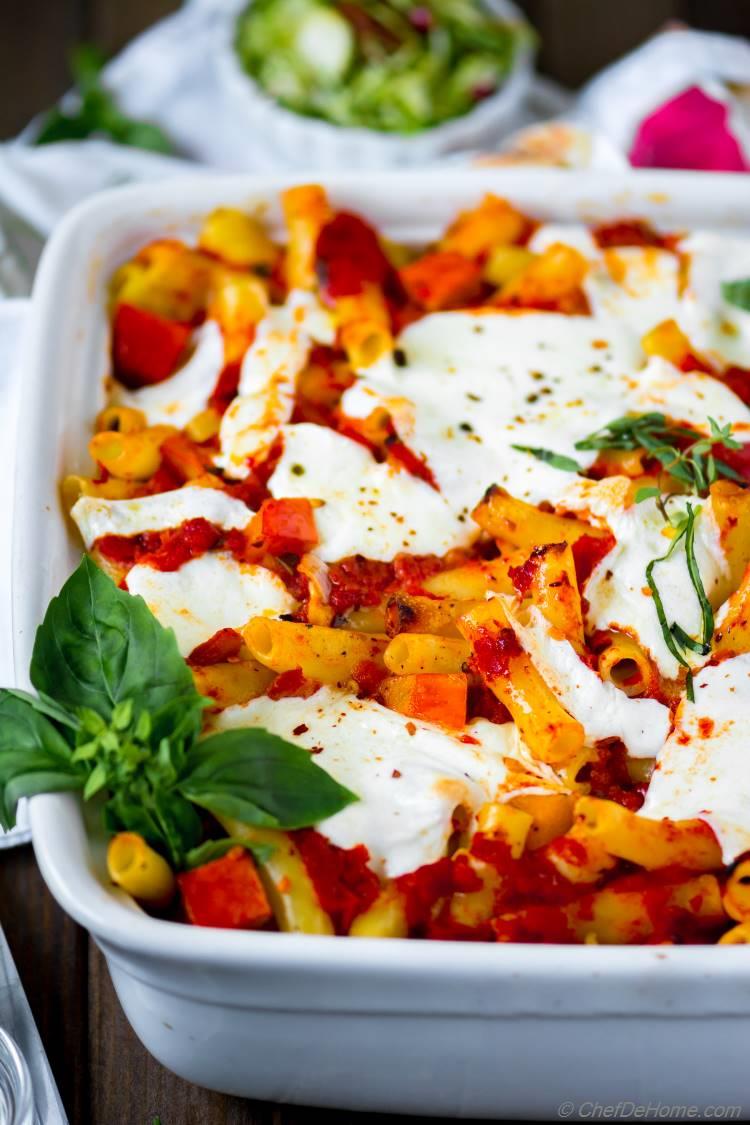 I hope you enjoying week. don't forget to pin this recipe to try later.
Wish you a wonderful day ahead. -Savita x.
Meatless Baked Ziti with Red Kuri Squash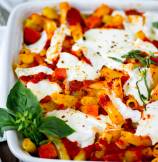 Total Time:
Prep Time:
Cook Time:
Cuisine:
Italian
(

Pasta, Main Course

)
Difficulty:
Easy
Yields:
6 Servings
- Serves:
6
(

No. of servings depends on serving size.

)
Directions
1.

Set oven to preheat at 450 Fahrenheit. Oil spray a 9x13 inch baking dish. Set aside. In a Food Processor, add cleaned mushrooms and fine chop/mince. Set aside.

Additional Notes:

If you're making this ahead, don't preheat your oven yet.

2.

Cook Ziti Pasta - While squash cooks, bring a pot of water to rolling boil. Season with salt. Cook pasta al-dente according to package directions.

3.

Cook Red Kuri Squash - Slice squash in half and discard seeds. Chop into bite sizes pieces. Add to microwave safe container. Cover with wet kitchen towel. Microwave for 15 minutes or until fork tender. Check after every 5 minutes.

Additional Notes:

You can also boil squash. Bring pot of water to rolling boil. Add diced squash and cook until fork tender.

4.

Make Sauce: In a wide and deep saute pan, heat olive oil, add onion, garlic, chili flakes, thyme (if using dried. For fresh add later with tomato sauce) with generous pinch of salt. Saute until onions are soft (2-3 minutes). Add minced mushroom, some more salt, and cook with onion until mushrooms give away all of the water. (3-4 minutes). Now, add cooked squash, tomato sauce and cook partially covered for 3-5 more minutes to marry the flavors. Set aside.

5.

Mix in half of Parmesan cheese. Combine well. Now, add cooked and drained ziti pasta. Gently coat pasta in sauce.

Additional Notes:

Fish and discard stems of fresh thyme (if using fresh thyme) before mixing in pasta.

6.

Pour half the ziti pasta into a 9x13 inch baking dish (or casserole), top with half of the sliced mozzarella and remaining half (2 tbsp out of 4) of the Parmesan. Repeat with remaining pasta, and cheese finishing with layer of mozzarella on the top.

Additional Notes:

Make-Ahead Tip: This is the step where you can cover and refrigerate/freeze it to bake later.

7.

Bake the ziti uncovered for 12-15 minutes at 450 degrees preheated oven. Sauce will be bubbling and cheese nicely melted in this time. Let the ziti rest for 5-10 minutes before serving. Garnish with fresh basil before serving.
DID YOU MAKE THIS RECIPE?
Tag
@SAVITACHEFDEHOME
on Instagram and hashtag it
#SAVITACHEFDEHOME
© Chef De Home. Post content including video and photos are copyright protected.
We Think You'll Love