Italian Chicken Pasta Salad
Italian Macaroni Pasta Salad with chicken and zesty Italian vinaigrette dressing. So simple to assemble and bold flavors to wow the gathering.
Posted On:

Jun, 18
| Author:

Savita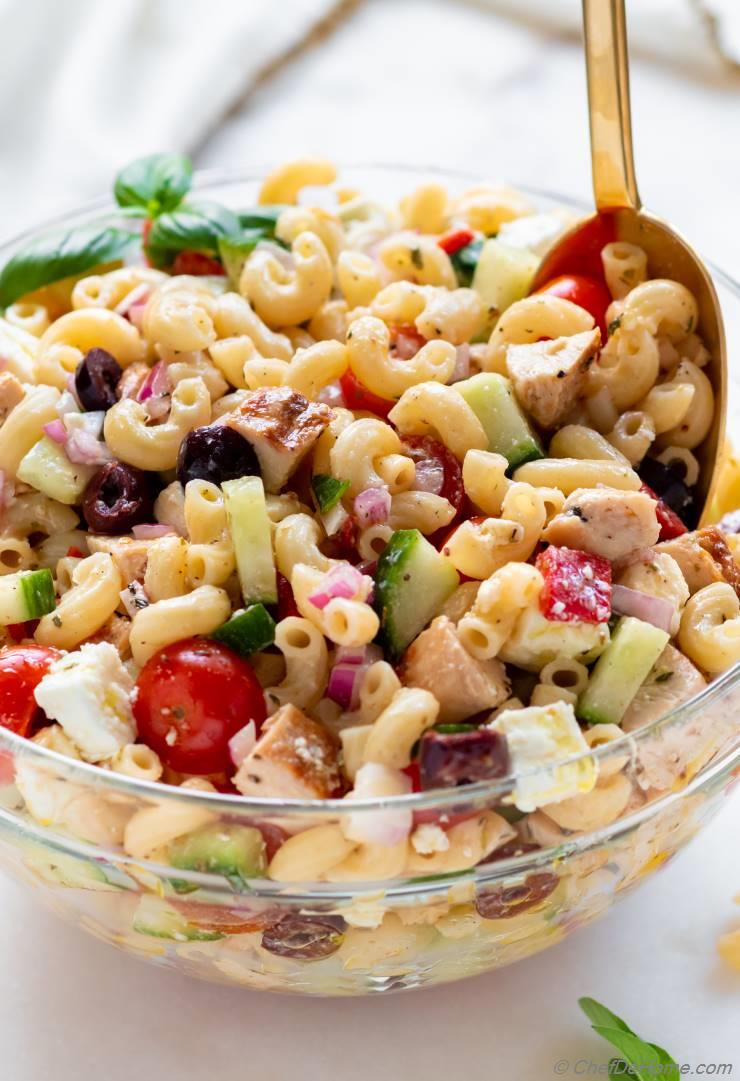 In this Chicken Pasta Salad, every fork full will have something delicious to offer. Crunch cucumber, tomatoes and hidden surprise of roasted bell peppers, with chicken and top it all of the tangy Red Wine Salad Dressing is a party of flavors. If you are fan of deli-style pasta salads, this salad will be your new favorite. 21 grams of protein in each serving, lots of veggies, and only 20 minutes to prep. A must try Salad.
Specially great to pack for potlucks or family trips, ingredients in this pasta salad are robust and also benefit from sitting in vinaigrette. Honestly, more than potlucks, when I crave Italian Pasta Salads... this one is on my "dinner" table. In-fact, I always make 2 portion extra to cover a lunch day.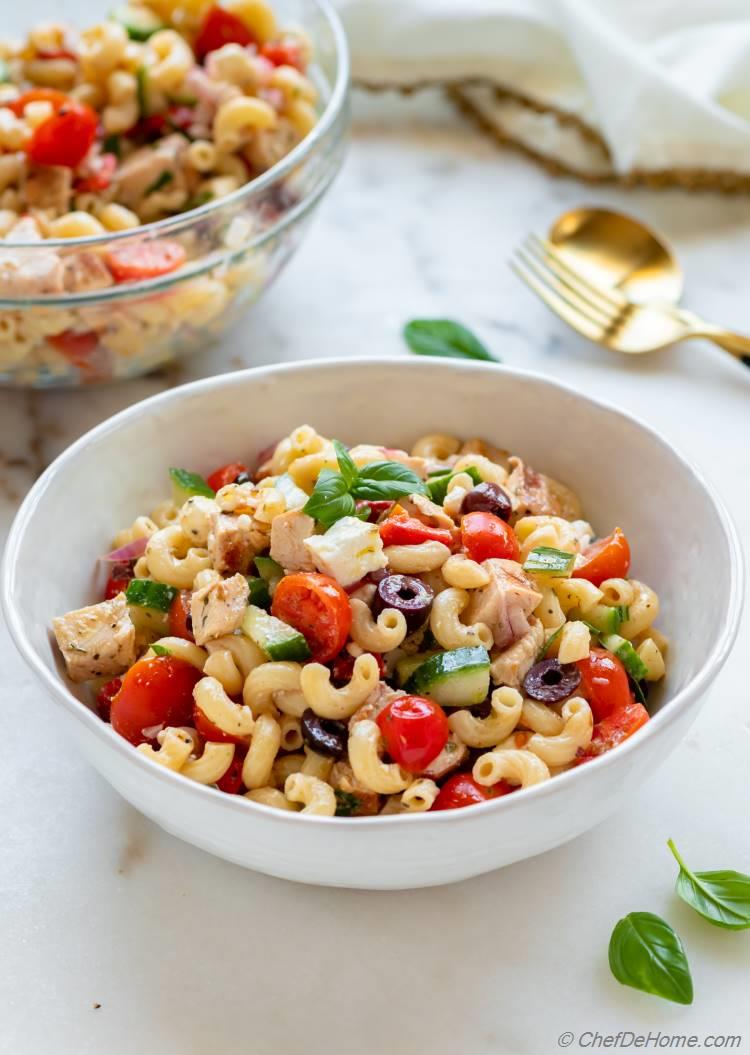 What you need for Chicken Pasta Salad
There are 4 parts to Cold Chicken Pasta Salad:
Italian Dressing
Chicken
Pasta
Vegetables
1. Italian Dressing
A flavor packed dressing such as the Red Wine Vinegar Italian Dressing gives this salad a delicious sweet-sour flavor. I also toss in a 1/2 cup fine grated parmesan cheese while assembling the salad. It dressing with cheese make delicious coating on pasta. It tastes delicious and lite creamy without mayo or cream-based dressings.
Ingredients for Italian Dressing
Here's what you need for the Italian Dressing:  
Olive Oil
Red Wine Vinegar
Dijon Mustard
Italian Seasoning
Salt and Black pepper.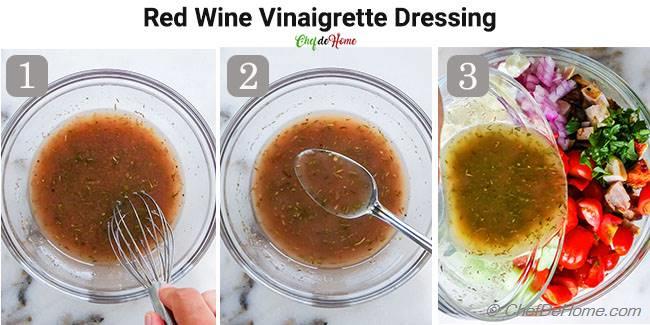 Can't find ingredients for Italian Dressing?
Try following substitutes or use a good quality store-bought Italian Dressing. 
Olive Oil - Whenever possible I love to use extra virgin olive oil for homemade dressings. You can also use Avocado Oil or a light oil such as Grapeseed Oil. 
Vinegar - Most commonly used vinegar for Italian Dressing is Red or White Wine Vinegar. Both of these vinegars are less acidic. I specially love the little sweet notes of red wine vinegar. You can also use Champaign Vinegar or White Wine Vinegar. If using distilled vinegar, use and also add sugar to compensate for sweetness. If you don't like sugar, replace with a teaspoon honey.
Mustard - A little mustard goes a long way. This one ingredient helps emulsify i.e. bind the oil and vinegar together. This is perfect way to avoid serving broken dressings. You can also use Stone Ground or yellow mustard.
Italian Seasoning can be quickly assembled at hand. I often use a equal part blend dried/fresh basil, oregano, and thyme. Even if you can't find all herbs, use at-least 2 for signature herb flavor.
I found Kraft's Tuscan Italian Dressing work great for this salad. In-fact, I use it when I'm in hurry or have a half bottle leftover dressing in refrigerator.
Tip: Italian Dressing can be made ahead and refrigerated for 1-2 weeks. Just whisk well before adding into the salad.
2. Chicken for Pasta Salad
Cooking chicken for pasta salad is no different from cooking chicken for your favorite chicken dinner.  It's vert straight forward. But make sure of two things:
Use Well Seasoned Chicken - Cook Chicken Breast seasoned with salt, peppers (at the very least) and herbs, seasonings (preferably) if cooking fresh chicken just for pasta salad. You can also use rotisserie chicken, or baked chicken.
Slice Bite Size Pieces - For perfect bite of pasta salad with chicken, dice cooked chicken into even bite size pieces. This makes a lot of difference when serving in potlucks or bigger group. Even size pieces ensure equal distribution of chicken in each portion. (a small step but makes huge difference.)
3. How to Cook Pasta for Pasta Salad
Here is how I cook Pasta for Pasta Salad.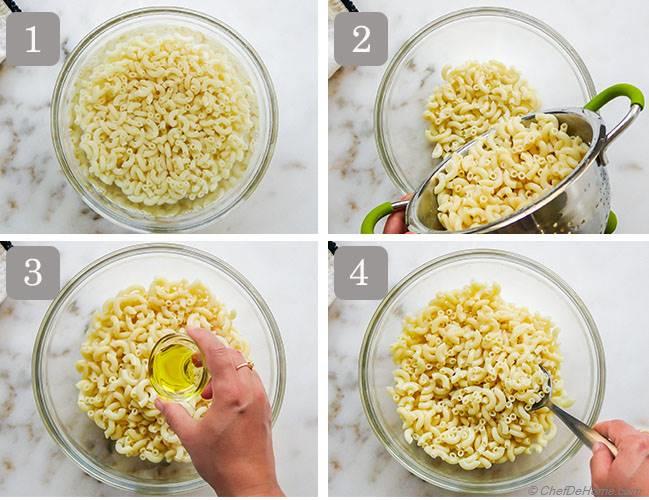 Always cook pasta al-dente - Cooking time for pasta can vary based on kind of pasta/ingredients. Such as semolina pasta cooks faster than wheat pasta. For best results follow the package directions. Overcooked pasta is no good for salads... not good for anything.
Prepare Pasta for Salad - Once cooked;
1. Rinse pasta under cold water.
2. Toss pasta with little olive oil.
Rinsing stops further cooking of pasta. Oil helps pasta stay separate. Pasta does not stick together and works great in salad. This also helps keep pasta salad stay fresh longer.
And it's important to choose right shape of pasta for pasta salad. All small tubular pastas such as penne, macaroni or other small varieties fusilli, farfalle work great. Like chicken, small size makes pasta salad easier to eat and ensures even distribution. Every one gets a bit of everything!
4. Ingredients for Pasta Salad
Vegetables compliment the pasta, chicken and cheese. Use what I added, or add more such as red bell peppers, zucchini, celery. Addition of olives, cheese such as feta, Parmesan, provolone, cheddar enhances the flavor of veggies and also compliment the pasta.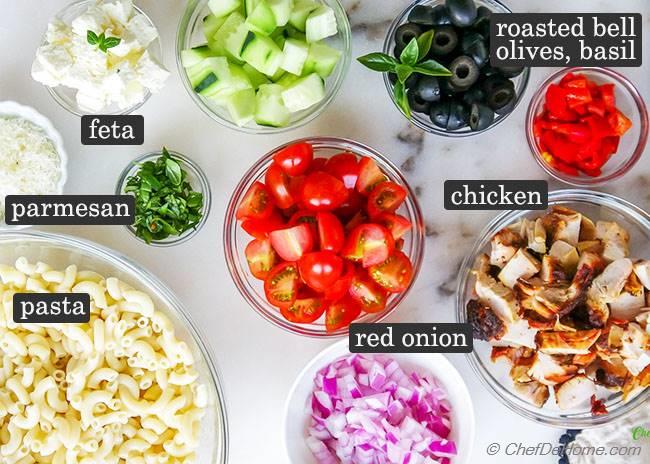 What goes into Pasta Salad
Here's what ingredients you need to make pasta salad:
Cucumber, Cherry Tomato, Red Onion - All of these add right amount of crunch; the usual suspects of Pasta Salad. I prefer cherry tomatoes in summer for the extra sweetness.
Ricotta Slata or Feta - A classic addition with Pasta Salad. The cubed salted cheese such as feta or ricotta salata is quintessential for Italian Pasta Salad. The bite of salty piquant cheese makes savory and delicious. 
And as always, dice into bite size pieces for equal distribution of cheese in pasta salad.
Fresh Basil - Basil is another usual suspect, brings fresh Italian flavor to the salad. 
Bell Peppers and Olives - These two ingredients help add layer of brine-y flavor in pasta salad. The sweetness of roasted red pepper brings out the flavor of pasta salad. Use water packed roasted bell peppers instead of oil packed. Oil packed/pre-seasoned with interfere with the flavors of Italian Salad.
Parmesan Cheese - I also add a little parmesan cheese to give salad lite creaminess. It glues the pasta to the dressing. Makes a big difference in flavor of pasta salad. (A handy trick I learned from Chef Giada of Food Network.)
Tip: Choose a colorful range of produce to make salad more inviting. (specially for kids) 
5. Assembly!
You need a big mixing bowl to assemble Pasta Salad. I learned this from experience that a large bowl provides room to mix dressing and other seasonings with pasta and chicken way better than a smaller bowl. As a rule, I always pick mixing bowl 1-2 size bigger than the quantity of ingredients. e.g. for a 8 serving salad, use 5 quart mixing bowl.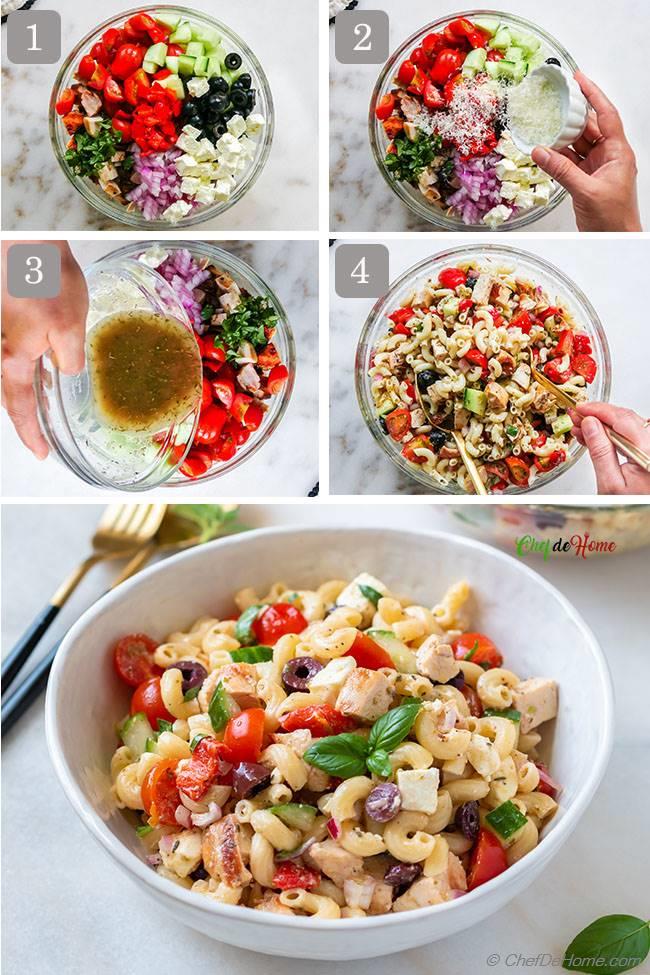 The assembly is easy; with a few tips, here's how you assemble a Chicken Pasta Salad. 
Start with pasta at the bottom. (Pasta tossed with olive oil.)
Top with chicken, and vegetables; cucumber, cherry tomato, red onion, bell pepper, olives, and chopped basil.
Sprinkle parmesan cheese on the top.
Pour Italian Dressing on the top. (if serving later. reserve 1/4 cup to fold into salad just before serving.)
Gently fold the dressing into the pasta.
Rest 30 minute before serving - For best results, let salad sit at room temperature for 30 minutes. This helps salad ingredients and dressing flavor blend well. You will notice the difference in flavor of a salad served right after mixing vs one mixed and rested for 30 minutes.
Tip: If eating Pasta Salad later, refrigerate (covered) until ready to serve. Fold in reserved dressing just before serving.
Healthy Chicken Pasta Salad
Here's how this pasta salad is lite and heathier:
Made with Low-Oil Grilled Chicken -  Often, you will find Italian Pasta Salads with dried or cured meats. However, I made this salad with home cooked organic grilled chicken. Grilling needs less oil and chicken cook moist and tender. This keeps this salad with clean flavors and more approachable for weeknights since I always often leftover chicken from summer grilling days. By all means, you can add more meats in this salad. Make it your own!
Made with Lite Italian Dressing - Instead of mayo or cream based heavy dressings, this salad use Italian Dressing. The lite olive oil based dressing keeps salad lite. I add little bit of parmesan cheese to make pasta creamier. It's still very refreshing and not heavy like Creamy Chicken Pasta Salads. (However, I have a delicious recipe for creamy chicken pasta salad. I'll keep note to make that for you another day... !!!)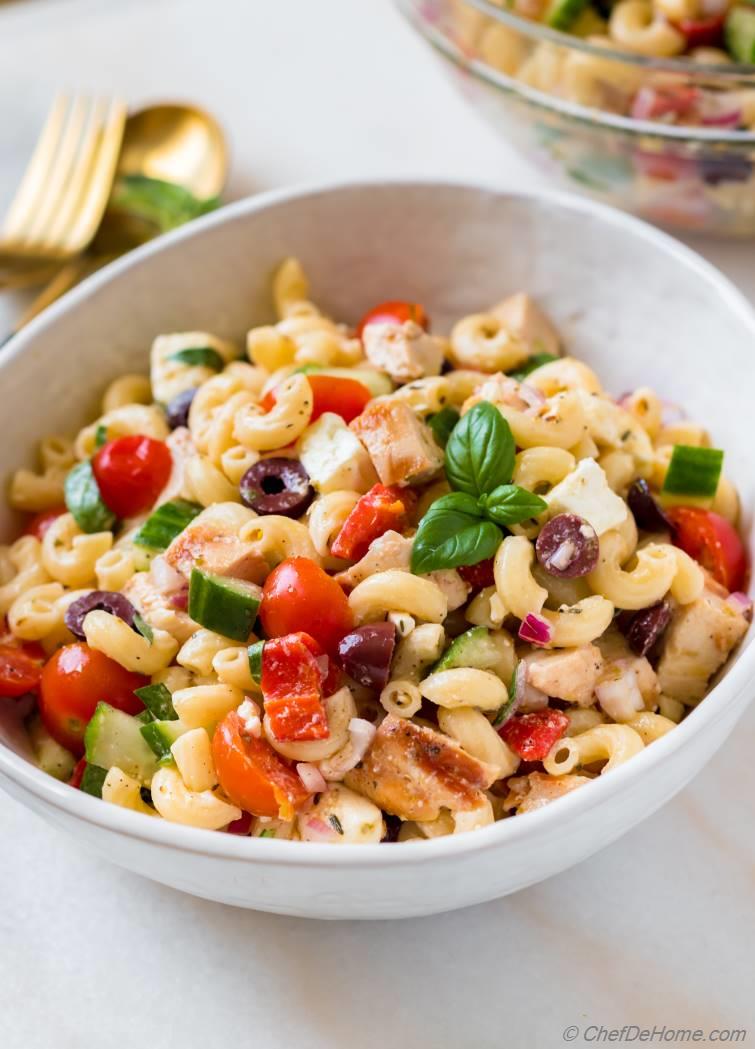 Last weekend I made a big batch of this Pasta Salad. For two reasons - first to share this recipe with you and second to enjoy leftovers for lunch on weekdays. Since pasta does not stick together and stays nice and fresh for up to 2 days (as explained above). In fact, I'm still enjoying a batch from Wednesday's cooking on Friday. 
Sounds awesome, right? You can make this Pasta Salad using fresh and good quality ingredients, at home in 20 minutes of prep. Or Make ahead on a weekend and enjoy for next 2-3 days.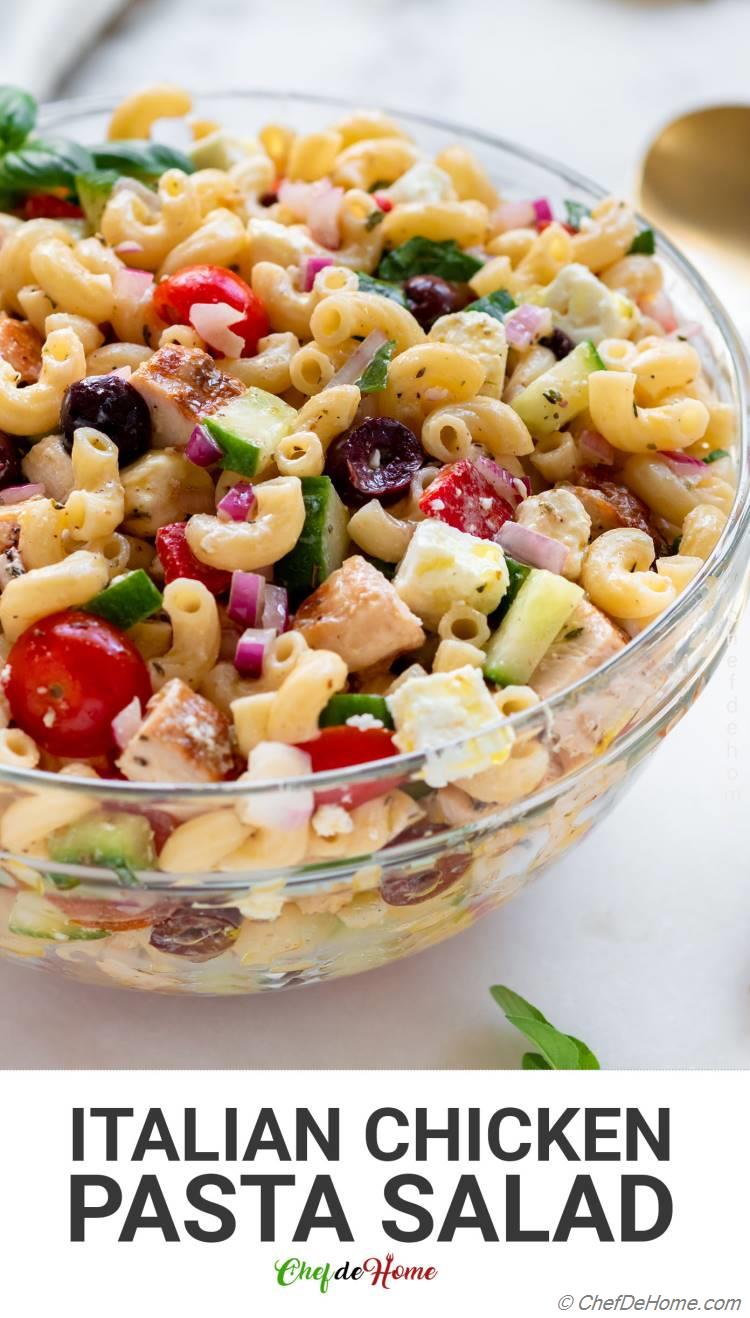 For a potluck and camping approved Pasta Salad, remember there are few ingredients which make a potluck pasta salad, "the best pasta salad" ever!
Happy Cooking! -Savita x
You may also like these Chicken Salad and Pasta Salads.
Italian Chicken Pasta Salad
reviews

)
(10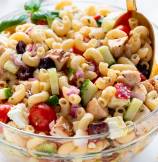 Total Time:
Prep Time:
Cook Time:
Cuisine:
Italian
(

Salad, Pasta

)
Difficulty:
Easy
Yields:
8-10 Cups
- Serves:
8
Nutrition:
363 calories per serving
(

4 Substantial or 8 Side Servings

)
Ingredients
Italian Vinaigrette Dressing
Chicken Pasta Salad
Directions
1.

Cook Pasta and Prep Pasta for Salad

:

Bring a pot of water to rolling boil, season with salt, add pasta and cook as per package directions or until al-dente. Drain pasta water, run pasta through cold water. Transfer pasta into a wide pasta bowl with 2 tablespoons of olive oil. Coat well. Set aside to cool completely.

2.

Prepare Salad Dressing

:

In a bowl, add all salad dressing ingredients except oil. While whisking continuously, add oil at a slow stream to emulsify. Set aside.

3.

Prepare Salad

:

In a salad bowl with cooked pasta, add remaining diced salad ingredients - chicken, cherry tomatoes, bell pepper, olives, feta, red onion, cucumber, parmesan cheese, and basil. Drizzle all but 1/4 cup of Italian dressing prepared in Step 2 over the salad. Gently fold the dressing into the pasta. See Note 3

4.

Serve and Enjoy!

:

For best results, let salad sit at room temperature for 30 minutes. If eating later, refrigerate until ready to serve (See Note 3). Serve this pasta salad as side salad or complete protein-filled meal. Also a good option for lunch.

Additional Notes:

Read post to know more.
Savita's Notes:
If you can't find Dry Italian Seasoning then use mix of equal parts of 2 or all of oregano, thyme and basil (dried herbs).
I used pre-cooked grilled chicken, one thigh and one whole breast, small diced. It's about 2 cups or 1/2 pound by weight. You can use any kind of cooked chicken - baked, rotisserie, store bought. All works as long as chicken is cooked with seasonings (at the very least - salt and black pepper). 
Make Ahead: If making ahead, it is good idea to reserve 1/4 cup of dressing. Pasta absorbs liquid as it sits longer. Mixing a little dressing just before serving will freshen up the salad flavor. 
DID YOU MAKE THIS RECIPE?
Tag
@SAVITACHEFDEHOME
on Instagram and hashtag it
#SAVITACHEFDEHOME
© Chef De Home. Post content including video and photos are copyright protected.
We Think You'll Love