Greek Orzo Pasta Salad with Grilled Shrimp
Delicious grilled za'atar shrimp, orzo pasta with feta, olives, cucumber, tomatoes and zesty lemon dressing. This salad recipe is perfect for salad-for-dinner weeknights!
Posted On:

Apr, 30
| Author:

Savita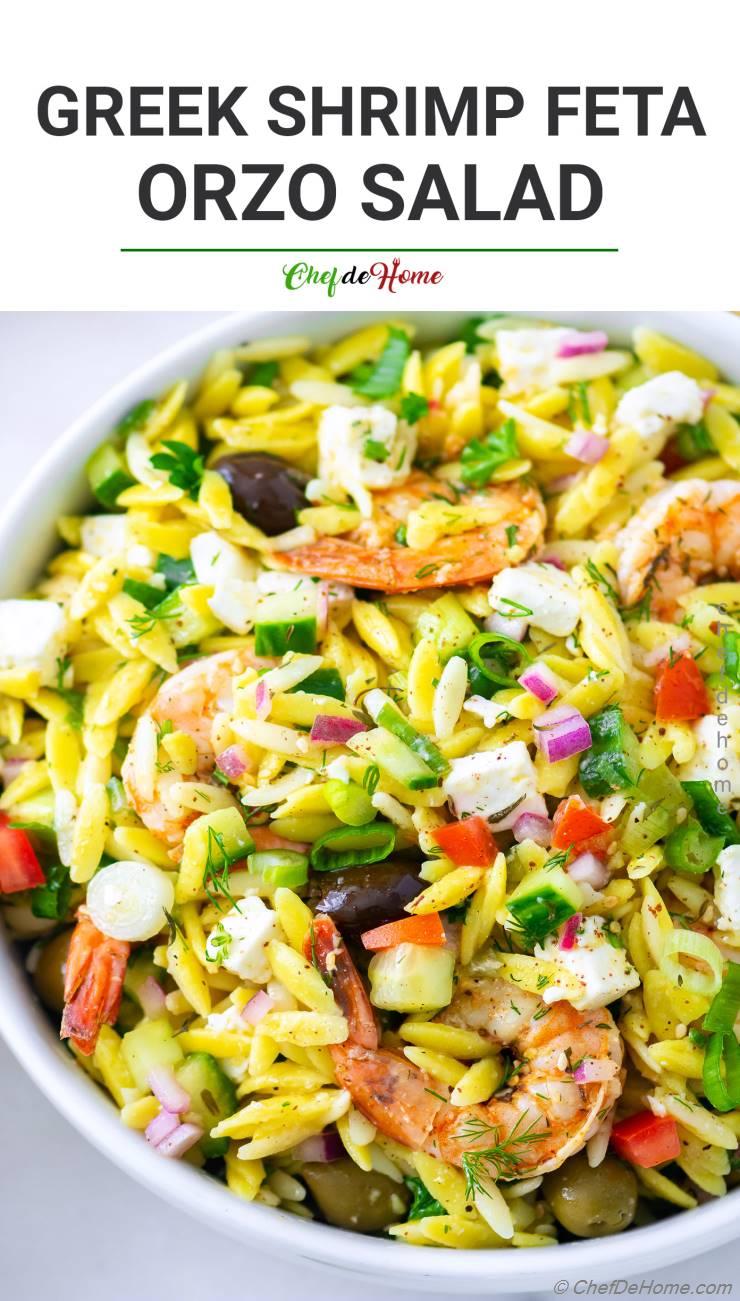 This Greek Orzo Pasta Salad with grilled Za'atar Shrimp is bursting with Mediterranean flavors of Greek feta, olives, cucumber, dill and a zesty fragrant Greek Salad dressing. Every ingredient in this salad brings something delicious to fork. Serving of protein makes it perfect for salad-for-dinner weeknights.
Also a good salad to serve a crowd. Serve 8-10, and needs on 15 minutes of prep. 
If you like Mediterranean flavor Salads? I have a few very delicious recipes on blog. Mediterranean Chickpea Salad, Greek Chicken Cucumber Avocado Salad, Greek Dakos Bread Salad.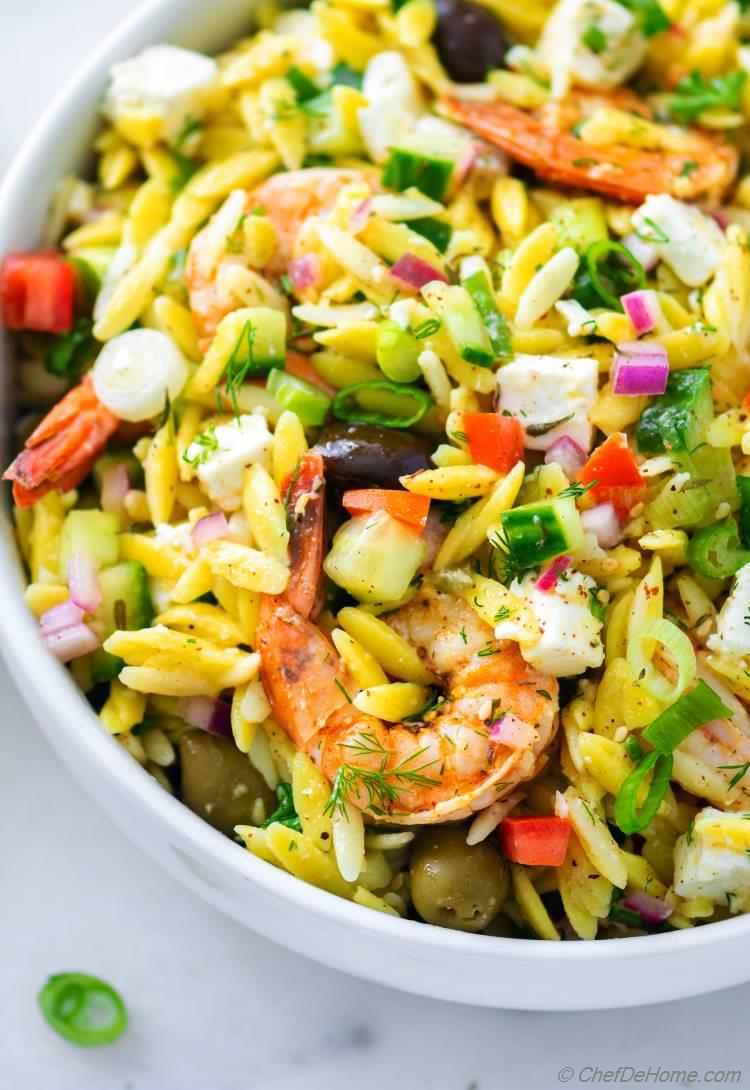 GREEK ORZO PASTA SALAD INGREDIENTS:
This salad brings together the classic Greek flavors, shrimp, and orzo pasta together making irresistible combination of flavors. The main ingreient of Greek Orzo Salad are:
Orzo Pasta (I used Lemon Orzo pasta for this recipe. You can use regular Orzo Pasta available in most US stores or buy online.)
Cucumber
Red onion (To reduce sharp peppery flavor of red onions, I add red onion to dressing before other ingredients and leave aside. By the time I chop cucumber, tomato etc. Onions are marinated, tangy and are not spicy anymore.)
Olives
Tomatoes
Feta cheese (Read recommendation below for what type of feta to use for Greek salads.)
Lemon
Dill
Parsley
Green Onion or Scallions.
GRILLED ZA'ATAR SHRIMP:
Shrimp and Orzo pasta works great together. I love the fact that both need quick cooking time. Shrimp is ready in 6-7 minutes and so is the orzo pasta. You can cook these side by side. Once shrimp and pasta are cooked, just assemble salad and ready to serve.
My recipe of Za'atar Shrimp is inspired by Za'atar seasoning I shared a couple of months ago.  Za'atar seasoning is blend of thyme, oregano, sesame seeds, citrus-y sumac and spices. It is great spice to roast/grill shrimp or chicken. Check Homemade  Za'atar Seasoning and Zaatar Chicken recipes.
For this recipe, I marinate shrimp (cleaned but with shells) in mix of zaatar seasoning, paprika, olive oil, salt and pepper. Then grill it outdoor or roast/pan cook as described in Recipe Notes. 
Tip: Marinate and cook shrimp with shell tails on. You can remove these later or let guest remove themselves. Tail-on shrimp is; 1) easy to grill outdoor and does not slip off the grill wrack. 2) pan sear/saute has more flavor when shells are cooked. However, that said, tail-on shrimp is not a deal breaker. Just careful when you grill it.
FETA:
Feta is mild and leaner salty cheese that adds just right amount of creaminess and salt to this Greek salads. I recommend using good quality feta. Always prefer a feta log instead of crumbled. Log is premium quality feta and tastes way better than crumbled. Once you try it, you will not go back to box of crumbled feta again.
This orzo salad tastes better with bite size pieces of feta distributed throughout the salad. For best results don't skimp on feta and keep pasta lite seasoned because feta is salty cheese.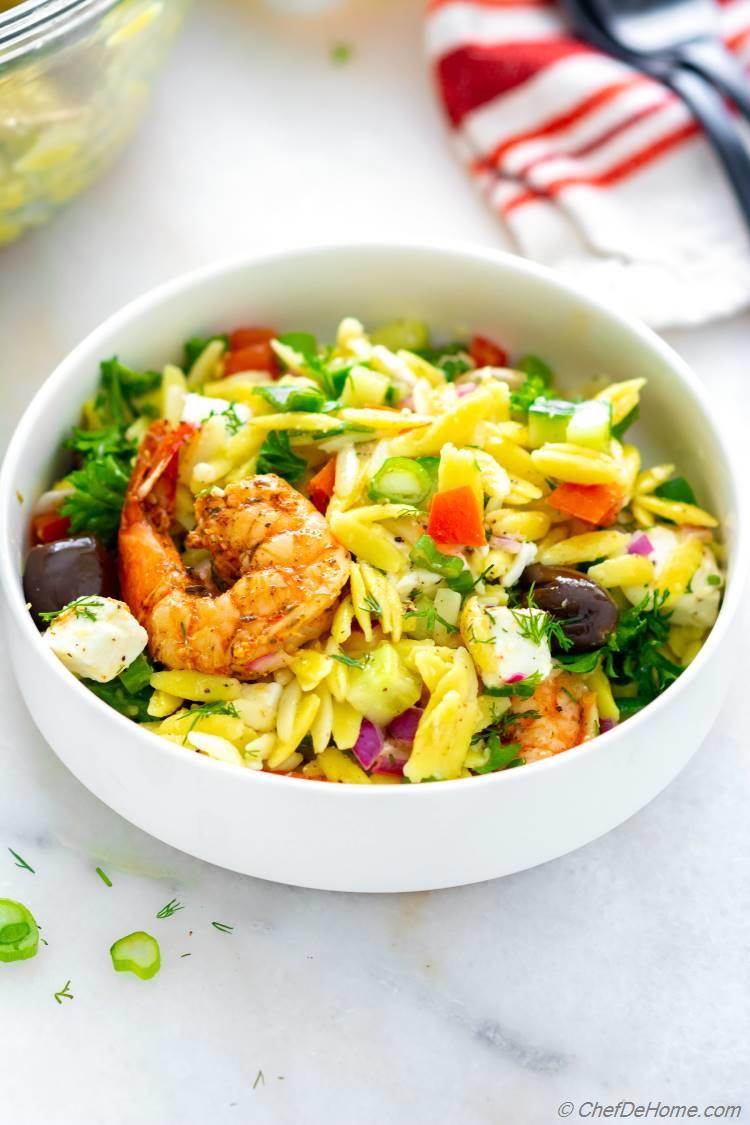 To make the Orzo Salad, I first start by boiling the water to cook the orzo pasta. In meantime, marinate the shrimp in seasoning blend of Za'atar, paprika, slat, black pepper, lemon and olive oil.  You don't need to let shrimp marinate for long. A quick toss in marinate and then leave aside while pan/grill heats.
Tip: Don't leave shrimp in marinate for long time or lemon juice will start cooking the shrimp. If planning to leave shrimp in marinate, don't add lemon juice. Add just before cooking/grilling.
Then  I drop orzo pasta in now boiling water. While pasta cooks, I cook the shrimp.
In meantime, assemble the rest of salad ingredients: dice cucumber, tomatoes, red onion and feta. Chop herbs - dill and parsley. Whisk the salad dressing in a wide salad bowl, add red onion and let'em marinate. Add all ingredients into salad bowl. Toss gently to coat everything in dressing siting at the bottom of the bowl. Taste and adjust salt.
That's it!
Greek Orzo Salad is ready to devour!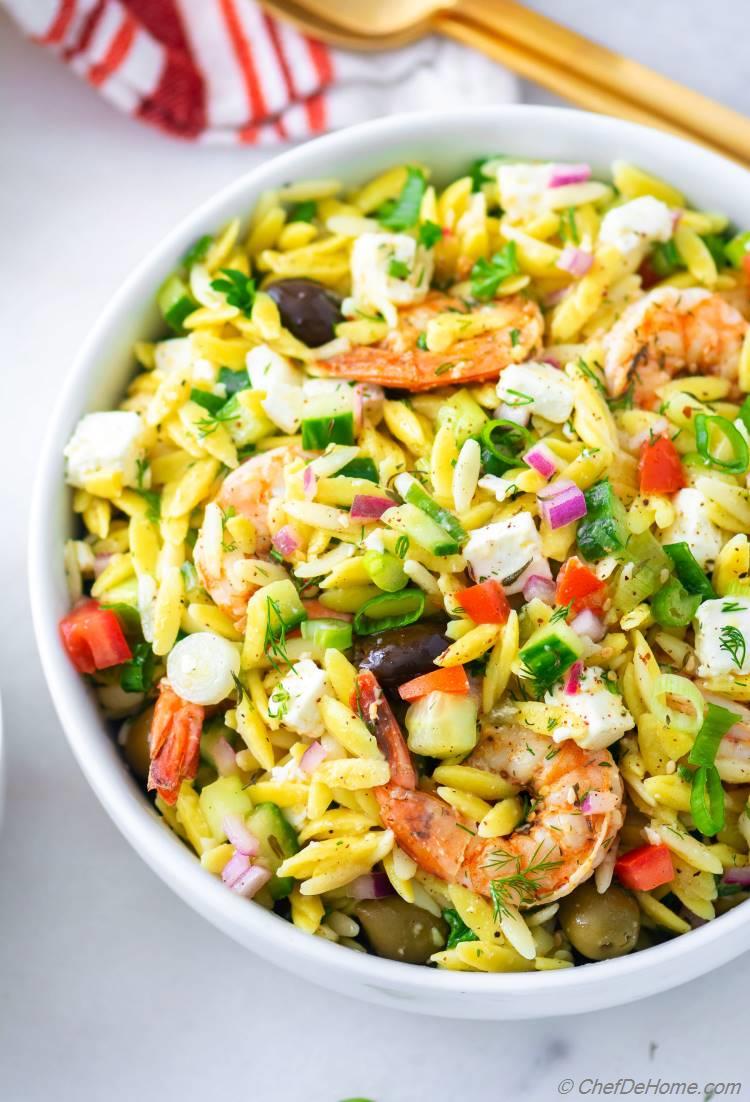 Zesty Zaatar Shrimp, feta, cucumber, olive, tomatoes with delicious dressing, herbs and orzo pasta. Really, what not to like?
Life is delicious with this bowl of easy Greek Salad. I'm sure most ingredients are in your pantry and refrigerator. Grab some and serve for Orzo Salad for dinner tonight. You can also cook Shrimp on Stove Top or under Oven Broiler. Check Recipe Card's Notes for more details.
This pasta salad is best when serve chilled. So I recommend refrigerating the salad until ready to serve. 
Happy Cooking!

MORE SHRIMP SALAD RECIPES:
ORZO RECIPES:
Greek Orzo Pasta Salad with Grilled Shrimp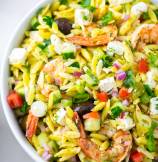 Total Time:
Prep Time:
Cook Time:
Cuisine:
Mediterranean
(

Pasta, Salad

)
Difficulty:
Easy
Yields:
8-10 Servings
- Serves:
8
(

4 substantial or 8 side servings.

)
Ingredients
Za'atar Shrimp
Greek Orzo Pasta Salad
Directions
1.

Cook Orzo Pasta - Cook orzo pasta according to package directions. Once cooked, drain and set aside. Reserve a cup of pasta water to revive the pasta.

2.

Marinate Shrimp - In a bowl, add shrimp, olive oil, lemon juice, salt, paprika, and black pepper. Coat shrimp in oil and spices. Set aside.

3.

Make Dressing: In a wide bowl, add remaining lemon juice, olive oil, 1/2 tsp each of salt and black pepper. Whisk to emulsify. Add diced red onion. Mix and set aside.

4.

Cook Shrimp - Preheat a grill pan or outdoor grill. Grill shrimp on hot grill until pink from both sides. 2-3 minutes each side. Remove in a bowl and set aside.

5.

Assemble Salad - Add in cooked orzo pasta followed by diced cucumber, tomato, olive, marinated red onion, diced feta cheese, cooked shrimp, scallion, chopped parsley and dill. Toss gently to combine everything with dressing. Taste and adjust salt and black pepper.

Additional Notes:

If pasta sticking together, add some reserved pasta water and fluff with fork to freshen-up before adding to salad.

6.

Serve - Refrigerate until ready to serve. Best served chilled or at room temperature.
Savita's Notes:
Follow link to Za'atar Seasoning recipe to make some at home.
Instead of grilling, you can also cook Za'atar Shrimp following ways:
a. Roast - To roast shrimp, pre-heat oven at 450 degrees Fahrenheit. Spread marinated shrimp on baking sheet (coated with cooking spray). Roast for 4-5 minutes o until shrimp is pink and cooked. Don't leave long in oven or otherwise shrimp gets overcooked.
b. Pan - Heat a non-stick pan at medium heat. when pan is hot, add marinated shrimp and cook until shrimp is no longer pink. For best results, let one side cook for 2-3 minutes, then flip and let other side cook. Don't leave long in oven or otherwise shrimp gets overcooked.
You can also replace shrimp with chicken. I recommend following Mediterranean-inspired recipes:
a. Za'atar Chicken
b. Chicken Souvlaki
c. Balsamic Chicken
DID YOU MAKE THIS RECIPE?
Tag
@SAVITACHEFDEHOME
on Instagram and hashtag it
#SAVITACHEFDEHOME
© Chef De Home. Post content including video and photos are copyright protected.
We Think You'll Love