This recipe is Copyright of ChefDeHome.com

Leftover Lentils Breakfast Flat Bread - Indian Daal Parantha
Healthy, protein-rich, wholesome breakfast for two!
Lentils and legumes are every day source of vegetarian protein and staple no-meat main course in Indian cuisine. Even when we make dry curry for main course, some lentils are served on the side. At-least once or twice every week, I make simple lentil curries for supper. Often I have leftover 1/2 cup to 1/4 cup lentils at the end of meal. Then comes dilemma of using leftovers.... transforming leftover lentils to breakfast or lunch next day.
Staple in my home are Lentil (leftover) Curry Soup for lunch , Lentil Salad for lunch, or Lentil Curry Flat Bread for breakfast. Some of my favorite and most loved ways to use leftover lentils.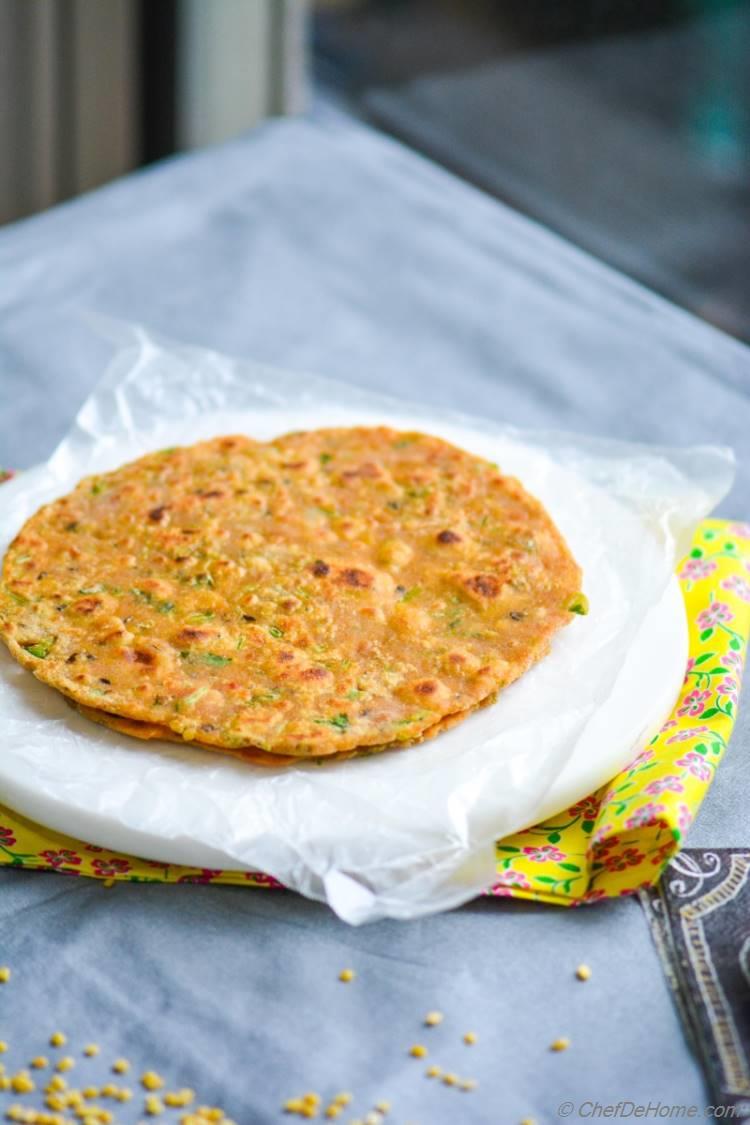 If you like eating lentils, I am sure you too will have leftovers once-in-a-while. So..... next time, when you enjoy some lentil's curry and have leftovers, make these wholesome, delicious, healthy, and filling flat bread for breakfast. Feel free to use takeaway lentils from Indian restaurant Or buy a packet of precooked Lentil Curry from store.
If you have an Indian Store near-by, most Indian curries are sold in 1-2 Serving small packets. Look for Yellow Lentil Curry, Madras Lentil Curry or any similar lentil's preparation. One package can be used to make about 10-12 Flat Breads with Wheat Flour. Or you can eat lentils curry with rice for dinner and save just 1/4 cup for flat bread.
Nutty, Flavorful, and Healthy:
Lentil (daal) Flat Bread (parantha) gets nutty texture from cooked lentil almost like cooked chickpea flour. This breakfast flat bread is wholesome and healthy - with lentil proteins, whole wheat, and anti-oxidants of turmeric.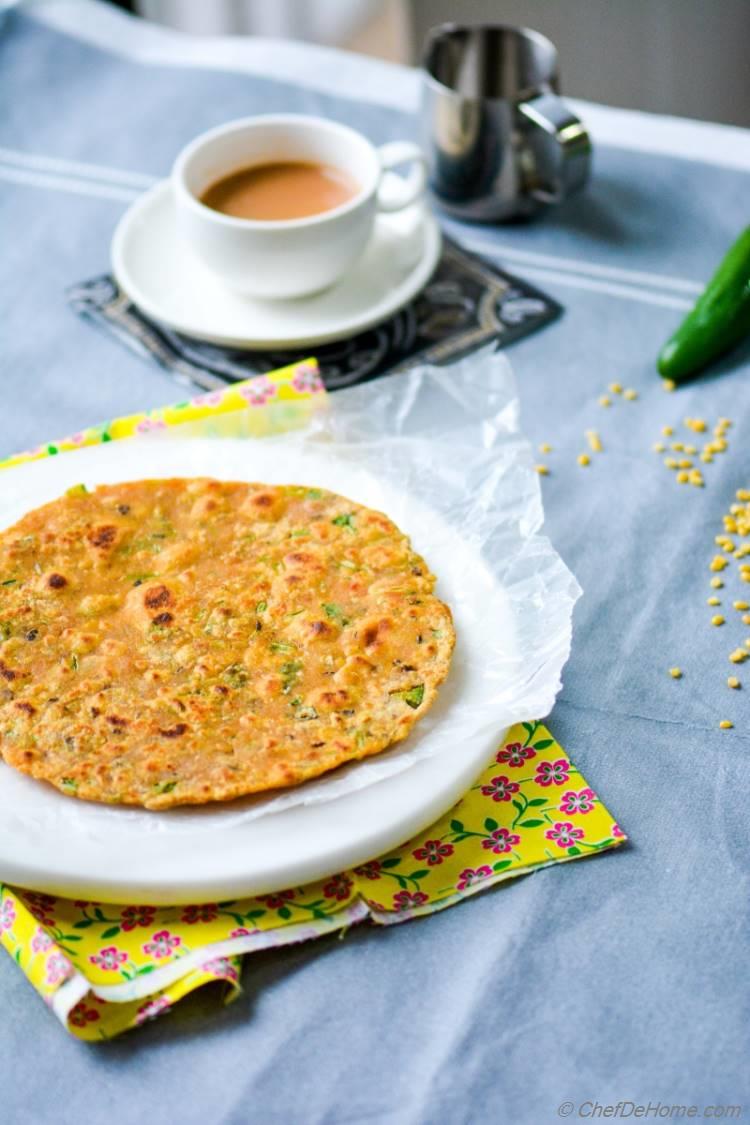 Fresh herb cilantro and spices (in cooked lentil) makes it very aromatic. Trust me! you will love, the way your kitchen will be perfumed, when cooking these flat breads. Also turmeric gives this flat bread a gorgeous turmeric hue, to die for!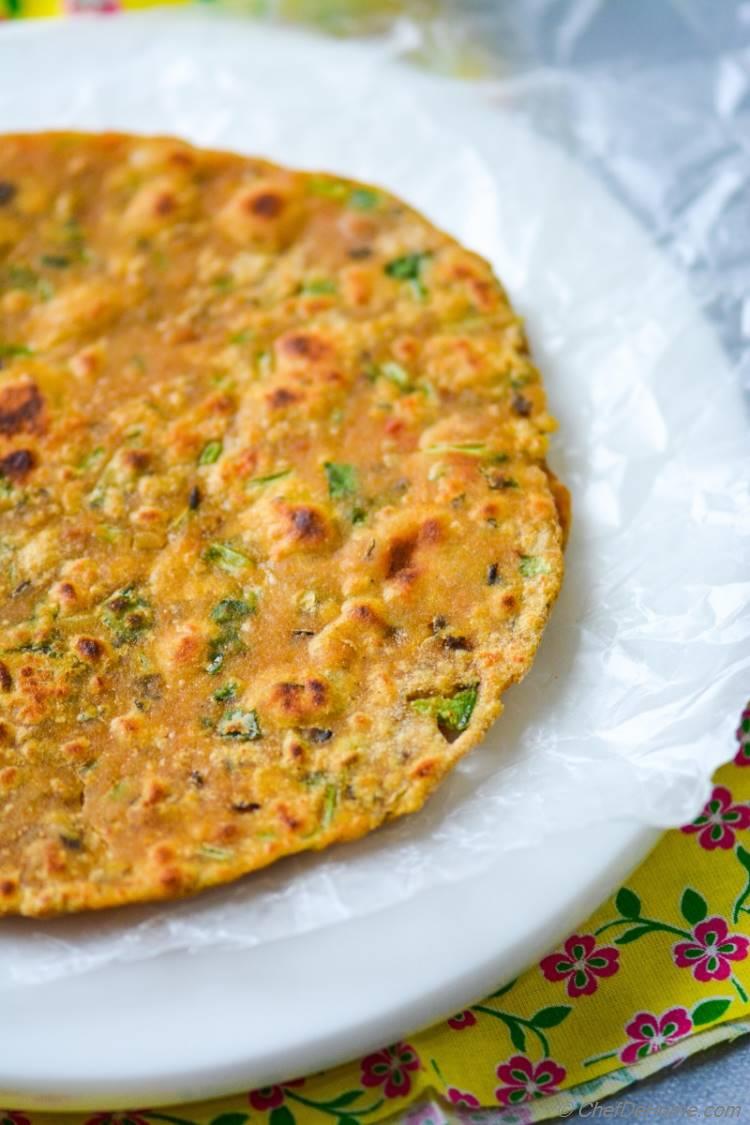 Serve lentil flat bread for breakfast with a dollop of non-fat yogurt and a cup of hot chai. You can also serve this flat bread for lunch with some Indian chicken or meat-free curry.
Daal Parantha cut into triangles can also served for evening snacking. This flat bread is also great for breakfast-on-the-go! Just cook, roll, and eat!!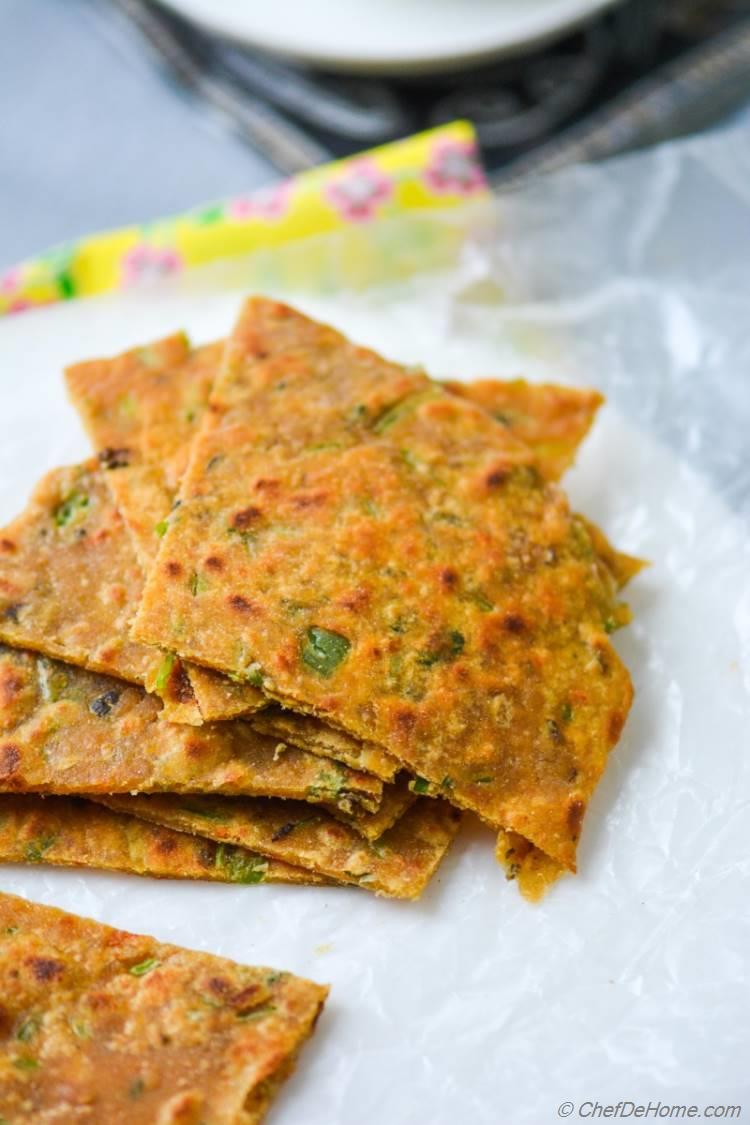 Enjoy!!
Hot Chai Tea or Yogurt Raita are the best accompaniments for Daal Parantha!
Leftover Lentils Breakfast Flat Bread - Indian Daal Parantha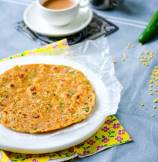 Total Time
Prep Time
Cook Time
Idle Time
10 minutes
Cuisine
Indian
Category
Breakfast, Bread
Difficulty
Easy
Yields
4 Paratha
(Serves:

2

)
Smart Swap You can use 1/4 cup chickpea flour and some additional water instead of cooked lentils.
Ingredients
1 Cup Wheat Flour

(extra for dusting bread rolling board and rolling pin.)

1/4 Cup Yellow Daal

(cooked lentil curry or any leftover lentil curry)

1/2 Jalapeno

(small green pepper, very small chopped)

3 tbsp Cilantro

(coriander leaves, small chopped)

3 tbsp Canola Oil

(1 tbsp for dough, rest for shallow frying)

1/4 Cup Red Onion

(small chopped, optional)

Salt and Black Pepper

(as per taste and salt in leftover lentils, I have added 1/2 tsp salt and 1/4 tsp pepper to dough)

Water

(as per need, to make dough)
Directions
Hide Step Photos
1.

In a wide bowl, mix 1-2 tbsp water will lentil curry as curry tends to get thick when sitting longer.

2.

Add wheat flour, chopped coriander leaves (cilantro), onion (if using), 1 tbsp oil, green pepper (jalapeno), and salt-pepper.

3.

Mix everything with clean hands until lentils are fully combined in flour. Dough will be dry at this stage.

4.

Now ad 1 tbsp water at-a-time, until dough comes together. Knead for 1 minute to make smooth dough. Leave the dough to rest for 10 minutes. Meantime, heat an iron griddle and dust a bread board with some dry wheat flour.

5.

Divide rested dough into 4 equal parts. Dredge each ball in dry wheat flour to avoid sticking to flour dusted board or hands. Roll each dough into 5-6 inch round circle.

Additional Notes

Cover rolled flat breads with kitchen towel while rolling the rest to prevent drying.

6.

Place rolled bread on hot griddle one at a time. Sear bottom side for 1 minute. then flip, spread 1 tsp oil on surface and then flip again. Apply oil on side now facing up.

7.

Sear each side for 2-3 minutes. Press with flat spatula for even cooking.

8.

Serve hot with Chai Tea and enjoy!
Savita's Notes:
Serve lentil flat bread for breakfast with a dollop of non-fat yogurt and a cup of hot chai. You can also serve this flat bread for lunch with some Indian chicken or meat-free curry.
© Chef De Home. All contents and images are copyright protected. DO NOT copy or re-use content/images/videos. For all content/post mentions with link back, contact ChefDeHome for permission.

Craving for more?
Join us: Weekly Newsletter, Facebook, Google, Twitter, Pinterest
Shop products we use: CDH Amazon Shop (affiliate links)
What would you like me to cook next?: Request a Recipe