Cinnamon Sugar Churro Waffles
Calling all Mexican food fans for a 'Churro' Breakfast!!
Posted On:

Jun, 12
| Author:

Savita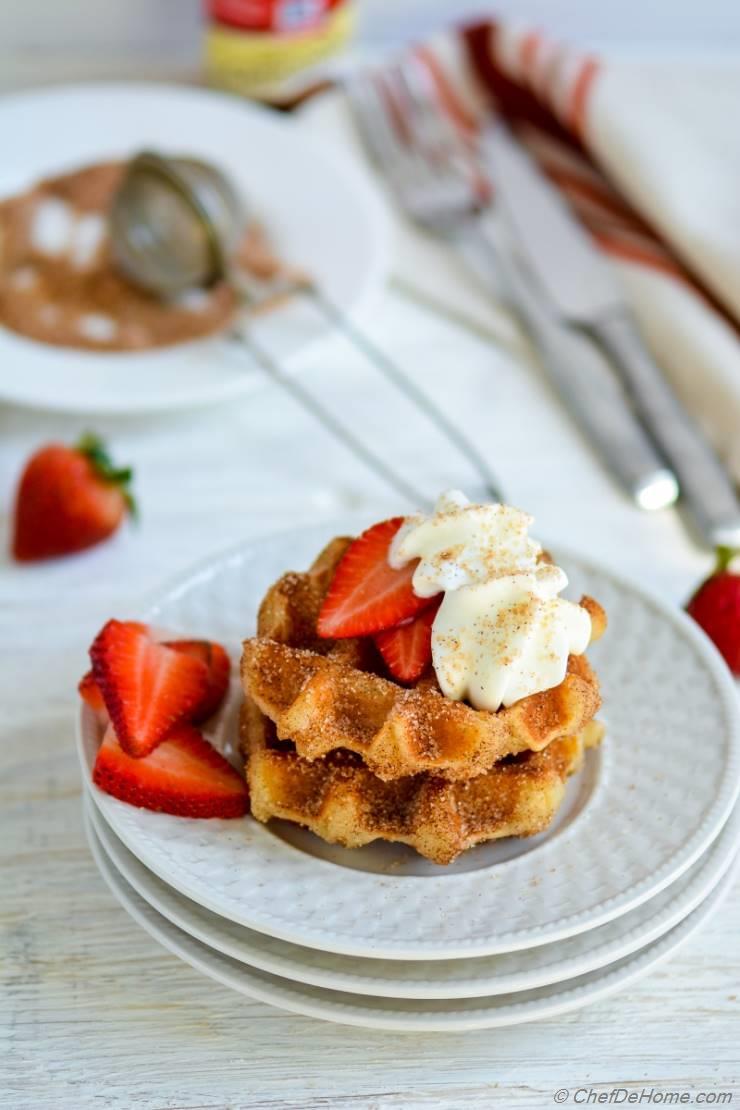 This weekend, I'm giving you a delicious reason to dig your waffle iron out of the cupboard, with my eggless, crispy, golden Waffles slathered in Cinnamon Sugar! 
Oh - and guess what? These waffles will be the best tasting street fair churros you ever had!!!
Feeling nostalgic? Me too!!!
Street Fair is THE place where I first tasted Churro and I fell in love with it, at first bite! 
Oh boy! I must tell you, when I ate churro first time, I did not realize a 1/2 foot long fried piece of dough will disappear, from my cinnamon-sugar slathered paper napkin, in seconds! On top of that, I'll be still hungry for one more!! Seriously, I finished churro, and were eagerly looking for NEXT Churro shop. Can you believe this?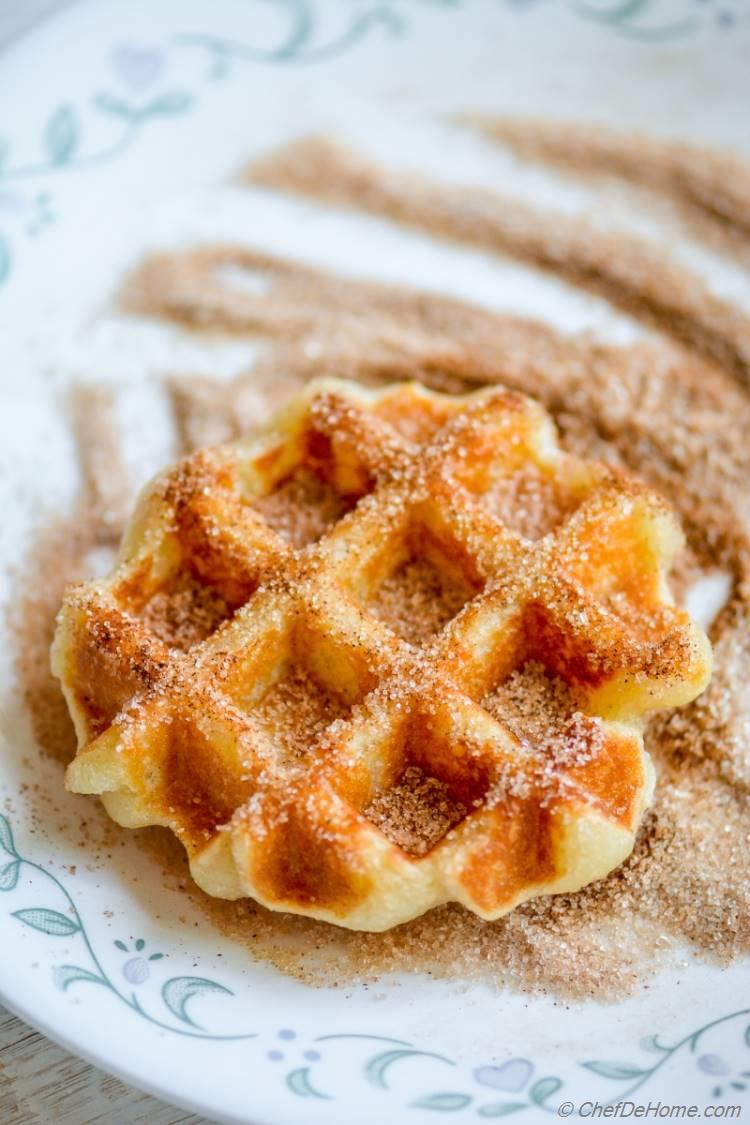 I clearly remember, we were newbies to street fair that day and Vishal was carrying very less paper money. He could see in my eyes, the desire of ONE more churro that he specially took some money from ATM and bought me one more. 
We don't get to visit a street fair that often... So, I came home and tried to find a place where I can get churro. I was overjoyed to know that even Costco sells churro in their mini cafeteria. How didn't I notice it before?!!
I'm sure you thinking, why a savoury-food-addict girl is aaaaa-all for sweet-cravings today?! Well, if you have tasted churro, you know, why! If not, I have to tell you that even after being coated in cinnamon sugar, churros are not very sweet. These have just enough amount of salt to make'em sweet and savory...... Perfect for a not-so-crazy-for-sweets person, like me.
Today, my love for churro made it's way to Waffle Iron!!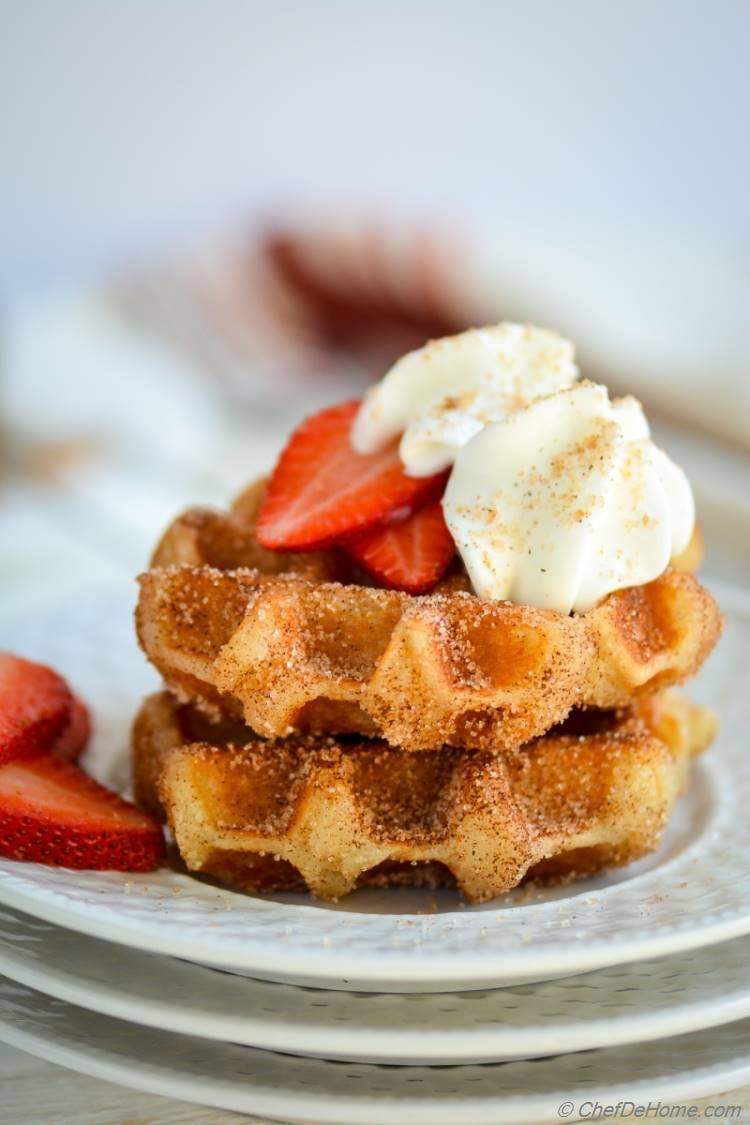 Yes, my friends! Presenting to you, Crispy Cinnamon Sugar Waffles Breakfast, made with Classic Churro Dough! Drum-rolls!!!! :) I think, it is safe to call'em "Chaffles" lol! This is one of my THE best fusion recipe ever! Spanish Churro meets Dutch-European Classic Waffles and taste so so good! Who knew?!
Ah... these waffles are like eating you favorite churros, which are not fried (good thing, right?), for breakfast!  
You know, what make'em even more special? You can eat'em for breakfast but just like your favorite street churros!! Just hold in hand with a paper napkin....... as if you are in a street fair.... moving shop to shop.... and munching crispy waffle..... which is soft inside, and slathered in cinnamon sugar..... not too sweet, not too salty...... and has NO fried-dough calories in it! 
Just the right mix of 5 simple ingredients, doing magic together! 
Oh yeah! Only 5 base ingredients: your good old friend AP flour, butter, sugar, cinnamon, and salt!
Toppings!? I like'em as-is, but you can add as many as you want! These churro waffles are ready to with-stand any Waffle Toppings you want to use!
A few thoughts on:
Why should you make Churro Waffles, for breakfast, tomorrow:
1. Quick and Easy Breakfast: Churro waffles will be ready, from scratch, in just 20 minutes!!
2. Healthier: These waffles are eggless, good for all my friends who can't eat eggs. And if you are churro fan, then these churros are not fried!! win-win!
3. 5-Ingredient Breakfast: You just need just 5 base ingredients to make a batch of churro waffles! Toppings are optional!
4. And taste? I'm telling you, you will come back to 'thank me' for introducing you to this delicious-ness! (at your service, no thanks necessary friends :) )
5. Last but not the least, homemade is the BEST!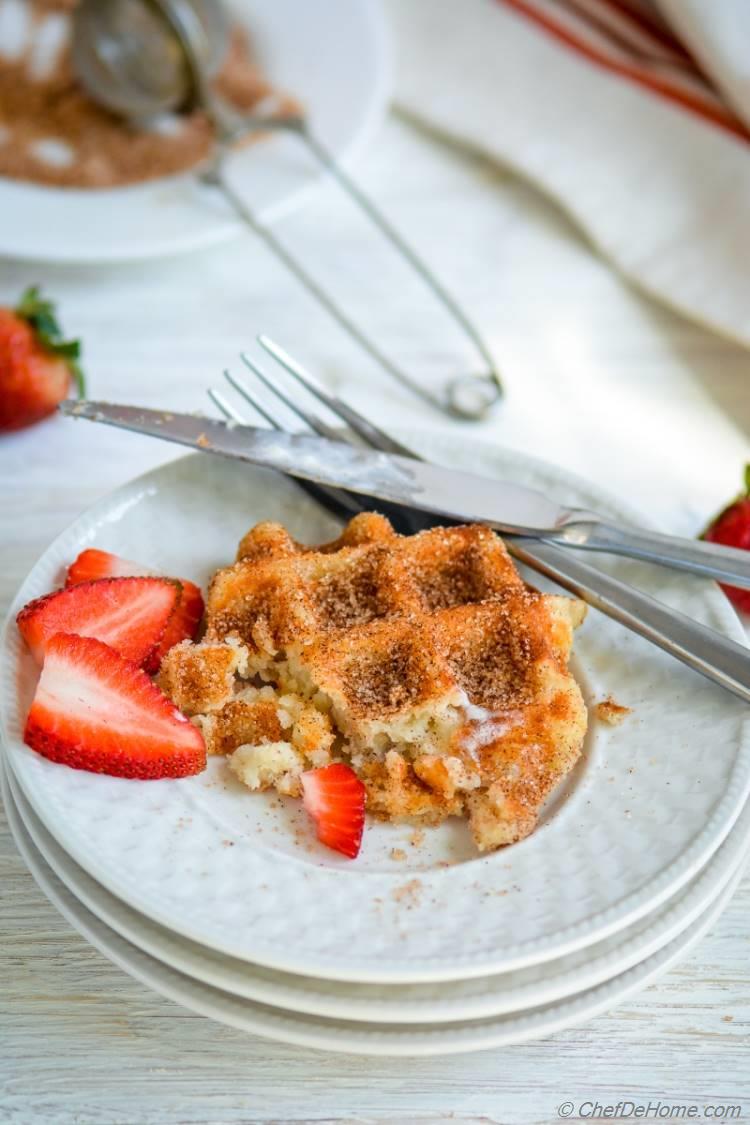 My drooling love for Churros triggered just when I cut opened one of the waffle... in attempt to take few more clicks.
You know, how brain works?! it takes time for signals to reach from brain to your body parts. I saw a clear example of that when my mouth started working (closer to brain, of course) before I could get away from the plate of churro waffles.
In no time, I devoured almost one and a half of it and kept thinking........ I'm supposed to take few clicks, but..... fragrance of cinnamon sugar and that aroma of cooked dough slathered in cinnamon.... In other words, street-fair "churro" nostalgia.... just forced me to eat it all.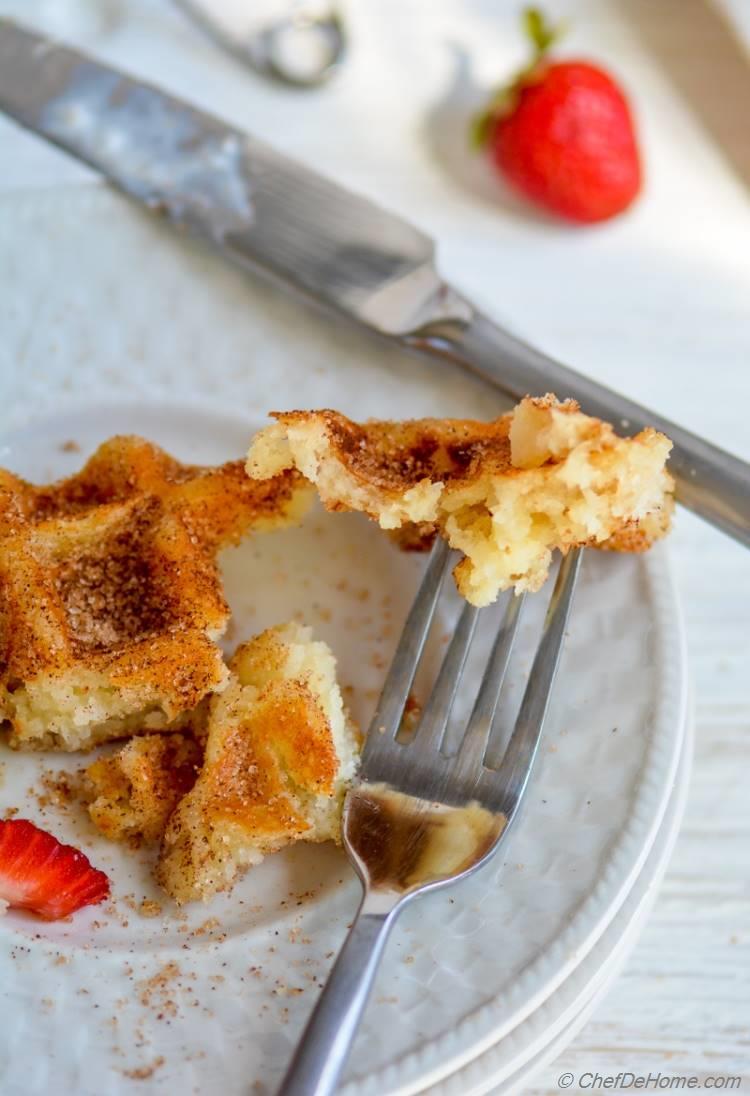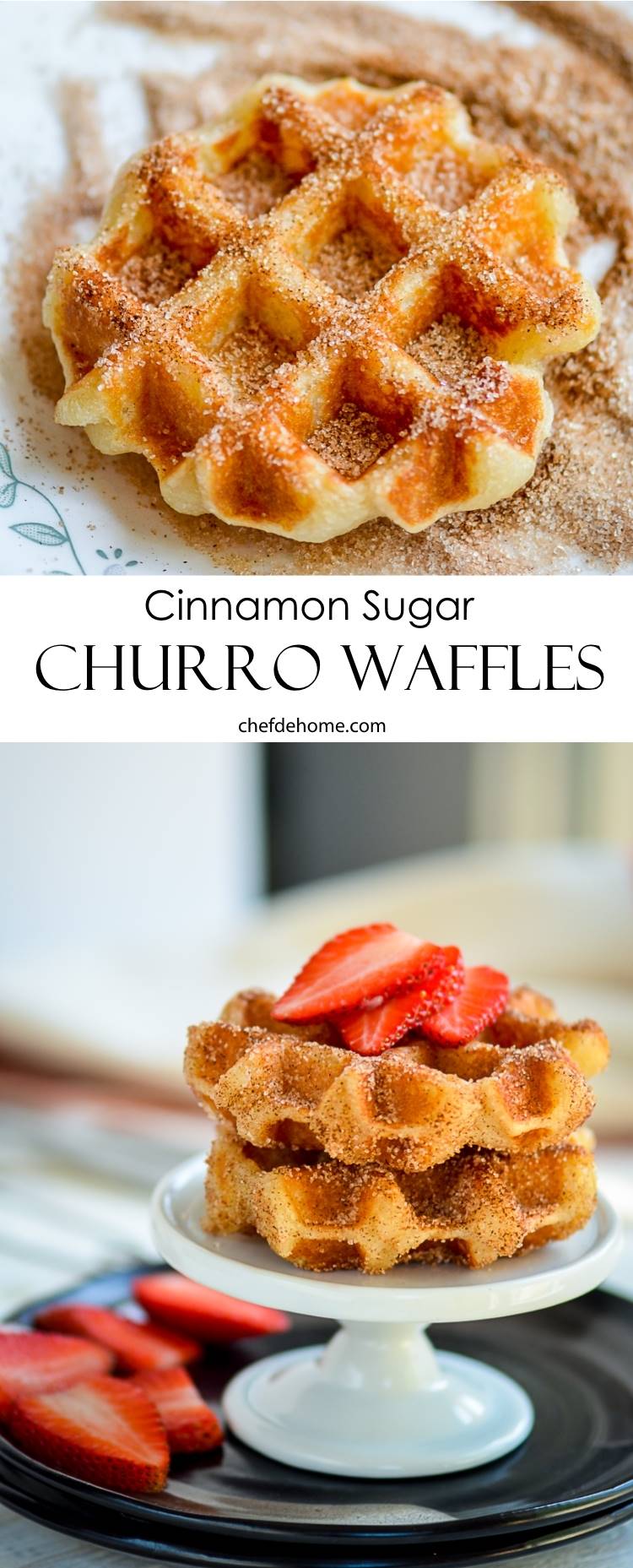 Needless to say, I was supposed to keep one for Vishal.....for little tea time snack..... ;)
I'm sure you will enjoy'em as much as we (I) have. :)
Spend 20 minutes in kitchen tomrorow and serve these delicious, egg free, frying free, crispy churro waffles for breakfast!
Enjoy and have a great weekend my friends! x
Few more breakfast-ideas from my kitchen:
Cinnamon Sugar Churro Waffles
reviews

)
(6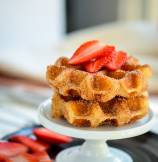 Total Time:
Prep Time:
Cook Time:
Cuisine:
Mexican
(

Breakfast, Tea, Dessert

)
Difficulty:
Easy
Yields:
4 Waffles
- Serves:
2
Ingredients
Churro Dough for Waffles
Toppings (optional)
Cinnamon-Sugar
Smart Swap: Use part whole wheat and part AP flour, to add some whole wheat goodness to your breakfast!
Directions
1.

Set the waffle iron to preheat. In a heavy bottom sauce pan, add water, sugar, salt, and butter and heat, stirring once or twice, until butter has melted and sugar has dissolved. (just 1-2 minutes)

Additional Notes:

Don't boil the water. Once butter has melted, just stir the water to dissolve sugar in warm water.

2.

Remove pan from heat. Add all of the all purpose flour. (Keep a whisk or spatula ready to combine the dough)

Additional Notes:

I often combine the flour into water with whisk, so as to avoid lumps, and then fold dough using spatula while cooking.

3.

Return the pan to medium heat and cook the dough for 2 minutes or until dough is shiny and leaves a film of flour on the sides of pan.

4.

Remove the dough from pan and divide into two equal portions. Keep one covered, and divde the other into yet another two parts.

Additional Notes:

If you waffle iron can cook 4 waffles at-a-time, then you can use all the dough.

5.

Spray waffle iron with cooking spray, then place two portions of dough onto waffle iron and close the lid. Cook for 5-6 minutes or until waffles iron shows the green light of completion. (Keep an eye after 4 minutes, don't let waffles burn).

6.

Transfer the hot waffles into a plate with cinnamon and sugar and coat generously. Repeat steps 5 and 6 to cook remaining waffles.

7.

Serve waffles hot with sliced strawberries (optional) and dollop of sweet whipped cream. Enjoy!
DID YOU MAKE THIS RECIPE?
Tag
@SAVITACHEFDEHOME
on Instagram and hashtag it
#SAVITACHEFDEHOME
© Chef De Home. Post content including video and photos are copyright protected.
We Think You'll Love