Biryani
Learn to make Biryani at home with this delicious biryani recipe made with homemade Biryani Masala. Also sharing how to finish cooking biryani in dum (vaccum) for signature fragrant biryani flavor.
Posted On:

Aug, 17
| Author:

Savita
Don't miss the Naan that cooks with Biryani for a complete traditional Family Dinner.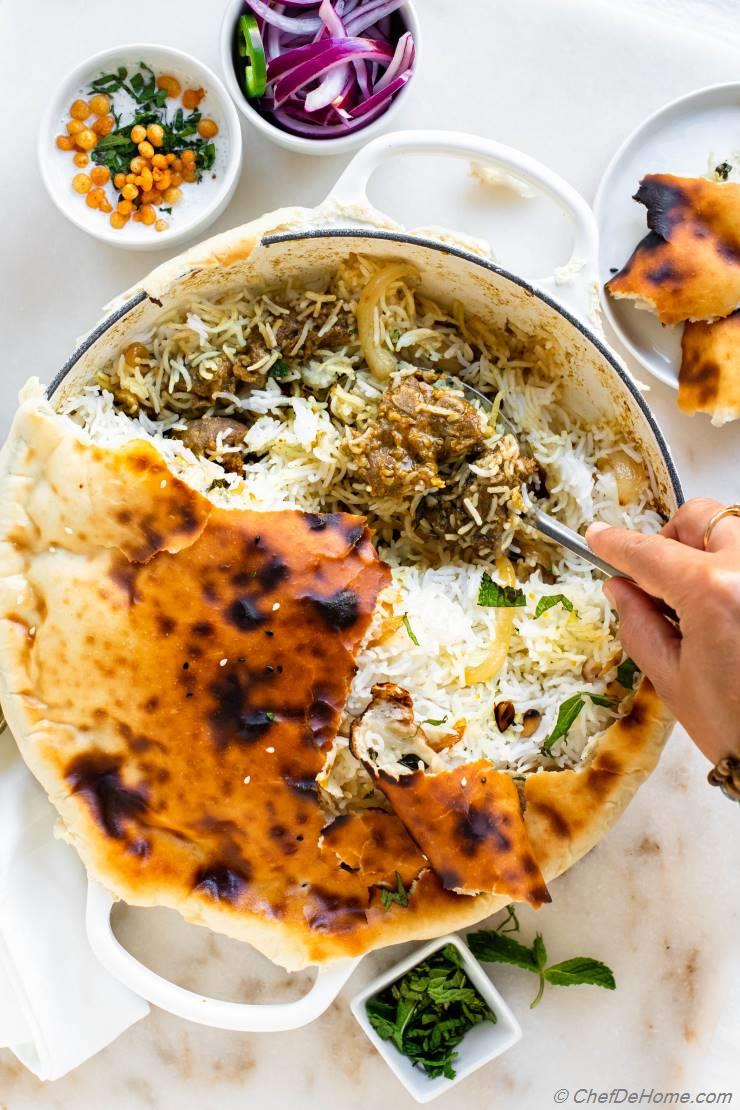 Biryani, a delicious meat and rice dinner with goat meat cooked in flavorful homemade biryani masala, finished in dum in oven with a moist naan bread lid. If you ever wonder how Biryani restaurants make a flavorful aromatic Biryani, this recipe share all the tips and tricks.
To achieve the complex Biryani flavor, making biryani needs time to cook and assemble ingredients. Honestly, it is a flavorful meal to share with family and friends. I find it worth the time. You must try this once at home. I hope you will enjoy it as much as we do.
Let's make Biryani!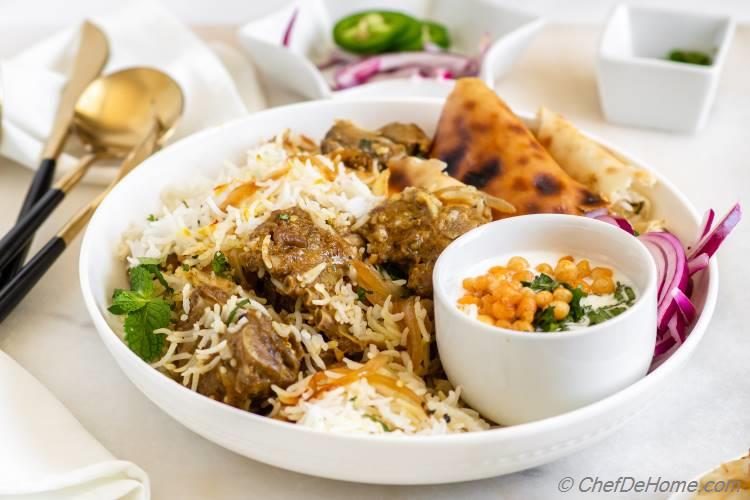 What is Biryani?
Dum (Vacuum Cooked) Biryani is a layered curried meat and rice casserole that is traditionally cooked in vacuum sealed pot to infuse rice with aroma of meat and fragrant spices. Dum Biryani tastes like rich and aromatic curried meat and rice with different layers of flavor. Caramelized onions, seasoned rice, mint, ghee, whole spices, yogurt, saffron, ginger, garlic are few of the main ingredients in Biryani.
Biryani is labour of love. Traditionally Hyderabad biryani is prepared in a clay or aluminum pot. I prefer to use a cast iron pot for even distribution of heat. To make the process of cooking easy at home, I add a meat layer at the bottom and rice layer at the top. If you are fond of ordering biryani in takeout, this is how most Biryani Restaurants serve Biryani.
The key layers of biryani include:
Marinated meat cooked in spices and yogurt.
Fragrant seasoned par-cooked rice
Quick Caramelized Onions and fresh herbs - Mint, Cilantro.
Milk flavored with saffron.
Top layers is a bread just like Naan that seals the pot to infuse flavor in vacuum (dum). It is also delicious moist bread to serve on the side. I love the bread to scoop biryani masala. Yum!
Biryani Masala
I love to make fresh masala for Biryani. The aroma of freshly toasted and ground whole spices is the key flavor in biryani. If time pressed, you can also use store bought gram masala mixed with ground cumin.
However, I highly recommend making Biryani with homemade fresh masala. It takes just 10 minutes to grind fresh masala. Leftover masala stays good for a week. It is perfect to spice up stews, season meats, and curries.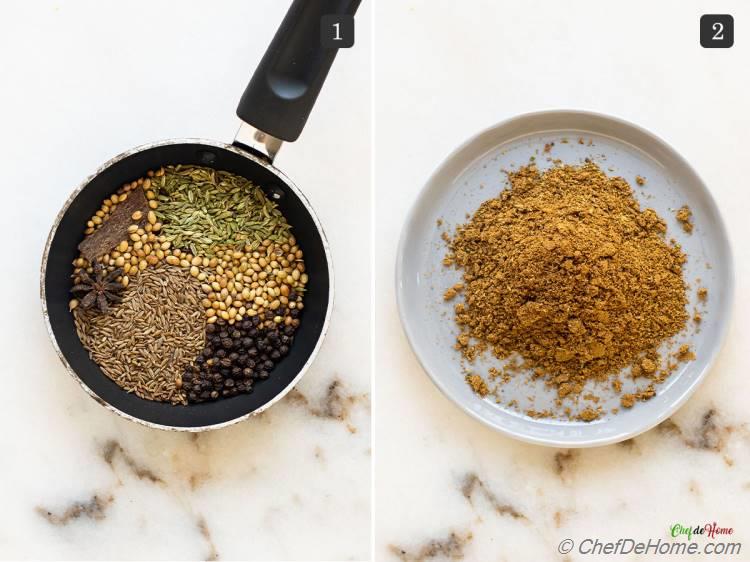 Goat Biryani
Goat or Mutton is a traditionally a Biryani staple. In some parts of India, biryani is made with whole goat. I asked my local butcher to cut mutton into 2-3 inch pieces, bone-in. Bones add to the flavor of biryani.
It is important to not use very large pieces of meat for biryani. Small pieces cook quicker and also are easy to portion. Also, biryani masala distributes more evenly on small pieces of mutton.
Marinate and Cook Goat for Biryani
A good biryani starts with marinating the meat; usually overnight to tenderize the meat. This way meat cooks moist and seasoned from within. I marinate the goat a night before in very simple marinade of lemon juice, salt, chili powder and little bit oil.
Trust me, these few easy to find ingredients are perfect to marinate meat for a delicious mutton biryani.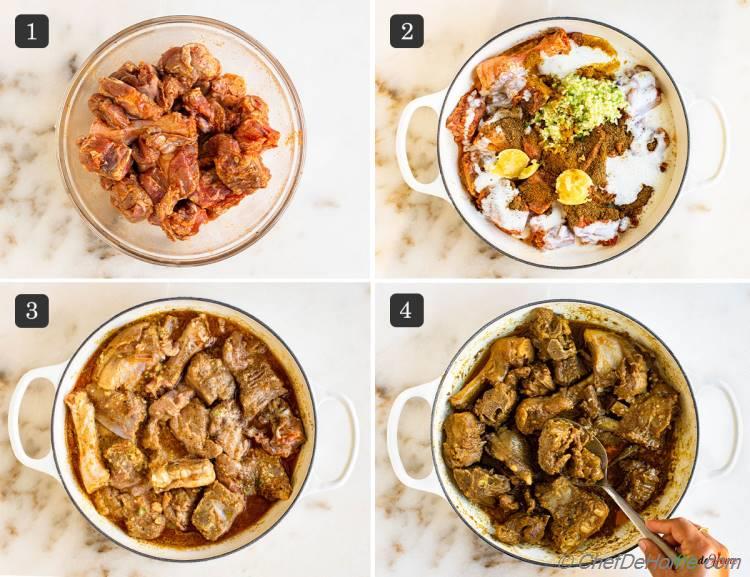 Kitchen wakes up with the aroma of spices when marinated goat cooks with mixture of spices (biryani masala), ginger, garlic, yogurt and ghee/butter. The mutton cooks so delicious that it is perfect main dish on it's own. If you ever crave for a bold-flavor goat curry. Simply marinate and cook meat until tender. Serve with naan and rice on the side.
Caramelized Onion
Fried (or caramelized) onions are an important layer of flavor in biryani. Often I see biryani where onions are fried or almost burnt. To bring the sweetness of onion in the biryani, I like to use white or yellow onion and caramelize with hint of sugar and salt until onions are beautiful amber color and sweet.
As a short cut, sometimes I also use crispy fried French Onion instead of caramelized onions. Fried French onions will not stay crunchy when biryani is cooked in dum but the onion flavor is spot on.
Dum Biryani
Once meat curry is ready and remaining ingredients such as par-cooked rice, onions are ready. It is time to assemble the biryani and finish cooking rice in dum (vacuum).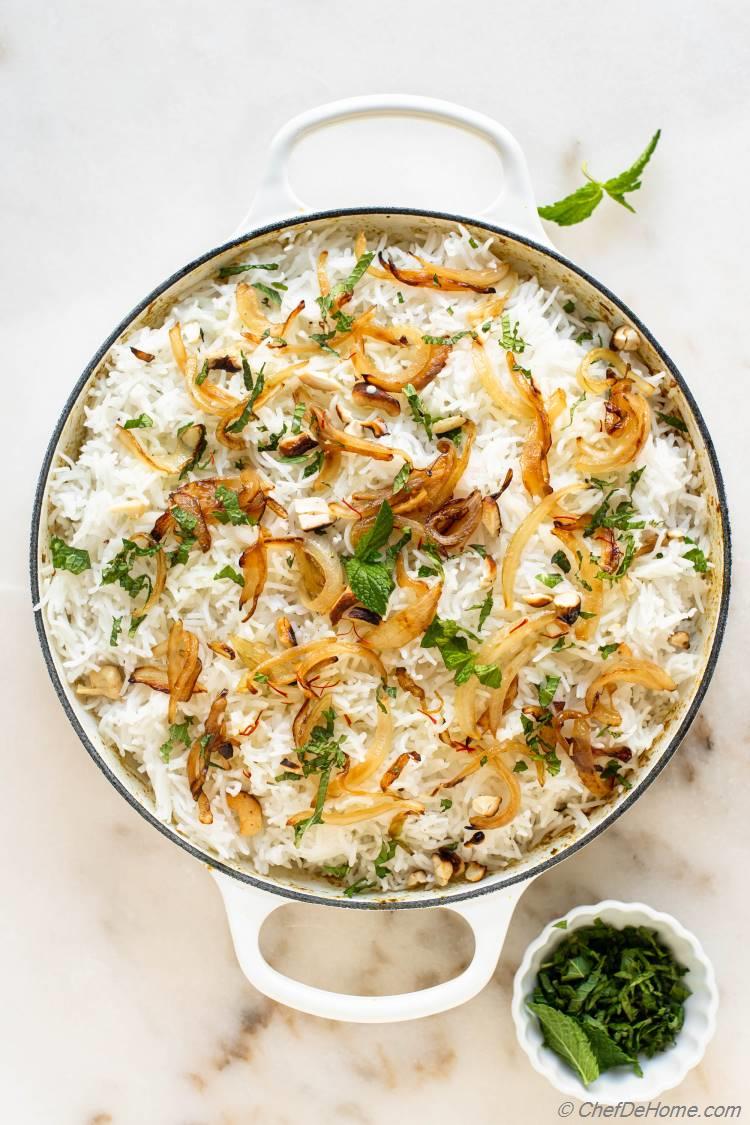 There are various ways to cook dum biryani.
You can make Dum Biryani in a pot that has tight oven-safe lid.
Or use little bit of flour dough to seal the lid so that air can't escape.
Or I often also use a layer of aluminum foil between biryani pot and the lid to create a tight seal.
Or use a edible bread lid like I did for this recipe.
When making an elaborate dinner for friends and family, I love to seal biryani pot with a layer of Naan Dough. This makes beautiful presentation and a large naan bread to share on the dinner table. Bread cooks moist from inside due to steam of briyani. I broil it from top for a minute to make traditional charred naan. This is fancy but creates a great impression on Holiday Dinner table.
My family call this is a nawabi goat biryani (royal goat biryani). :-)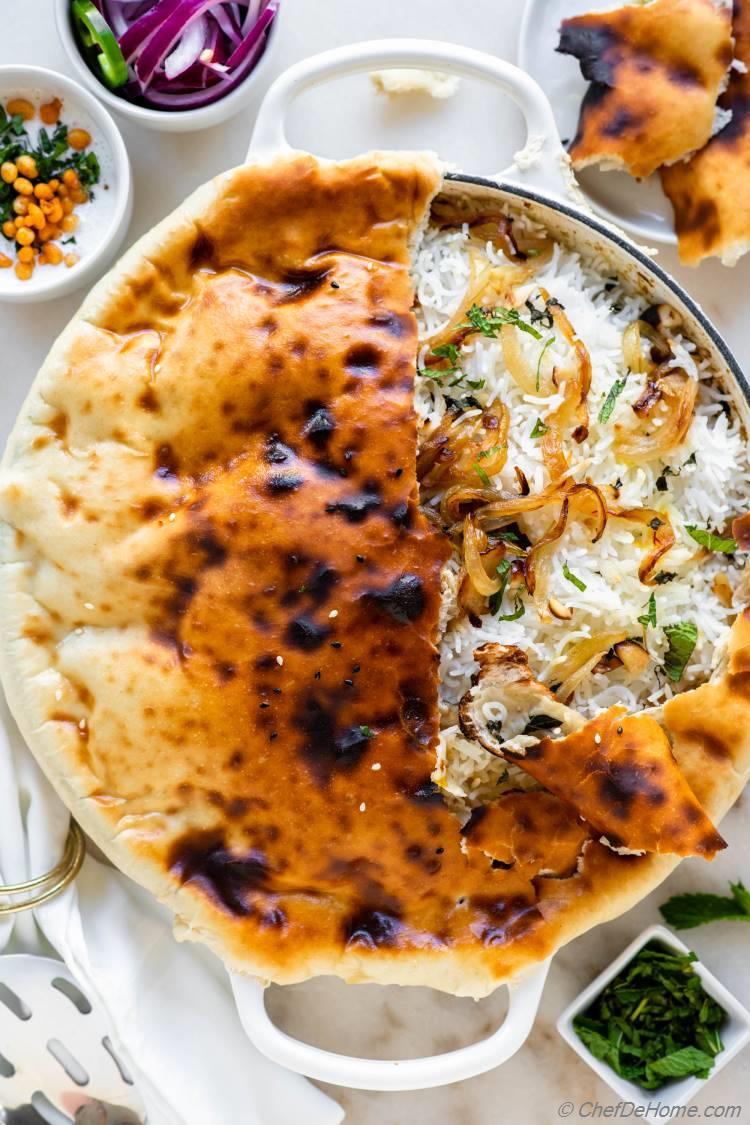 Cooking biryani in oven or on stove on a very slow heat fully cooks the rice in steam of goat, spices, and saffron milk. Resulting rice are perfectly cooked, fragrant, and very delicious.
Serve Biryani with traditional Indian sides such as red onion salad, raita and lots of fresh mint. (I have included few raita recipes) suggestions below.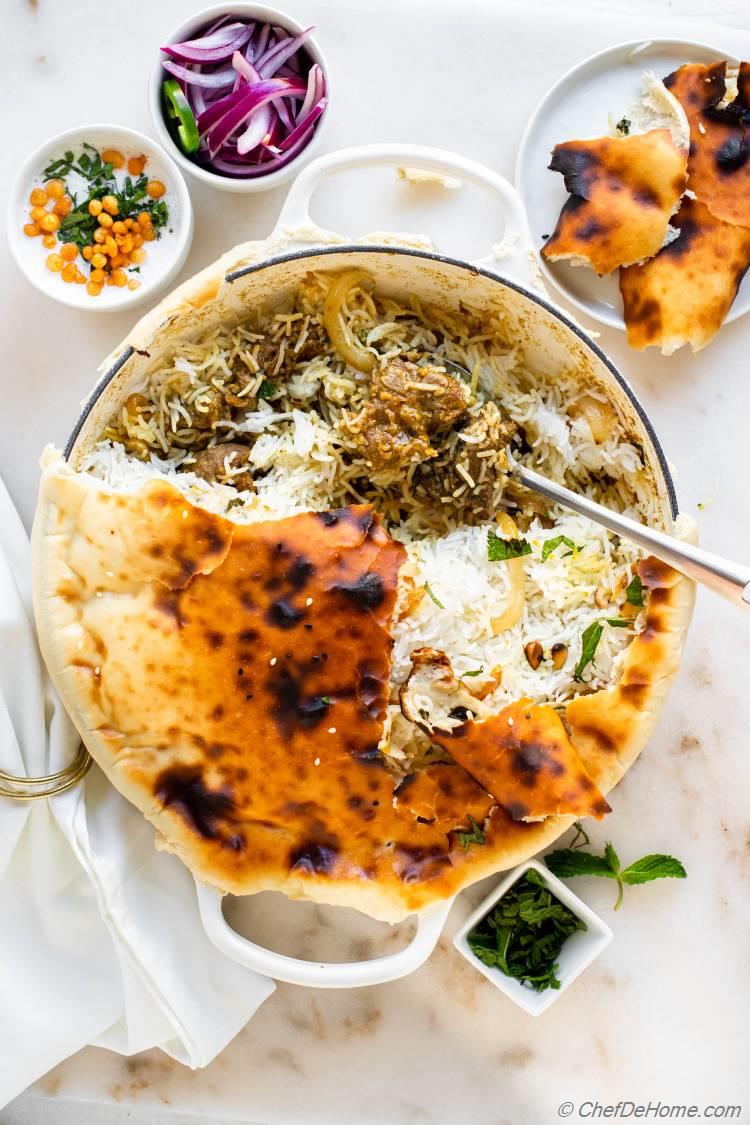 Friends, try something different for family dinner. Biryani is rich, flavorful curry and rice dish which is also a complete meal. If you can't find goat meat, try biryani with lamb shoulder stew meat and/or lamb chops. Don't forget to serve refreshing mint raita on the side. Recipe in the notes. 

Pairing Ideas: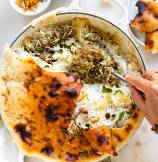 Total Time:
Prep Time:
Cook Time:
Cuisine:
Indian
(

Dinner, Main Course

)
Difficulty:
Intermediate
Yields:
2.5 Quart Biryani
- Serves:
6
Ingredients
Biryani Goat Curry
Seasoned Rice
Biryani Masala Spices
Naan (optional)
Directions
1.

Marinate Goat

:

Mix goat meat in chili powder, salt, half of oil and the lemon juice and salt. Cover and refrigerate overnight or at least for four hours.

2.

Make Naan Dough (Optional)

:

Mix sugar in lukewarm water. Add yeast and let it bloom for 10 seconds. Add to the flour with yogurt, salt and oil. Knead to make smooth dough (3-4 minutes). Cover and set aside at a dry warmer place until ready to use.

3.

Caramelize Onions

:

In an oven safe heavy bottom pot such as dutch oven, heat remaining oil, onion half moon slices with pinch of salt and pinch of sugar. Sauté on medium heat until onions are soft and amber in color, about 10-15 minutes.

4.

Grind Biryani Masala

:

In a food processor, grind garlic, ginger, shallot onion and jalapeños with 2 tbsps water to make paste. Set aside. Dry roast all whole spices, except mace and cardamom, in a dry skillet for 10-15 seconds until fragrant. Let cool completely and then grind in spice grinder.

5.

Cook Goat

:

Remove onions from pot and add marinade goat in the pot along with ground spices, butter, yogurt, garlic-onion paste and 1/4 cup of water. Stir to combine. Cover and cook on medium-high for 10 minutes. Stir once more and continue cook for 10-20 minutes more or until meat is cooked through and tender. Make sure to stir in between. Add 1/4 cup water after 10 mins or if start to catch at the bottom.

6.

Cook Rice

:

Mix all ingredients for rice and cook 2-3 minutes less than time suggested time on package. Drain extra water. Rice will finish cooking in the oven.

7.

Assemble Biryani

:

Preheat oven at 375 degrees Fahrenheit. Layer half of chopped mint, caramelized onions on cooked goat meat. Top with par cooked rice. Top with remaining chopped mint, caramelized onions. Cover with tight lid and bake at 375 degrees Fahrenheit for 10 minutes. If using Naan Lid, roll naan lid 2 inch bigger than pot size. Cover pot with lid and bake in middle rack for 8 minutes; and then broil 30 sec to 1 min or until top of naan is slightly charred.

8.

Serve Biryani

:

Let biryani rest for 5-10 minutes. Serve table side with sides of raita. Tear and share naan bread lid to scoop the meat. Enjoy!
Savita's Notes:
Make sure goat/mutton is cooked through and tender to your liking before layering with rice. If cooking needs more time, add 1/2 cup more water to prevent catching at the bottom.
Pressure cooker method will need less water. In Instant Pot, goat will be tender in about 20-22 minutes at High Pressure setting. If the gravy is too thin after cooking, simmer on high heat to reduce gravy before layering with rice.
The saffron milk is optional.
For Mint Raita, thin-out the consistency of yogurt with water until it is drinkable yogurt consistency. Season with salt, sugar, pepper to taste. Mix in small diced red onions and few tbsps of chopped fresh mint. Served chilled with Biryani.
DID YOU MAKE THIS RECIPE?
Tag
@SAVITACHEFDEHOME
on Instagram and hashtag it
#SAVITACHEFDEHOME
© Chef De Home. Post content including video and photos are copyright protected.
We Think You'll Love