Heirloom Tomato Salad
Vibrant and fresh summer Heirloom Tomatoes Salad with fresh basil and sharp Caper Vinaigrette Dressing. A lite, clean, and delicious Salad to brighten up any meal. You will love the flavors.
Posted On:

Apr, 14
| Author:

Savita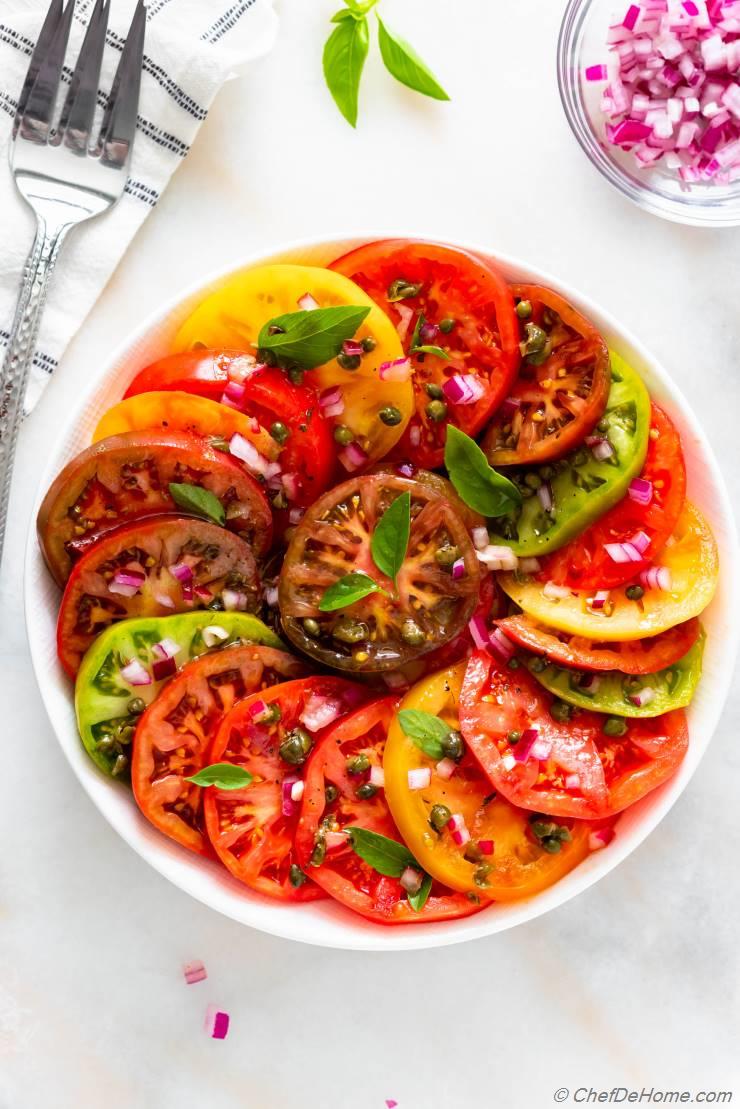 Fresh Heirloom Tomatoes, basil and onion salad with vibrant Capers Mustard Salad dressing. Ready in just 15 minutes, this colorful Heirloom Salad is perfect to brighten flavor of any summer meal. Gluten free, dairy free, vegan. 
A tomato salad with sharp dressing is in our menu all summer long for two reasons:
Clean Salad that is ready in 15 minutes.
Can't beat sweetness and colors of fresh tomatoes and basil. Star of the table, every time!
If you too love combination of Tomatoes and Basil? I'm sure you will love one of my top reader-favorite recipe - Cherry Tomato and Basil Pasta 
Heirloom Tomato Salad
Heirloom tomatoes are seasonal. In late spring to mid summer, you will find variety of heirloom tomatoes in produce section of most grocery stores. For fresh heirloom tomato salad, I prefer to use beef-steak heirloom tomatoes because these are juicy, colorful, and sweet. 
When a salad is so fresh and simple, it calls for good quality ingredients. I highly recommend using good sourced heirloom tomatoes which are ripe and firm, fresh basil, and good quality olive oil for the dressing. 
Worth a mention, this Salad recipe is also rich in anti-oxidants, and vitamins. Even though mozzarella will goes great with this tomato salad, I deliberately skipped it to share a healthier salad where tomatoes are the star. Salad is dairy free, gluten free and vegan.
Dig in. Enjoy the simplicity of this beautiful and delicious salad.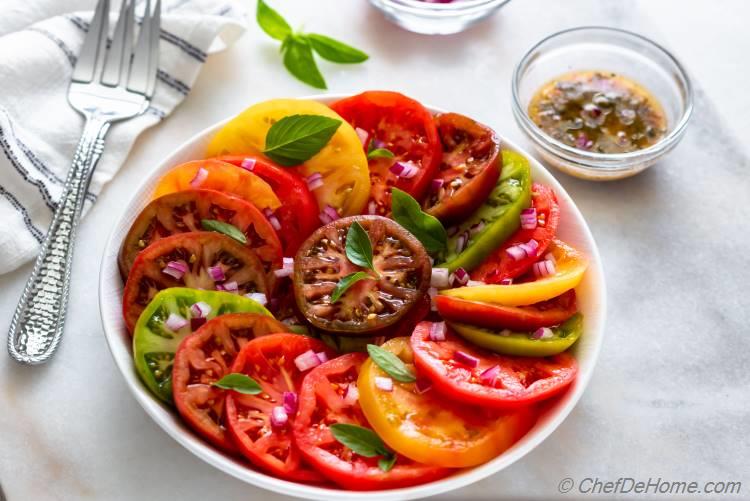 What Do You Need To Make Heirloom Tomato Basil Salad
Without doubt, star ingredients of this salad is - Heirloom Tomatoes and Caper Dressing.
That said, overall it is a humble salad with easy-to-find ingredients. Most of it you will already have in pantry or refrigerator.
Heirloom Tomatoes
Fresh Basil
Red Onion
Capers Vinaigrette Dressing
To make the Heirloom Tomato Salad, I start by making the vinaigrette and then slice heirloom tomatoes to thick round slices using serrated knife. The best thing about using serrated knife is that it cuts clean slices of tomatoes without tearing the skin. This is one of my favorite tool to slice tomatoes.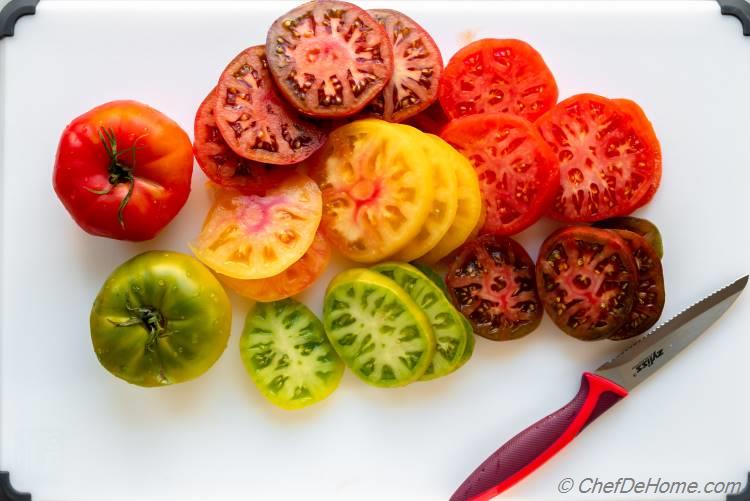 Perfectly sliced firm tomatoes are key to a good tomato salad. You can slices tomatoes any way you want. Round slices like shown above or simply cut heirloom tomatoes into wedges.
Honestly, when tomatoes are this colorful, ripe and sweet, any way you slice will look good. Don't you think?
Capers Vinaigrette Salad Dressing
Capers Dressing is one of our favorite salad dressing to serve with Heirloom Tomatoes Salad. It is combination of Mustard Vinaigrette mixed with smashed capers and herbs for earthy and briny flavor. Dressing also goes great with salads such as tomato salad, avocado salad, or peach salad.
Tip: Try this dressing with grilled peaches, tomatoes and avocado salad. Specially when peaches are in season, I often serve this salad with summer BBQ.
Here is the ingredients you need to make Capers Vinaigrette Dressing:
Capers
Dijon Mustard
Red Vine Vinegar
Olive Oil
Oregano
Salt and Pepper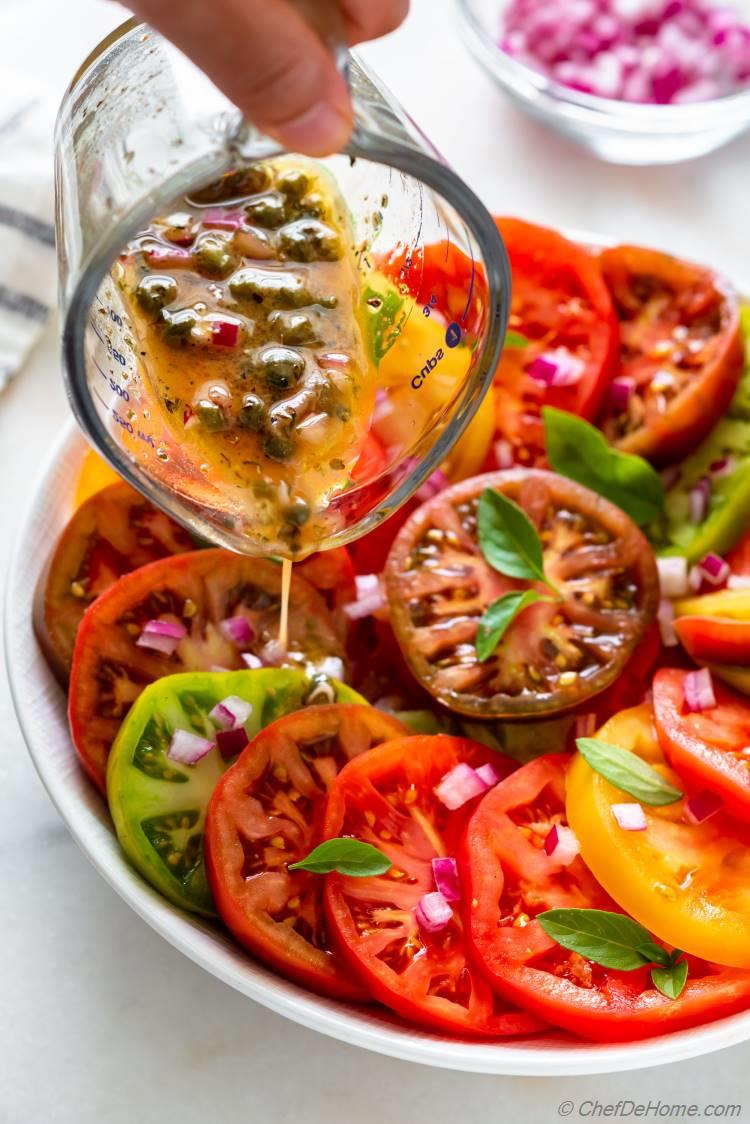 When ready to serve, layer tomatoes on a platter, top with onion. Spoon dressing on the top along with teared fresh basil leaves. Salad is best when made with chilled Heirloom Tomatoes. Or Let assembled Heirloom Salad chill for 15 minutes before serving.
Tip: If you can't find Heirloom Tomatoes, try this salad with fresh ripe Roma tomatoes. Dressing goes great with all variety of sweet tomatoes.
Marinated Heirloom Tomatoes Salad
You can use same recipe to make marinated Heirloom tomato Salad. Coat sliced tomatoes and onion in half of the dressing, and refrigerate for 30 minutes. When ready to serve, arrange tomatoes on a platter, top with fresh basil, red onion and remaining dressing. Serve immediately.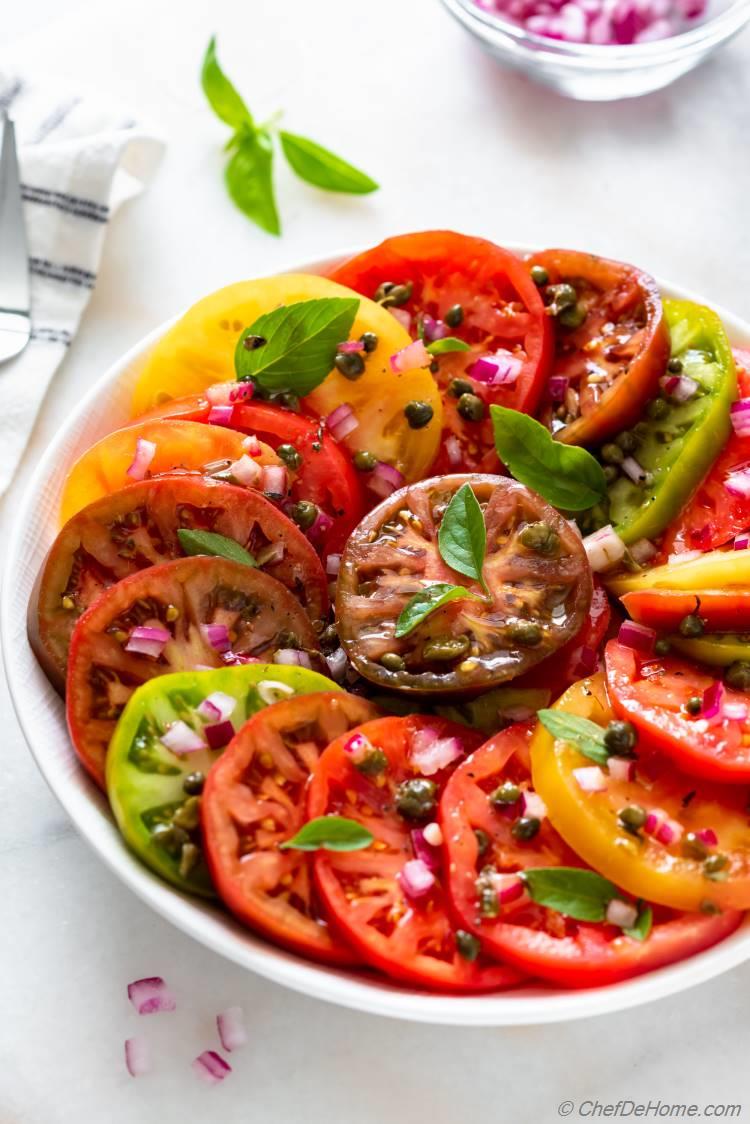 When to serve Heirloom Tomato Salad?
I love to serve Heirloom Salad with grilled dinner. The clean flavor of tomatoes also goes great on the side of a garlicky pasta.
Try Heirloom Salad with:
Friends, bring home the flavors of summer. Brighten-up this weekend's dinner with this clean and healthy Heirloom Tomato Salad recipe. If you can't find Heirloom Tomatoes, try this salad with fresh ripe Roma tomatoes. Dressing goes great with all variety of sweet tomatoes.
Try These Summer Salads: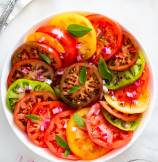 Total Time:
Prep Time:
Cook Time:
Cuisine:
Italian
(

Salad, Vinaigrette

)
Difficulty:
Easy
Yields:
4 Servings
- Serves:
4
Nutrition:
165 calories per serving
Ingredients
Heirloom Tomato Salad
Herb Capers Vinaigrette Dressing
Directions
1.

Prepare Salad Ingredients

:

Use serrated knife to slice heirloom tomatoes to even round slices. Wash and dry basil leaves. Small chop few basil leaves to yield 1 tablespoon chopped herb. Small dice red onions. Set aside.

2.

Make Dressing

:

In a small bowl or jar, add all ingredients for dressing except capers. Whisk or close lid of jar, shake to emulsify. Mix in chopped capers, chopped basil leaves, and half of the diced red onions. Mix. Set aside.

3.

Assemble Salad

:

Layer sliced tomatoes in a wide salad platter. Top with remaining half of the red onions. Sprinkle salt on tomatoes, then spoon herb dressing along with capers and onions, distributing evenly.

4.

Garnish and Serve

:

Garnish with remaining basil leaves. Serve immediately.
Savita's Notes:
Salad is best when made with chilled Heirloom Tomatoes. Or Let assembled Heirloom Salad chill for 15 minutes before serving.
Adapt this salad to serve for lunch - add avocadoes and grilled peaches. (yum!)
DID YOU MAKE THIS RECIPE?
Tag
@SAVITACHEFDEHOME
on Instagram and hashtag it
#SAVITACHEFDEHOME
© Chef De Home. Post content including video and photos are copyright protected.
We Think You'll Love