This recipe is Copyright of ChefDeHome.com

Tangy and super quick thai style stir fry
This lemony and super easy Udon Noodles stir fry recipe is inspired by highly famous drunken noodles available in most Thai restaurants. Even though most Drunken Noodle recipes call for Flat Rice Noodles, my friend Jasmine often makes them with Udon Noodles. I galloped a plate full of yummy noodles in her seafood party last weekend and came home craving for more. After checking recipe with her, I made myself a plate of these for lunch. Taste was so amazing, I decided to repeat'em for dinner.

I specially like Single Serve frozen Udon Noodles packing available in all Asian markets (you can also find Udon Noodles in International Products section of most stores like Costco or Vons). These frozen noodles are very easy to cook and single serving packs are easy to store. No messy leftovers. Once you have noodles ready, this recipe is super quick and tastes really very good.
Pairing Ideas:
Craving for more?
Join us: Weekly Newsletter, Facebook, Google, Twitter, Pinterest
Shop products we use: CDH Amazon Shop (affiliate links)
Stir Fry Udon Noodles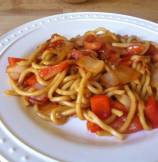 Total Time
Prep Time
Cook Time
Serves
2
Ingredients
1/2 Cup

Red Bell Pepper

(Chopped in 1 inch dice)

1

Tomatoes

(Chopped in 1 inch dice)

2 tbsp

Soy Sauce

2 tbsp

Oyster Sauce

2 tsp

Fish Sauce

1 tsp

Rice Vinegar

1 tsp

Lemon

(zest)

1 tsp

Red Chili Paste

1 tbsp

Canola Oil

2

Udon Noodles

(pre-package individual servings)

1/2 Cup

White Onion

(Chopped in 1 inch dice)
Directions
1.

Soak noodles in hot water for 10 minutes or cook the udon according to the package directions for about 5 minutes. Now, heat oil in pan, add onion and stir fry for 1 minute. Add garlic, red chili paste, bell pepper and continue fry for 30 seconds. Add tomatoes, vinegar and noodles. Now add all sauces and fry stirring continually for 3 minutes. Add lemon zest and serve immediately. You can enjoy these tangy and so flavorful quick noodles recipe any time in just 15 minutes from wok to dinner table.
© Chef De Home. All contents and images are copyright protected. DO NOT copy or re-use content/images/videos. For all content/post mentions with link back, contact ChefDeHome for permission.

Craving for more?
Join us: Weekly Newsletter, Facebook, Google, Twitter, Pinterest
Shop products we use: CDH Amazon Shop (affiliate links)
What would you like me to cook next?: Request a Recipe