This recipe is Copyright of ChefDeHome.com

Coconut Cardamom Truffles
Quick version of Traditional Nariyal Ladoo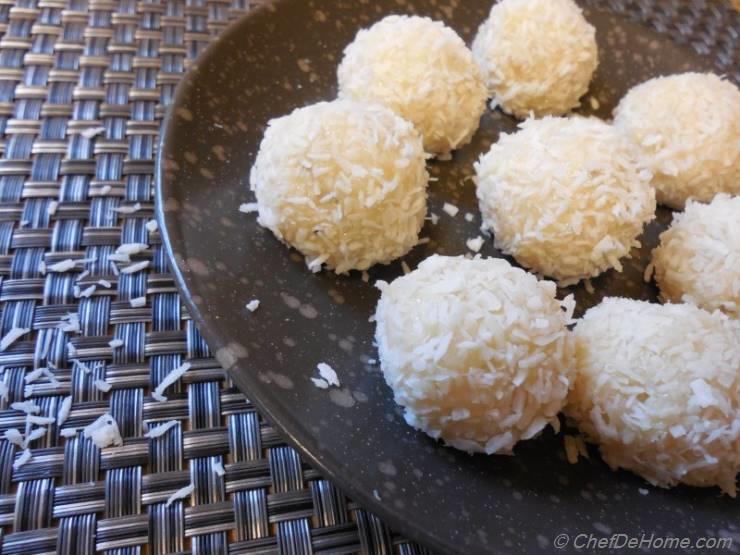 Just four ingredients and a simple recipe and you can make these so addictive coconut treats. In my home, Coconut Truffles are made and vanish so quickly that I never get chance to devour them next day. I learnt this recipe from my grandmother. She calls it Nariyal (Coconut) Ladoo (Truffle). She always make truffles with fresh milk - after cooking milk with sugar low and slow for long time to make it condensed and then adding coconut to make these mouthwatering treats.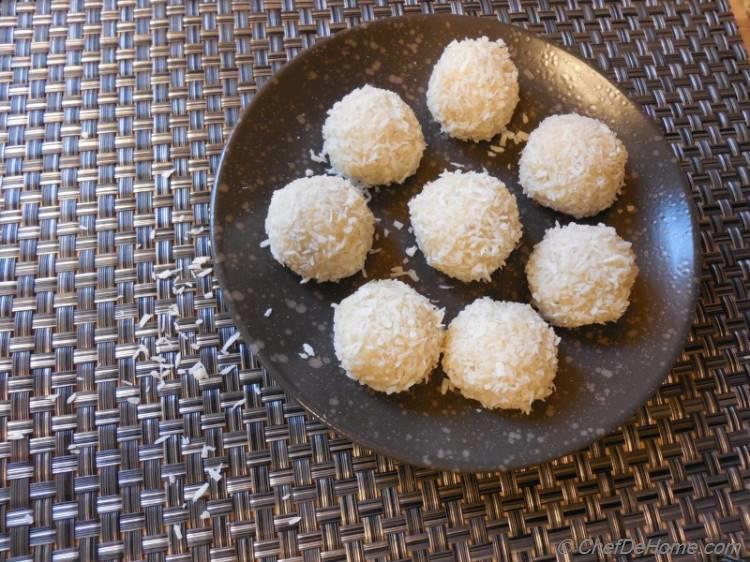 I however, prefer a quick approach of using canned condensed milk for quicker version. Kids are especially fond of these truffles, so if you have kids – young or old alike then you have to try this recipe.
I call these Truffles my 4C dessert recipe. Easy to remember, it has C- Condensed Milk, C-Coconut Extract, C- Coconut Shredded, C-Cardamom. Try it and Love it.
Coconut Truffles make excellent gift for Diwali, Christmas or Thanksgiving, I recommend folding individual truffles in small sheets of parchment paper with bright colored ribbons and then packaging in individual cookie pouches or cookie gift boxes for gift.
Pairing Ideas:
Craving for more? Sign up for the Chef De Home Newsletter for a plateful of contents delivered to your inbox! And connect with me on Facebook, Google, Twitter and Pinterest for all of the latest updates.
Coconut Cardamom Truffles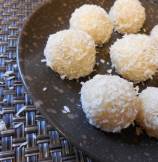 Total Time
Prep Time
Cook Time
Difficulty
Easy
Yields
8 Ladoos or Truffles
Serves
4
Ingredients
1/2 Cup

Sweet Condensed Milk

1/4 tsp

Coconut Extract

(optional)

1 tsp

Cardamom

(use cardamon powder)

1 Cup

Coconut

(dried, shredded coconut, plus extra for coating ladoos)
Directions
Hide Step Photos
1.

If using whole dried coconut, then grind coconut to make fine shred. or you can use a grater to fine setting to yield a cup of grated coconut.

2.

In a small saucepan, add condensed milk, start the stove at low heat, add coconut extract, cardamom powder and 1 cup shredded coconut.

3.

Cook low and slow and keep stirring so that it does not burn for about 4 minutes.

4.

In about 4 minutes milk and coconut mixture will leave sides of pan. Remove pan from heat. Let cool enough so that it is easy to handle.

Additional Notes

You can always wear food handling grade gloves before rolling truffles for your safety.

5.

Spread 3 tbsp. of shredded coconut in a plate. Use a spoon to scoop equal portions of milk and coconut mixture and roll it with your palms and then roll it in shredded coconut to coat evenly. Set aside on a parchment lined sheet until it cools completely.

6.

Store in an air tight container in refrigerator for up to 2 weeks. I always love eating Coconut Truffles at room temperature with a cup of hot tea or just like that after a spicy meal.
Savita's Notes:
I call these Truffles my 4C dessert recipe. Easy to remember, it has C- Condensed Milk, C-Coconut Extract, C- Coconut Shredded, C-Cardamom. Try it and Love it.

© Chef De Home. All contents and images are copyright protected. Please do not use content/images without prior permission. If you want to use recipe instructions, re-write the recipe in your own words, and link back to this post with credit to ChefDeHome for the Recipe Origin.