Spiced Potatoes and Peas Stuffed Flat Bread with Preserved Lemons
Vegan Indian Aloo Matar Stuffed Paratha
Posted On:

May, 16
| Author:

Savita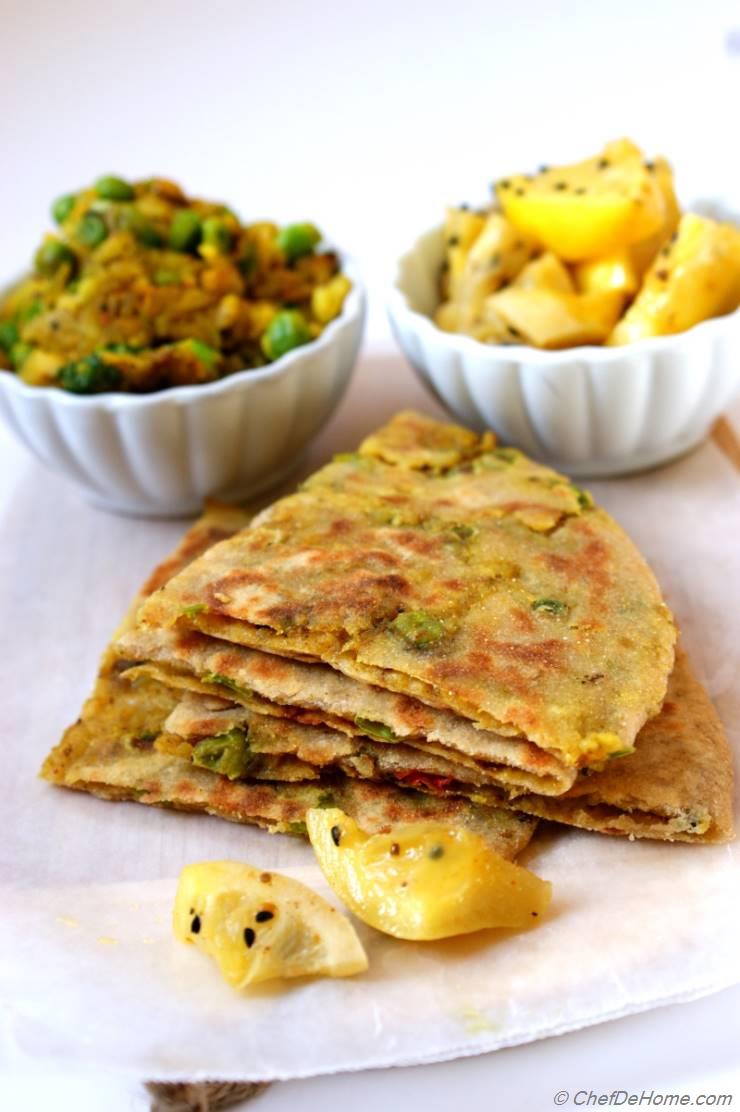 Sharing with you whole wheat Indian flat bread (paratha) stuffed with spicy and comforting mashed potatoes (Aloo) and sweet peas(matar) stuffing. Served with homemade, healthy, scrumptious and above all super-easy lemon preserve. An easy and healthy Indian breakfast experience!
Growing up, spiced potatoes and pea stuffed fried flat bread (Indian stuffed paratha) was my favorite breakfast over the weekends. Spicy stuffing, crispy whole wheat crust and chilled sweet yogurt to dunk the bread, oooohh!!! nothing can beat the comfort and taste of homemade paratha. But as a teenager I became sort of picky eater. I stopped eating fried paratha. Only stuffed and then cooked on skillet with no oil. Being a figure conscious teen, I never wanted my waist line grow more than 25 inches. hahaha!!! now I think and often laugh about it.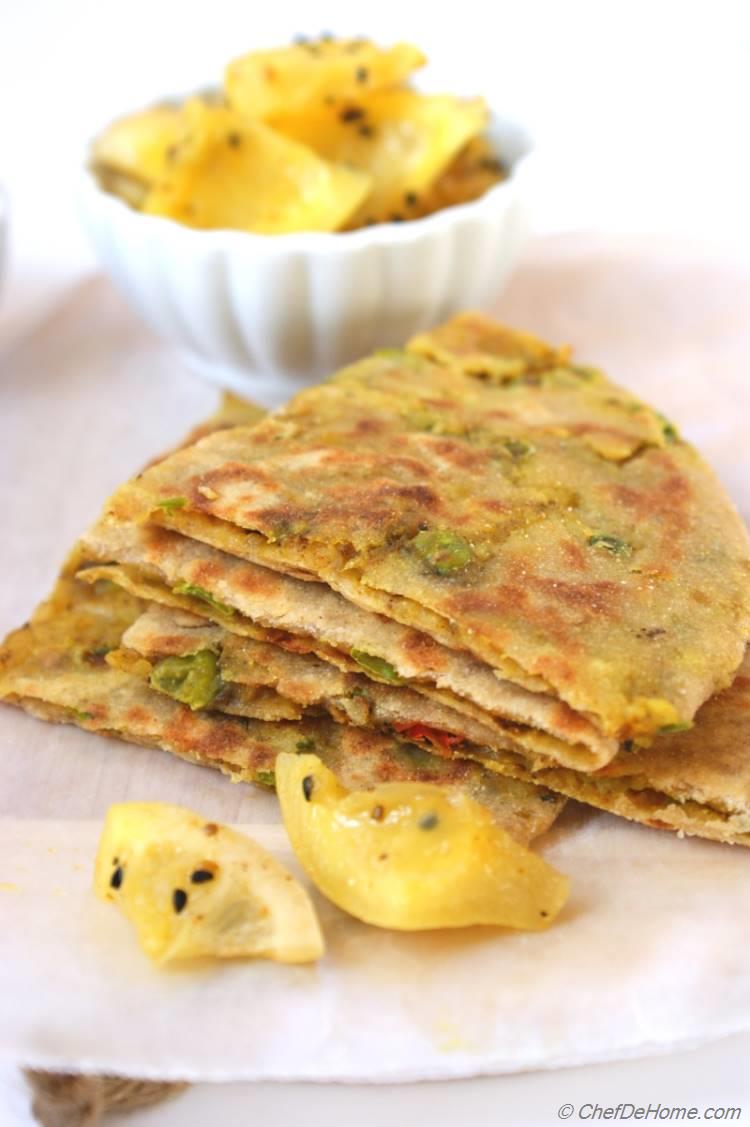 I am still very health conscious but in a different way. Now I believe eating everything in moderation is totally fine. You don't need to kill your taste buds to stay healthy. But I tell you folks, teen days were golden days of my life. No worries, no responsibilities, I was never asked to cook or work at home, only studied and studied hard. These days, study has taken back seat, one of my favorite thing to do now comes after I finish cooking/blogging/homemaking and what not!!! List is very long. 
Enough tour of memory lanes. Now back to my Potato Paratha. So, you can totally skip fry'em. Just sear flat bread on hot skillet until cooked and has brown spots all over the surface. Enjoy with low-fat sweet or plain yogurt.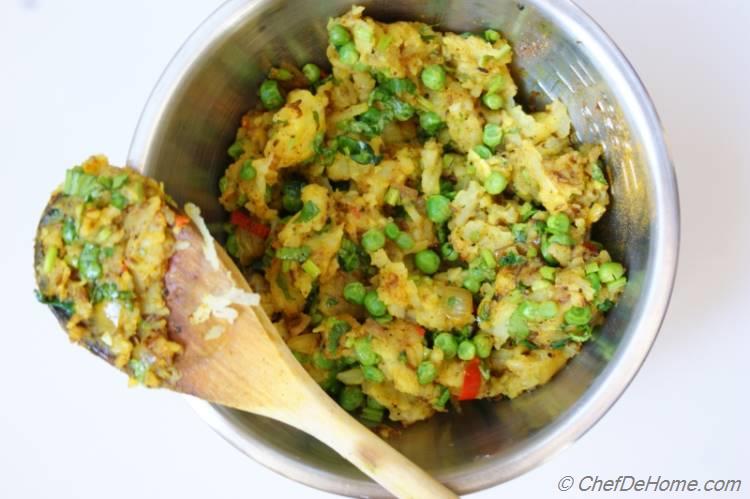 Flavor of potato and peas stuffing is the key for making good Aloo Paratha. And I must tell you that this stuffing is very versatile. Stuffing stays good in refrigerator for 3 to 4 days. If you have some leftover stuffing, don't throw it away. Use it!! In-fact I specially make it extra sometimes. You can stuff it in Wonton wrappers and fry for delicious tea time snack. Don't like fried? If you have puff pastry in refrigerator, you can also make puff pastry turnovers with this stuffing and bake. I shared Potato Stuffed Turnovers recipe few years back. You can easily replace this stuffing with the one given for the recipe. Also, mix in some bread crumbs in the potato stuffing leftovers to make delicious potato cakes. Isn't it worth making a good batch of this stuffing and then using leftovers so many interesting ways? i bet you will make it now :)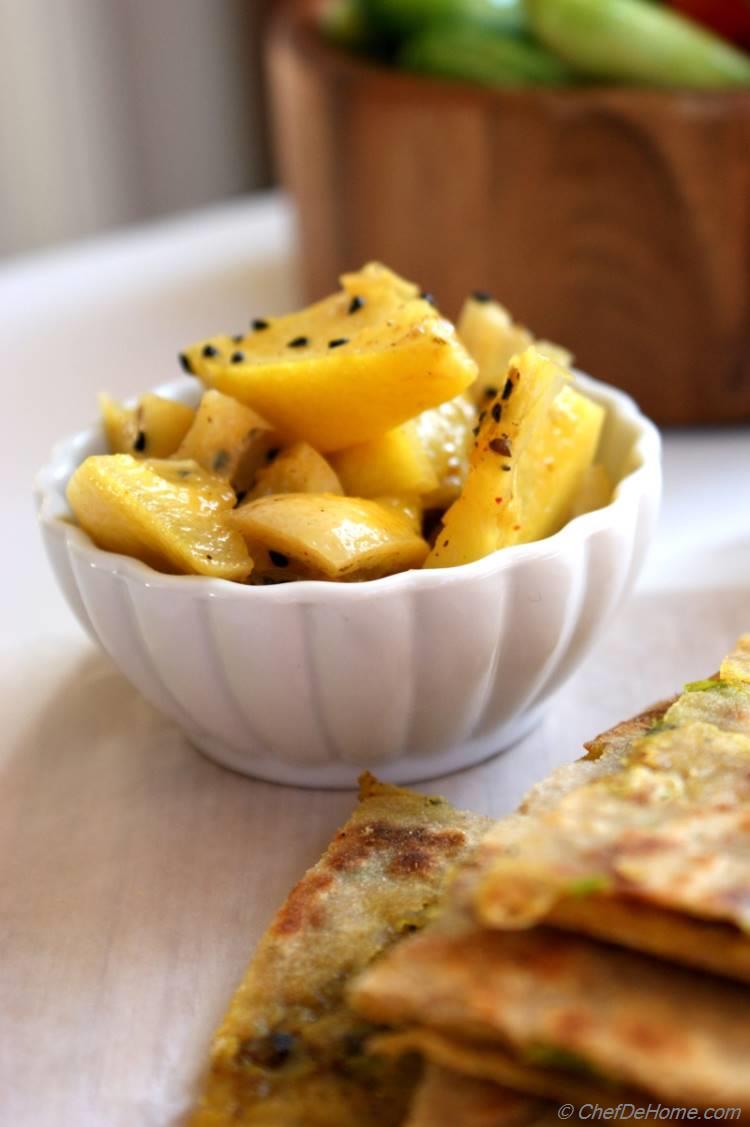 Other yummy recipe I am sharing with you is - Easy Indian Lemon Preserve. First, don't worry about making this preserve for paratha. You can enjoy paratha with yogurt too. Paratha also tastes delicious with a small dollop of sour cream or salted butter.
This easy lemon preserve, however will make paratha a complete Indian breakfast experience. You don't need no cooking to make this preserve. Sun is shining so bright these days. Only sun light can cook this finger-licking lemon preserve in just 3-4 days.
I make lemon preserves a number of ways every summer. Sweet or Salted, cooked or sun-cooked, baked or fried (just kidding ;) ). But, seriously you can make lemon preserves various ways. I am sharing with you two of my most favorite methods here. 
Method -1: Did you ever buy Indian Mango or Mixed Acchar (or pickle). If your answer is yes, then I have a good news for you. Your pickle, which might be sitting in your refrigerator since long will not go wasted anymore. I often make quick lemon preserve using this pickle. Interesting!! Isn't it?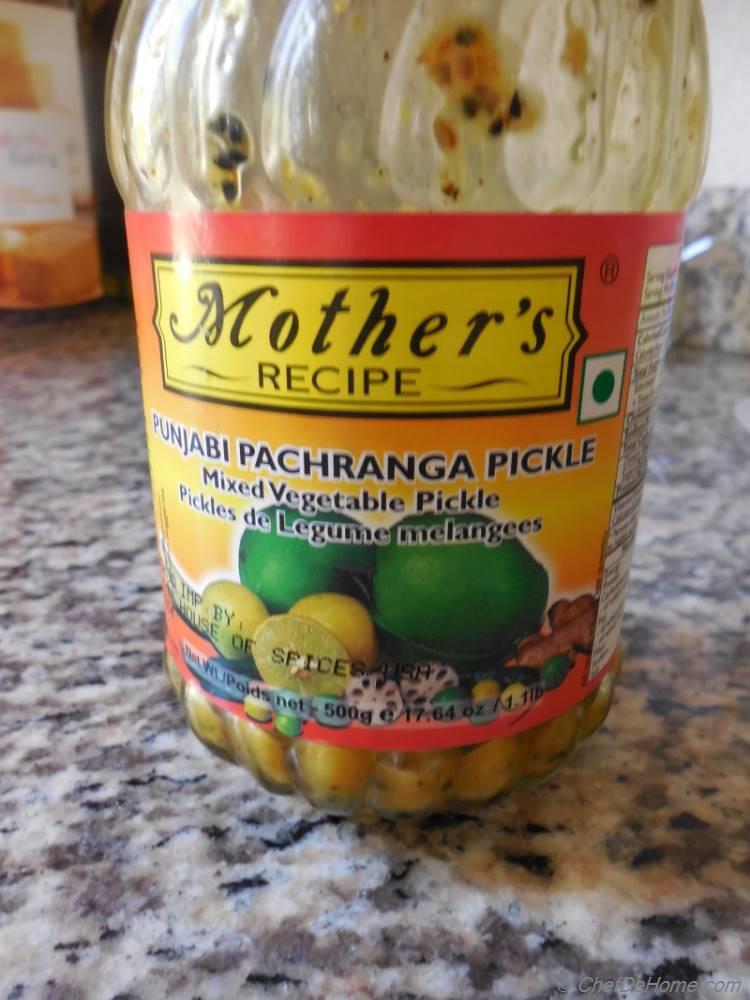 Do this. In a clean and dry bowl, add sliced lemons (washed and fully dried, remember, water is enemy here). Add two tablespoon of ready-made pickle, juice of 1 lemon, 1/2 tsp salt and nigella seeds (optional). Mix well. Fill in a clean and dry tight lid jar. Keep in sun for 3 days and enjoy fresh, firm yet super yummy lemon pickle and with far less calories than store bought version. One bottle of Indian Mango Pickle will yield about 6-7 lbs of lemon pickle. Make extra and gift your friends and win lots of praise.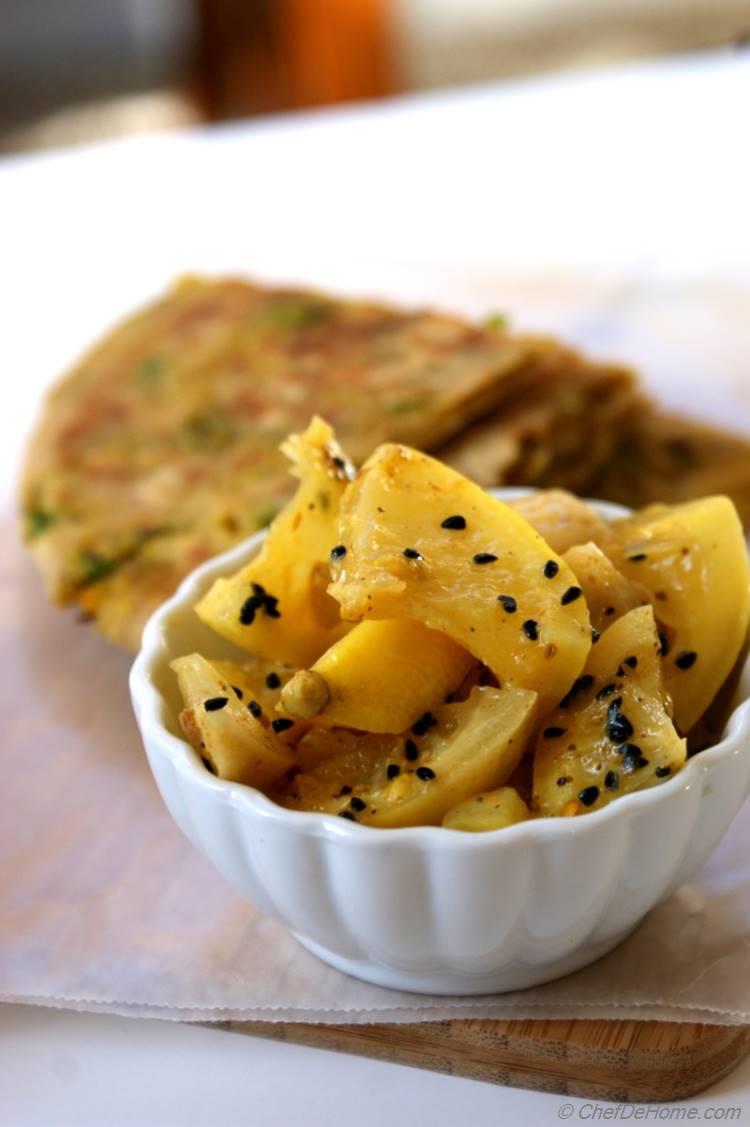 Method -2: This method is easy too. Just needs some extra pepper and little bit of oil. I have added the ingredient list and method in recipe below. You still can enjoy tangy and juicy lemon preserve in just 3 days. Follow the instructions below. 
Why not cook lemon preserve? You can certainly make cooked version of lemon preserve too. But  if you google you will see lemon rind has so many health benefits. Regular consumption of lemon zest and juice can help lower the cholesterol and it helps in food digestion too. Cooking lemon gently in sun-light will preserve lemon nutrients much better than fast cooked versions. Even if you don't like lemon preserves. Do give these easy recipes a chance. You can try it with just 2-3 lemons for first time. You can even add few tbsp sugar to make it more appealing for kids. Sweet and sour!! You know what I mean? 
So make some lemon preserve and potato stuffed whole wheat Indian paratha this weekend. Enjoy easy and healthy Indian food at home. Until next time, happy cooking!! and stay blessed.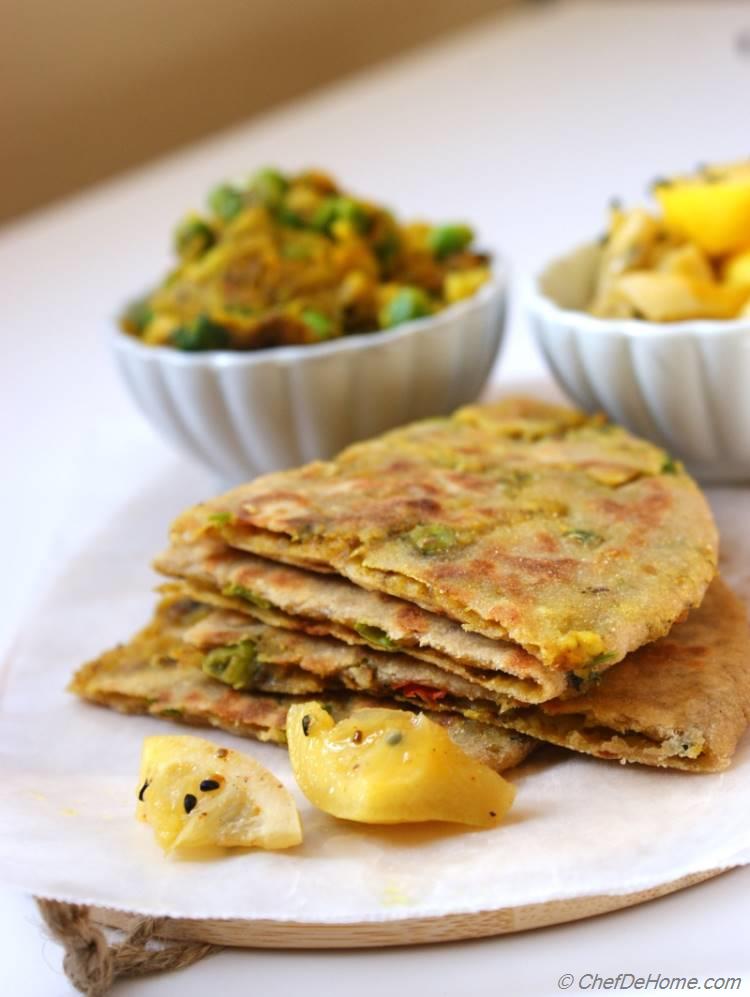 P.S. Mothers Indian Mango or mixed pickle is my personal favorite store bought pickle. I usually buy it from Indian stores. And this content is not sponsored, I am sharing what I like to cook.
Few more Indian Paratha recipe I shared earlier:
Spiced Potatoes and Peas Stuffed Flat Bread with Preserved Lemons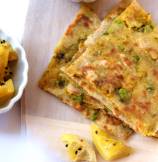 Total Time:
Prep Time:
Cook Time:
Cuisine:
Indian
(

Breakfast, Bread

)
Difficulty:
Easy
Yields:
8-10 Flat Breads
- Serves:
5
Ingredients
Paratha Dough
Potatoes and Pea Stuffing
Lemon Preserve
Directions
1.

Preserve Lemons - Wash and pat dry lemons. Make sure they are all dry (no water droplets hanging around). Slice all but 2 lemons into bite size pieces. Add to a tight seal-able, clean and dry jar with juice of remaining two lemons, oil, salt, pepper and nigella seeds. Seal tight. Shake well and keep in sun-light for 3 days every day.

Additional Notes:

Don't leave jar outside overnight. At-least 5-6 hrs of sunlight needed every day. Only open jar after 3 days. Refrigerate after opening.

2.

Paratha Dough - In bowl mix together salt, wheat chapati flour with 1 tbsp oil. Now add 1 cup water and mix to make dough. If dough appears dry, add more water (2-3 tbsp at a time) till dough comes together and is neither sticky nor dry. Let the dough rest for 20 minutes before making breads.

3.

Potatoes Stuffing - While dough is resting, grate boiled potatoes or chop'em roughly to very fine pieces Or use potato masher to mash'em. I prefer to grate'em for fine stuffing. Heat 1 tbsp oil in a pan. Add onion and saute of 30 seconds. Add all spices listed ingredient list and mix well. Then add grated potatoes, frozen peas, cilantro and mix well. Season with salt, taste and adjust salt. Remove stuffing in a bowl and let it come to room temperature.

4.

Heat an iron skillet or flat bottom heavy skillet. While skillet is heating at low, divide paratha dough into 8 equal balls. Dredge each ball in dry wheat flour to avoid sticking to flour dusted board or hands. Roll each ball to 2-3 inch circle. Place 2-3 tbsp or small tennis ball size potato stuffing in the center.

5.

Fold the filling in dough and close it like you make a dumpling. Flatten it little bit with palm.

6.

Roll the stuffed dough ball to make flat bread of about 6 inches diameter. Place the flat bread on heated skillet, let it cook from bottom for 1 minute.

7.

Flip, spread 1 tsp oil on surface and then flip again. Apply oil on now up side too. Sear each side for 2-3 minutes. Press with flat spatula for even cooking. Paratha is ready when it has brown fried spots all over surface. Remove fried paratha on plate lined with paper towel. Repeat step 4 to 6 for remaining parathas.
Savita's Notes:
Note - Total Time does not include lemon preserving time.

DID YOU MAKE THIS RECIPE?

Tag

@SAVITACHEFDEHOME

on Instagram and hashtag it

#SAVITACHEFDEHOME

© Chef De Home. Post content including video and photos are copyright protected.
We Think You'll Love