To Die For Greek Pastitsio (baked pasta) with Homemade Bechamel Sauce
Baked Pasta with Lamb, Feta, and Olives from Sunny Greece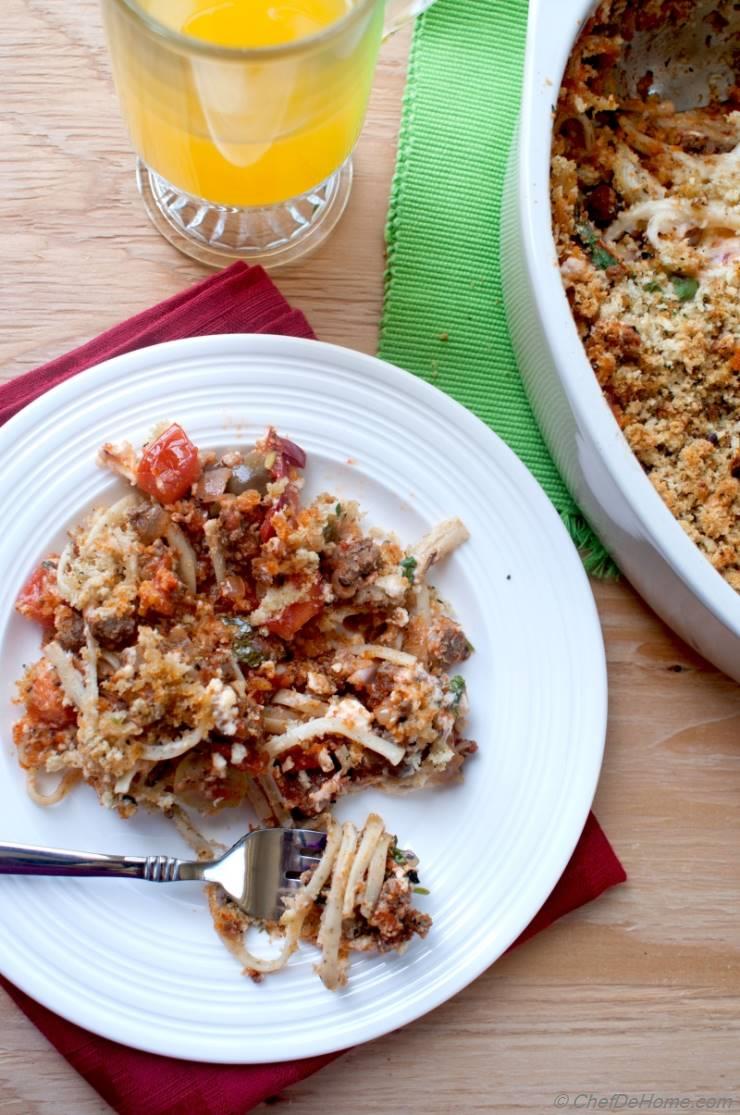 Pastitsio is a Mediterranean version of Italian Lasagna. A complete one pot meal that has all elements to make a hearty family dinner. Ground lamb, pasta and veggies with layers of homemade béchamel and tomatoes, then topped with lemon pepper breadcrumbs and baked to aromatic perfection. Pasta and vegetables become so scrumptious soaked in lamb, tomatoes and creamy béchamel(Bechamel) sauce that once its out of oven, it is totally irresistible.
Are you considering no-mess and no-cleanup, one-pot meal for Memorial Day lunch/dinner? Then  look no further!!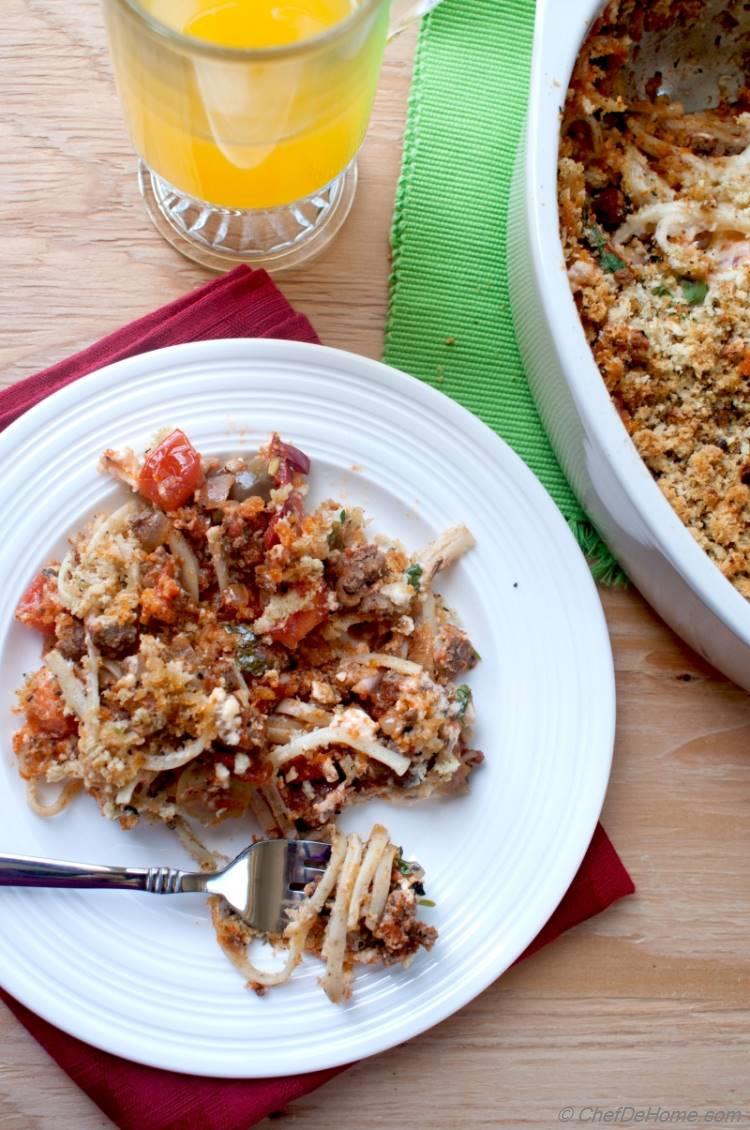 Pastitsio fits right in this criteria. Easy to make, very flavorful, and above all pastitsio offers everything - meat, pasta, creamy sauce, veggies and bread in one mouthwatering dish. How good does that sound?
I tasted Pastitsio first time in a Greek Restaurant. I was so much impressed with flavor, and taste of this comforting Greek classic that I decided to try it at home.
I am fan of one-pot meals. I am sure you have seen few recipes I posted earlier. Pastitsio reminds me of my recipe Pasta al Forno. It shares a lot of similarities with Pastitsio.
Now, two (actually three) of my favorite things about Pastitsio - a) delicious & spoon-licking flavor, b) one pot meal with promise of easy clean up c) and perfect to assemble ahead for parties or family dinners.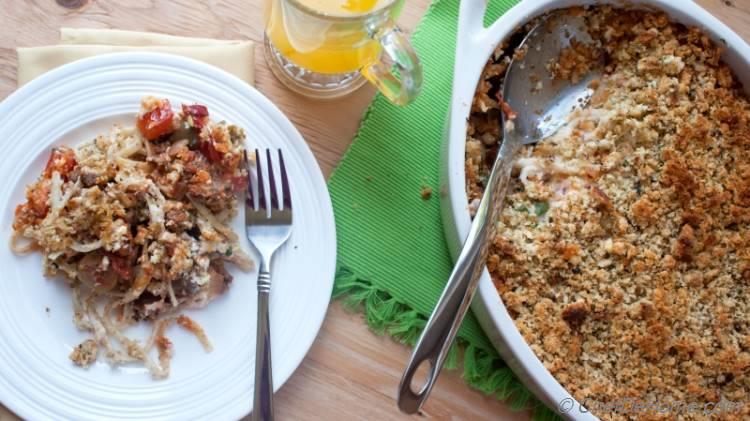 And there is one more favorite thing - LAMB!!! Vishal's favorite!!! (mine too but he is more of a Lamb freak in the house!!) When a dish has lamb in it, he never complains for anything else :) Even though Pastitsio tastes great every time we make it and we love every bite of it, this time I added some veggies too like artichokes (my favorite), very small diced carrots, fresh tomatoes etc.
I was sure expecting some critic for veggie part of it. But nope!!! total silence... means ???? you know what it means!! keep quite, I'm enjoying food....
You can see for yourself!!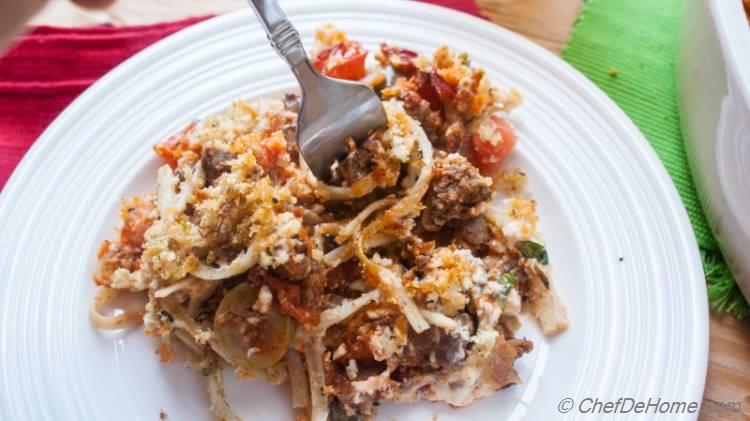 Warm and comforting!!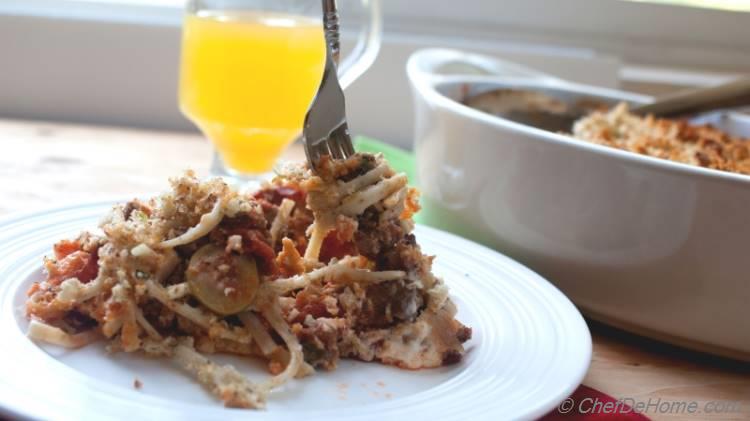 Lamb and tomato soaked lemony pasta!!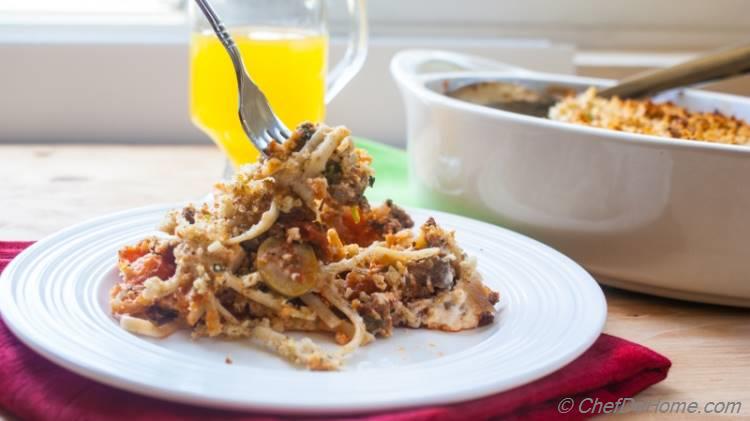 salty feta, briny olives and artichokes, crunchy and crispy lemon-pepper homemade topping!!
What's not to like here? D E L I S H!!!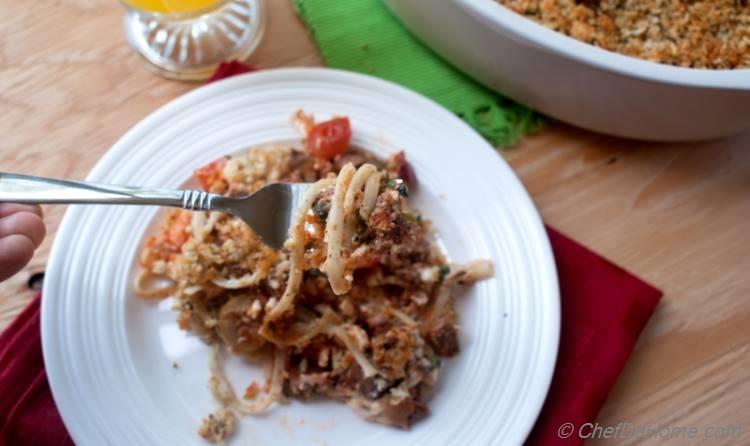 Delicious Heaven!!
I know your taste buds are salivating to taste it. I felt the same when I was clicking these shots!! Have you decided to make it for Memorial Day Family Dinner yet? I know answer is yes, I can hear it :)
When I don't have lamb, or I want to keep it lite, I sometimes use ground turkey instead. But I must tell you nothing can beat taste of lamb cooked with spices in Pastitsio. If you wanna try traditional Pastitsio, then I strongly recommend ground lamb as main meat component.
With this recipe, I am sharing with you homemade version of two important ingredients of Pastitsio. First is bechamel sauce. Once you learn to make this easy classic white sauce at home, you can prepare many pasta dishes in no time. In-fact, you will be amazed to see how good bechamel tastes in sandwiches and mac'n cheese.  If you want to save time, store bought sauce works perfect too.
Second is Lemon-Pepper Seasoned Fresh Breadcrumbs!! Lemon pepper is my all-time favorite seasoning. In this recipe, I added taste of lemon-pepper throughout. I have used Lemon-Pepper linguine for pasta. Lemon-Pepper linguine adds slight hint of lemon and pepper when you bite into rich and delicious pastitsio.
To carry on the lemon-pepper flavor further, I seasoned the bread crumb topping with lemon zest and black pepper as well.  And you know I am homemade freak!!! So bread crumbs are fresh homemade too. Store bought bread crumbs seasoned/unseasoned will work fine, but if you have time, I highly recommend lemon-pepper seasoned homemade version. Try it once, you will notice how fresh crumbs elevate the taste of pastitsio or any baked dish.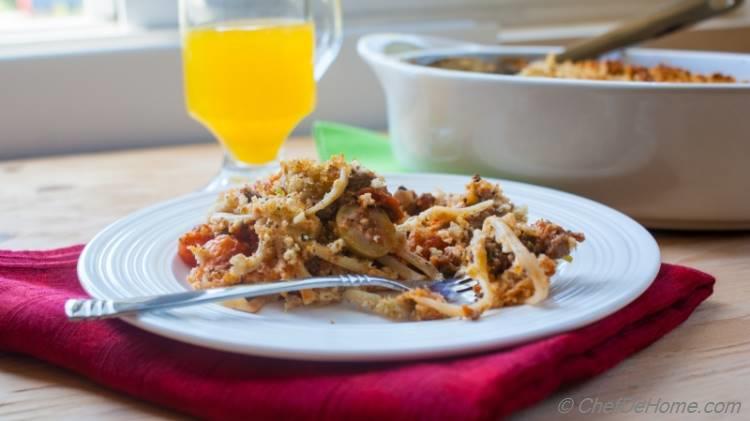 Don't worry about making everything from scratch. This is fun about home cooking, you can adjust per situation and yet make delicious meals. Feel free to use store bought bread crumbs (plain or seasoned) and jar of ready to use béchamel.
Or what I usually do is, prep these things a night before. Breadcrumbs and bechamel, both will stay good in refrigerator for 2-3 days. On day of event, just par-cook pasta and sauté lamb, assemble everything in one oven-proof dish and relax!!!
Just bake it 1hr before the dinner.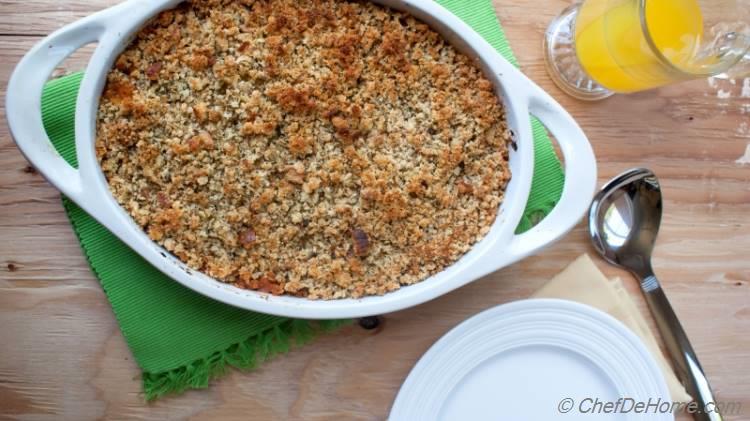 Wallah!!! Scrumptious Pasta Dinner with hearty serving of aromatic lamb and veggies make your dinner table look prettier than ever!!! Don't just believe me, look at the pictures!!! :) Happy Cooking!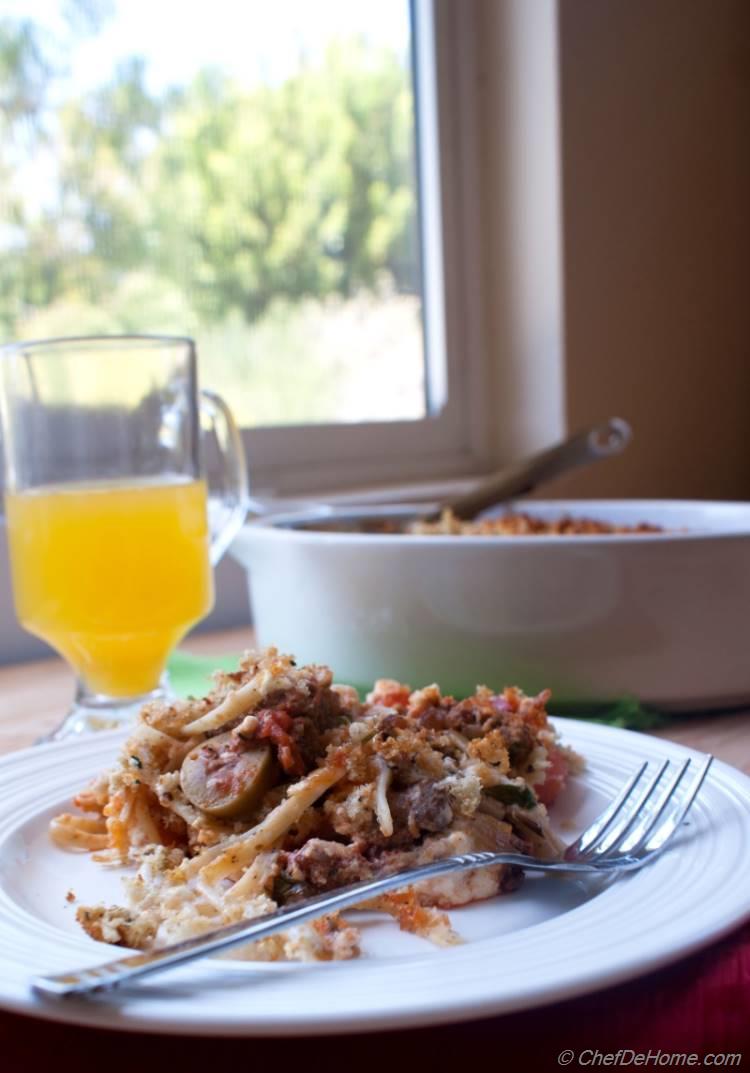 Pair Pastitsio with this easy side salad and drink & Bon appetit!!
To Die For Greek Pastitsio (baked pasta) with Homemade Bechamel Sauce
share on pinterest

share on twitter

give feedback or read article reviews

print recipe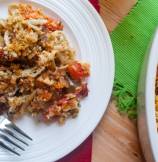 Total Time
Prep Time
Cook Time
Cuisine
Mediterranean
Category
Pasta, Main Course
Difficulty
Intermediate
Yields
4-5 Servings
(Serves:

5

)
Smart Swap Use ground turkey or chicken instead of lamb for healthier variation.
Ingredients
Bread Crumb Topping

4 White Bread

(slices, toasted each side for 2 minute in skillet, not charred but partly brown)

3 tbsp Cilantro

(or parsley, rough chopped)

1 tsp Black Pepper

1 tbsp Lemon

(fresh grated lemon zest)

1/2 tsp Salt

1 tbsp Olive Oil

Béchamel Sauce

3 Cup Milk

(low-fat milk or whole milk)

Salt and Black Pepper

(as per taste)

1/4 tsp Nutmeg

3 tbsp Unsalted Butter

3 tbsp All-Purpose Flour

Pastitsio pasta and lamb

1/3 lbs Pasta

(I have used Lemon-Pepper Linguine/Linguini)

1/2 lbs Lamb

(ground lamb)

1/2 Cup Yellow Onion

(small diced)

1 tsp Oregano

1/2 tbsp Garlic

(about 3 cloves of garlic, fine diced)

1/2 Cup Feta Cheese

1/2 Cup Artichokes

(4-6 pieces of artchoke hearts, sliced in half)

2 tbsp Olive Oil

1 Cup Tomatoes

(8 ounce can of tomatoes)

1/2 tsp Salt

1/2 Cup Cilantro

(chopped parsley or cilantro)

Additional Veggies

1/2 Cup Carrots

(small diced, optional)

1/4 Cup Jalapeno

(chopped pickled jalapenos or use peperoncini)

1/4 Cup Olives

(pitted and sliced)

2 Tomatoes

(fresh ripe roma tomatoes, small diced)
Directions
Hide Step Photos
1.

Homemade Béchamel Sauce - Heat milk in a pot, when bubbles start to appear remove from heat. In an another heavy bottom sauce pan, cook flour with 3 tbsp butter until flour is cooked but not brown, add warm milk slowly and keep whisking so that flour does not form lumps in milk. Keep stirring until milk is thick and leaves a smooth, thin coating on spoon (about 20 minutes). Season with salt and pepper to taste and 1/4 tsp of nutmeg. Yields about 2.5 Cups

Additional Notes

Skip this step if using store bought jar of béchamel.

2.

Seasoned Homemade Breadcrumbs - Toast the day old white bread slices (no need to remove the edges) for 2 minute each side. (or until its lite brown toasted but not charred). In a food processor, combine all bread crumb ingredients and torn slices of bread.

Additional Notes

Skip this step if using store bought bread crumbs

3.

Pulse it for 1 minute to make fine bread crumbs.

4.

Cook Pasta - Set oven to pre-heat at 425 F. Boil a pot of water, season with salt and then cook pasta 3 minutes less then the package suggested time. I boiled lemon-pepper linguine for 5 minutes, 3 minute less than suggested 8 minute cook time. Drain pasta, transfer to a wide bowl. Toss it with 1 tbsp. oil and set aside.

5.

Cook Lamb - Heat 1 tbsp. oil in a pan. Add chopped onion and sauté until soft (2-3 minutes). Now add ground lamb and break with back of spatula to small bite size pieces while cooking. When all raw color disappears, add garlic, small diced carrots (if using), oregano and salt and continue cooking for 3 more minute. Remove from heat and mix in 1 cup canned tomatoes with juice (crushed, if canned tomatoes are whole.)

6.

Assemble - In a wide, oven proof baking dish, add 1/2 cup béchamel. Top it with 1/2 linguine, then layer 1/2 of ground lamb and tomato mixture evenly.

7.

Assemble - Spread 1/2 cup béchamel over the lamb. Then add an even layer of all veggies - diced fresh tomatoes, olives, pickled jalapeno, cilantro, carrots(if using). Top it with remaining linguine and then all lamb. Pour and spread all remaining béchamel evenly over the lamb. Now spread seasoned bread crumb on top fully covering all ingredients.

8.

Bake in pre-heated oven for 35 to 40 minutes or until top is golden brown and crisp. I baked it for exact 35 minutes for this golden crust.
© Chef De Home. All contents and images are copyright protected. DO NOT copy or re-use content/images/videos. For all content/post mentions with link back, contact ChefDeHome for permission.

Craving for more?
Join us: Weekly Newsletter, Facebook, Google, Twitter, Pinterest
Shop products we use: CDH Amazon Shop (affiliate links)
What would you like me to cook next?: Request a Recipe