Mushroom Bolognese
Vegetarian version of traditional Meat Bolognese made with tomato sauce, mushrooms, and aromatics. Perfect for meatless Pasta Dinner.
Posted On:

Oct, 24
| Author:

Savita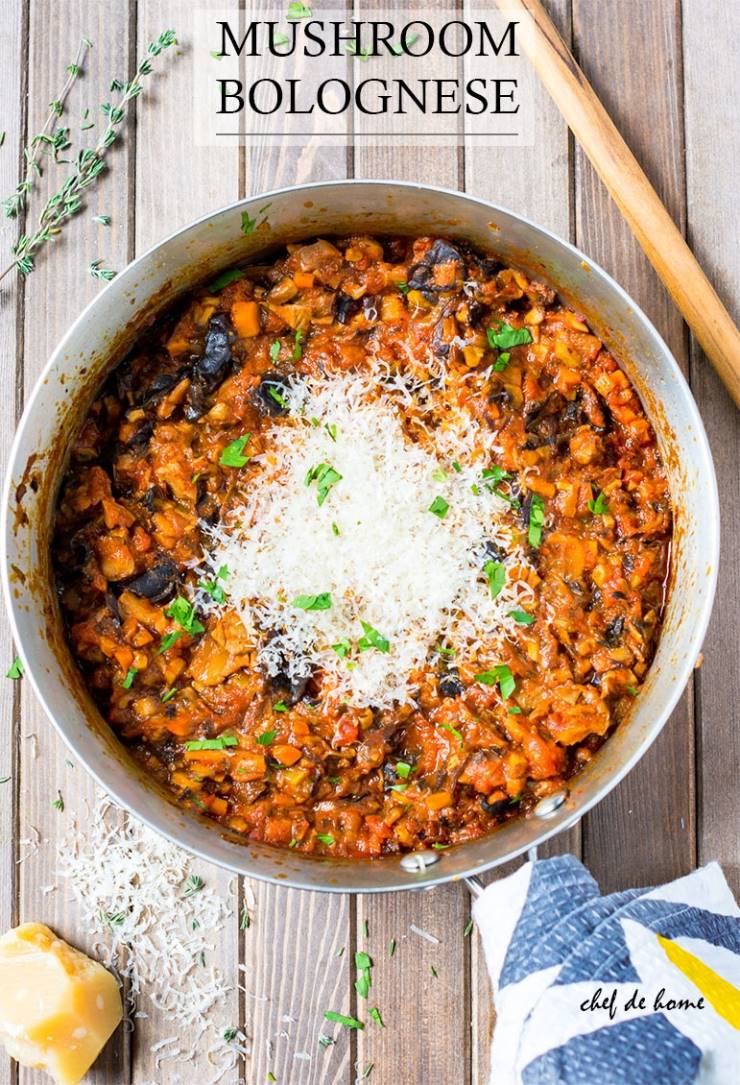 How about starting Monday with a rustic and comforting yet vegetarian pasta dinner with meatless Mushroom Bolognese?! 
Vegetarian version of traditional Meat Bolognese made with tomato sauce, mushrooms, and aromatics. In this mushroom version, I used two kinds of fresh mushrooms - white button and earthy crimini which make meaty vegetarian Bolognese Sauce. Coat in Spaghetti for a delicious all-veggie family pasta dinner. 
I love the comfort of a slow cooked and hearty bolognese for a cold/breezy weeknight dinner. As much as I love meat version, vegetarian bolognese with mushrooms holds special place in my recipe repertoire for meatless weekday dinners. I'm sure you all know we have many days in week when we don't eat meat?! For those days, I love re-creating vegetarian version of recipes with lots of fresh ingredients, and bold flavors to enjoy a flavorful weeknight dinner no matter if we eating meat or not. Squash Lo Mein, Cauliflower Pasta Puttanesca are perfect examples of that.. 
So, today I thought to share with you my vegetarian, mushroom bolognese sauce pasta recipe which I'm bringing to you in collaboration with Prego Farmers' Market® Sauces.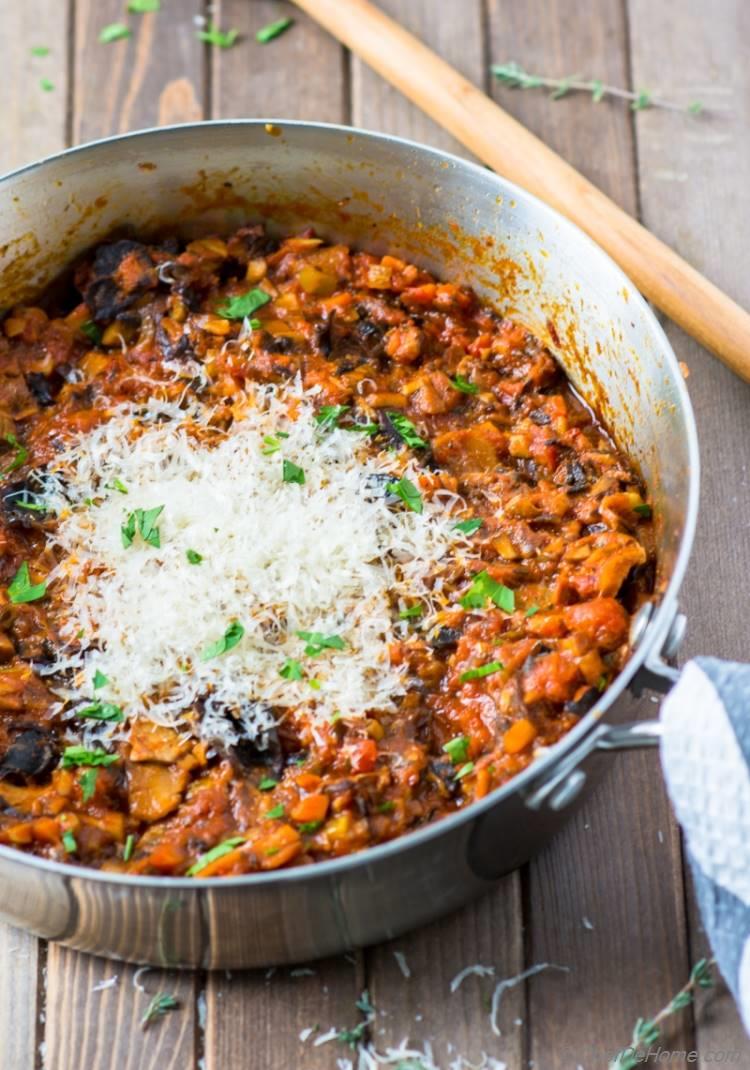 Traditional bolognese sauce is slow cooked Italian pasta sauce made with meat, tomato sauce, aromatics, and herbs. In mushroom version, I used two kinds of fresh mushrooms - white button and earthy crimini. To make mushroom flavor more pronounced, I also added one ounce of dried mushroom stir-fry mix. 
On my recent visit to Walmart to buy ingredients for Mushroom Bolognese... I picked Prego Farmers' Market® Tomato & Basil sauce, my favorite collection of mushrooms - white, crimini, and dried stir-fry mix, with yellow onion, celery, carrot (mirepoix), thyme, and oregano. I also grabbed a package of fettuccine to complete my Italian pasta dinner grocery.
Prego Farmers' Market® Sauces uses ingredients that are picked at peek which gives them wonderful vibrant flavor. Tomato & Basil really won my with amazing fruity tomato flavor. Sauce was not overly sweet and tasted like being made with good quality tomatoes and basil. In one line, it is a kinda sauce which I will love to use for every-day pasta dinner. You know, some olive oil, garlic, oregano, and this marinara sauce in pan for 5 minutes... then over a bowl of fettuccine... means dinner is ready!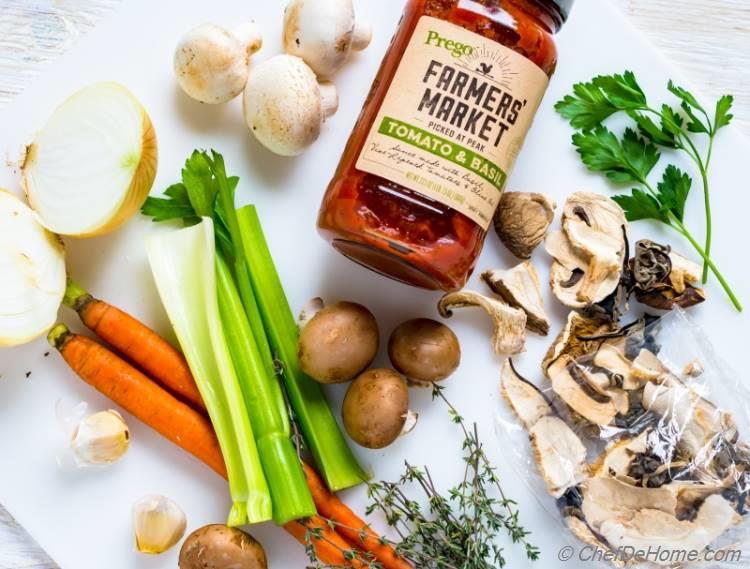 But today I was in mood of a comforting vegetarian bolognese sauce pasta... and this tomato & basil worked as perfect flavorful base for pasta sauce I had envisioned.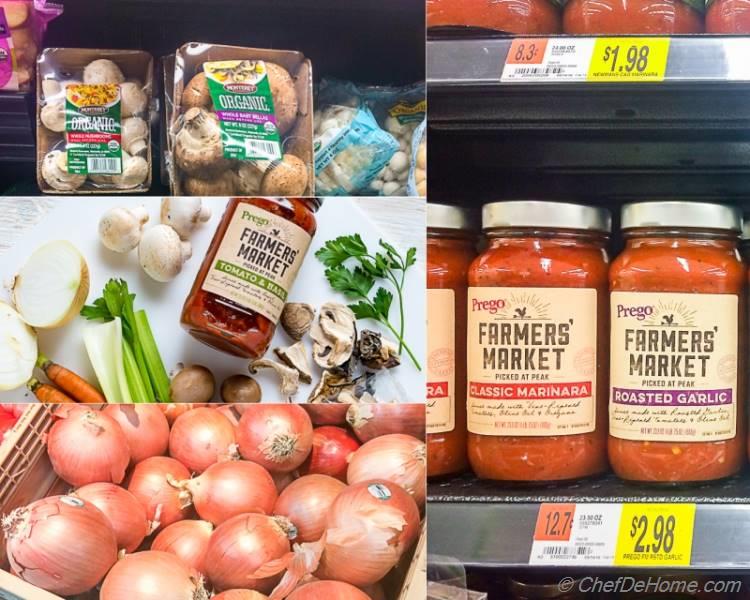 The base of mushroom bolognese or any bolognese is aromatics i.e. classic Italian mirepoix of diced onion, carrots, and celery. You will be surprised how much flavor these three humble fresh ingredients give to the this sauce. Important thing is to just cook them until soft and not let them caramelize or these will make pasta sauce sweet.
To mimic the texture of traditional bolognese sauce, I dice the mushrooms very small almost same size as diced carrots and celery. I even dice the re-hydrated mushrooms. The small size mushrooms cook faster, and cook well with tomato sauce and wine for same minced bolognese texture. When I don't want to spend time small chopping fresh mushrooms, I often pulse the rough chopped mushrooms in food processor. In-fact, I even sometimes pulse the aromatics in food processor. Juts making sure to keep texture little chunky and not pureed works beautifully for ragu or bolognese kind of pasta sauces.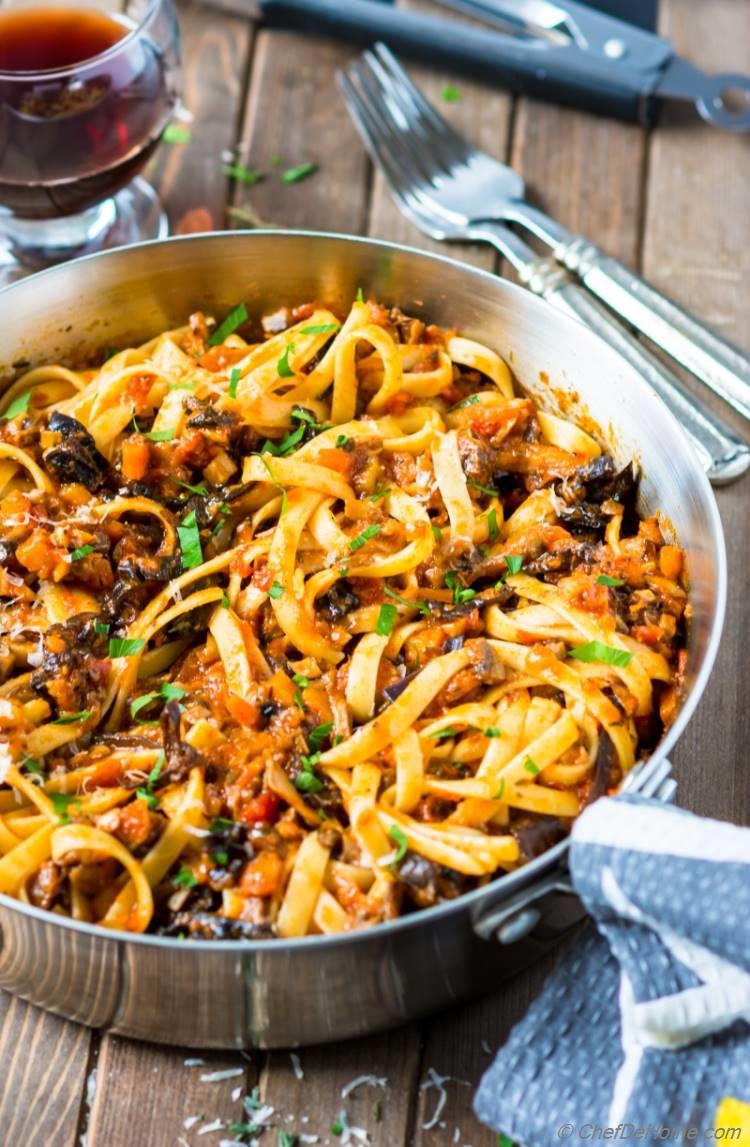 If you are looking for a more vegetable-forward version of pasta bolognese ... you can also add diced zucchini or roasted eggplant while cooking mushrooms. Just make sure to chop veggies same size so to cook evenly. 
Once veggies are cooked, I fortify the base with Prego's Tomato & Basil sauce and red wine. At this time, I also add the reserved soaking liquid from dried mushrooms to add more depth of flavor.  Other than being a flavorful robust tomato sauce... I also like Tomato & Basil sauce for good flavor of basil. In winter days when basil is not readily available... a good quality tomato sauce with basil completes the Italian herb trio that gives distinct Italian-style flavor to bolognese pasta sauce - i.e. trio of thyme, oregano, and basil.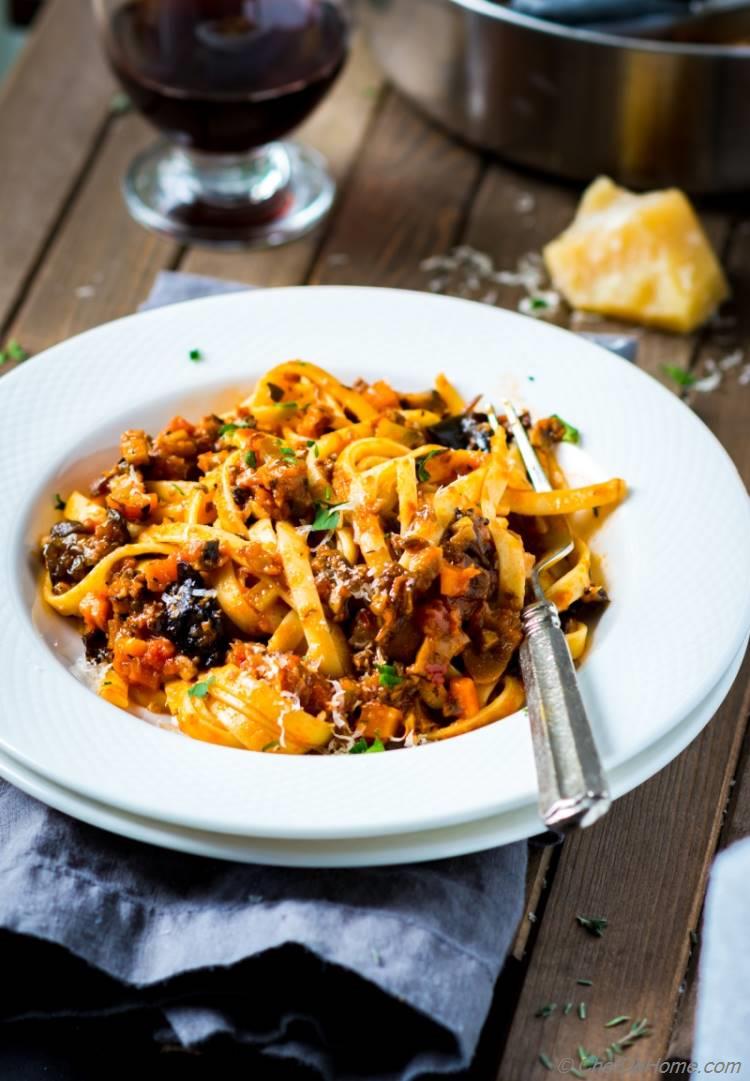 When I'm cooking mushroom bolognese for weeknight dinner... I cook past as pasta (mostly fettuccine or spaghetti) as per package directions. When I ready the sauce over weekend... I just cook pasta sauce up to step - 4 and refrigerate it.  This reduces a 30 minutes recipe to just 12 minutes. I mean, just cook fresh pasta, re-heat bolognese pasta sauce, add some Parmesan cheese and dinner is ready!
Look at the pictures! Does this remind you of hearty bowl of pasta bolognese or what?! Only difference is that is vegetarian, loaded with three kinds of mushrooms, herbs and a flavorful tomato & basil sauce. #PickedAtPeak

If your family loves mushroom and love enjoying pasta for weeknight dinner?! This recipe will make your weeknight even more special! This makes me ask you, what is your favorite vegetarian version of a hearty pasta dish? Leave comment below and share with me.
Wish you a wonderful week ahead. -Savita x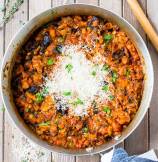 Total Time:
Prep Time:
Cook Time:
Cuisine:
Italian
(

Pasta, Main Course

)
Difficulty:
Easy
Yields:
5-6 Cups Bolognese
- Serves:
4
(

No. of servings depends on serving size.

)
Ingredients
Mushroom Bolognese Sauce
Pasta
Smart Swap: Add more fresh veggies - eggplant, zucchini etc. for veggie-loaded bolognese!
Directions
1.

Add dried mushrooms to boiling 1.5 cup water and set aside. Small dice crimini and white mushrooms and set aside.

2.

In a wide pan, heat olive oil. Add minced garlic, diced onion, carrots and celery with thyme and oregano. Saute for 5-6 minutes or until veggies are soft but not brown.

3.

Drain and reserve water from soaking mushrooms. Rough chop them, add to pot with diced fresh mushrooms. Season with generous pinch or 2 of salt and black pepper. Saute until mushrooms are cooked and reduced in volume. About 6-7 minutes.

4.

Add marinara sauce, red wine, reserved soaking liquid and bring to boil. Reduce heat and simmer for 6-8 minutes or until alcohol from wine has evaporated and sauce has reduced by 1/4-/1/3 of original volume. Fish out sprigs of thyme. Taste and adjust salt and black pepper. Add in half of parmesan cheese and mix in.

5.

While sauce is cooking, bring pot of water to rolling boil. Season with salt and add fettuccine pasta. Cook as per package directions.

6.

Add pasta to the bolognese with remaining cheese and coat well in sauce. Sprinkle fresh parsley and serve while still hot. Enjoy!
Savita's Notes:
DID YOU MAKE THIS RECIPE?
Tag
@SAVITACHEFDEHOME
on Instagram and hashtag it
#SAVITACHEFDEHOME
© Chef De Home. Post content including video and photos are copyright protected.
We Think You'll Love