Peach and Almond Galette
A perfect finish to Summer Meal with Peach tarts filled with (lite) sweet almond-meal filling.
Posted On:

Aug, 11
| Author:

Savita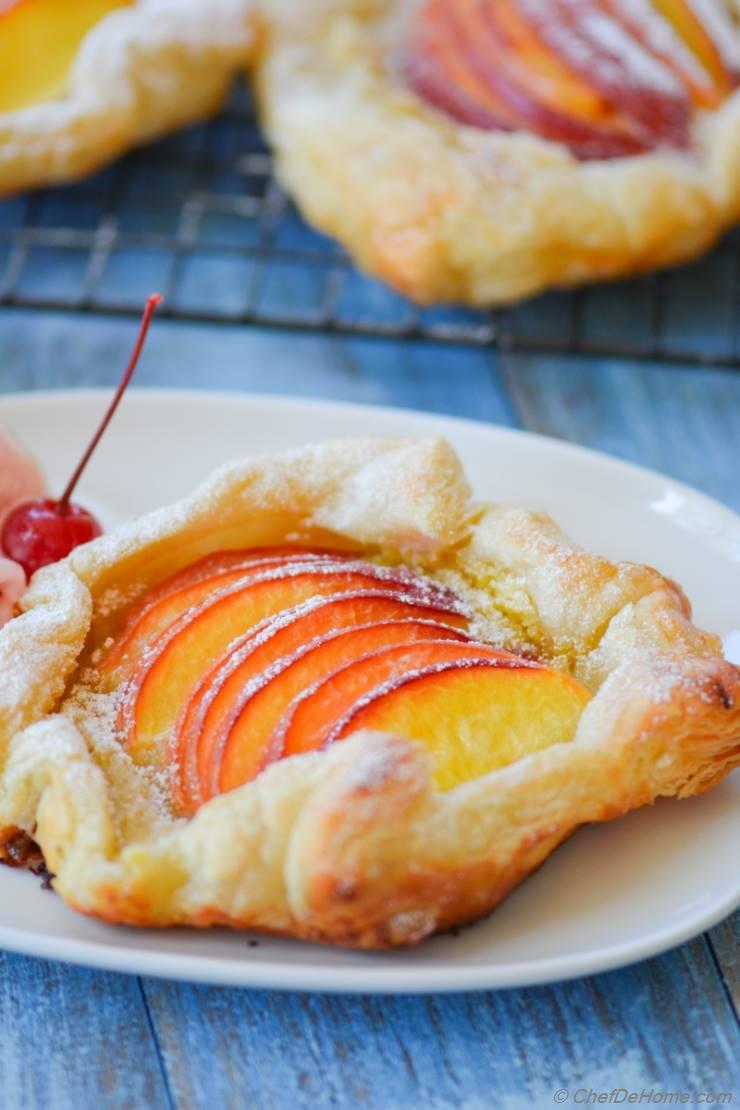 My first introduction to "Galette" was in French Pastry Cafe, a few years ago. This french cafe made these gorgeous looking, free-form, flaky, and rustic fruit tarts with a thin layer of fruit on the top. I always loved'em for flaky and buttery crust - totally indulgent in taste, yet had fresh and sweet bite of stone fruits (like cherries, peaches, plums, you name it!). They had a huge variety of galettes and whenever I visited, all I wanted was a slice of Galette.
It is interesting that I loved eating galette in French Cafe so much that never cared to make one at home. I guess, the convenience of French Bakery around the corner spoiled my inner-chef who always wanna try everything (well,  that be a exaggeration, let's say many things) I eat out, at home :). Two years back, we moved to a different area and that sweet indulgent ride ended for a while....... until recently I craved for those galettes soooo much that decided to make'em at home (finally!!!)
Galette is pretty easy to make, specially the shape is rustic, free-form. So you don't need tart/pie shell to make neat tart edges. The most important thing for a great, buttery and flaky galette is the crust - a BIG in butter crust. If you can find frozen Puff Pastry crust/Pie Crust, the job is half done right away. I have used Puff Pastry Crust for this recipe.
However it is very easy to make flaky tart crust at home. Just like Pie Crust, mix big chunks of cold-diced butter into the all-purpose flour and mix using pastry-dough-cutter or in food processor. Also make sure, water used to make dough is chilled or otherwise butter will melt in dough and crust will not be flaky.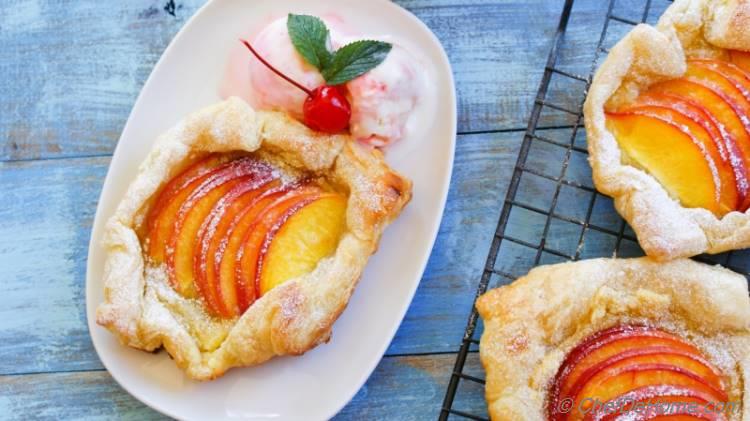 For this recipe, I made petite, individual portion galettes, perfect to serve for party. Every one has their own portion with scoop of Vanilla Ice Cream and no messy crumbs around. This is great when you know head-count for the party Or otherwise you can make one big size free-form galette using same technique and then slice'em per request for guests.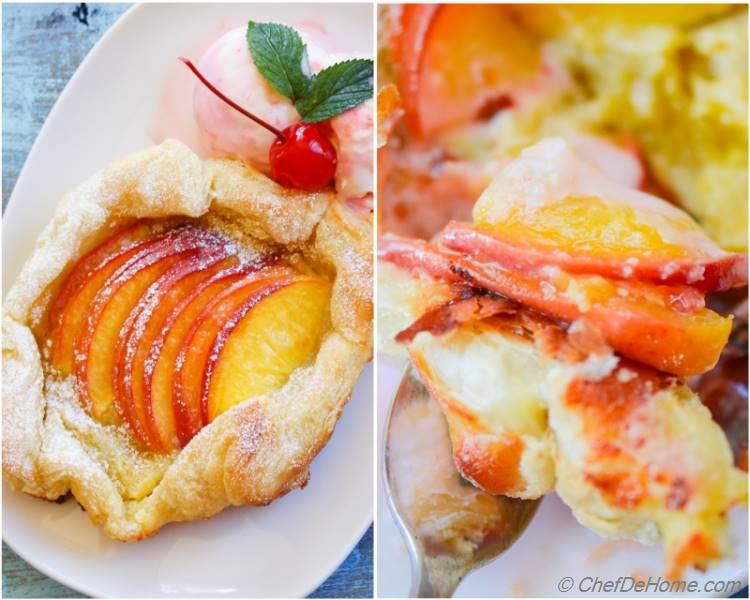 I am telling you, one slice of this peach galette is passport to heaven - as mouthwatering as it looks. Flaky crust, mild-sweet almond filling and fresh baked peaches on the top. Oh-ho-ho-ho, who needs dinner, i can just dine on a slice of my Peach Galette and call it a day. Well, that is a trade-off you know! I mean, to enjoy buttery goodness, (my guilty pleasure), I can happily give-up dinner any given day :)
You know what?? ask Vishal ;) he will happily give-up dinner too... but.... will demand 3-4 petite peach galettes in return. smart!! han!!
Even while taking these shots, someone kept telling me "Ice cream is melting!! " "How many clicks do you want?" Any guesses? Who's lines are these?
You keep guessing and I stop talking now... I can see you too want to jump to the recipe :) Let's just get to the recipe.
And Let me know who is making'em tomorrow! Or may be today!?!?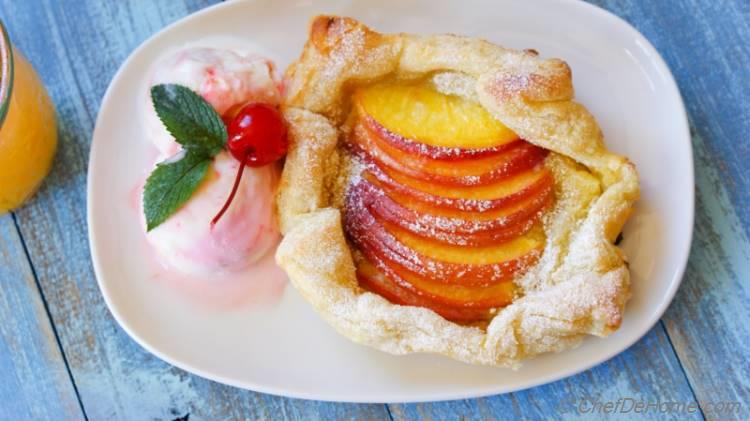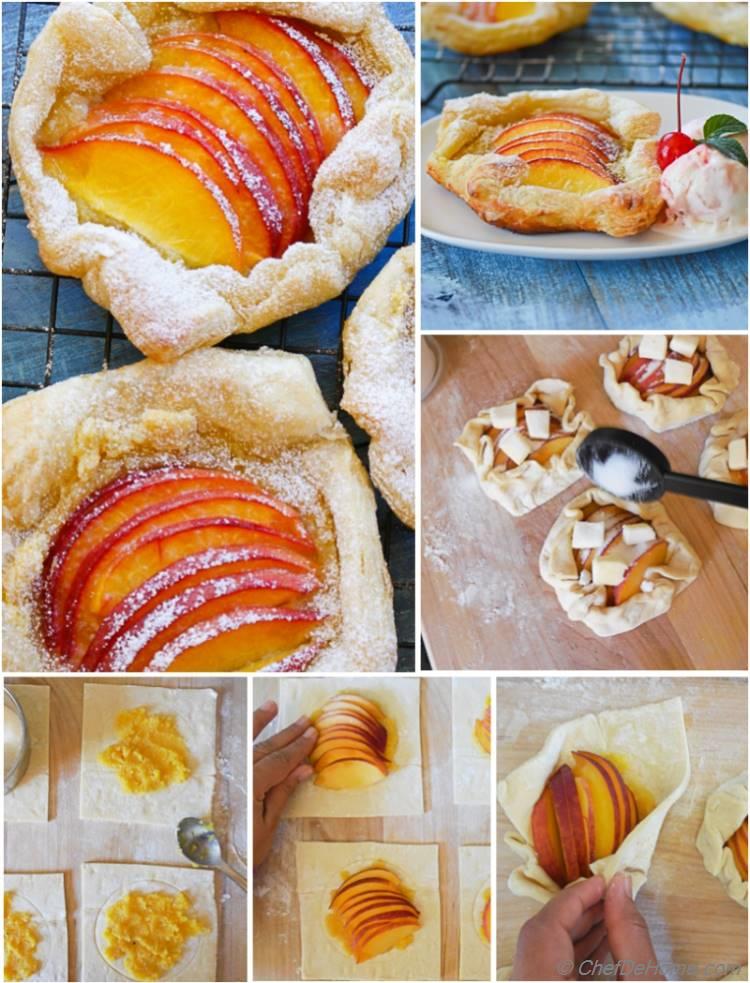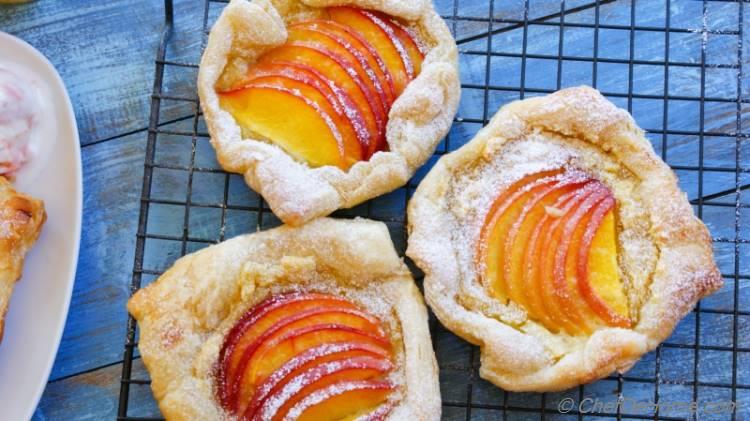 Looking for more Peach Recipes? How about these:
Peach and Almond Galette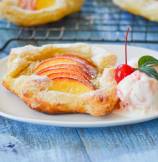 Total Time:
Prep Time:
Cook Time:
Cuisine:
French
(

Dessert

)
Difficulty:
Easy
Yields:
8 Servings
- Serves:
8
(

Set in refrigerator for 30 minutes before baking

)
Directions
1.

Remove stone and slice peaches into thin, fan-out wedges - about 8-10 slices of each peach half. Keep aside.

2.

On a board dusted with all-purpose flour, spread 1 puff pastry sheet and roll in gently to even the edges. Slice it into 4 squares. While working on first pastry sheet, keep second in refrigerator.

3.

In a small bowl, mix almond meal, egg yolks, sugar and lemon zest. stir together to make a paste. if it is very think in texture, add 1/2 more egg yolk. Mark the inner of pastry square with a small bowl or cookie cutter and spread 1/8 of almond-egg filling in the center.about a tbsp.

4.

Top peach slices on almond layer, fanning out to cover the marked center.

5.

Lifting from one edge, fold the edges of pastry around the peach slices to make a free-form closed shape.

6.

Dot the top of galette with diced cold butter and sprinkle 1 tsp sugar on each of four galettes. Place on baking sheet and keep these 4 in refrigerator and take remaining pastry sheet out to make the remaining four galettes.

7.

Repeat step 2-6 to make all galettes. Let set in refrigerator for 20-25 minutes. Meanwhile, pre-heat the oven to 450 F.

8.

Bake all galettes in preheated oven for 15-17 minutes or until crust is flaky and brown on edges and filling is fragrant. Transfer to a cooling rack to cool slightly or bottoms will get soggy with steam. Serve warm with scoop of vanilla ice-cream and enjoy!!
Savita's Notes:
I often use Peaches or Nectarines for this recipe. Peaches and nectarines are the same species, even though they are regarded commercially as different fruits. So feel free to use what is easily available to you. Like Nectarines or Plums or Cherries go perfect.
Always cool galette on cooling rack after baking otherwise bottom will become soggy in its own steam and will not taste good.
To Make Almond Meal at Home: Add 1/2 cup raw almonds (sliced or whole) into a blender and blend at high until almonds turn into fine powdery flour. For best results, turn the blender on the highest setting for 5-10 seconds. Then stop, shake or open blender and mix with spatula to break the clumps. Blend again until fine and powdery (10-15 seconds). Don't let almonds release oil. You'll know you've gone too far if it starts turning to almond butter.
DID YOU MAKE THIS RECIPE?
Tag
@SAVITACHEFDEHOME
on Instagram and hashtag it
#SAVITACHEFDEHOME
© Chef De Home. Post content including video and photos are copyright protected.
We Think You'll Love