Fluffy Multigrain Pancakes with Strawberry-Peach Compote
A Breakfast Recipe by Guest Blogger Annie from The Nifty Cupcake
Posted On:

Jun, 16
| Author:

Savita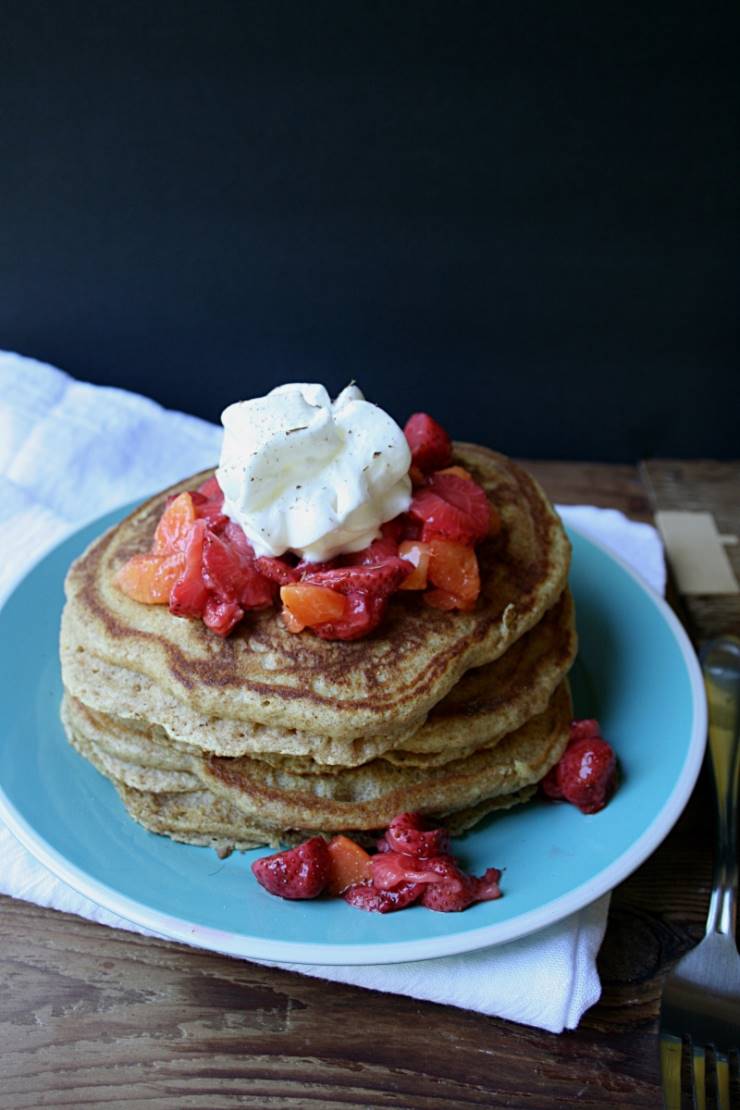 Since long I wanted to create a section in ChefDeHome where I can invite my fellow food blogger friends to share their thoughts/recipes with ChefDeHome audience. Back in September last year, I was working on a few recipe ideas when my discussion with Vishal went in totally different direction. From recipes we drifted to some bloggers on Google Plus and their awesome contribution to blogging world. This is when we decided to put my thoughts of "getting featured on ChefDeHome" into action.
In discussion everything was planned. I also posted few thoughts about this. Then I got busy with ChefDeHome re-design project and our ideas of Guest Post went to sleep for a long time.... until recently, when a few bloggers showed interest in contributing their work on ChefDeHome, it sparked again! 
Unfortunately, I could not share their recipes here due to lack of proper guidelines. This is when I decided to dedicate some time to describing - guest post guidelines. Whole idea is; I can only share someone's original work with ChefDeHome. I spend a lot of time and effort in sharing tried and tested recipes with ChefDehome readers and want to maintain that excellence.
With introduction of Guest Post Section, I love contacting talented food bloggers to share their thoughts and recipes here. 
Recently, I came across a few delicious cup cake photos on Google Plus by Annie - a wonderful and talented blogger of Nifty Cupcakes. I followed the link to her blog, loved her recipes, writing style and also her photography. Her recipe pictures made me so hungry that I spent good time feeding my eyes on her blog. You can call it an "instant-reaction" when I decided to introduce her to chefdehome readers and contacted her for a guest post. 
Annie submitted this delicious Fluffy Multigrain Pancakes with Strawberry & Peach Compote with Canela spiced Crème Chantilly recipe. Healthy and scrumptious at the same time!  
I am drooling looking at the pictures and can't wait to make these fluffy pancakes for breakfast soon!! But, I will not take any more of your time now and let Annie do the talking.
Over to you, Annie!
Hello everyone! I'm Annie, the author and photographer behind The Nifty Cupcakes. Firstly – I want to say thank you to Savita for welcoming me onto her lovely blog – I'm so happy to be posting here today! I started The Nifty Cupcake after graduating from culinary school in 2012 as a way to document and share my personal recipes and food ramblings. I focus on using fresh, seasonal ingredients and specialize in giving indulgent recipes a healthy twist which is something I think Savita and I have in common.  As you can tell by the name I have a soft spot for baking. Ever since I could remember I have always baked cakes or cookies for family gatherings and I still do till this day. Despite my love of cakes my favorite meal would have to be breakfast, there's just something so cheerful about having breakfast with friends on the weekend after a long week at work.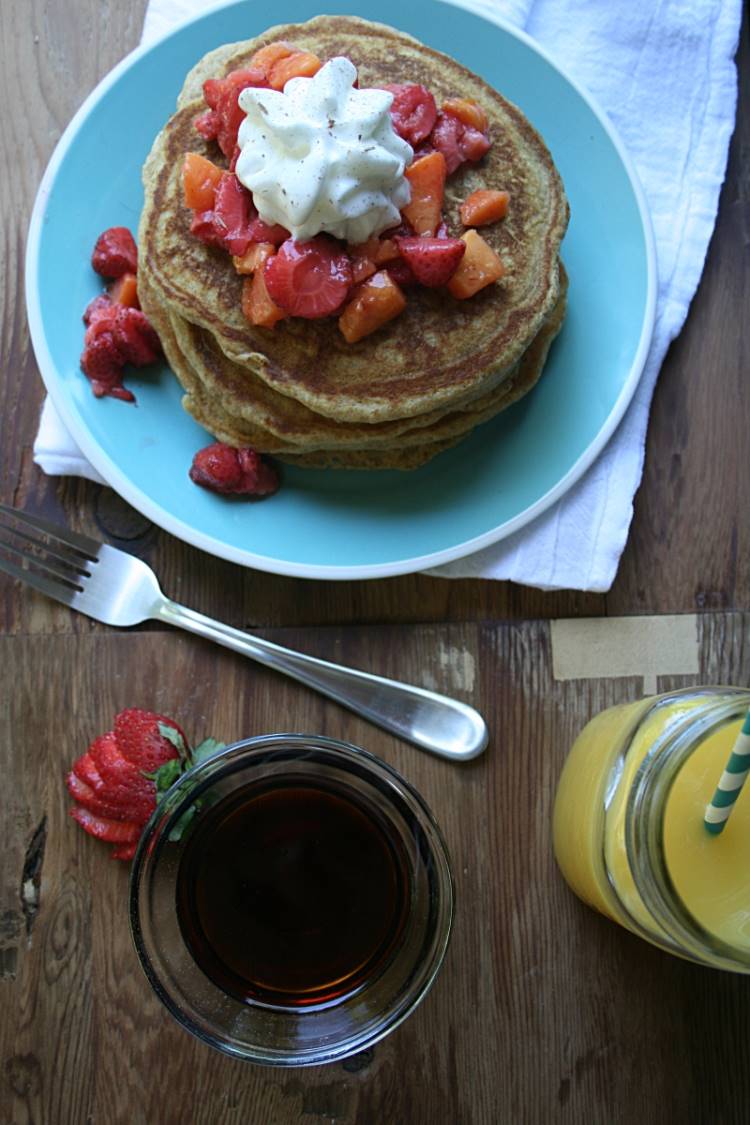 I have always struggled with my enduring love of pancakes, I loved the light and fluffy texture of regular pancakes but I didn't like the lack of nutrition. My problem has always been that the healthy pancakes tended to be either too thick or overly dense in texture. After much experimentation (and many plate fulls of pancakes) I FINALLY found the perfect pancakes that was both healthy and delicious!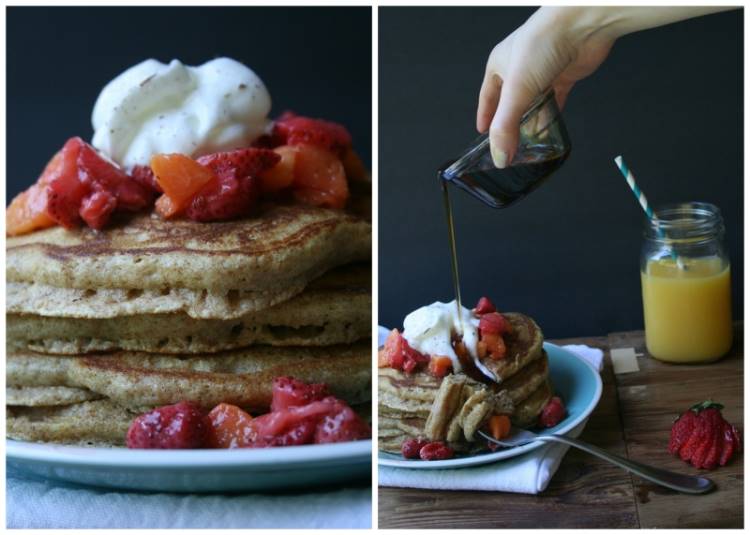 The secret is mixing dairy with some type of acid, in this case lemon, which mixes with the flour and produces air bubbles that create a light and fluffy texture. I chose to pair these cakes with a peach and strawberry compote (compote is just a fancy word for fruit cooked in syrup) since I had some fruit leftover from the farmers market and I must say the combo of the fresh fruit plus whipped cream made for a perfect bite! I also spiced my whipped cream with Mexican Canela which is a more mild form of cinnamon.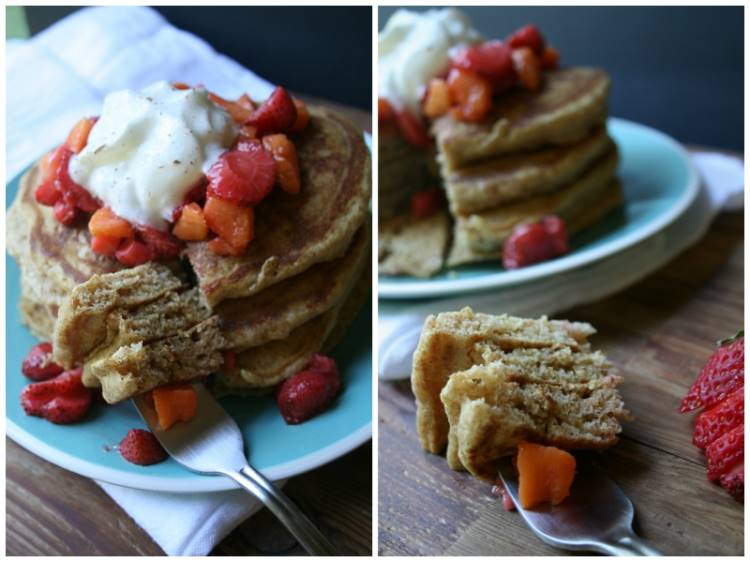 There you have it! Now you can have your healthy pancakes and eat em too! 
Savita here again... I hope you enjoyed knowing Annie and her multi-grain pancakes recipe. 
Happy Cooking!! and don't forget to follow Annie and ChefDeHome on Google Plus for more such delicious recipes!!
If you are food blogger and want to publish your work, please read more about getting featured on ChefDeHome here - Get Featured on ChefDeHome. If you don't have a blog but still want to share your recipe or food related info on ChefDeHome, please email me at chefs(at)chefdehome(dot)com.
Fluffy Multigrain Pancakes with Strawberry-Peach Compote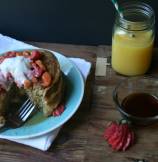 Total Time:
Prep Time:
Cook Time:
Cuisine:
American
(

Breakfast

)
Difficulty:
Easy
Yields:
4 Large Panckaes
- Serves:
2
Ingredients
Multigrain Pancakes
Fruit Compote
Whipped Topping
Directions
1.

Pancakes - Combine milk with lemon juice in a medium bowl and set aside for 5 minutes to "sour".

2.

Combine flours, sugar, baking powder, baking soda, and salt in a large mixing bowl. Whisk egg and butter into "soured" milk. Stir in vanilla. Pour the flour mixture into the wet ingredients and whisk until lumps are gone. Mix will be on the thicker side.

Additional Notes:

You DO NOT want to over mix this batter, it's the bubbles that give it that fluffy texture.

3.

Heat a large skillet over medium heat, and coat with cooking spray. Pour 1/4 cup of batter onto the skillet, and cook until bubbles appear on the surface. Flip with a spatula, and cook until browned on the other side.

4.

Fruit Topping - Combine all ingredients in medium sauce pan and heat on medium low heat until sugar melts, stirring occasionally (about 5 min.). Serve on top of cakes warm.

5.

Whipped Topping - Combine heavy cream in a mixer fitted with a whisk attachment, beat on medium high speed until it thickens slightly, then gradually add sugar until desired sweetness is accomplished. Serve on top of fruit and sprinkle with canela (or cinnamon) if desired.
DID YOU MAKE THIS RECIPE?
Tag
@SAVITACHEFDEHOME
on Instagram and hashtag it
#SAVITACHEFDEHOME
© Chef De Home. Post content including video and photos are copyright protected.
We Think You'll Love