Ramen Noodles Stuffed Snack Flat Bread
Childhood favorite snack, wrapped in a package!
Posted On:

Aug, 19
| Author:

Savita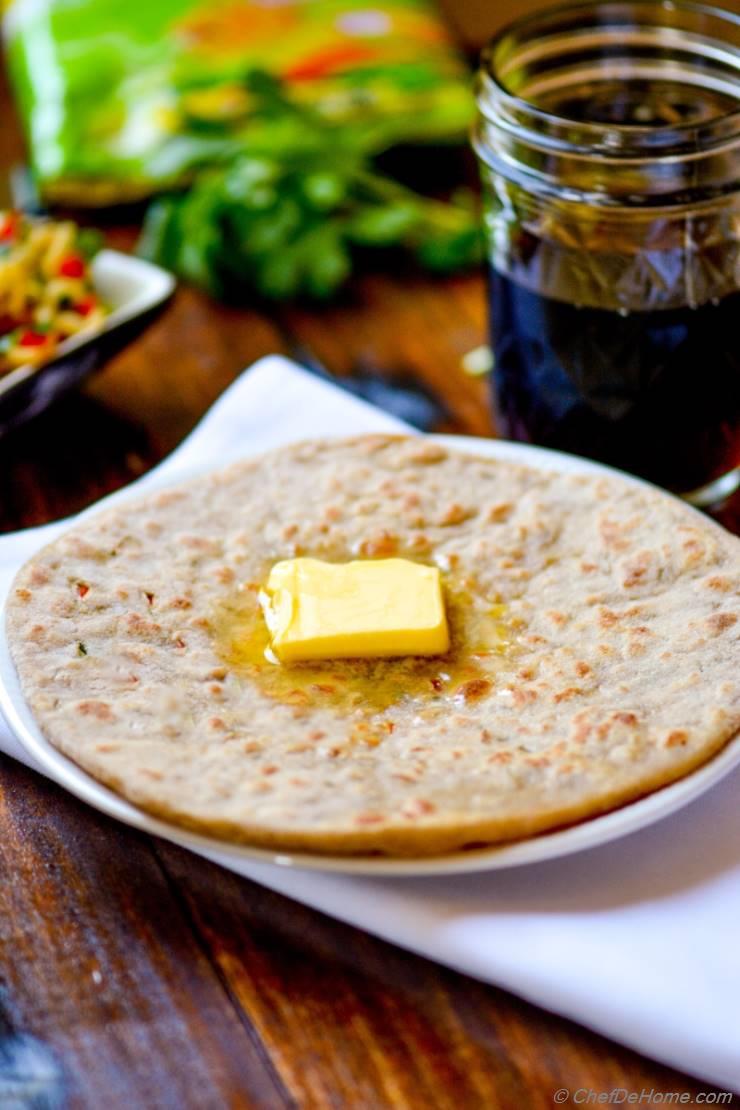 Sharing with you an easy snack bread - whole wheat flour bread stuffed with ramen noodles. Ready in no time, no leavening agents needed, no oven required and you only need pantry-ingredients to make this delicious whole-wheat bread for snacking.
We enjoy snacking with evening tea over the weekend and last week, I decided to stuff my childhood- favorite Ramen Noodles into our everyday breakfast flat bread, and make one yummy snack i.e. Ramen Noodles Stuffed Bread.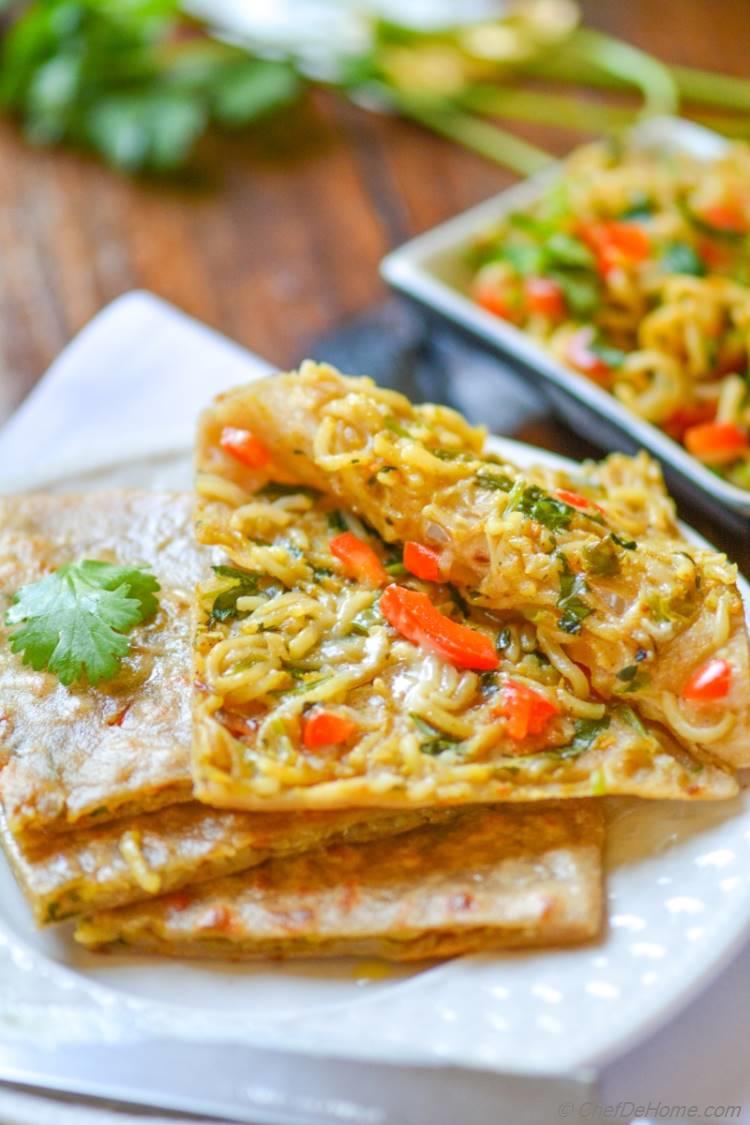 I bet no one will stuff noodles inside a bread but for me it is more like eating mac & cheese stuffed in a sandwich. Have you ever tried that? It tastes delicious.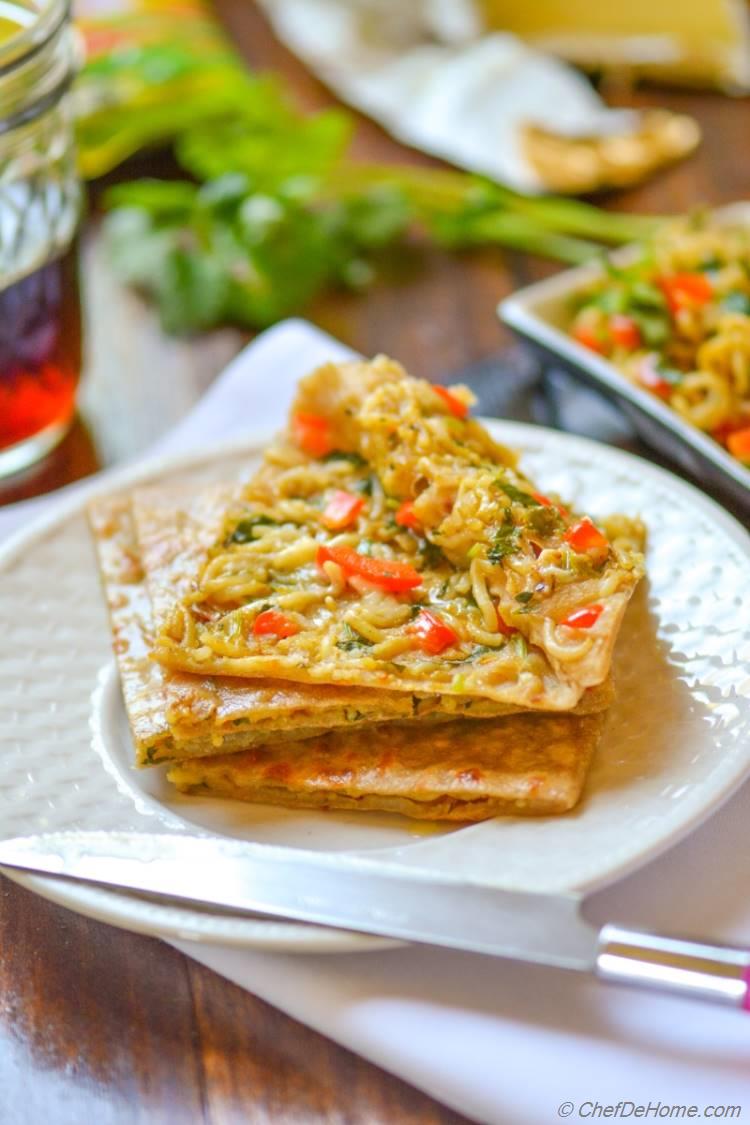 Ramen Noodles and Maggi
Asian countries consume a lot of ramen noodles in their diet. In India, no one knew ramen noodles until Nestle introduced an instant ramen noodles brand called - "Maggi Noodles". Ask any Indian, whether he/she knows ramen or not, they will know Maggi for sure. Very popular among kids, maggi noodles made snacking easy and fun for kids and moms. Indians not just eat maggi for noodle cravings but for the spice mix that comes with the noodles. Little sweet, little spicy and little sharp in taste, maggi masala (spice mix) changes the flavor profile of plain ramen noodles in an instant. I know my many indian friends who just like licking leftover masala left in package after making maggi :) I am number one on that list.
Homemade Maggi Masala (Spice Mix)
As a child, I licked a lot of maggi masala after Mom made us maggi breakfast. I never knew one day I will be making this masala at home and sharing the recipe with you all. This spice mix will go perfect with any kind of noodles not just ramen noodles. I love to flavor fried rice with this masala too. Recipe is very easy, all pantry ingredients and of-course we will not add any preservatives or flavor enhancers like store-bought versions. Spice Mix will stay good in an air-tight container for a month.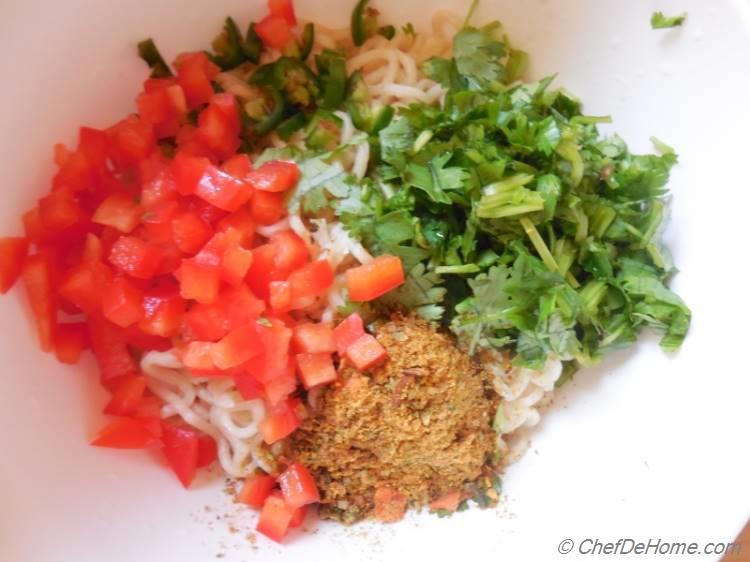 You can use Spice Mix many ways:
1) Flavor fried rice.
2) Roast potatoes and sprinkle this sweet-spicy masala on top.
3) Flavor pasta or noodles.
4) Add in stews or curries.
If you buy Maggi from indian stores, it will come with packet of masala and you can simply skip the steps for making masala from the recipe below. Or just use the few simple ingredients in the list and make your own!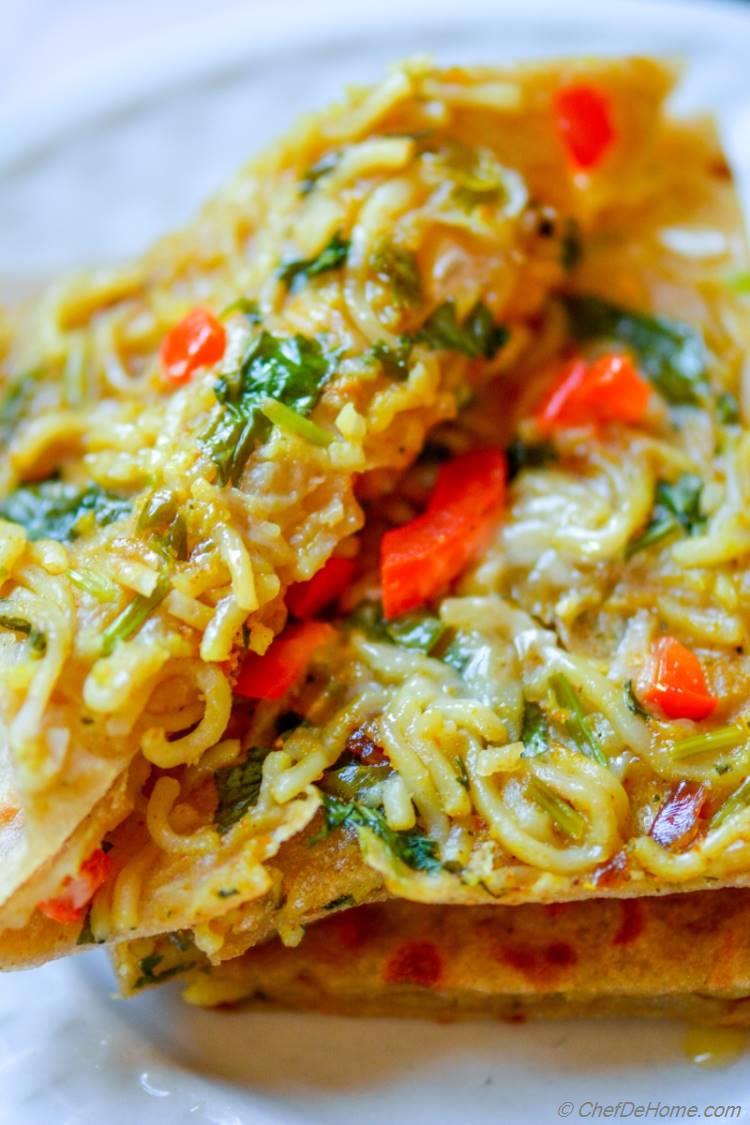 Wait!! This bread is not just ramen and wheat and spices. It also has two (half) servings of veggies per bread. One serving of red bell peppers and one of fresh cilantro. Feel free to reduce the amount of noodles and add sliced zucchini, shredded carrot or sweet peas. Add these veggies go great in with ramen noodles and specially with the spice mix.
Enjoy this easy yet flavorful, my childhood favorite bread and thank you so much visiting!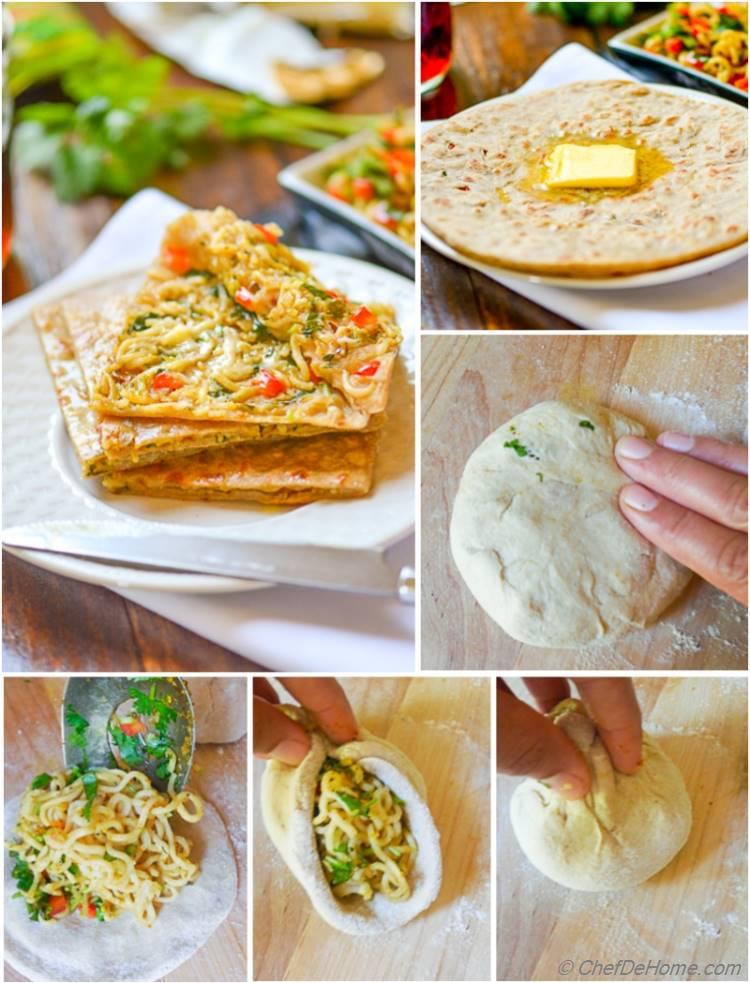 Ramen Noodles Stuffed Snack Flat Bread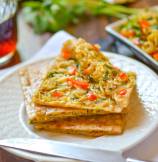 Total Time:
(Idle Time:

5 mins

)
Prep Time:
Cook Time:
Cuisine:
Asian
(

Side Dish, Snack, Bread

)
Difficulty:
Easy
Ingredients
Whole Wheat Dough
Ramen Stuffing
Ramen Spice Mix (Maggi Masala Seasoning)
Smart Swap: You can also stuff flat-bread with spiced rice instead of ramen noodles.
Directions
1.

Make Dough - In bowl mix together salt, wheat chapati flour . Now add 1 cup water and mix to make dough. If dough appears dry, add more water (2-3 tbsp at a time) till dough comes together and is neither sticky nor dry. Let the dough rest for 20 minutes before making breads.

2.

Mix all the seasoning ingredients and set aside.

3.

Cook Ramen Noodles - Bring a pot of salted water to rolling boil. Add instant ramen noodles and cook for 2 minutes.

4.

Drain noodles and let them dry a bit. In a small bowl mix noodles with 1 tablespoon ramen seasoning mix and remaining stuffing ingredients and set aside.

5.

Heat an iron skillet or flat bottom heavy skillet. While skillet is heating at low, divide dough into 4-5 equal balls. Dredge each ball in dry wheat flour to avoid sticking to flour dusted board or hands. Roll each ball to 2 inch circle. Place 1-1.5 heaping tbsp noodle mixture on the dough.

6.

Fold the filling in the dough and close it like you make a dumpling.

7.

Pinch the top to join and close the dumpling.

8.

Now, flatten it little bit with gentle pressure of four fingers.

9.

Roll the stuffed dough ball to make flat bread of about 6 inches diameter.

10.

Place the flat bread on heated skillet, let it cook from bottom for 1 minute. Flip, and cook other side. Cook each side for 2-3 minutes or until it has brown spots all over the surface. Repeat step 5 to 9 to make rest of the flat breads.

11.

Serve hot topped with salted butter or cut in squares and pack for lunch.
Savita's Notes:
Make sure to well drain the ramen noodles cooking water and leave'em to dry for few minutes before stuffing in the bread. Wet or hot stuffing will make rolling stuffed bread very difficult.
Instead of butter, you can also spread some cream cheese on bread for serving Or serve it plain with a dollop of sour cream/yogurt on the side.
DID YOU MAKE THIS RECIPE?
Tag
@SAVITACHEFDEHOME
on Instagram and hashtag it
#SAVITACHEFDEHOME
© Chef De Home. Post content including video and photos are copyright protected.
We Think You'll Love