The Best Parker House Bread Rolls from Omni Parker House Rolls
Pull-apart version of soft buttery Parker House rolls, with hint of delicate sweetness
Posted On:

Sep, 9
| Author:

Savita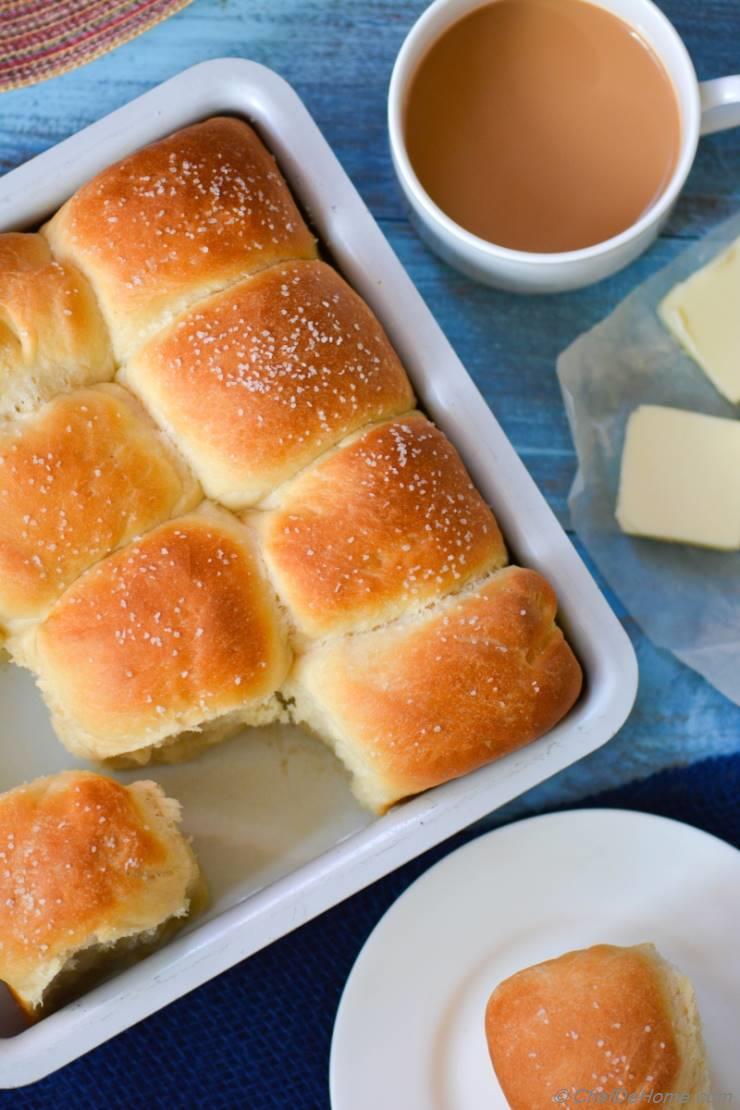 I am so fond of fresh breads/rolls, just-out-of-the-oven kinda-fresh! Growing up, our meal always included bread of some kind - flat bread, fried bread, yeast bread, or egg bread, one of these were always there to dunk-in curry/stews... by-virtue of those delicious family-meals, my bread adventures are pretty-deep-rooted and seems to be never ending.... stay with me and you will see a lot of unexpected (popular, almost-popular, never heard-before) breads on this blog :)
In June, this year, one of my Stuffed Bread was featured on Parade.com. I am so grateful to Bethany Moncel, contributor at Parade.com for including my recipe in her - 6 Ways to Reinvent the Humble Potato post. 
But, Today is no flat or stuffed bread day! Today, we are making a buttery, pillow-y, yeast-y, flavorful, all-american pull-apart bread. hmmm... quiet a mouthful!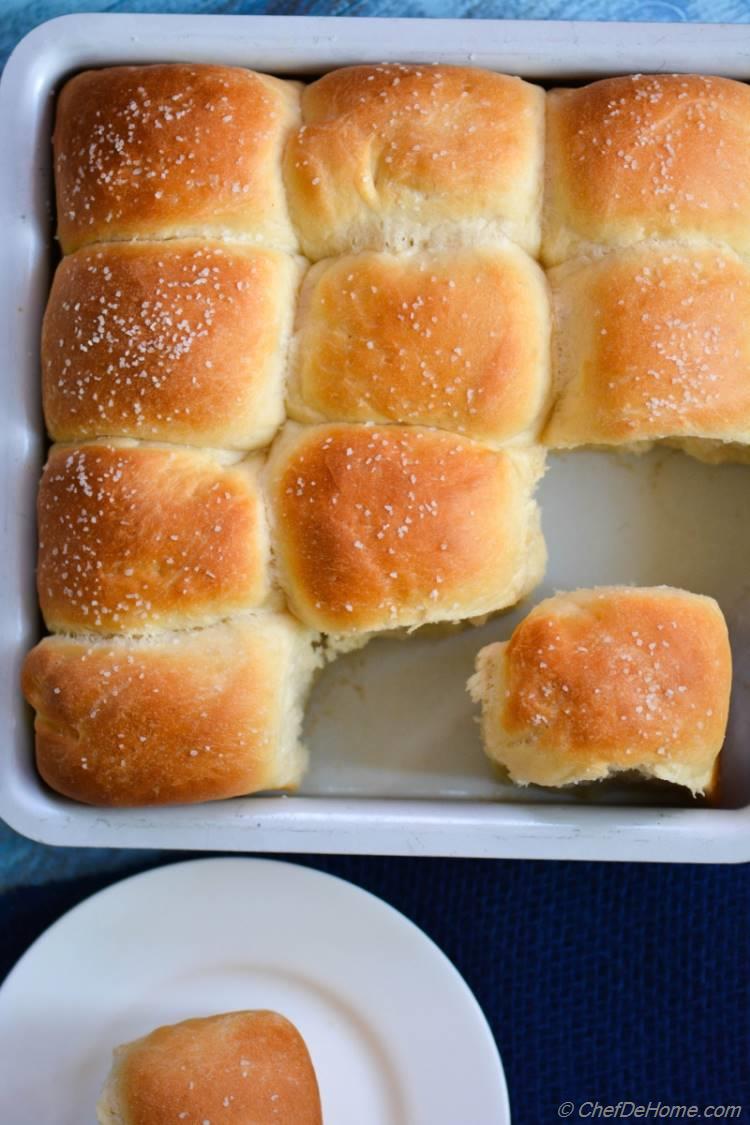 These buttery and fluffy rolls are American classic, said to-be originated in 19th-century, by a baker at Boston's Historical Hotel - Omni Parker House. 
You will find a lot of recipes of Parker House Rolls all-over the internet. My initial research landed me on recipe of, one of the famous name in culinary world, my all-time favorite, Mr. Bobby Flay, the most experienced and humble man, I have ever seen in food and media industry. hats off!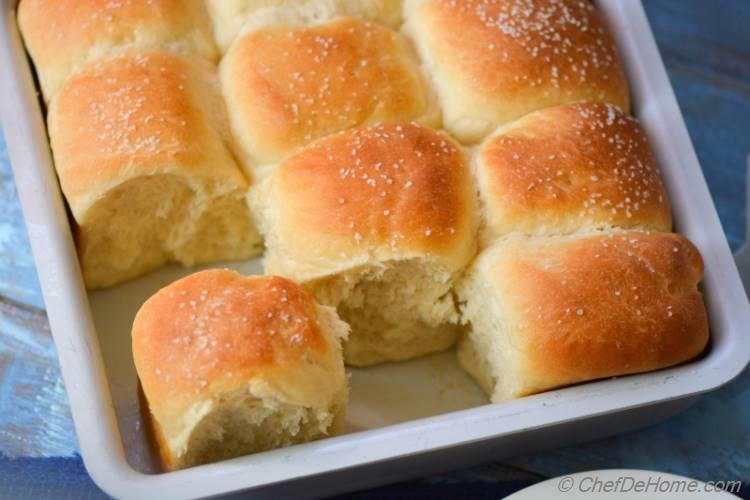 My version of Parker House Rolls sure have influences from his recipe. I won't say, I have adapted it from his recipe, since I ended-up changing a lot of things to make it my own. It all started with number of eggs. Mr. Flay's recipe needed three eggs and was for 24 rolls. I wanted to use, no more than one egg per 12 rolls. I knew, I have to adjust everything else per my requirement.
Rule of thumb - "Either follow the recipe as-is or if you change something, re-visit every other ingredient." After removing two eggs, I ended up changing almost whole recipe. Plus, I have baked only 12 rolls.
Feel free to follow the link above to check Mr. Flay's recipe for 24 Parker House Rolls. I bet it won't disappoint you. For my version of 12 rolls, read on....
Recently, I have learnt the use of Dry Powdered Milk in baking. Powdered Milk (compared to regular milk) can make cakes/breads moist and rich without increasing the amount of liquid in your recipe. I have added, this little secret ingredient to Parker House Rolls for some extra oomph.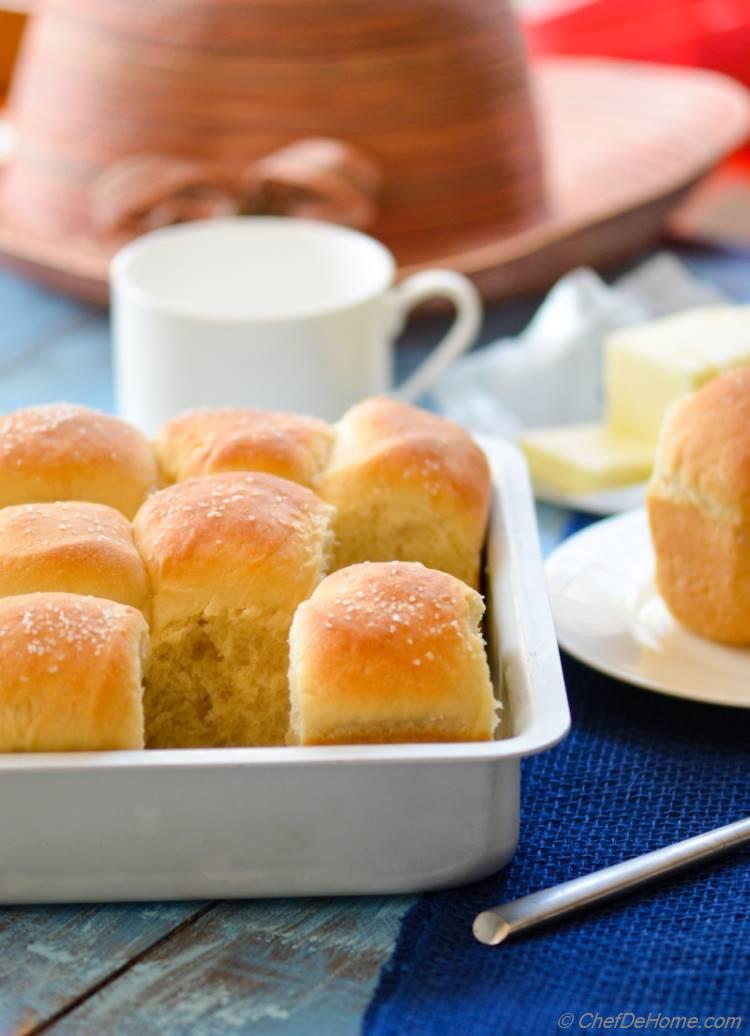 I'm happy with the changes I made. Rolls were fluffy, moist, exceptionally lite, and not egg-y at all!! My major concern was the eggs. I can't eat egg-heavy rolls. Somehow, egg-rich rolls make me full in just one roll and I don't like that. Use of one egg makes roll moist and fluffy yet doesn't overpower the taste and very lite. In next recipe, I am sure going to make Parker House Rolls with Wheat Flour. Won't be classic but healthy!! Let's see how it goes...
PS: Don't forget to make some soup or stew for these delicious rolls. I ended-up making Roasted Garlic and Tomato soup after tasting just one roll! These buttery delicious rolls were demanding company of a soup or curry! (in a good way ;))
Not just soups/stews/curries, Parker House Rolls are great for breakfast with some butter on side and a cup of hot Chai! My all-time favorite!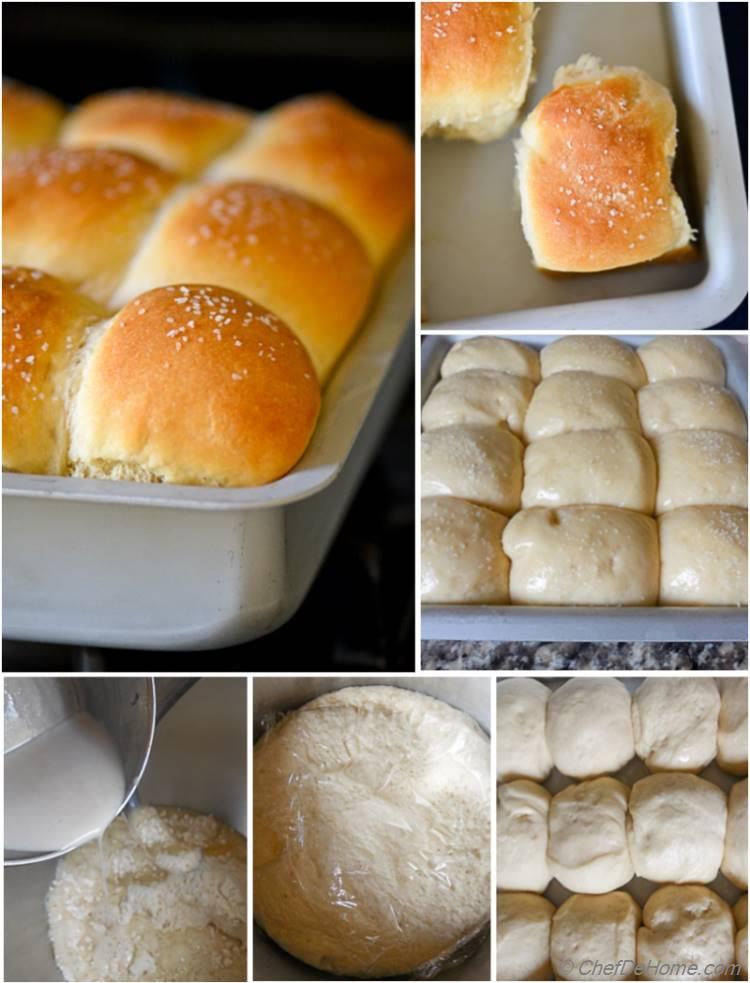 You sure need some hearty soup for a delicious bread like Parker House Rolls!
The Best Parker House Bread Rolls from Omni Parker House Rolls
reviews

)
(2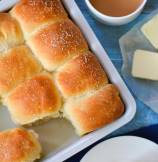 Total Time:
Prep Time:
Cook Time:
Cuisine:
American
(

Bread

)
Difficulty:
Intermediate
Yields:
12 rolls
- Serves:
4
(

About 2 hours in-active time for bread rising.

)
Ingredients
Parker House Rolls
Directions
1.

In a medium size saucepan, add milk, powdered milk, sugar, and 4 tbsp butter.

2.

Heat the mixture until butter has just dissolved. Remove from heat and set aside to cool down.

3.

In a small bowl, add 1/2 cup lukewarm water with a pinch of sugar. Sprinkle yeast over the top and leave aside for 10 minutes to activate, until foamy.

4.

In a stand mixer with dough hook attached, add half of the flour, 3/4 tsp salt, milk mixture, egg and foamy yeast mixture. Beat at slow speed until smooth.

5.

Add 1/4 cup flour at a time to until dough comes together.

6.

Transfer the dough to a floured surface, knead for 10 minutes until dough is smooth and elastic. (add 1/2 to 1 tbsp flour if sticky dough is difficult to tackle.) Or knead in stand-mixer for 6 minutes using 1-2 tsp flour at a time. After kneading, transfer the dough to oiled bowl, turn upside down to cover in oil and cover with clear wrap. Let rise at warm place for 1 to 1 &1/2 hour until double in size.

7.

Punch down the dough and leave it aside to rest for 15 minutes.

8.

Melt the remaining butter in a saucepan. Brush a square cake-pan with butter. Transfer the rested dough to work surface. Divide dough into 12 equal portions. Roll each portion to a slightly flat ball and place in pan next to each other. (3 rows of 4 balls each) cover with clean kitchen towel and let rise at room temperature for 30-40 minutes.

9.

Preheat oven to 375°F (190°C)

10.

Brush the tops of the rolls with the remaining melted butter and sprinkle evenly with the sea salt.

11.

Bake for about 18-20 minutes or until golden brown. Remove from the oven and then brush with some more melted butter if you prefer. Makes 12 rolls.

Additional Notes:

Taste best when served warm. Perfect for freezing.
Savita's Notes:
Fresh roll are great companion to soups, stews, and even curries.
Not just soups/stews/curries, Parker House Rolls are great for breakfast with some butter on side and a cup of hot Chai! My all-time favorite!
Parker House rolls freeze well. To reheat, let rolls come to room temperature, then pop into preheated oven at 325 degrees F for 5-10 minutes.
If not using powdered milk, replace half of water in recipe with lukewarm milk. i.e 1/4 milk instead of 1/4 cup water.
DID YOU MAKE THIS RECIPE?
Tag
@SAVITACHEFDEHOME
on Instagram and hashtag it
#SAVITACHEFDEHOME
© Chef De Home. Post content including video and photos are copyright protected.
We Think You'll Love