Creepy Witch Fingers Bread Sticks for Halloween
Savory with little sweet surprise. You tell if it is Trick or Treat?
Posted On:

Sep, 30
| Author:

Savita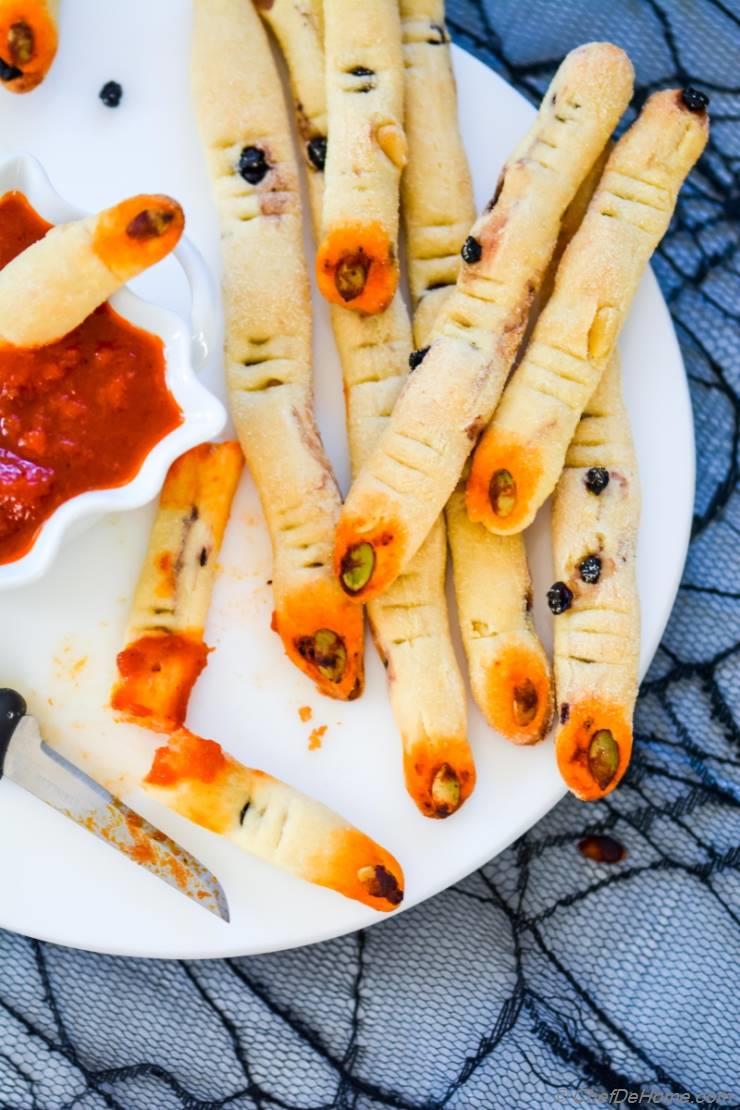 I am sure, you are no stranger to bread sticks. Sold almost in all Italian restaurants around and all over the world, these long and thin bread sticks are commonly referred as "Grissini" in Italian. Some restaurants serve'em complimentary as your wait for food and some serve with soup. 
Crispy and crusty taste of Grissin dipped in marinara is my special favorite!
previously.... I used to hate bread sticks....
okay! I admit.... until yesterday I hated'em....
why? Well!! I had not-so-good experience with bread sticks and tomato soup while traveling a few years ago. Even though underlying cause was clearly something else, I cursed that tomato soup and bread stick combo while lying on hospital bed. Afterwards.... the taste of tomato soup and bread sticks never agreed with me again.
Recently, after eating a few roasted garlic-tomato bowls at Boudin, my love for tomato soup has certainly returned.... but... bread sticks!!! these were still sitting apart... knocking on my door-steps every-time I visit any Italian eatery.... but I was never ready to usher'em in my mouth...
until.....
This day!!! which will be known in history of ChefdeHome as when I started eating bread sticks again, after at-least 5 years.... Or should I say I tricked my brain this time too... I made'em "witch fingers", changed their look, enhanced their taste......
Stories aside, today's recipe is totally an attempt to keep some good and creepy snack options ready for Halloween!
What sounds more creepy than blood drenched, pale, dry with finger-nails soaked in dried blood, mold-stained, and cut right on serving board kind-a Bread Sticks?!?!?!
oooooooo creeeppppyyyy!!!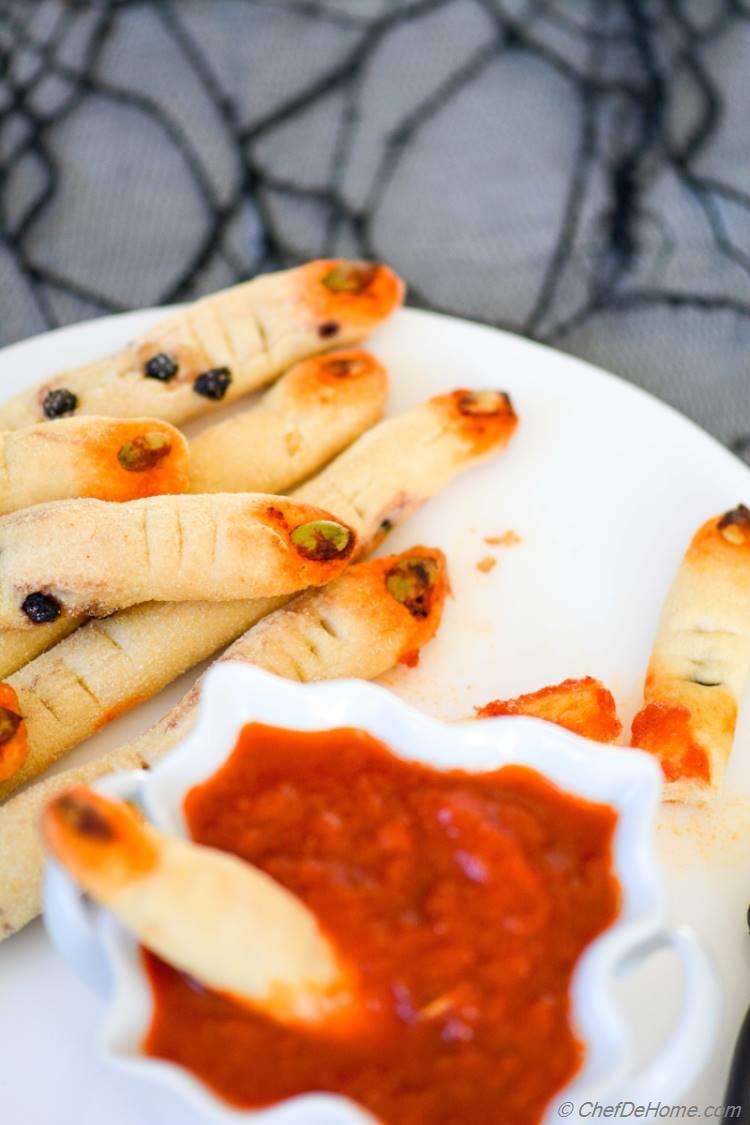 Creepy!!!
I totally love this one finger dipped in marinara blood. It sure looks creepy enough to put a show on Halloween Party ;)
Fingers are made with pretty fail-proof bread stick dough, and then dazzled with pumpkin seed nail drenched in marinara blood. I gave mold-like look to fingers using dried blueberries and pine nuts.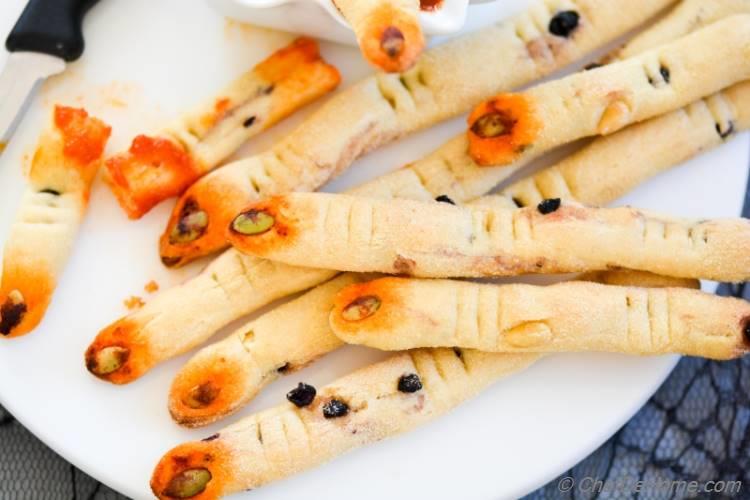 Trick or Treat!
Even though fingers look creepy enough to make someone thinking for a second, they have a sweet surprise too. You will not find these sticks boring or plain salted sticks. The addition of dried berries and pine nuts have added a natural element of sweet surprise in these savory bites.
Serving and Variation Ideas!
1) Instead of marinara, you can also serve'em with raspberry-white chocolate sauce.
2) Can make tomato soup instead of marinara.
3) Or just serve and decorate with ketchup.
4) Instead of blueberries/pine nuts, you can add chopped sun-dried tomatoes or raisins or chocolate chips.
5) Nails can be made with sliced almonds too!
6) This recipe will make a whole lot bread sticks due to uneven size of witch fingers. You can make half-batch as just plain-old long bread sticks (about 16 long sticks) for gifting or family dinner and rest use to make witch fingers.
7) If you don't have time to make everything from scratch, use store bought pizza dough or biscuit dough to make witch fingers too!
Some more, even creepier and tasty recipes are coming next... keep an eye!! Have some fun this Halloween and enjoy the show!
Happy Halloween in advance!
Some earlier Halloween witchcraft:
Creepy Witch Fingers Bread Sticks for Halloween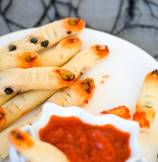 Total Time:
Prep Time:
Cook Time:
Cuisine:
American
(

Bread

)
Difficulty:
Intermediate
Yields:
32 long breadsticks
- Serves:
12
(

if making small/large sticks like I did, you can make good 50-55 sticks

)
Ingredients
Bread Sticks
Halloween Theme Witch Fingers
Smart Swap: In hurry? Use store bought pizza or biscuit dough to make witch fingers in just 25 mins!
Directions
1.

Bread Stick Dough - In a wide mixing bowl, add 1/2 cup lukewarm water, 1 tbsp sugar and sprinkle yeast on the top. Set aside for foaming action.

Additional Notes:

If using store bought dough, simply jump to step 12.

2.

Yeast takes about 10 minutes to foam. If it does not foam, it is no good. While yeast foams, in a small bowl, take all of semolina flour, 1 cup of all-purpose flour, and salt and mix well.

3.

Add semolina-flour mix to bowl with yeast. Add olive oil.

4.

Also add rest of 1 cup lukewarm water (105 degrees Fahrenheit)

5.

Use a spatula to combine all ingredients.

6.

Mix should be creamy and without lumps. (mix for a minute)

7.

Now add 1 cup more flour and then 1/2 cup at a time until dough starts to come together. I often use spatula up-to this point. You can also use machine with paddle attachment (takes 1-2 minute)

8.

Now transfer content to machine's mixing bowl (if you were not mixing in same bowl already), attach dough hook and knead for minimum 6 minutes, adding 1-2 tbsp flour at-a-time until dough pulls away from side. Use scraper in-between to remove any extra flour stuck to bowl.

9.

Transfer the dough to a working board dusted with semolina flour. Divide it in two large dough balls.

10.

Roll each into a large rectangle to about 1/2 inch thickness. Brush top with oil and cover with plastic wrap, then with dry kitchen towel.

11.

Leave to rise at room temperature until double in size. about (1 and 1/2 hours).

12.

When ready to work on finger sticks, set oven to preheat at 375 degrees Fahrenheit. Also line 3 large baking sheets with parchment paper. Grease paper with thin coat of oil. Slice each dough half into another half. We have total 4 flat half at this point. Keep 3 halves covered and spread blue-berries-pine-nuts on one of the flat portion evenly.

13.

Slice this using sharp knife to 16 long strips. Strips will be of different size which will look cool at creepy fingers. Fold each strip in half, roll to make thin cylindrical long stick. Keep placing all sticks on a sheet with parchment paper, about 1/2 inch apart.

Additional Notes:

Use space wisely as we have a lot of sticks to accommodate!

14.

Using a pairing knife, mark three slits about 1 inch apart on all sticks, making sure you don't slice it in half.

15.

Soak 1 pumpkin seed at a time in marinara and stud it in one end of each stick to make it look like a finger. Repeat for all sticks.

Additional Notes:

Press it little hard or seeds will fall out during baking and rising of stick dough.

16.

Bake in preheated oven for 18-20 minutes until sticks are firm and very little brown on top.

Additional Notes:

If you have less number of baking sheets, put one batch in oven, then roll rest while first one is baking.

17.

Transfer baked sticks to wire wrack for cooling. Serve dipped in marinara, sliced in half or as is and enjoy halloween!!
Savita's Notes:
If using store bought pizza dough to make these Halloween Witch Finger sticks, then prep time will reduce to just 10 minutes.
You can also make dough in advance and freeze in a clear zip-able plastic bag. Thaw the flour in fridge overnight, in morning keep at room temperature for 30 minutes before rolling the bread sticks.
Bread stick dough makes excellent crispy and thin-crust-y pizza base. Use half dough to make witch fingers and throw some cheese on the second half for a cheese pizza treat for kiddos!
Happy Halloween!!!
DID YOU MAKE THIS RECIPE?
Tag
@SAVITACHEFDEHOME
on Instagram and hashtag it
#SAVITACHEFDEHOME
© Chef De Home. Post content including video and photos are copyright protected.
We Think You'll Love