Quick Oven Baked Naan Bread
Soft Garlic Naan baked in oven. Easy to serve a large family homemade naan for dinner bread with your favorite side of curry.
Posted On:

Apr, 15
| Author:

Savita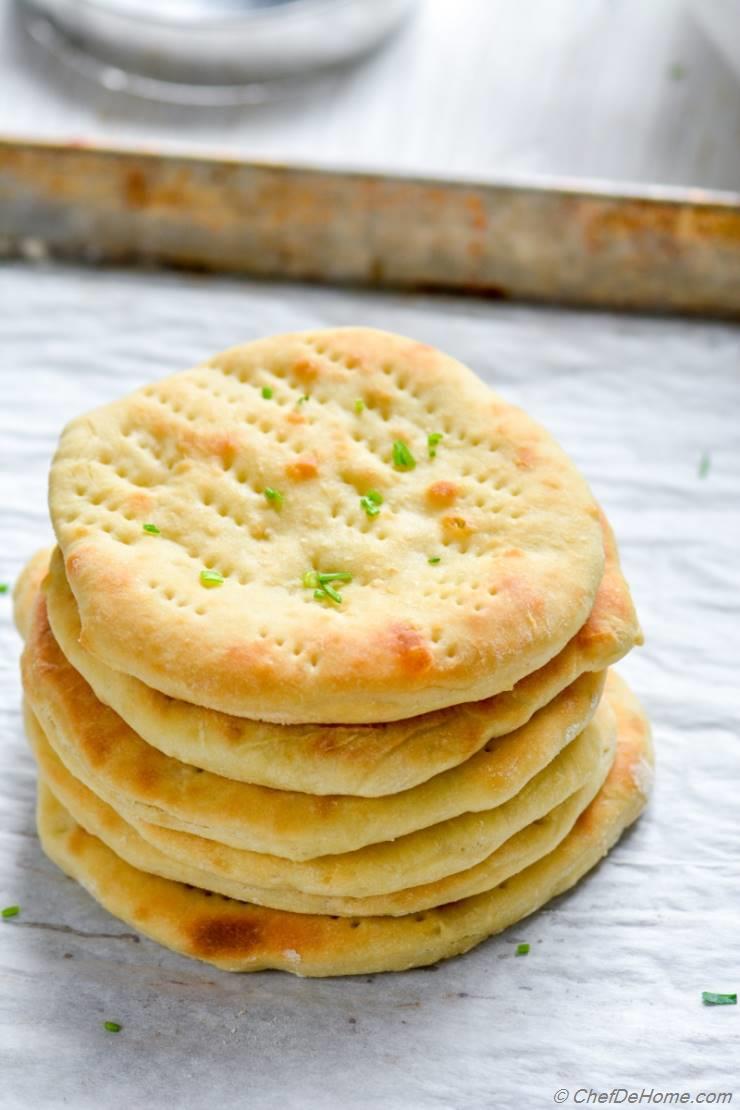 Oven Naan bread and Indian curry for dinner!!  It's Friday!! 
Garlic Naan or Butter Naan or Naan Bread, no matter what you call it, a naan is quintessential bread side to an Indian-style meal and it taste delicious!
This naan recipe was my mission to share with you. A homemade oven baked naan which stays soft and does not get hard when cooked in everyday household oven. Score!
So, for anyone looking for authentic, soft fluffy naan bread recipe which can be baked in oven, in a big batch, for a big family?! I would say, you landed on the right post! You will be surprised, how a simple ingredient from refrigerator, with an old-school cooking trick can help bake world's best baked soft naan bread! I'm talking about better-than-restaurant-naans and forget-store-bought-naans kinda soft!
Also baking naans shortens the prep work to almost one third. You tell me? How long will it take to roll a dough flat and cut out small rounds say with a cookie cutter? I would say - 5 mins! Isn't it? These naans are that quick to prepare!!
Honestly, this recipe is evolution of my earlier garlic naan recipe. I thought, it would be nice to give an exclusive naan recipe which can be baked in oven and will not harden like rocks.  Just so you know, modern home ovens can harden oven baked naan breads very quickly.
Until today, I shared with you naans which I make straight on the stove top. In case you don't have oven or just because you want to, jump to the Stove Top Garlic Naan recipe Or if you keen to learn more about baking soft naans in oven and may be bake a batch this weekend?! :) then, my friends, please read on...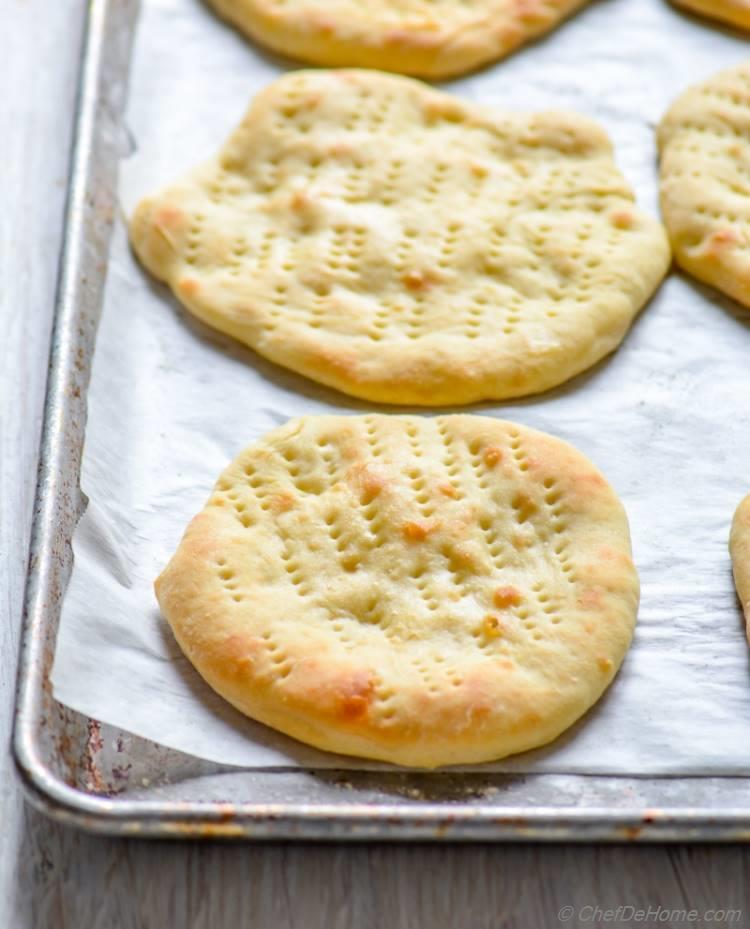 I love to cook naans in oven in a big batch when some guests or more family members are around. You know, less perching on stove and every one happy, asking for one more naan or few demanding naan recipe too. ;)
Until now, often my oven-baked naans were getting too crisp and crusty than I like.... so I have been testing this recipe. With this batch, I was so satisfied, I have to share it! Intent was not to share this batch and make one some other day with pretty pictures.... Yet, naans were so soft that I could not resist sharing the recipe.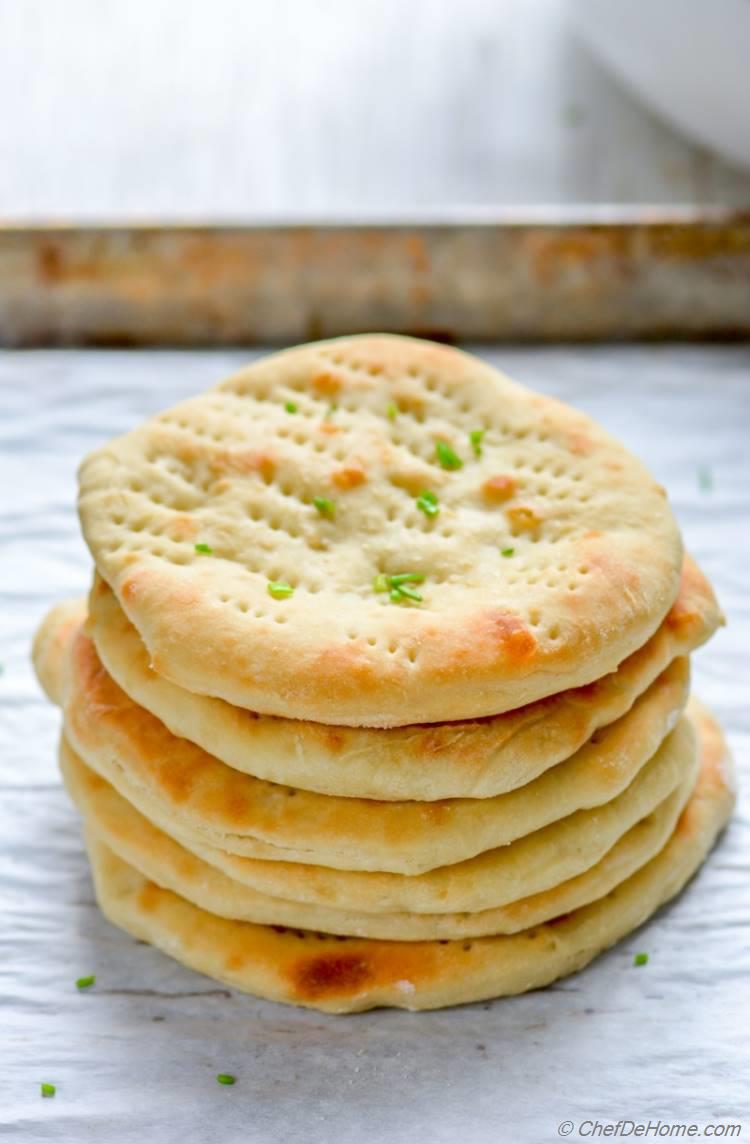 Okay, now first, let me share, what makes naan hard in oven?
1. Home ovens don't have that high heat which traditional Indian tandoor (clay oven) provides. So, in less heat, naan looses it's moisture very quickly.
2. Indian tandoor (clay oven) does not bake naan, it broils it with high flames which is way quicker than baking.
Then, how to bake soft butter naans in oven?
First time, I baked no-yeast naans. No-yeast naans had eggs in it and they came out way better, soft and lite with crusty exterior than my earlier tries. Then it clicked me, I have to compensate for the lose of moisture from naans. I tried one single trusty ingredient and a basic technique and it worked!
I was like: Why didn't it click me before?!
Honestly, my baked naans have started coming out so good and soft that I don't plan to perch on kitchen stove for cooking naan this whole summer! My apartment gets too hot to stand in kitchen anyways, so I'm so loving'em.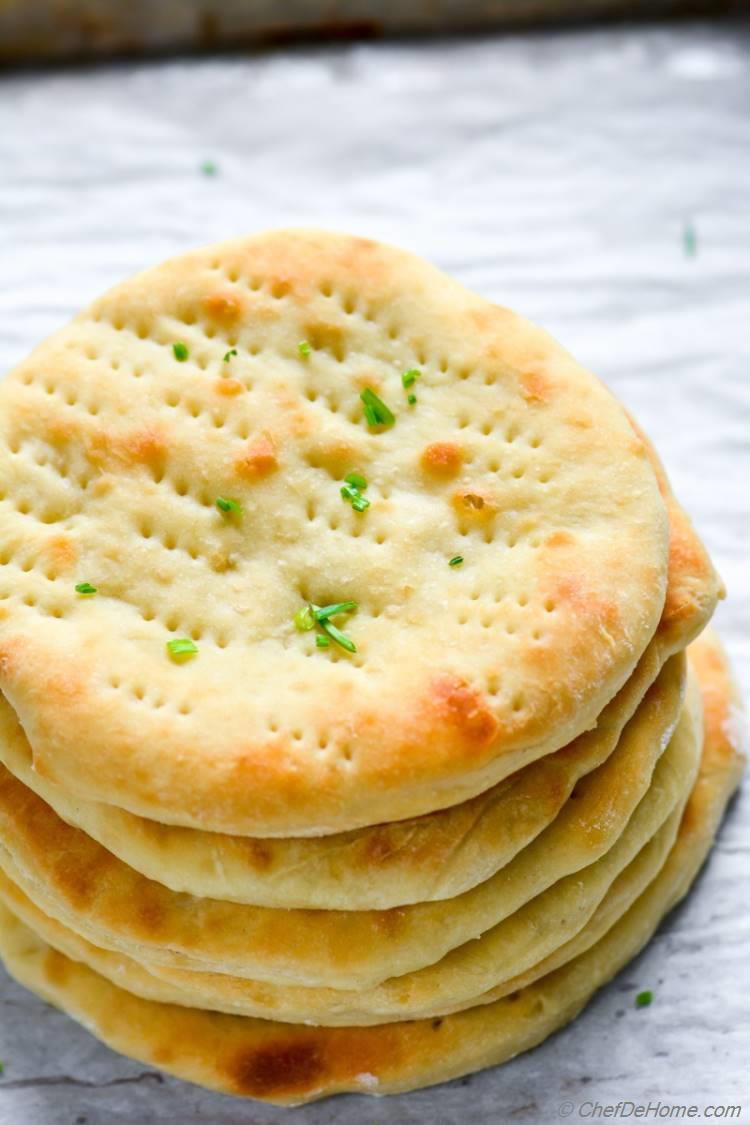 Plus, baked naans are so so quick to cook! I mean, really, after I mix the dough and set aside for rising. No lengthy rising, just 1 hour that too without any kneading.... just a few strokes to make dough soft... covered and left on kitchen counter. 
Once dough has risen, I roll dough on a flour dusted board into a big large sheet as if getting ready to make doughnuts/cookies. No kidding! then I use 3.5" cookie cutter or large bowl and cut out rounds from the rolled dough. I slightly stretch the cut out naan with hand and place on baking sheet.
Now, old-school trick of baking soft naan in home oven is: piercing the naan with fork a few times.
What will this do?
Good question! Actually, naans have tendency to puff up in heat which separates the naan into two thin layers that become crisp like chips in heat... more like baked naan chips  We certainly not serving those with curry! :) Isn't it? piercing the naan with fork does not let naan puff-up and keeps the moisture sealed-in which results in soft naans.
Oh, it stills can be used for naan pockets. Two layers separate easily even after piercing with fork.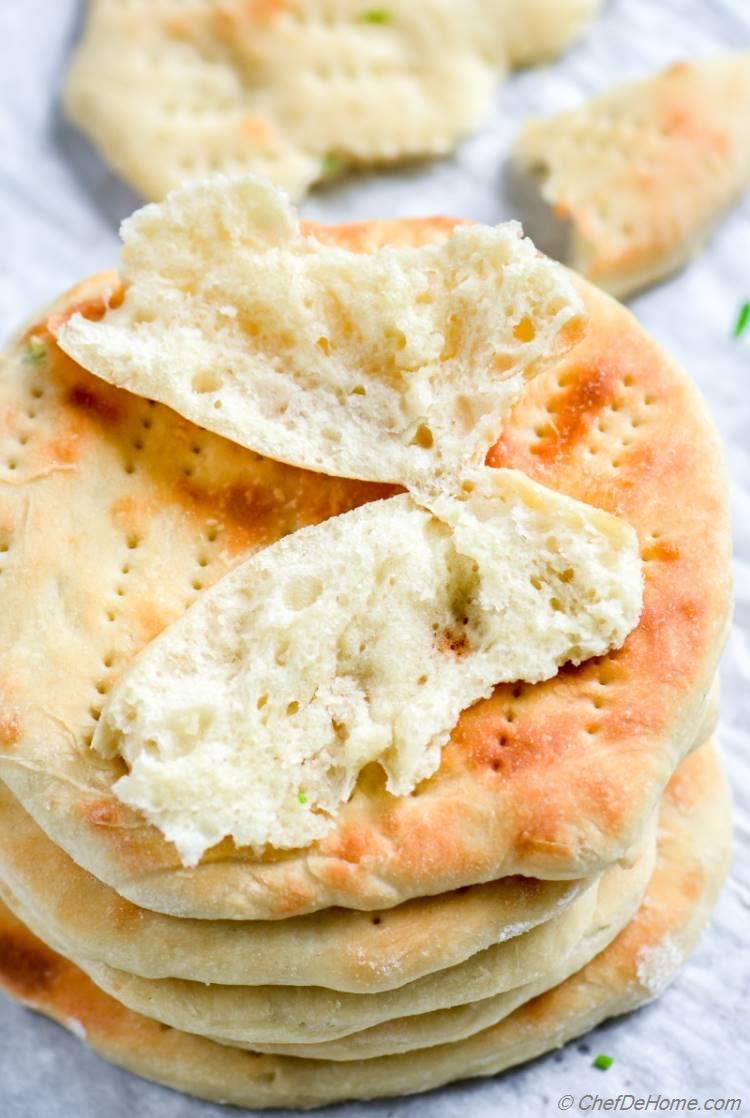 I bet, you wondering what was the secret ingredient. Well, that ingredient is so so handy that it is already used in cooking naans. I just added it in a different way. Okay, no more guesses!
It is, just and just... 2 tablespoons of sliced cold butter! drum-rolls!!!! 
This simple humble ingredient when mixed into the naan dough will provide soft moisture to naan bread making it lite like air when it comes out of everyday home oven. And kitchen!! It will smell like an Indian takeout is just ready to devour!
Let me quickly sum-up what makes this Naan Bread so special:
1. Quick cooking in batch. No long perching on stove or rolling one naan at a time. 
2. Soft baked naans, homemade and much fresher than store-bought.
3. Worth mention, pennies for a batch of 8-10 naans instead of spending 10+ dollars in take out.
4. Petite size of these naans also make'em perfect to make sandwiches or veggie burgers, if you please! Or how about Naan Pizza!? yum!
5. Gosh! You guys, these naan breads taste so so addictive!! Please bake a bigger batch! :-)
:) So, don't wait, make a batch this weekend and impress your family with Indian-takeout aroma coming from your own kitchen!

PS: I didn't plan to take just these pictures to share baked naans. So, I will definitely add more photos  whenever I'm baking some more naans. You know what,  may be I will bake a few this weekend! How about you?
This week was Indian food week. I hope you enjoyed it!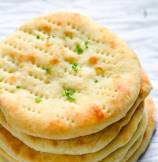 Total Time:
Prep Time:
Cook Time:
Cuisine:
Indian
(

Breakfast

)
Difficulty:
Easy
Yields:
6-8 Baked Naans
- Serves:
4
(

Idle time for dough rise: 1-2 hour

)
Ingredients
Oven Naan Dough
Toppings
Directions
1.

Line a baking sheet with parchment and set aside.

2.

Lukewarm 1/2 cup of water, add sugar and mix well. Sprinkle yeast over top. Let it sit until foamy. (about 10 minutes.)

3.

Add lukewarm milk, garlic, 2 & 1/4 cups all purpose flour, oil, salt over bloomed yeast and mix it together. Add 1 tbsp more flour at a time until dough comes together.

4.

Now, add pieces of cold butter and knead the dough briefly, just for 1-2 minutes in the bowl. Dough will be little wet. If feels too wet or sticky, add 1/2 tbsp flour more at a time. Dough should not be very dry.

Additional Notes:

Don't worry if butter is not fully mixed in dough. Little chunks are good.

5.

Coat the bowl with 1 tsp oil, add dough and coat in oil. Cover with plastic wrap and then with clean kitchen towel. Leave to rise at warm place until double in size. (1-2 hrs)

6.

This is how it looks after about 1 hr. Punch down the dough and transfer to work surface (flour dusted board)

7.

Roll the dough to a big large 1/4 inch thick, 10-12 inch wide circle. No need to be precise, a rough circle will work.

8.

Cut out pieces of dough with 3.5 inch large cookie cutter or a bowl and stretch each piece with hand slightly, then place on the baking sheet, one inch apart. Repeat step 7 and 8 with any remaining trimmings. Prick naans with fork to make tiny wholes in naan.

Additional Notes:

I cut about 7 of these naans from this dough. They are small when cut from dough sheet, then I slightly stretch each with hand.

9.

Preheat oven at 500 degrees Fahrenheit. Make sure oven is proper preheated. Bake in preheated oven for 10 minutes. After first 9 minutes, switch on broiler for 1 minute. Remove from oven, brush hot naans with butter and let cool slightly.

Additional Notes:

No more than 10 minutes, please! Keep an eye after 8 minutes, if naan look cooked, just broil and take out. Longer in oven, harder the naan or any flat bread.

10.

Sprinkle some chopped cilantro on top and serve.
DID YOU MAKE THIS RECIPE?
Tag
@SAVITACHEFDEHOME
on Instagram and hashtag it
#SAVITACHEFDEHOME
© Chef De Home. Post content including video and photos are copyright protected.
We Think You'll Love