This recipe is Copyright of ChefDeHome.com

Spiced Pumpkin-Chocolate Pull-apart Spider Brioche Bread
Spook-tacular pull-apart bread for Halloween Dinner!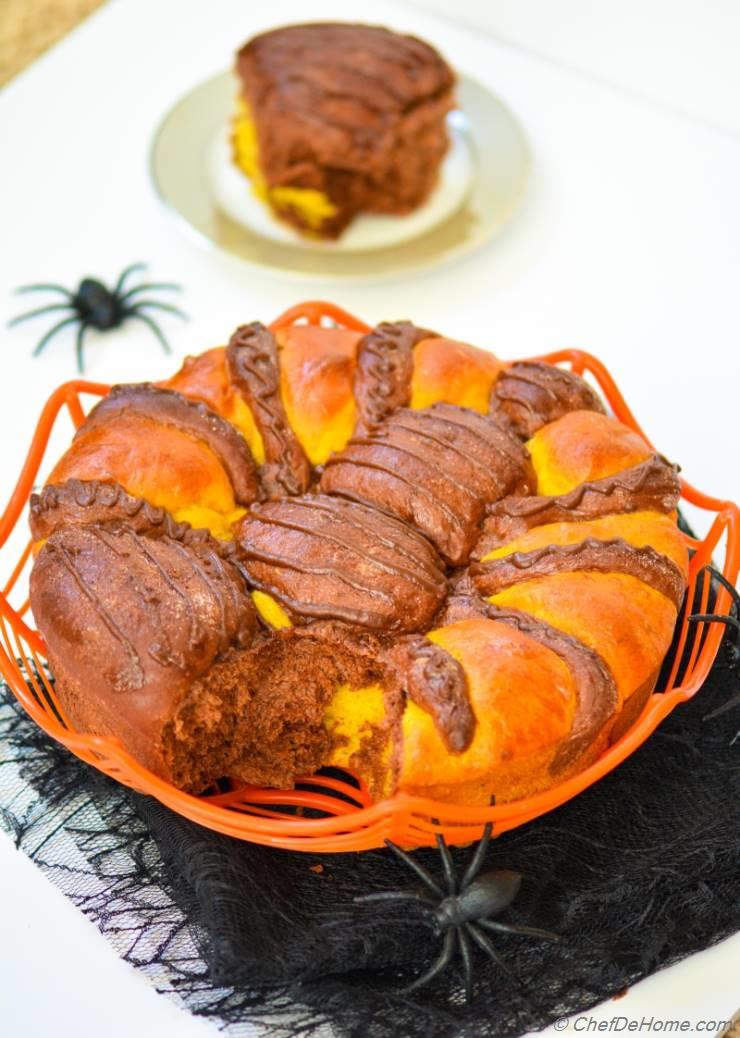 After 3 years of blogging and few+ years of cooking, baking fresh bread is still a child's-dream-come-true event for me. For this yeast pumpkin bread, I was more excited than ever!
Since I started baking and posting recipes for halloween, this spider bread was taking shape in my mind. Had N concerns about it's success! First of all, i wanted to shape bread the way picture was in my mind - a spider sitting on top of bread sort-of! and here are a few other concerns:
1) I was very sure bread will be pumpkin based. but.... mostly, pumpkin bread are baking-soda-based and I NOT wanted to bake traditional baking-powder-soda bread. Hence, decided to go for yeast.
2) For spider part, I not wanted to use any artificial color. Hence, decided to go for chocolate.
3) Since it had chocolate and pumpkin, bread recipe screamed for some richness, warmth, and sweetness. So, decided to go for spiced brioche. Though, this bread is not a very egg-y brioche. I tried to keep it very lite, just 2 eggs for whole loaf instead of 5-6 eggs like traditional brioche.
4) Last, but not the least, if kids get to pull apart the legs and body of spider sitting for long on top of pumpkin bread, that will pay for all hard work going into recipe. Don't you think? Hence, I decided to go for Pull-Apart bread.

So, here comes a spooky, fit for halloween get-together, favorite of kids, nasty chocolate brioche spider setting on pumpkin brioche, ready to be pulled-apart!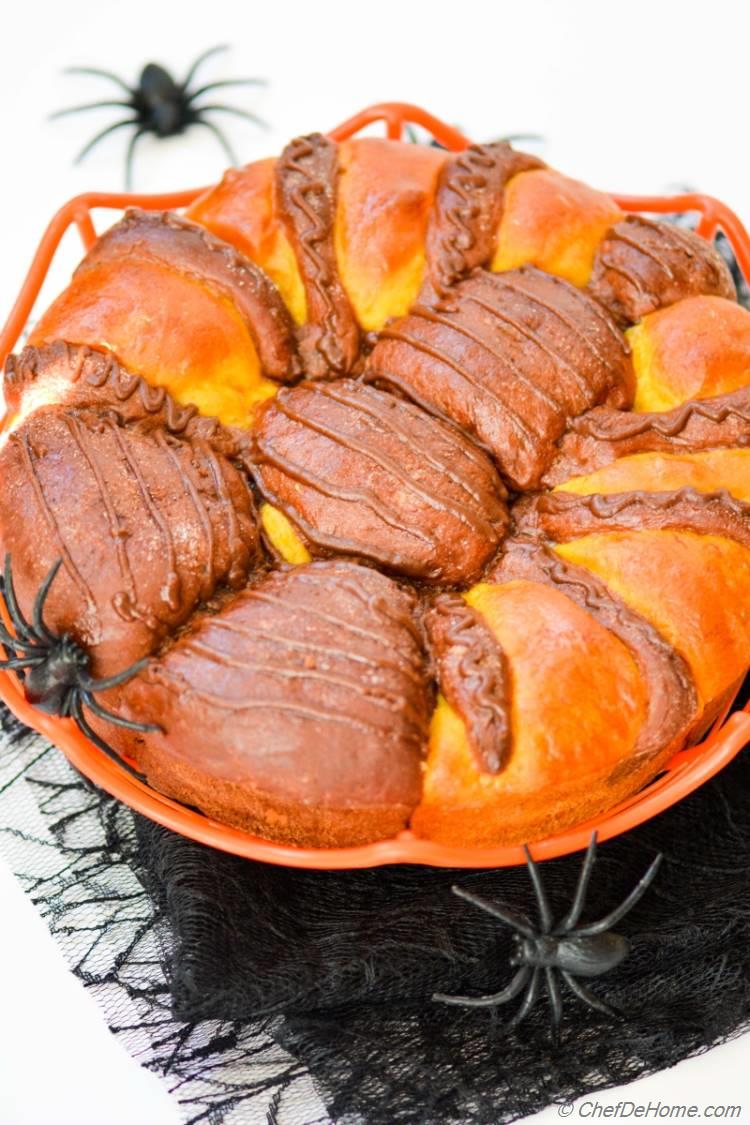 This is a No-Knead Bread
A little effort is needed to make two separate dough. But I have good news for you. Since we have two leavening agents helping bread rise and making it rich i.e. eggs and yeast, this bread don't need additional kneading.  Just mix the dough with spatula until it comes together. It will be little sticky, but that's it!! Once you mix the dough, leave it to rise for 2 hours or until it is more than double in size. Then shape, 30 min second rise and bake!
I piped some melted chocolate on finished bread to highlight spider. This is entirely up-to you.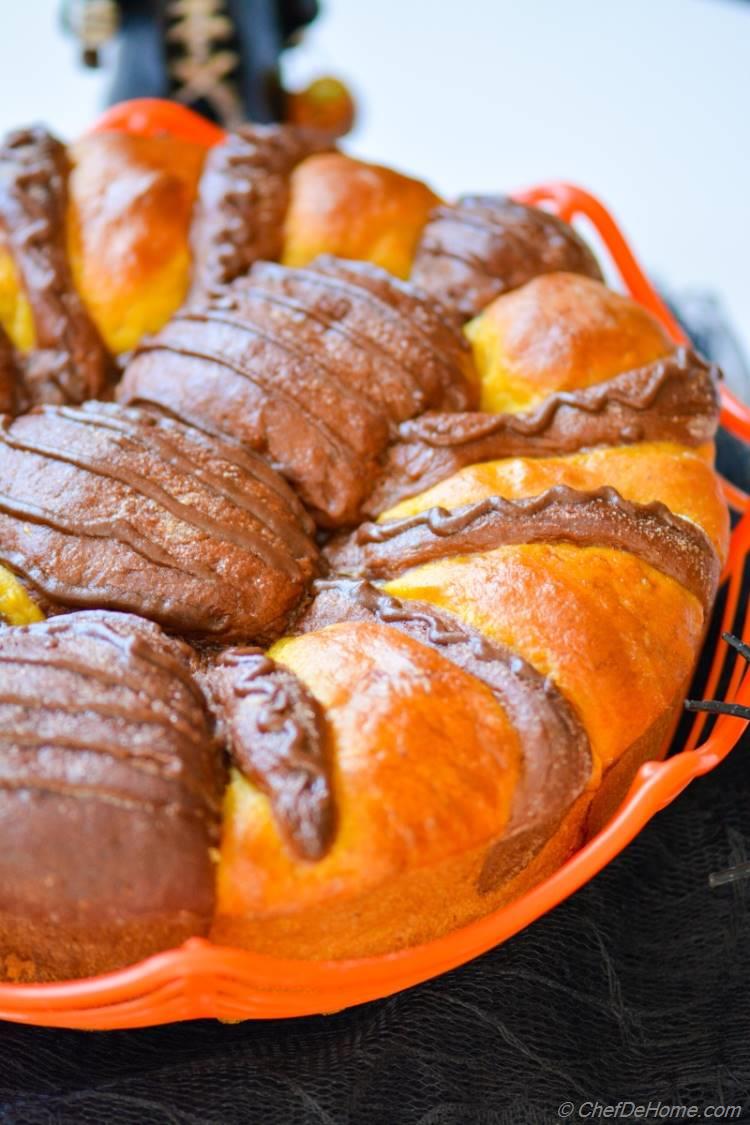 Enjoy pull-apart bread in breakfast or make a soup to serve for dinner:
Spiced Pumpkin-Chocolate Pull-apart Spider Brioche Bread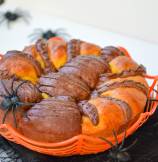 Total Time
Prep Time
Cook Time
Cuisine
American
Category
Breakfast, Bread
Difficulty
Easy
Yields
1 pull-apart loaf
(Serves:

2

)
Notes
inactive, bread rise time is ~ 2 hrs 40 minutes
Smart Swap Use dark cocoa powder for even darker spider.
Ingredients
Bread Dough

1/2 Cup Pumpkin

(pumpkin puree)

1/4 Cup Cocoa Powder

(semi-sweet, unsweetened such as Hershey's)

3 Cup All-Purpose Flour

1/4 tsp Salt

(divided)

1/3 Cup Milk

(to mix with cocoa)

4 tbsp Unsalted Butter

1/2 Cup Milk

2/3 Cup Sugar

(plus 1/2 tablespoon)

1/4 tsp Nutmeg

(divided)

1/2 tsp Cinnamon

(divided)

2 Egg(s)

Chocolate Finish

1/4 Cup Chocolate

(melted semi-sweet chocolate, for some decoration, optional)
Directions
Hide Step Photos
1.

In a microwave safe container, lukewarm butter and milk for 20 seconds or until butter has just melted. Add 1/2 tbsp sugar and stir to combine. Mixture should be just warm to touch not hot.

2.

Sprinkle yeast on the lukewarm milk and butter mix and leave aside for foaming action (about 10 minutes)

3.

In meantime, in an another small bowl, take 1/3 cup lukewarm milk, add 1/4 cup cocoa powder and stir to combine. Mix until solids are mixed with warm milk and milk gets chocolaty color. Set aside.

4.

Take two medium size prep bowls (bowl - C and bowl P). add half of yeast mixture, followed by nutmeg, cinnamon, salt, egg and sugar (1/3 cup each) dividing equally in two bowls. To bowl C, also add the chocolate we mixed in step 3.

5.

To bowl P, add pumpkin puree and mix all ingredients using a whisk.

6.

To bowl C, add 1 cup flour, then use a spatula to combine all ingredients. Mix well for 30 seconds, then add 1/4 cup more flour in two batches, and fold to incorporate flour with mixture fully. Mix will be sticky. Cover and leave aside to rise at warm place until more than double in size. (2 hours)

7.

To bowl P, add 1 cup flour, then use a spatula to combine all ingredients. Mix well for 30 seconds, then add 1/4 cup more flour in two batches, and fold to incorporate flour with mixture fully. Mix will be sticky. Cover and leave aside to rise at warm place until more than double in size. (2 hours)

Additional Notes

I stopped adding flour at 1/4 cup plus 2 tablespoon.

8.

Grease a wide pie pan or round pan with butter. Punch down the pumpkin dough and transfer on a flour dusted board,

9.

Using floured hands, shape dough to a log and divide into 6 pieces.

10.

Make four of the pieces to rounds and place on two opposite side of the pan as shown in the picture.

11.

Now, punch and roll the chocolate dough on a separate flour dusted board and shape into a log. Divide into 6 pieces.

12.

Make two chocolate dough balls and place between pumpkin balls as shown in picture. Roll a small long stick from pumpkin dough and stud between chocolate balls to make spider shape more distinct.

13.

Now place the remaining 2 more chocolate balls toward the end making tail of spider as shown in picture. Also, place half of the 5th chocolate dough as mouth of spider. Cover any empty areas with pumpkin balls, like I placed two, one each side of spider mouth. Roll remaining chocolate dough to 8 leg shape long tubes and place as spider legs.

14.

Cover the prepared spider pull-apart bread dough to rise at kitchen counter until just outside the pan. (30-40 minutes). In meantime, pre-heat oven at 375 degrees Fahrenheit.

15.

This how it looks after second rise. Ready to rock!

16.

Bake spider pull-apart bread in preheated oven for 30 minutes or until tops are golden and bread sounds hollow when tapped. Cover bread with foil for last 5-8 minutes of cooking to avoid over-browning the top.

Additional Notes

Optional - If serving for breakfast, melt some semi-sweet chocolate chips in microwave 10 secs at a time until melted. Pipe the chocolate on spider part of the bread.
Savita's Notes:
This bread tends to brown quickly. Keep and eye! and don't forget to cover the bread with aluminium wrap in last 5-8 minutes.
Serving Suggestions:
Bread is not too sweet, it goes great with a hearty bean chili or tomato soup for dinner.
You can also serve it for breakfast, the Halloween morning, with some butter and jam!
© Chef De Home. All contents and images are copyright protected. DO NOT copy or re-use content/images/videos. For all content/post mentions with link back, contact ChefDeHome for permission.

Craving for more?
Join us: Weekly Newsletter, Facebook, Google, Twitter, Pinterest
Shop products we use: CDH Amazon Shop (affiliate links)
What would you like me to cook next?: Request a Recipe