Tomato and Rice Soup with Chickpeas
with subtle flavor of lemongrass and cumin
Posted On:

Jan, 23
| Author:

Savita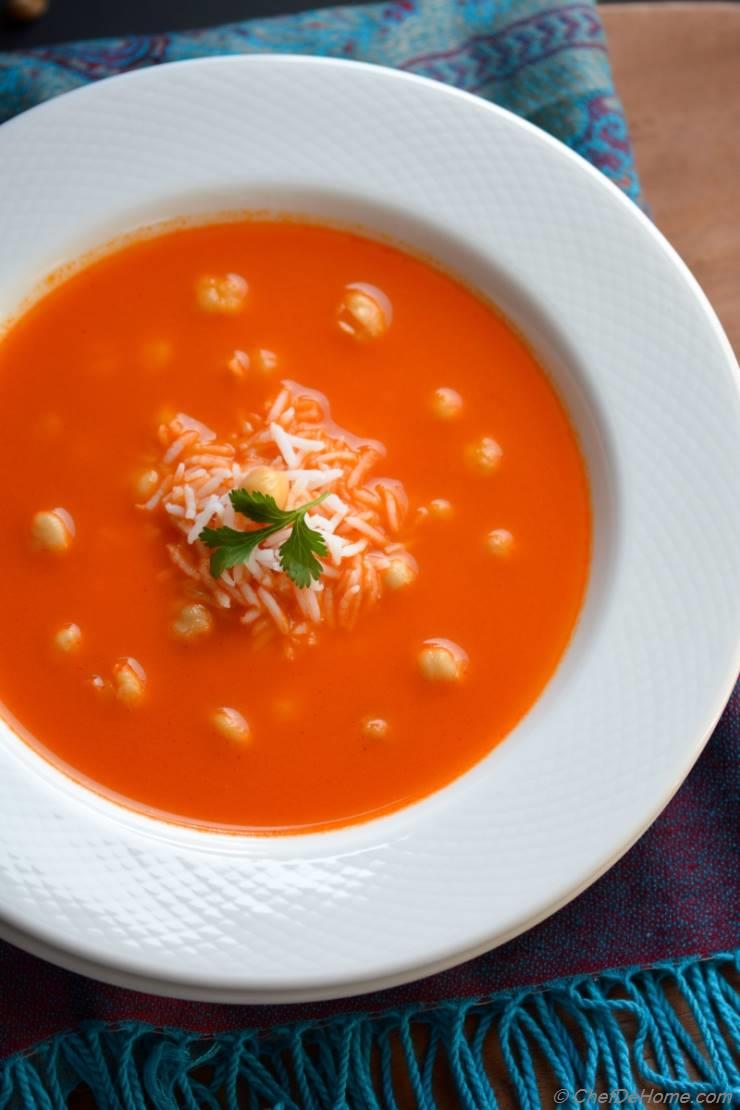 First month of the year is, almost, about to end! 
Time passes so quickly, it feels like New Year Eve was just yesterday! 
Even though it is still pretty cold in many parts of the country.... our sunny San Diego has declared almost summers... with 73 degrees daytime temperature.... 
It doesn't feel good..... we hardly see much cold weather here.... I have not even worn winter cloths that much... and it's almost time to pack'em back :(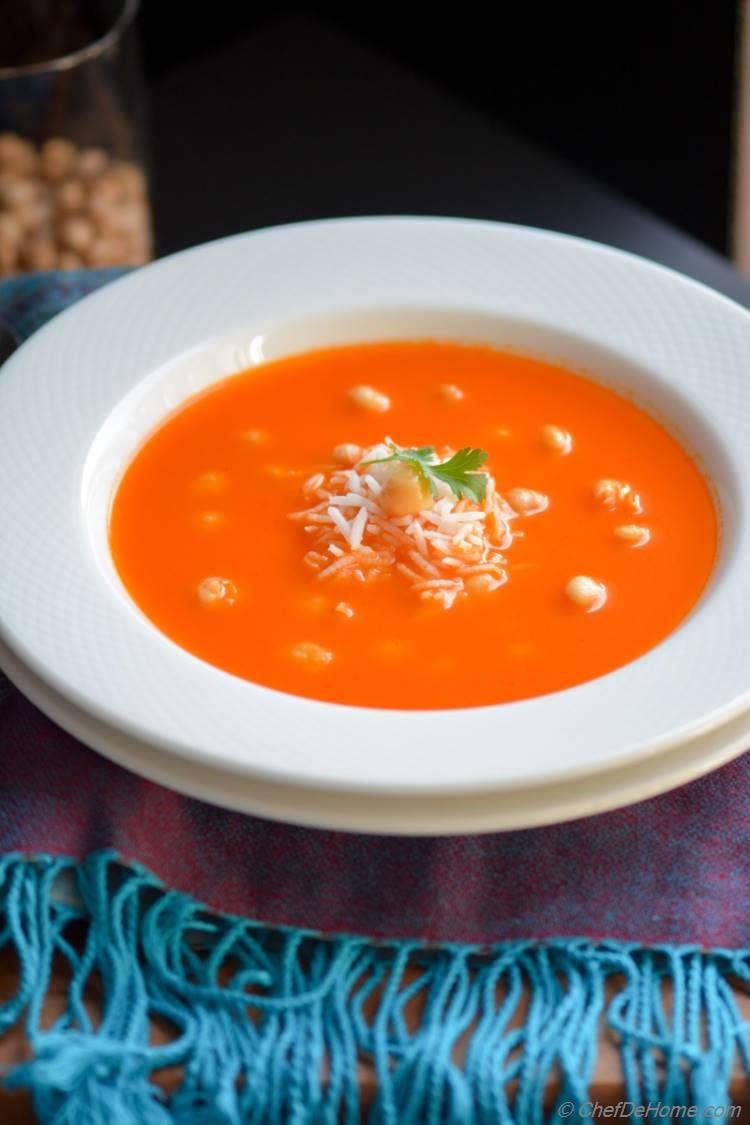 Winter time is my favorite time to cook some hearty and soul-warming soups... so... as long as it is cold at night... I still have reason to make more soups...
No matter how many chilled soups you slurp in summers....  a cup of hot soup, on a cold snowy winter day, can't be beaten! It never snows here..... but even 55 degrees nighttime temp is okay for me to call it a "soup day", or.... "soup night!"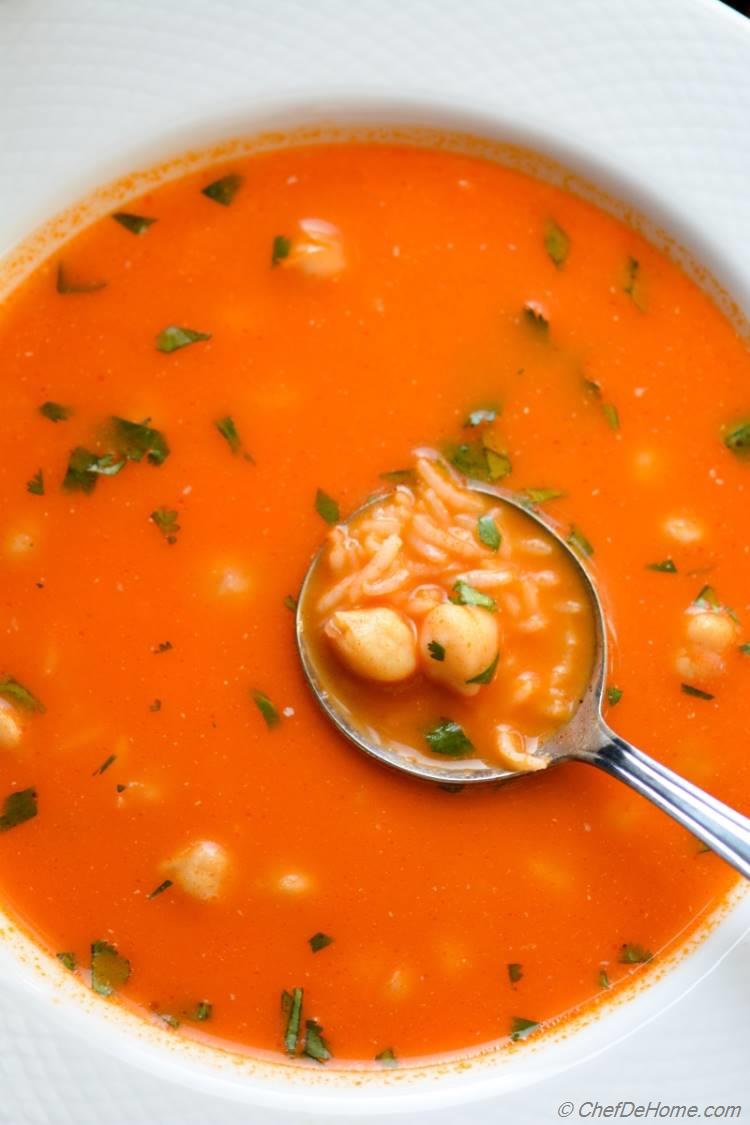 And... what I have made.. out of all those delicious soups out there? My ever favorite, Tomato Soup!!! not same, but another scrumptious variation of my childhood favorite.... flavored with lemongrass and cumin...
I'm certain, I will soon have about half-a-dozen variation of Tomato Soups on this blog. Let me list the ones, I have made so far....
1. Homemade Fresh Tomato Soup
2. Roasted Garlic and Tomato Soup
3. Creamy Tomato Soup
4. Today's Tomato and Rice Soup with Chickpeas
There is something about the taste of tomatoes... which I just can't resist... in soups and in salads too!!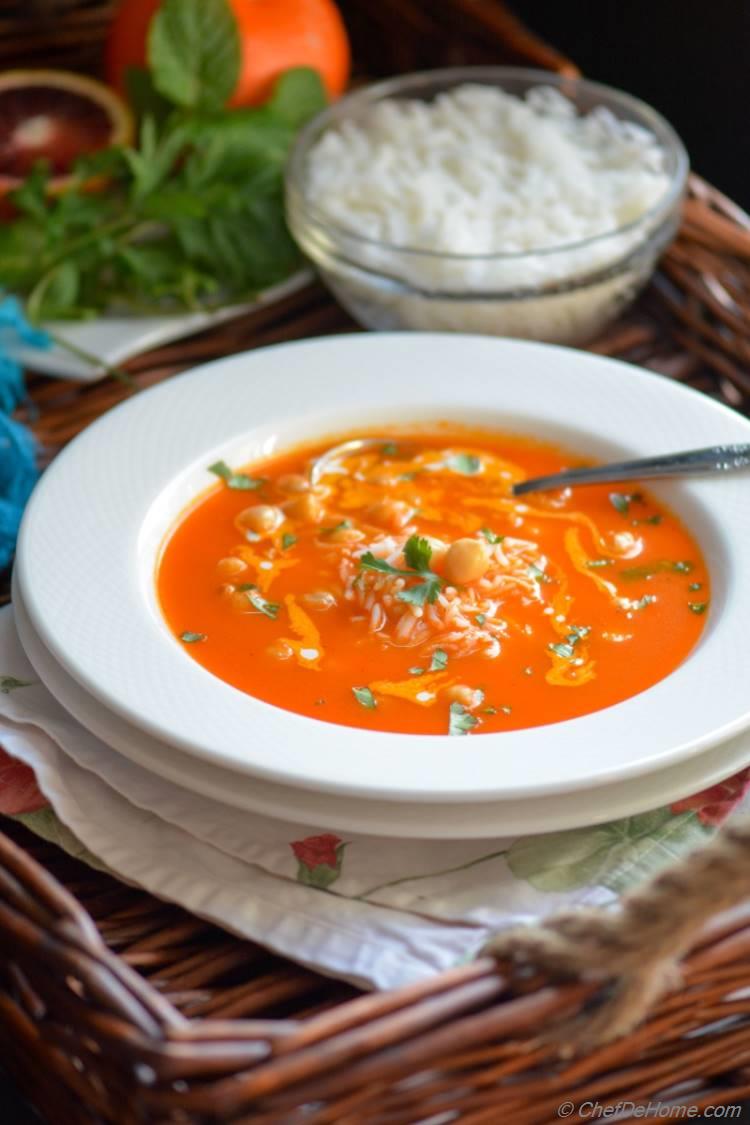 Today, this soup was all about what Vishal likes... no matter what I say, he likes only lite broth-y and very less chunky soups.. So.... I made this traditional tomato soup which is pureed and strained after cooking to get rid of all pulp.... only clean and flavor-full broth remains... then only a little rice and chickpeas are added.... both rice and chickpeas soak the flavor and tartness from tomato broth making a well-rounded, balanced, nutritious, filling yet gluten free yummy soup! 
Note: You don't want to reuse the strained pulp as it is tasteless! all flavor goes into the broth!
So, I made soup at night and packed for Vishal, for lunch....  received a special call during lunch to say - I love this soup!!!, make it more often, just...... And I was like, okay.... tell me once you not like it today! and I will... 
:) :) :)
This soup was so lite and yet so delicious that I can slurp it daily! and naturally so yummy looking! Look at the pictures and tell me!!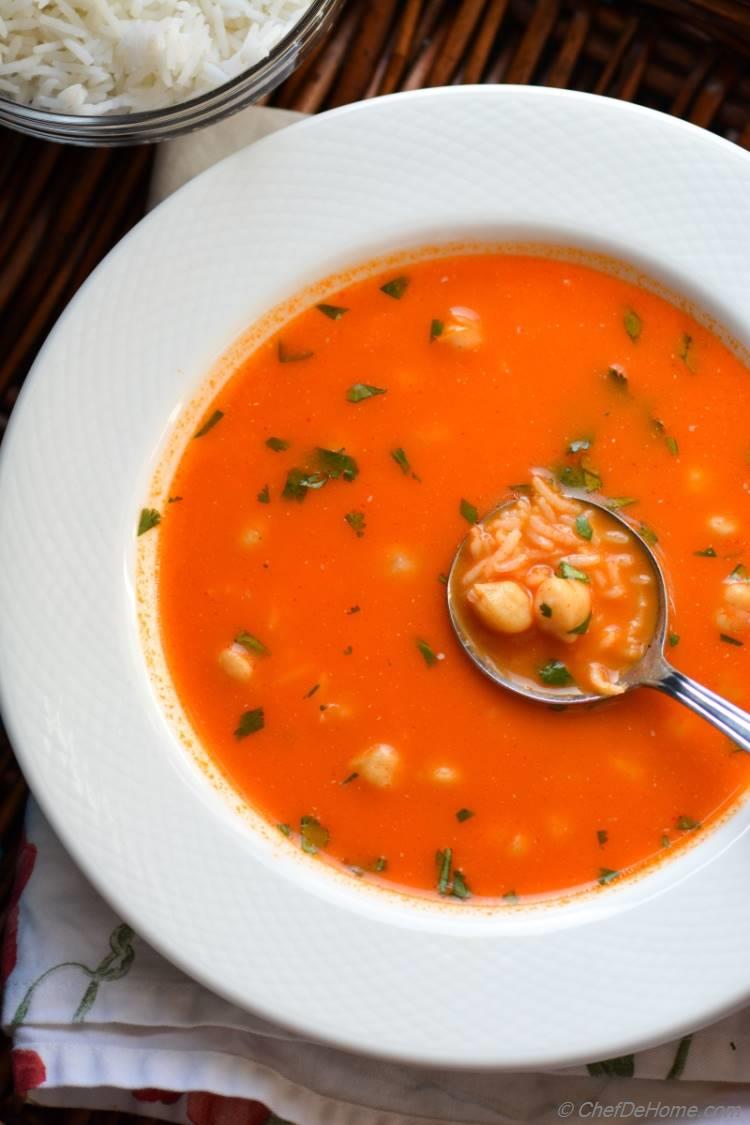 because I'm drooling.... looking at my own clicked pics!!
Traditional Tomato and Rice soup has no chickpeas, I have added some to make this soup more hearty. Plus I reduced the quantity of rice to balance the portion-size.
Now, a few words about special diet needs:
Vegan?
Can be, but not right now! This soup tastes good when you add 1/2 tbsp cream per serving, at the end, just before eating. But... I ate a little portion of this soup without cream and it was pretty delicious! not felt need of cream! If tomatoes you using are acidic then you will need cream. I would say decide after you taste it.
Gluten Free?
Oh yes!! This soup is gluten free. I always make sure to keep soup either vegan or gluten free to cater at least one dietary need. plus this way it is healthy too!
All-Season Soup!
Even though I was just all ga-ga about winter soups... I have to say, this soup, you can drink chilled too!! Trust me! I have tried it and it tastes great! So... It can be  a great Summer Soup as well! A little labor of love needed to first cook soup, then strain using fine sieve, and serve... but all worth it! It was little labour of love for me, at least, since I don't own a wide fine sieve... even was out of cheese cloth!! Just used a little tea-strainer..... poor me?!... Now, you know, why I was almost mad at Vishal's "just"?
All right, now you all enjoy this scrum-yummy pictures and I will stop talking (finally!!! chatterbox :) )
See you soon!
Cheers!
Savita
This soup is complete meal in itself, but I also love these breads on the side!
Tomato and Rice Soup with Chickpeas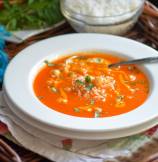 Total Time:
Prep Time:
Cook Time:
Cuisine:
Mediterranean
(

Soup

)
Difficulty:
Easy
Yields:
2 Servings
- Serves:
2
Ingredients
Tomato and Rice Soup
Smart Swap: Replace lentil protein chickpea with white meat chicken!
Directions
1.

In a heavy bottom pan, heat 1 tbsp olive oil. Add lemon grass, garlic, cumin powder, and onion. Cook until onions are soft. (about 3 minutes)

2.

Add crushed canned of tomatoes and 1/2 teaspoon salt. Crush tomatoes as much as you can while mixing everything.

3.

Add 4 cups of water or stock (if using). Bring to rolling boil at high heat, then lower heat, and simmer, covered, for 20 minutes.

4.

After 20 minutes, fish out lemon grass. Puree the soup in one or two batches to smooth soup.

5.

Then use fine mesh to strain the soup, yields about 2.5 cup of tomato broth. Return broth back to pot, add rice and chickpeas, cook until everything is warmed through. Serve in a bowl, with 1/2 tbsp cream per serving and some chopped fresh cilantro/parsley. Enjoy!
Savita's Notes:
Lemongrass won't make this soup lemony, but just adds a subtle taste. If you don't have lemongrass, use zest of one lemon.
Vegan: Don't add cream at end to enjoy a vegan soup.
DID YOU MAKE THIS RECIPE?
Tag
@SAVITACHEFDEHOME
on Instagram and hashtag it
#SAVITACHEFDEHOME
© Chef De Home. Post content including video and photos are copyright protected.
We Think You'll Love