Honey Tangerine Buffalo Chicken Wings with Yogurt Ranch Dip
Very low-oil, broiled (not-fried) crispy Chicken Wings with Orange Buffalo Hot Sauce and lite Yogurt Ranch Dip.
Posted On:

Jan, 27
| Author:

Savita
Flavor of Orange Chicken and Buffalo Chicken in one!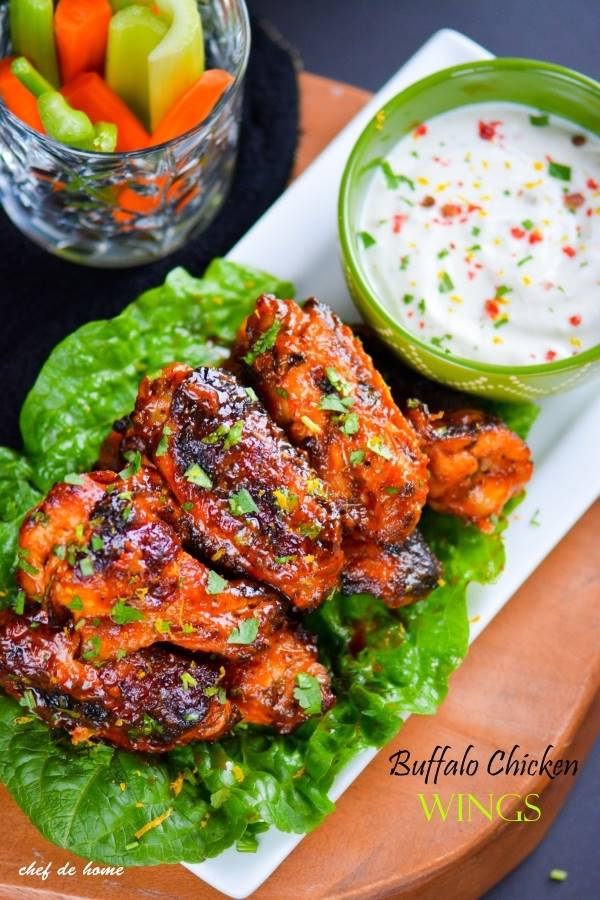 Sharing with you, Sweet and Spicy, broiled (not fried) Honey Tangerine Buffalo Chicken Wings with Lite and healthy Yogurt Ranch Dip! Perfect plate of appetizer for big game day!! 
Even though, this recipe is for Buffalo Chicken Wings, star of the today's post is someone else! I don't have enough words to praise this sweet and tangy, my special favorite, seasonal fruit, Honey Tangerine! Oh my, if you haven't tasted it before, I strongly recommend it! Sweet and juicy, one tangerine yields about 1/2 cup juice, and taste so refreshing and yummy! Though all cousins of orange-family make me drooling.... mayor lemons and tangerines are my sweet-hearts, every season!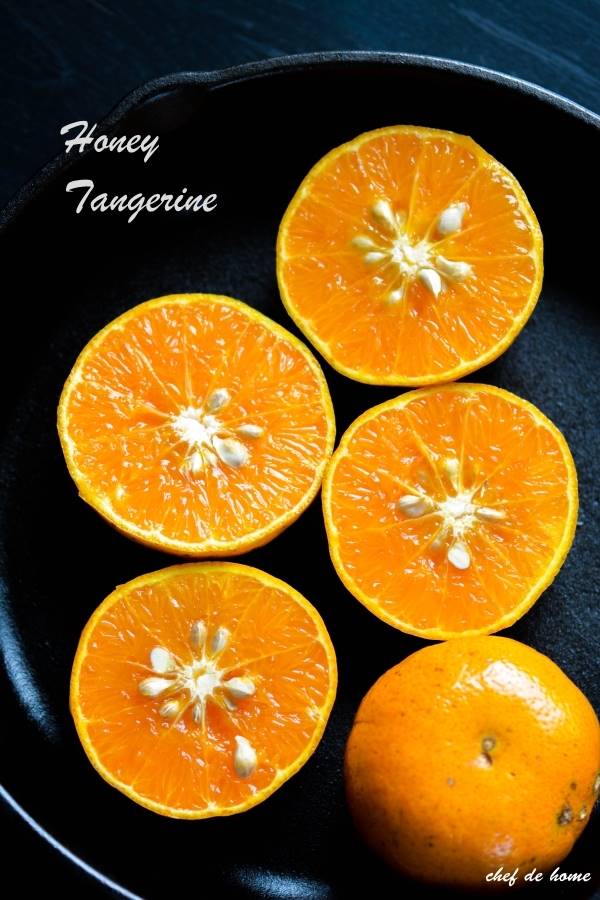 I decided to make some Buffalo Hot sauce spiked with sweet tangerines for my game day Chicken Wings platter!
I'm sure you gonna love my twist on your everyday favorite Buffalo Hot Sauce!!
Caution!! Make a double batch of sauce, because you sure will be craving to eat'em soon!!! again!
TIP: Try using leftover sauce to make Buffalo Hot Tofu or Cauliflower Bites. A completely vegan snack for vegetarian guests.
Bake or Fry?
In my home, I never pour oil in fryer for wings! seriously!! Vishal loves Buffalo Hot Wings, and when I make some for him, at home, I always try to keep'em healthy. So no breading, no frying, instead I broil or grill them for  crispy texture!
Will Broiled Wings Get Crispy? 
Oh yes, they certainly do get crispy! Just spray with oil and since wings are often with skin, fat in skin naturally gets crispy when toasted /roasted in fire. I also include some drumettes with wings to make portion-size little substantial.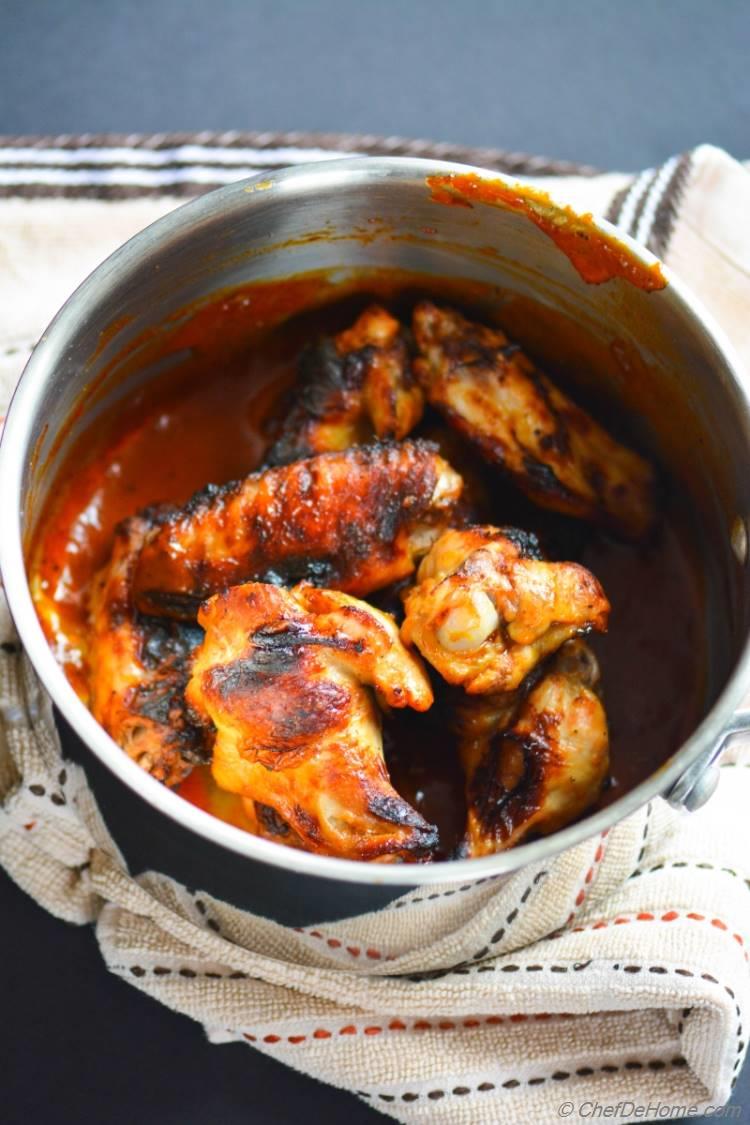 Here for you, Crispy Broiled Wings, Just Out of the Oven
Non-Fat Yogurt Ranch Dip
Buttermilk ranch is my favorite condiment whenever I visit a local Burger Eatery, here in San Diego! At home, I even make ranch with yogurt! Specially with a hot and spicy appetizer like Buffalo Wings, this cooling dip really works great! Just make sure to use non-fat yogurt or simply use non-fat buttermilk. Both taste equally good!
Trust me! You will not miss Mayo! Being allergic to raw egg whites, I don't just avoid mayo, I can't eat it even if I like :)  So one way it is blessing-in-disguise, forcing me to make fat-free and at-least, mayo-free dips for both of us!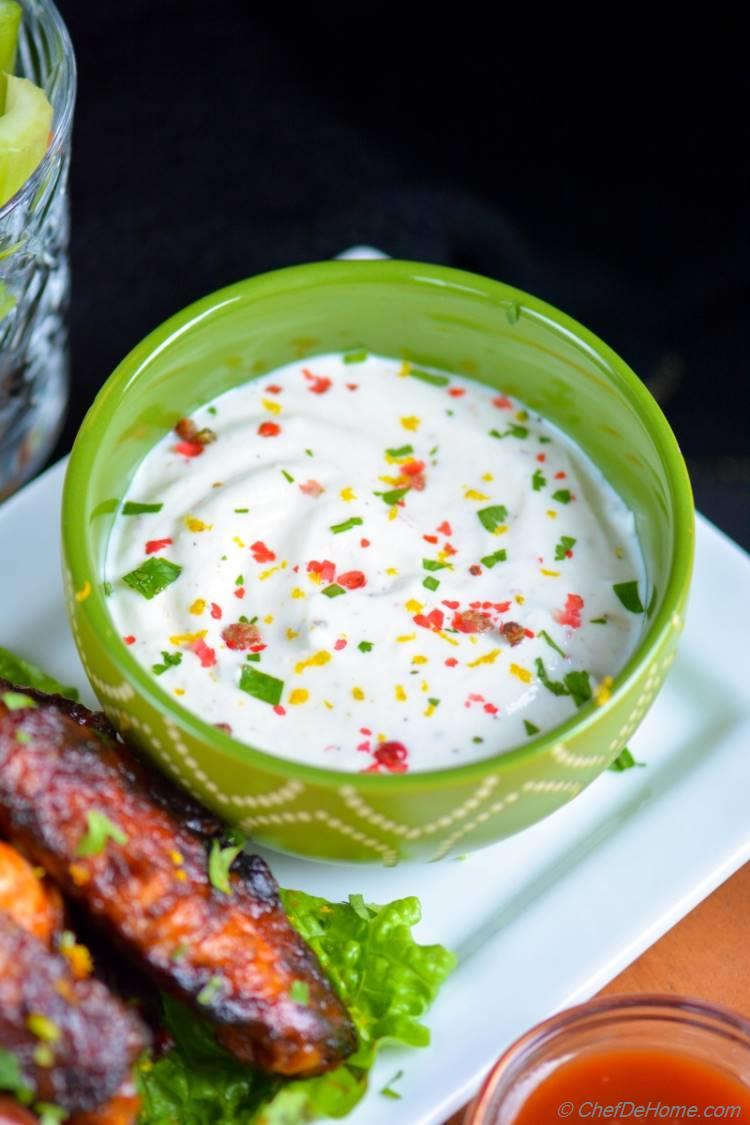 And don't forget to include some healthy veggie dippers with a flavorful creamy dip like this! some celery, carrots, baked chips, apple chips......
Game day classic wings with a slight twist!
I hope you like my sweet twist of hot and spicy Buffalo Wings! Make some! actually, bake some for your next, game day potluck or party! I'm sure your guest will love the twist.
These wings are kids friendly too! You can make two batch of sauce, keep the one for kids with a less spicy Hot Wing Sauce! Or do a little trick, for kids follow the sauce procees given in recipe below, but use tangerine juice, ketchup, 1 tsp vinegar, 1/2 tbsp oil, a little cayenne, and salt. I bet kids will love it! Totally homemade, and it will not be spicy for them!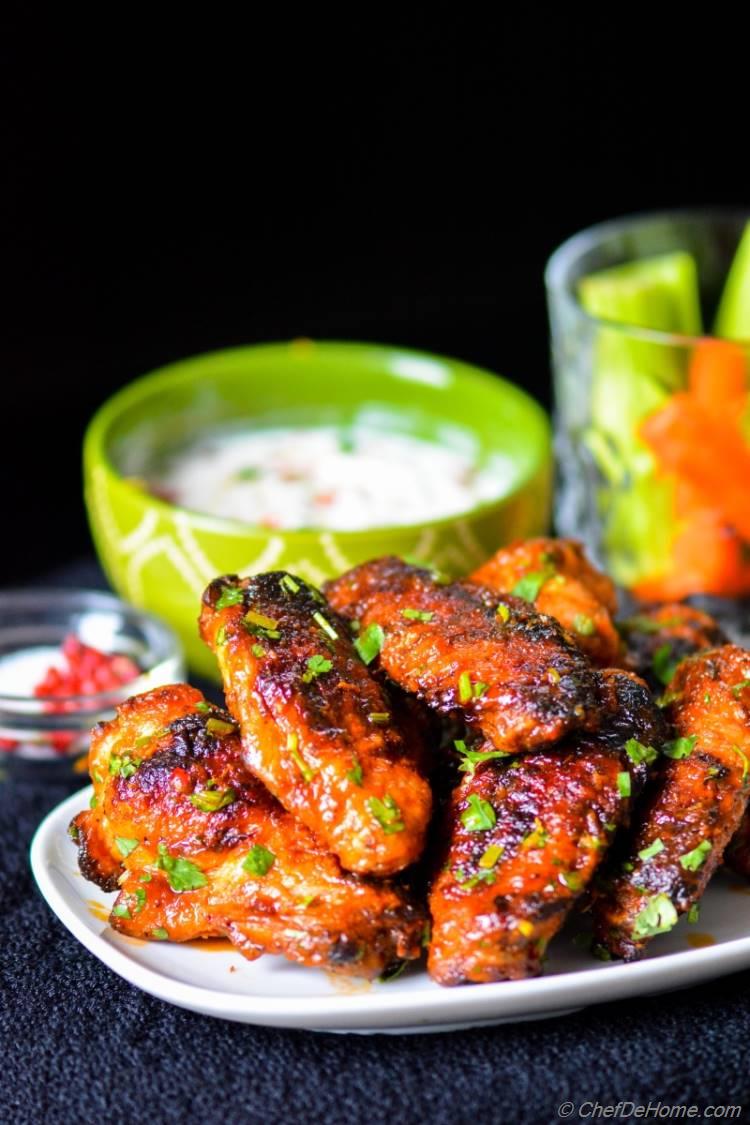 Gluten Free:
And before I end the post and forget my gluten intolerant friends...., yes my friends, this appetizer is gluten free. Only make sure to check label of Hot Wing Sauce you using, it should be Gluten Free.
Can't Find Honey Tangerines? In peek season, Honey Tangerines are sweeter than navel orange, kind-a like fresh orange juice mixed with honey. So, If you can't find Honey Tangerines, use orange juice with one tablespoon honey.
Happy Cooking and enjoy the game day!
Cheers!
Savita
Make your game day a "hit" with one of these:
Honey Tangerine Buffalo Chicken Wings with Yogurt Ranch Dip
review

)
(1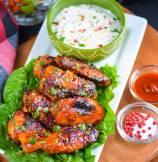 Total Time:
Prep Time:
Cook Time:
Cuisine:
American
(

Appetizer, Snack

)
Difficulty:
Easy
Yields:
20 Chicken Wings
- Serves:
4
(

No. of servings depends on serving size!

)
Ingredients
Honey Tangerine Buffalo Hot Sauce
Broiled Chicken Wings
Yogurt Ranch Dip
For Serving
Smart Swap: Make rice, and use chicken thighs instead of wings to make substantial meal!
Directions
1.

Honey Tangerine Buffalo Hot Sauce - Combine, hot sauce, tangerine (orange) juice in a small sauce pan.

2.

Bring to a boil, reduce heat and simmer for 5-7 minutes, until sauce thickens, and has reduced by half. Add butter and remove from heat. Stir to melt butter in the sauce (off heat). Taste and adjust salt. Set aside to cool a little.

3.

In a wide bowl, add 3 tbsp of sauce, add wings and toss to coat wings with the sauce. Set aside to marinate for 30 minutes (at-least). Up-to 2 hours.

4.

On a sheet pan, place a grilling rack (or an iron cooling rack), coat with oil spray. Place the marinated wings on rack, keeping some spacing in-between.

Additional Notes:

Using rack instead of placing wings straight on sheet, help make crispy chicken wings. Air will circulate better and wings will not sit in their own juice while broiled.

5.

Broil in oven, for 20 minutes, until wings are fully cooked through. For even crispy skin, turn the wings up-side down half-way through the cooking.

6.

For Yogurt Ranch Sauce, combine Greek yogurt and rest of dip ingredients with 2 tablespoons of water. Whisk to combine. Taste and adjust salt. (See Note 3) Set aside.

7.

Once wings are ready. In bowl, add hot wings and remaining hot sauce. Toss to nicely coat all wings in hot sauce.

8.

Garnish with parsley/cilantro. Serve hot with dipping sauce and veggie dippers on the side. Enjoy!
Savita's Notes:
Marinating Wings is Optional : I have suggested to marinate wings in sauce for 30 minutes, but it is optional. Often, when wings are in-demand in my home, I slather wings in sauce and broil immediately. Taste delicious even without long marination!
Wings may take a little less time to cook than drumettes, watch closely after first 10 minutes as these start to get dark quickly. Also, if you using frozen, just thawed wings, they will take a little longer to cook.
Alternate Cooking Methods: You can also deep fry wings if you prefer. Or Bake at 375 degrees Fahrenheit for 20 minutes, then char on grill/gas flame for quick 1-2 minutes each side.
Always season yogurt based dips just before serving. If making a night before, mix all ingredients except salt at night. In morning, taste and add salt just before serving.
DID YOU MAKE THIS RECIPE?
Tag
@SAVITACHEFDEHOME
on Instagram and hashtag it
#SAVITACHEFDEHOME
© Chef De Home. Post content including video and photos are copyright protected.
We Think You'll Love