This recipe is Copyright of ChefDeHome.com

Date-Walnut Cream Cheese Dip
Easy Party Dip
Utterly simple, delicious cream cheese dip with sweetness of dates, crunchy walnuts, a hint of shallots and a zing of lemon zest. This easy to make dip is a all time favorite party dip recipe. You can make it in advance; just remove it from fridge 30 minutes before serving. This crunchy, sweet, and sour dip taste excellent with baked pita chips, celery sticks, carrot sticks, or tortilla chips. Serve it for fall parties or family get together.
Craving for more? Sign up for the Chef De Home Newsletter for a plateful of contents delivered to your inbox! And connect with me on Facebook, Google, Twitter and Pinterest for all of the latest updates.
Date-Walnut Cream Cheese Dip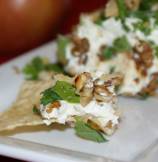 Total Time
Prep Time
Cook Time
Serves
6
Ingredients
1/2 Cup

Cream Cheese

(at room temprature)

1/4 Cup

Dates

(pitted and minced)

1/4 to 1/2 Cup

Walnuts

(Roasted in dry pan for about 3 minutes and then roughly chopped)

1/4 Cup

Goat Cheese

(at room temprature)

1/2 tsp

Sugar

2 tbsp

Butter Milk

(If buttermilk is too sour then use only 1 tbsp )

2

Shallot Onions

(small size shallots, fine chopped)

1 tsp

Lemon

(Zest)

1/4 tsp

Salt

2 tbsp

Cilantro

(fine chopped)

1/4 tsp

Black Pepper

(Crushed)
Directions
1.

In a food processor, combine cream cheese, goat cheese and butter milk on medium pulse until smooth and creamy. Add the pitted and chopped dates, chopped shallots, lemon zest, salt, sugar, pepper and process till well combined.

2.

Transfer the cheese mixture to a cling wrap sheet and roll slightly to form a log (3-4 inch long). Wrap the log from all sides with cling wrap and refrigerate for at-least 2 hours or until firm.

3.

Mix roughly chopped walnuts (or fine chopped per your liking) and chopped cilantro. Spread the mixture in a flat plate. Remove the Cheese Log from cling wrap and roll it gently in walnut and cilantro mixture until all sides are well covered. Serve immediately or refrigerate for the later use.
© Chef De Home. All contents and images are copyright protected. Please do not use content/images without prior permission. If you want to use recipe instructions, re-write the recipe in your own words, and link back to this post with credit to ChefDeHome for the Recipe Origin.