Gluten Free Buckwheat Banana Doughnuts
In observation of Celiac Disease Awareness Month
Posted On:

May, 11
| Author:

Savita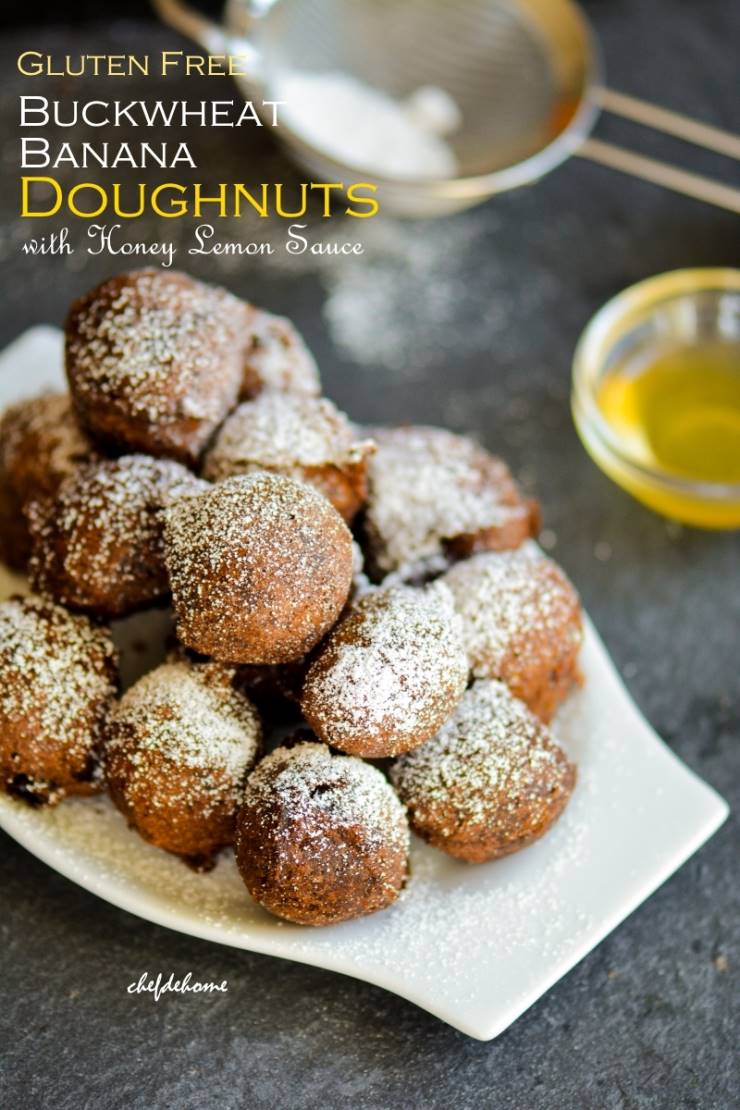 In recognition of May as Celiac Disease Awareness Month, I'm sharing with you gluten free version of, one of my favorite breakfast, doughnuts with honey-lemon sauce.
Celiac Awareness Month is an event held throughout the United States each May and is supported by the National Foundation for Celiac Awareness (and other relevant organizations). Celiac disease is a genetic autoimmune disease which damages the small intestine. In many cases, where there are no noticeable symptoms, a person has 'silent coeliac disease'. 
People with celiac disease are sensitive to gluten which triggers these symptoms. Gluten is a protein found in grains such as barley, wheat and rye. Consumption of gluten can affect the whole body. 
Celiac Awareness Month also raises awareness about sensitivity to gluten. Treatment for celiac disease and gluten intolerance is straight forward; those affected are advised to avoid foods which contains gluten. This awareness event helps educate and inform the public about gluten free foods. However, it is not always easy to determine if a food item is gluten free; this event also encourages appropriate labeling on food items.
Even though I'm not sensitive to gluten, but I'm living with an allergy condition. Since I have discovered my body's reaction to Raw Egg Whites or Intense Raw Proteins, I have understood the meaning of living an allergy-sensitive life. It is very important that allergies/sensitivities are detected and tested at an early stage or these can lead to intense health complications. Whenever I had Mayo or raw egg/protein..... my body would react immediately... but I could never co-relate the two clearly. Back in India, we don't eat raw egg based products or raw proteins in any form. So my sensitivity remained dormant. Here. however, there are so many preparations that have raw protein that in a year I started noticing a pattern. 
It took me a LOT of time to finally figure out all products which make me literally suffocate. Earlier, I  used to think, I'm having Asthma symptoms or I'm overeating which makes my body suffocate :( But, by maintaining a journal, and also by learning about products I buy or eat, asking for ingredients, reading labels, I finally have good idea about my sensitivity. Seriously, I have suffered a lot of complications due lack of awareness and proper testing guidance.
For example, most salads served in restaurants here, unless menu/label reads VEGAN, have egg-yolks or egg-white based dressing.  Earlier, I used to just order salad for dinner and then feel uncomfortable for hours! When I learned more about dressing ingredients, I became very conscious of what I order! For my love of salads, I started making all salads at home, mainly to avoid these ingredients. In-fact, if I see an egg-based-dressing salad and like it, I often make egg-free or vegan version of that salad at home. My instincts for cooking at home and blogging has helped me a lot towards managing my sensitivity.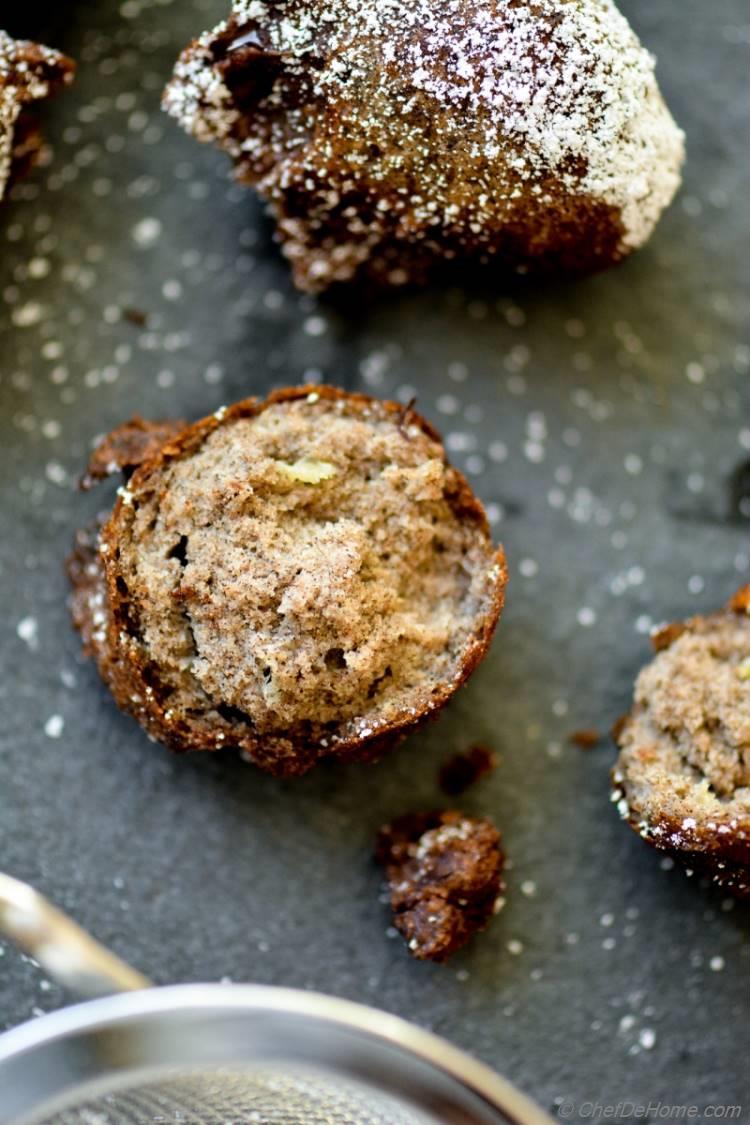 Now, a few words about these humble, Buckwheat Doughnuts. Buckwheat has always been an ingredient of my choice for gluten free cooking. There is a period of 1 week, twice every year, in India when we eat everything gluten free while observing religious fasts. During this time, Buckwheat and Banana Doughnuts are one of my favorite snack or weekend breakfast with cup of hot Indian Chai Tea.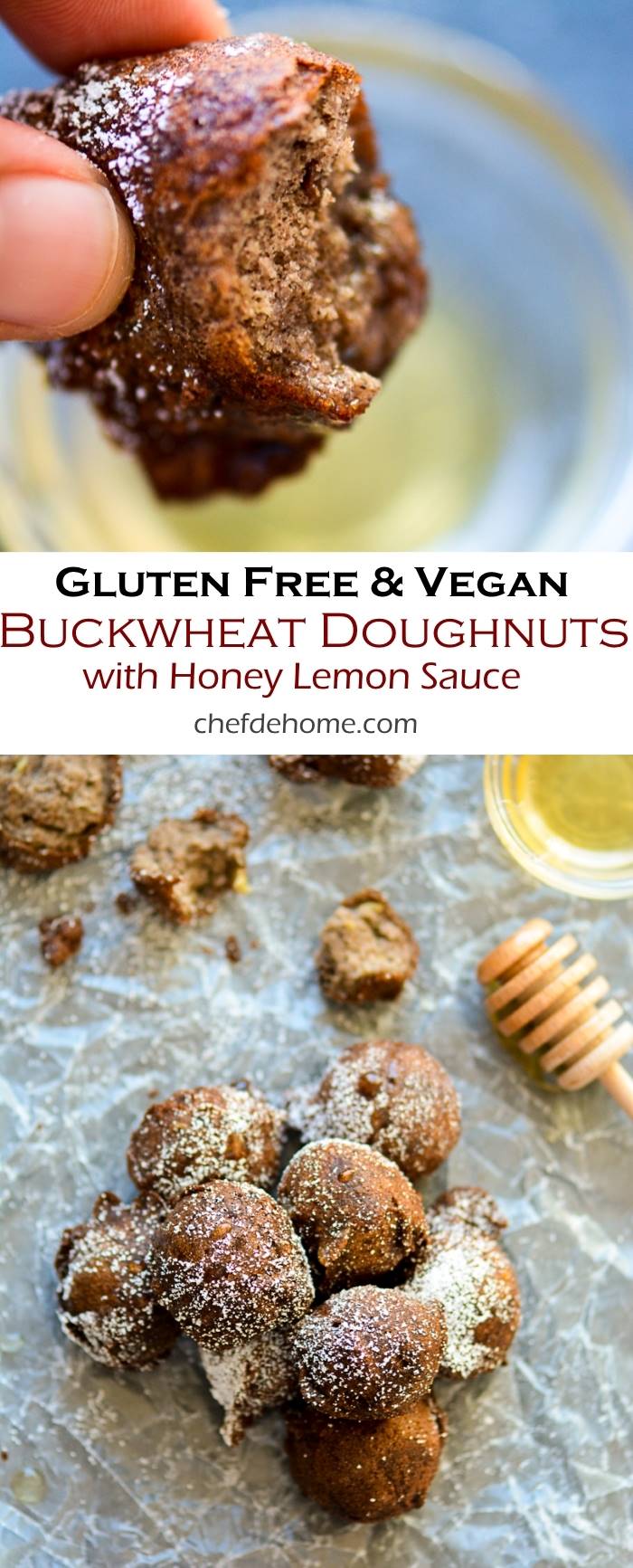 Addition of ripe banana gives these doughnut taste of a "banana bread" and raisins provides the element of sweet surprise. The reason I kept these Buckwheat doughnuts lite sweet is for - Honey Lemon Sauce. I can't imagine eating these doughnuts without it! Love the tang of lemon cutting the richness of banana and fried dough. With mild sweetness of honey, buckwheat doughnuts taste like nector-soaked sweet nuggets!
I'm sure you will love these gluten free, egg free, butter free, and lite sweet treats as much I do!
If you are living a gluten free life, I have whole page dedicated to Gluten Free Cooking on my blog 
here
 and on Pinterest 
here
.
Few more gluten free treats from my kitchen!
Gluten Free Buckwheat Banana Doughnuts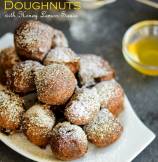 Total Time:
Prep Time:
Cook Time:
Cuisine:
American
(

Dessert

)
Difficulty:
Easy
Yields:
16 Small Doughnuts
- Serves:
6
Ingredients
Doughnuts
Honey-Lemon Sauce
Smart Swap: Use ripe papaya or mashed apple instead of banana!
Directions
1.

To make Honey-Lemon sauce, mix honey and lemon juice in a small bowl. Mix well until honey mixed well in lemon juice. Set aside.

Additional Notes:

If it's cold or honey don't mix well, warm then heat the mixture in microwave for 10 sec at a time.

2.

In a bowl, add ripe banana and mash with back of a fork until fully mashed.

3.

In a deep frying pan, heat oil for deep frying. While oil is getting hot, in a wide bowl, add buckwheat flour, mashed banana, 1 tbsp oil, 1 tbsp lemon juice, raisins, fennel seeds, sugar, fruit salt, and salt.

4.

Add water little at a time to make a smooth dough.

5.

Dough should not be runny. It should be a little thicker than pancake batter.

6.

Oil will be hot by this time. Scoop the dough with ice-cream scooper into hot oil to make small tennis ball size doughnuts. Fry until doughnuts float on top and are brown from all sides. Dough yields 15-18 doughnuts.

7.

Transfer cooked doughnuts on a paper lined plate to drain excess oil.

8.

Dust with powder sugar. Serve doughnuts hot with lemon-honey sauce for dipping.
Savita's Notes:
Please Note: If you don't consider Honey a Vegan ingredient. Feel free to use Sugar or Agave Nector instead
DID YOU MAKE THIS RECIPE?
Tag
@SAVITACHEFDEHOME
on Instagram and hashtag it
#SAVITACHEFDEHOME
© Chef De Home. Post content including video and photos are copyright protected.
We Think You'll Love