Indian Gajar Halwa Ladoo - Sweet Carrot and Coconut Truffles
Perfect sweet treat for New Year
Posted On:

Jan, 1
| Author:

Savita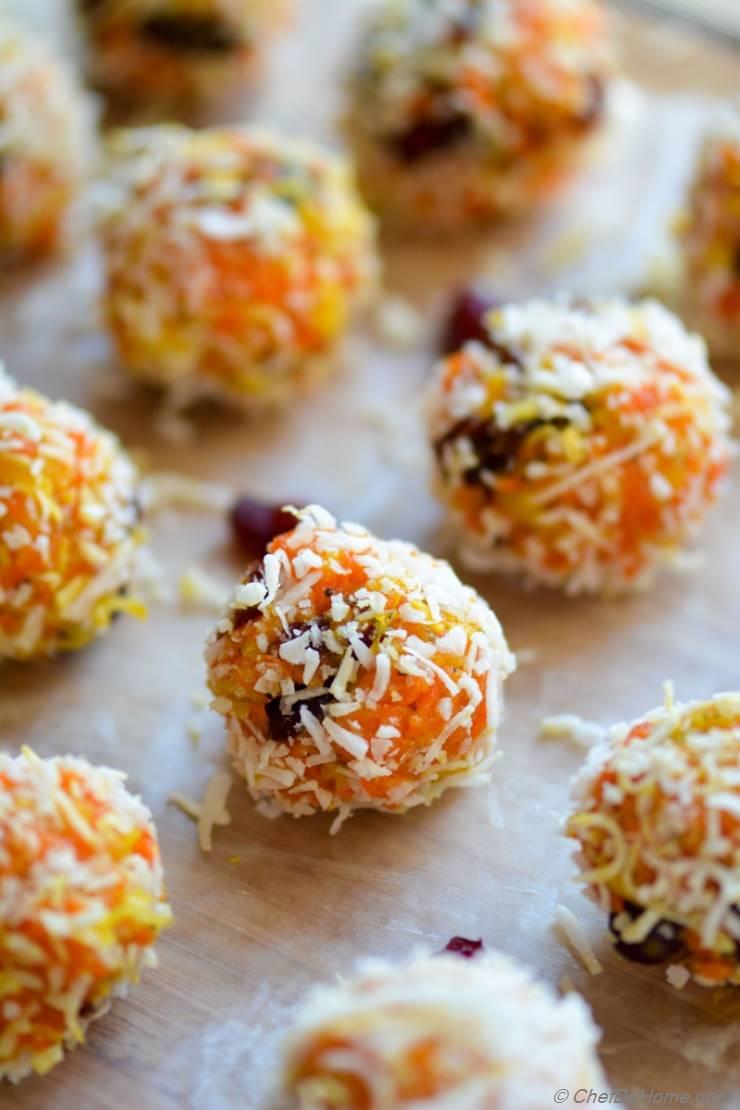 During winters, Indian Gajar Halwa is one winter comfort food that probably is favorite of everyone old or young alike! I don't think you will find any Indian who has not tasted Carrot Halwa.
Also know as Gajarela (carrots are called Gajar in Hindi, hence Gajar-ela) in some parts of country. Traditionally, carrots are slowly cooked in lots of milk and sugar until milk has reduced to about one-third of it's original quantity. Carrots are soft and creamy, coated in slowly condensed (natural) sweetened milk....  Every bite just melts in mouth. These days, many make carrot halwa with less milk and more condensed milk. So, you guessed it!! less perching, on pot full of carrots, in front of stove and more flavor, almost like Halwa cooked by expert chef, low and slow!
This morning, I shared my traditional Carrot Halwa recipe on Google Plus and then nostalgia hit me. All-of-sudden, I wanted to eat some Gajarela! I anyways wanted to make something little sweet for New Year Eve. Carrot Halwa sounded like a perfect idea!
Being time pressed, I knew, I need some condensed milk to do the hard work for me. When I opened pantry, I had just a few carrots and only a little condensed milk to pull off the quicker version of halwa. Alright! I told myself. I'm still making Halwa. That's spirit! Right?
So, I made Carrot Halwa, but.... with a twist! So as to share some new way to eat this yummy Indian Sweet with all of you! In form of these, handy, bite-size, Carrot-halwa and coconut ladoos!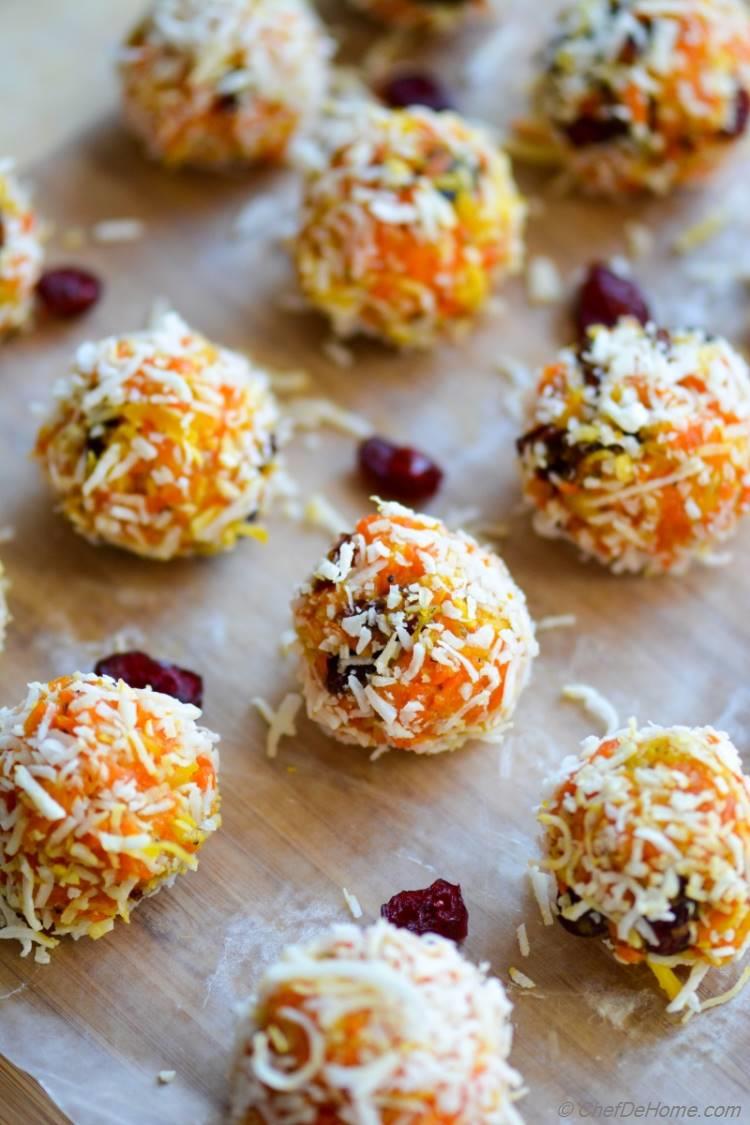 These carrot halwa ladoos are easy to make, ready in far less time, are not overly sweet, have ton of flavor, are great way to portion control! 
Why should you make these ladoos?
1. First, they taste scrumptious! comforting and yummy!
2. Are great for portion controls, just 1-2 instead of a bowl full of carrot halwa!!
3. These ladoos are lite sweet, and have good serving of carrots with anti-oxidants from cranberries. 
4. Great way to feed kids some veggies!!
5. Good treat to carry on the go or for holiday gifting!
6. Perfect for a potluck party!
Let's not waste anymore time! Let's get cooking!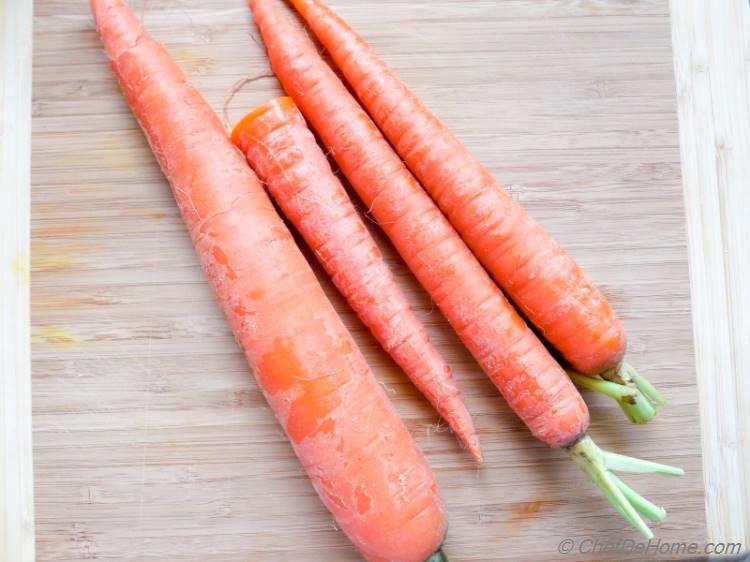 It all starts with peeling a bunch of beautiful orange carrots! I had just 3 and half. So please excuse me for the weird measurement!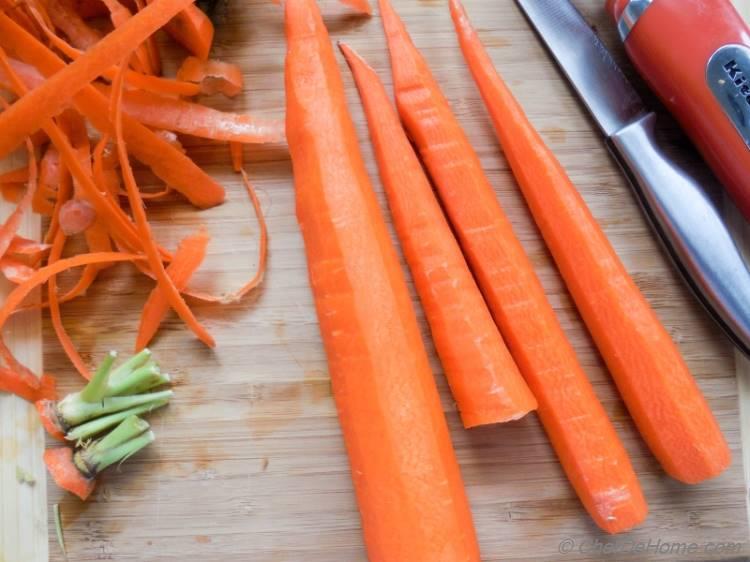 Get the cooking started with peeling the carrots, let's ready'em for some grating.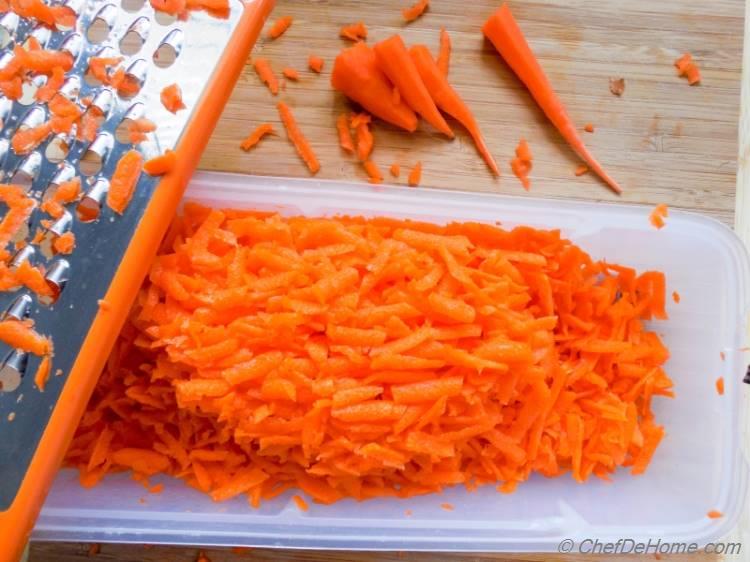 You can't make this step happened without a good grater. Turns out my food processor grater is totally use-less. Hand grater rocks! Just remember to leave these little pinkies alone, but only if you want your finger intact. Trust me! It's better to eat these little ones rather than being greedy and grating to the end! A little more grates your fingers first ;)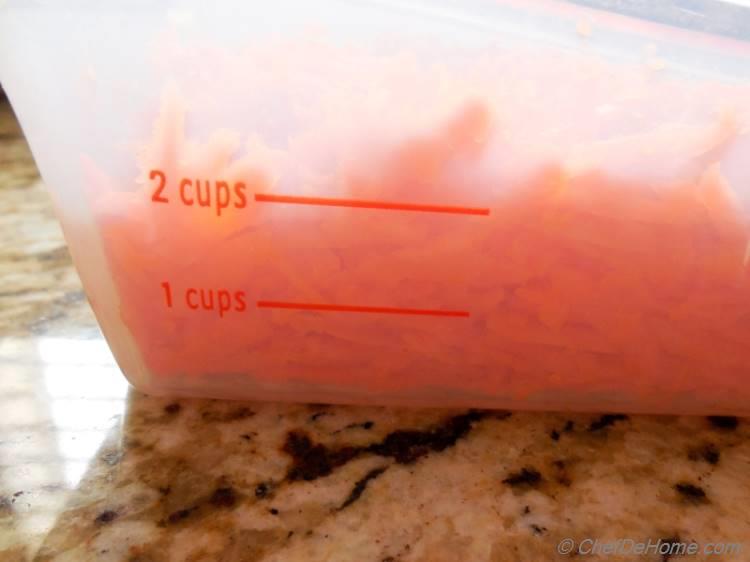 And it was exactly 2 cups! thank God!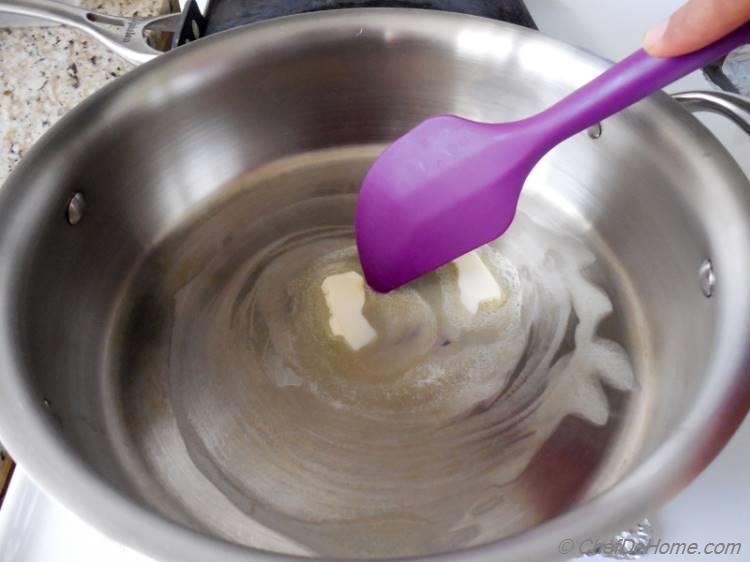 Start with melting 1 tbsp butter in the pan. You can also use ghee (clarified butter if you don't have butter.)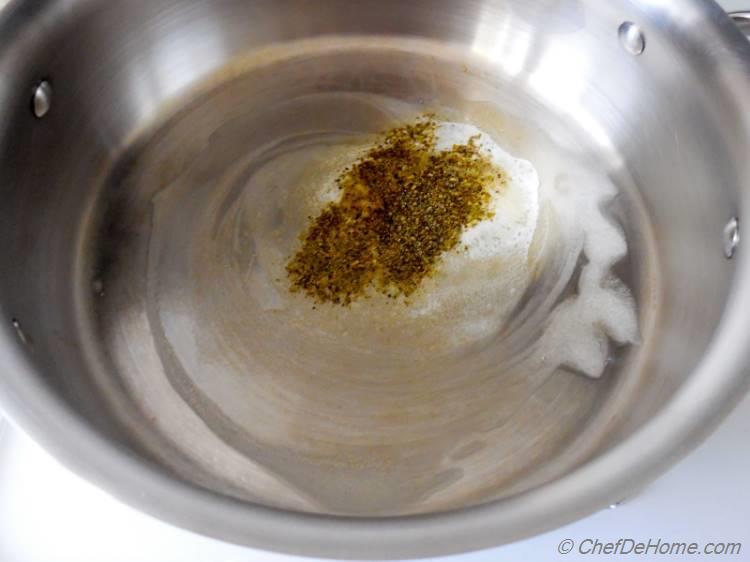 When butter has melted, add cardamom and fennel powder and cook for 30 secs to 1 minutes.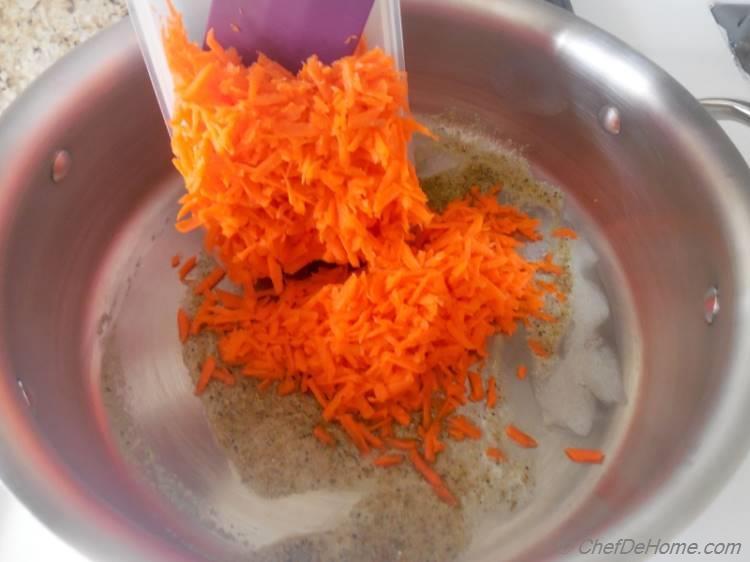 Dump in grated carrots and cook stirring often until carrots are soft in their own water. (about 5 minutes)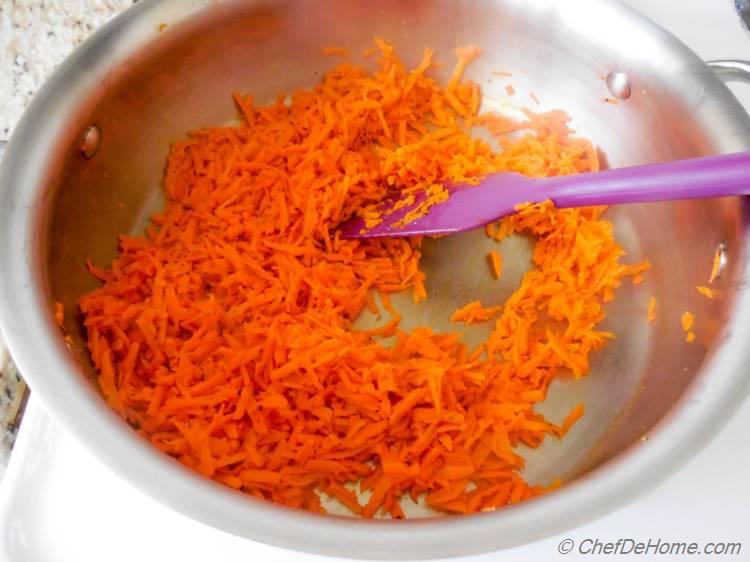 Clear bottom is clear sign of good cooked carrots!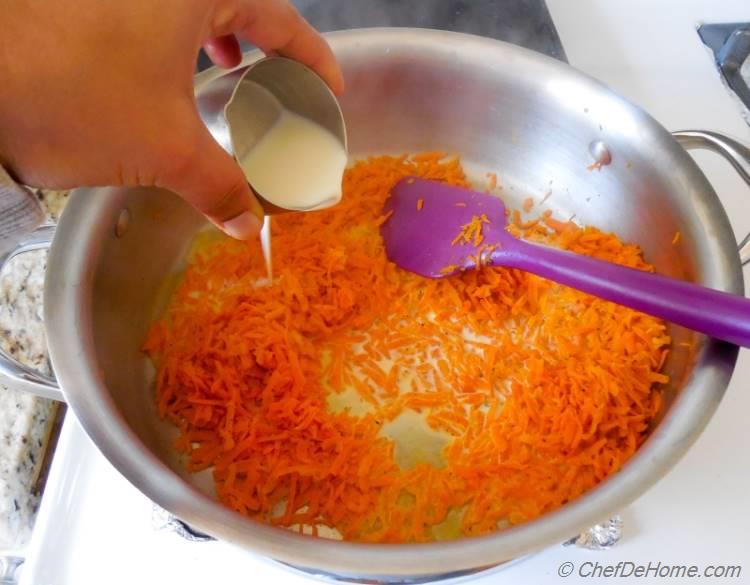 Add in milk and sugar! Just whole milk, not condensed milk yet!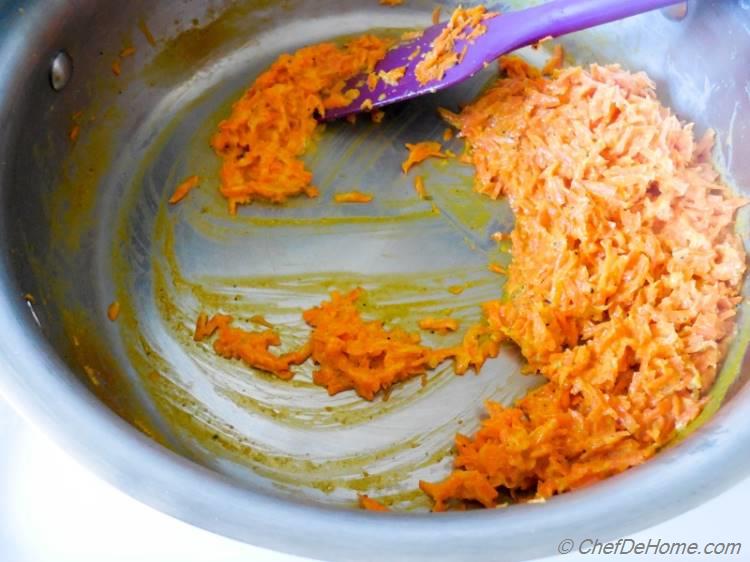 After 8-10 minutes, on medium heat, milk will be all absorbed leaving behind soft carrots. Not mushy, just soft!
Now, it's time to add real nector of Gods! The time-saver condensed milk. Not a lot of it, just 100 grams, say 4 tbsp (1/4 of a cup) and dried shredded coconut.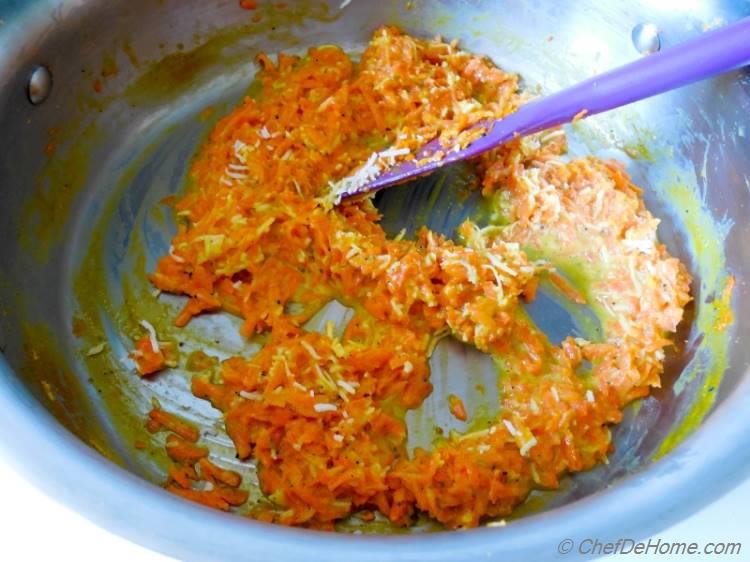 In just 3-4 minutes, condensed milk will be all absorbed by carrots leaving behind creamy yummy goodness!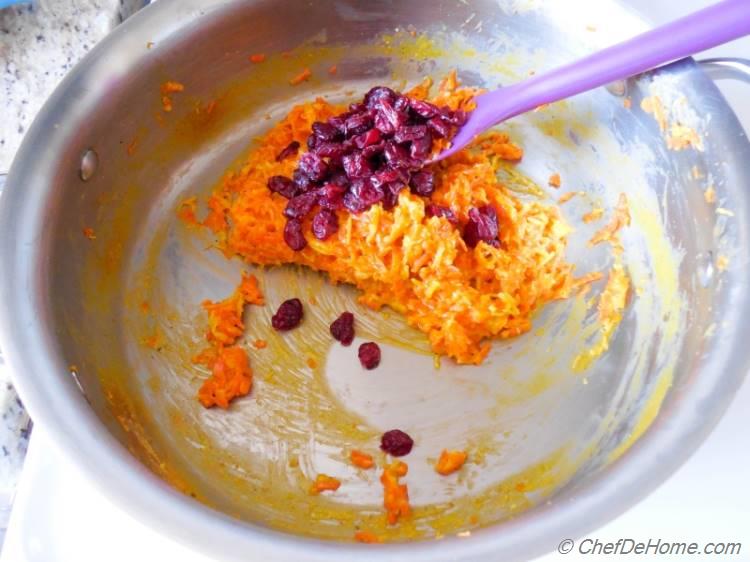 Now mix in cranberries. If you can't find cranberries, use raisins or chopped dried fruits are okay too! I use cranberries to add some tartness to sweet carrot halwa ladoos. At this point remove pan from heat and set aside to cool slightly for 5 minutes.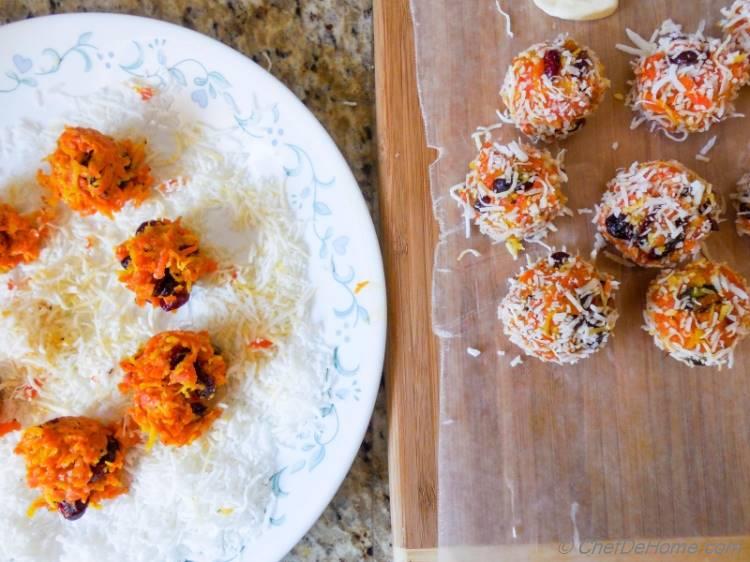 And finally the fun part! Roll the ladoos just like you roll truffles. I prefer to make equal portions first, drop in coconut , then roll all at once. To take this picture, I did this step in two batches.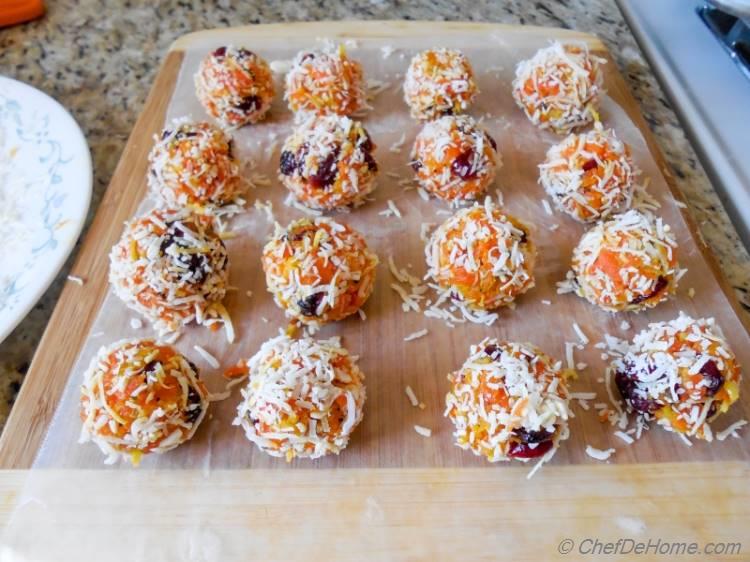 Gorgeous looking, Carrot Halwa and Coconut Ladoos are ready! Keep'em in refrigerator for a while, just to firm'em a little bit or just devour immediately! They taste delicious any way you eat'em!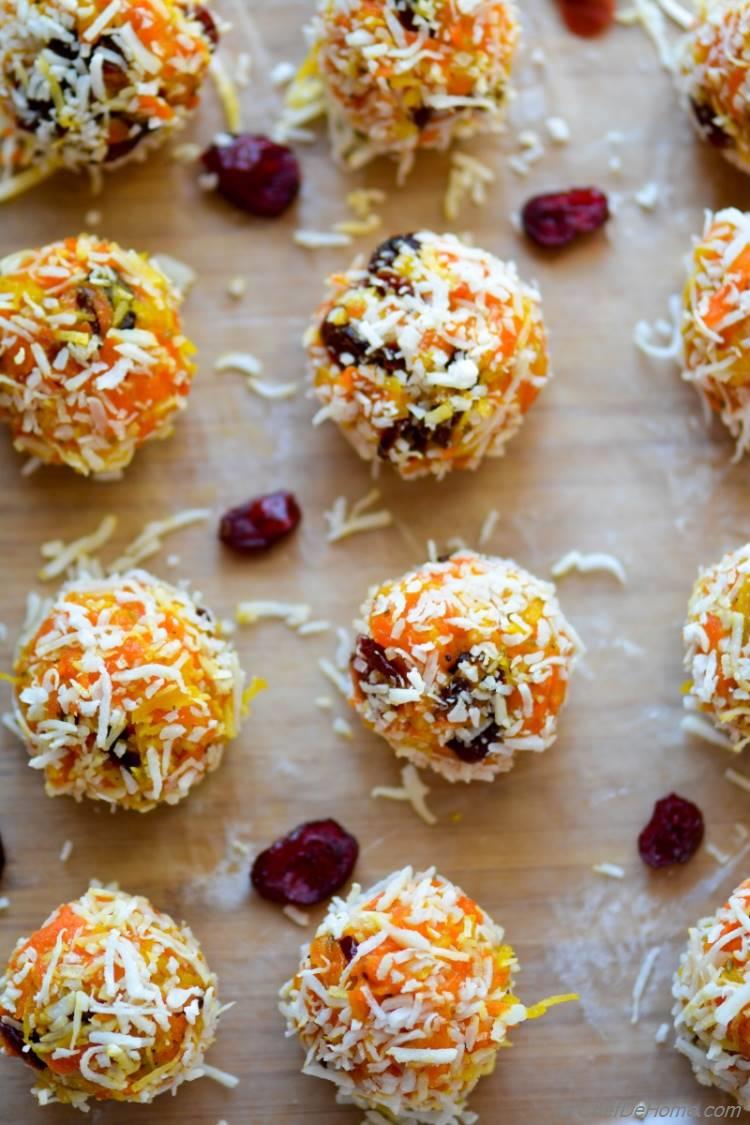 Gorgeous looking, Carrot Halwa and Coconut Ladoos. Melt-in-mouth good!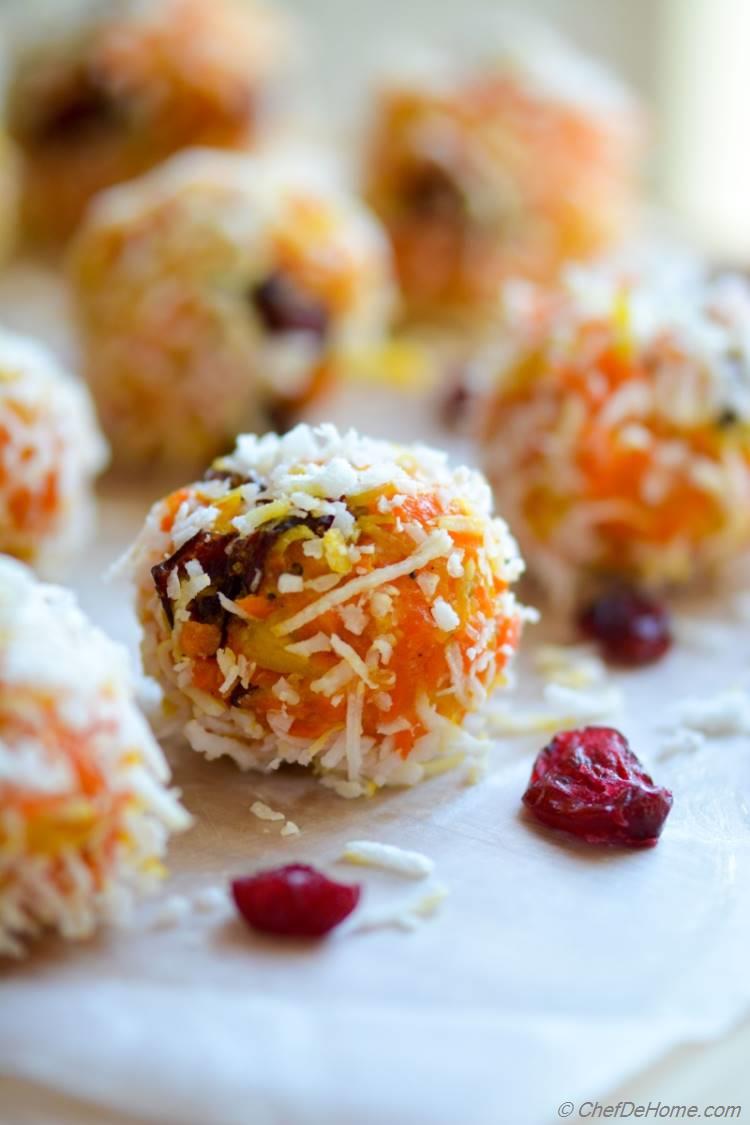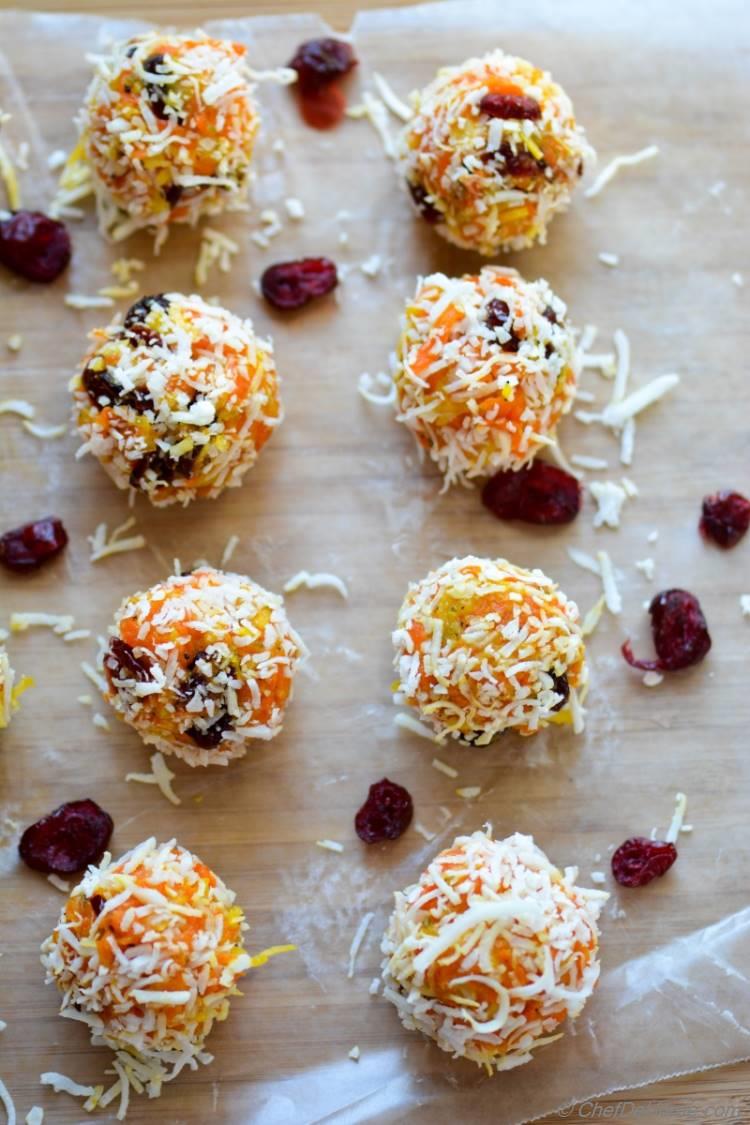 Like Ladoos? Try these sweet treats and don't forget to serve a Cup of Chai Tea!
Indian Gajar Halwa Ladoo - Sweet Carrot and Coconut Truffles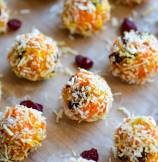 Total Time:
Prep Time:
Cook Time:
Cuisine:
Indian
(

Snack, Dessert

)
Difficulty:
Easy
Yields:
16 Ladoos
- Serves:
8
(

Prep time also includes Ladoo/Truffle rolling time.

)
Smart Swap: You can totally skip coconut and roll Carrot Ladoo in fine chopped pistachio/almond nuts too!
Directions
1.

Wash, peel and grate carrots. In a saucepan, melt 1 tbsp butter. Add fennel and cardamom powder and let spices perfume the butter for 30 secs. You will feel nice spiced aroma, can't miss it.

2.

Add grated carrots and saute on medium heat for 5 minutes, until carrots are little soft, and water from carrots released and dried.

3.

Now add sugar, milk, and then cook on medium-high heat until almost all milk has been absorbed by the carrots. (about 8-10 minutes). Carrots will be soft but not mushy.

4.

Add 1/4 cup dried coconut, sweetened condensed milk and cook for 3 minutes, or just until condensed milk has almost dried.

5.

Mix in cranberries/raisins and let mixture be a little cool to handle. (about 5 minutes)

6.

Spread remaining coconut in a wide plate. Roll carrot mixture with greased hands to 16 equal size balls, Drop each ball into shredded coconut and roll to coat evenly, then arrange on a light greased plate.

7.

For little firm grip, place ladoo (balls/truffles) in plastic container, then keep refrigerated for 15-20 minutes! Keep refrigerator if not consumed soon!
DID YOU MAKE THIS RECIPE?
Tag
@SAVITACHEFDEHOME
on Instagram and hashtag it
#SAVITACHEFDEHOME
© Chef De Home. Post content including video and photos are copyright protected.
We Think You'll Love