Tofu and Sweet Potato Fries Shawarma Salad Bowl with Onion Ring Croutons
This post has been compensated by Collective Bias, Inc and its advertiser. All opinions are mine own. #SpringIntoFlavor #CollectiveBias
Posted On:

Apr, 7
| Author:

Savita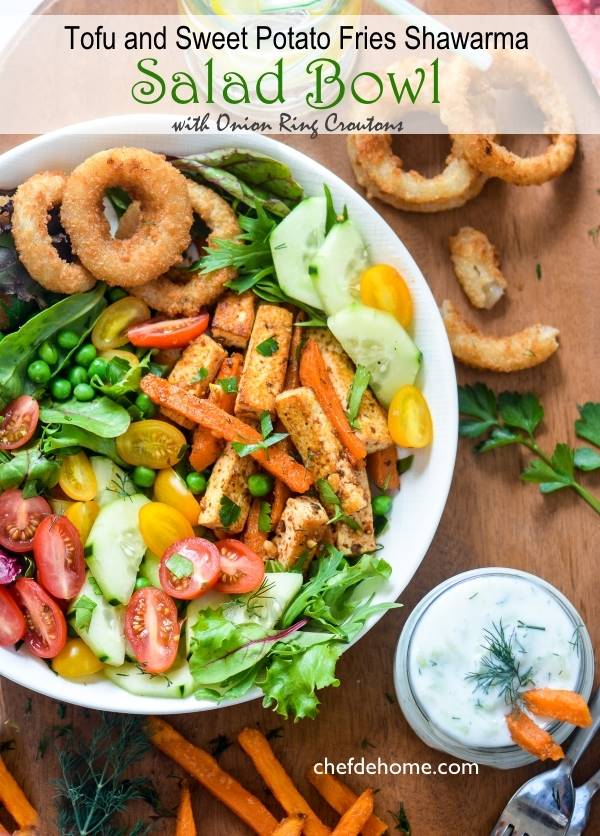 California weather never stops to amaze me! It is sunny outside (as usual) and it is little cold indoors (for a pleasant change). I think, partly, it is Sunny California's weather, and partly it is magic of Spring. Don't you think? Loving the Spring weather, full of colors and perfect time for foodies, like me, to get inspired. 
Even though this Salad Bowl screams Spring and outdoors! There is a long story behind it.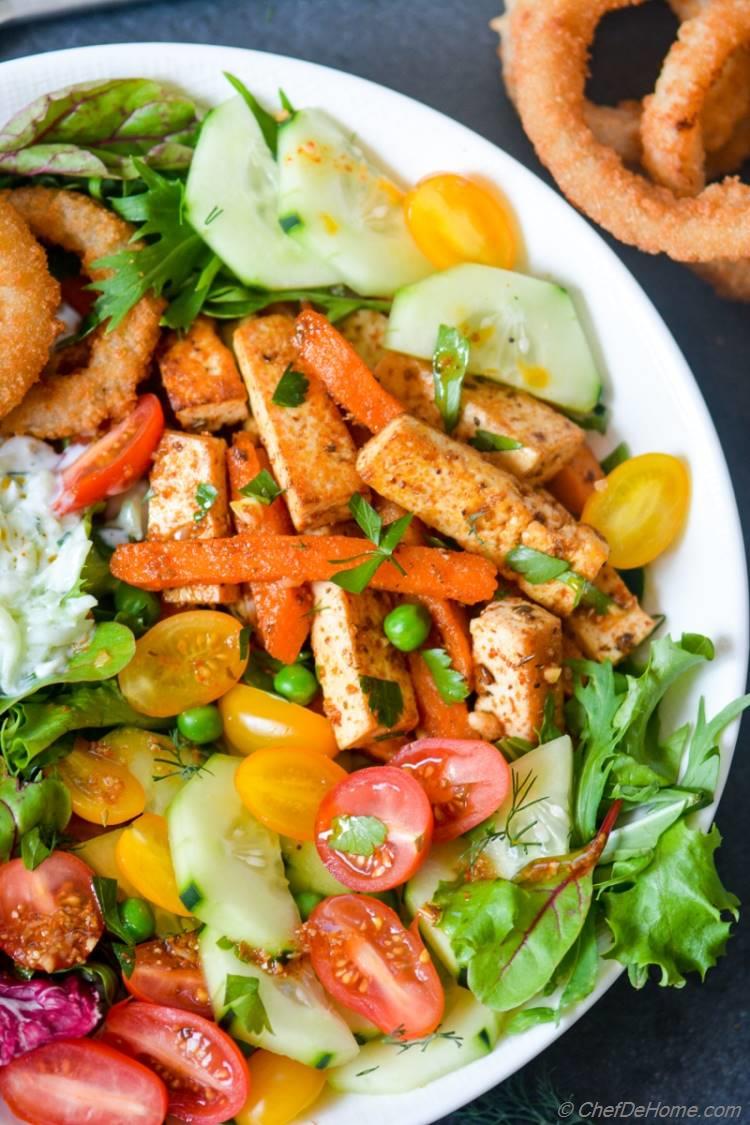 It all started with my husband, Vishal's love for Greek Shawarma. Whenever he found a Greek eatery selling chicken shawarma, we ended-up eating out the very same night! He claims, he even used to eat shawarma in his home town, Delhi, India. However, I tasted it first time in States only and since then, I often make chicken shawarma, for Vishal, at home.
I always felt, Shawarma tastes so good yet vegetarians can't eat it. So, how about some Tofu Shawarma??
You like that? I know! I know!
Vishal discouraged me at even first thought of it! My meat-and-potato guy is never on-board for vegetarian stuff. I'm sure, you can relate, every home has few meat and potato lovers. :) I won't mind that as long as plate is proportionate and balanced with good amount of vegetables and fiber enriched foods. Thank God, potatoes are veggies... (though, I think guys don't know that! lol! )
No matter what Vishal said..... I decided to make Tofu Shawarma anyways. And here I'm, sharing a delicious and meatless Shawarma Salad Bowl with you all!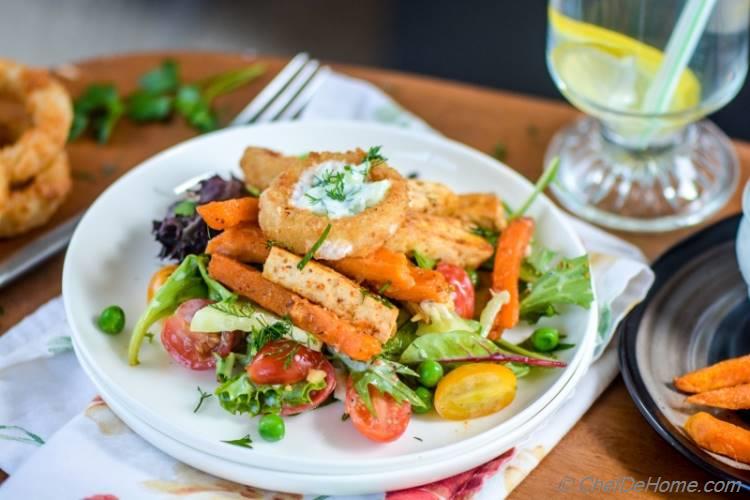 You know my love for salads. My salad boat today, inspired from vibrant colors of Spring, sailed with tofu, Fries and Onion Rings and went for a Mediterranean all-vegetarian tour! Thus, brings to you, this rather guilt free, sophisticated, fiber full salad with sweet potato fries and tofu Greek shawarma, loaded with beautiful colors of Spring, spices, and crunch of onion rings! That much and it is still meatless!
A standard, Greek style chicken shawarma plate has chicken, pita bread, fries, and a side of Greek salad. I planned all these flavors for my salad bowl inspiration, but no chicken or meat, and ton of flavor!
Speaking of which, when we headed for our bi-weekly groceries to Walmart, I grabbed few packets of Alexia Sweet Potato Fries and Onion Rings with Panko Breading and Sea Salt to add some pizzazz to my vegetarian salad bowl. I wanted to show my husband that I can capture his love for meat in a "Vegetarian (healthy) Shawarma Bowl" with lots of Spring flavors and surprisingly pleasant twist of texture contrast: Onion rings serving as crunchy croutons; and Sweet Potatoes Fries giving sweetness and heartiness to spicy Tofu Shawarma!
This recipe proves that Healthy and Delicious can co-exist! Rest, pictures are telling the story :)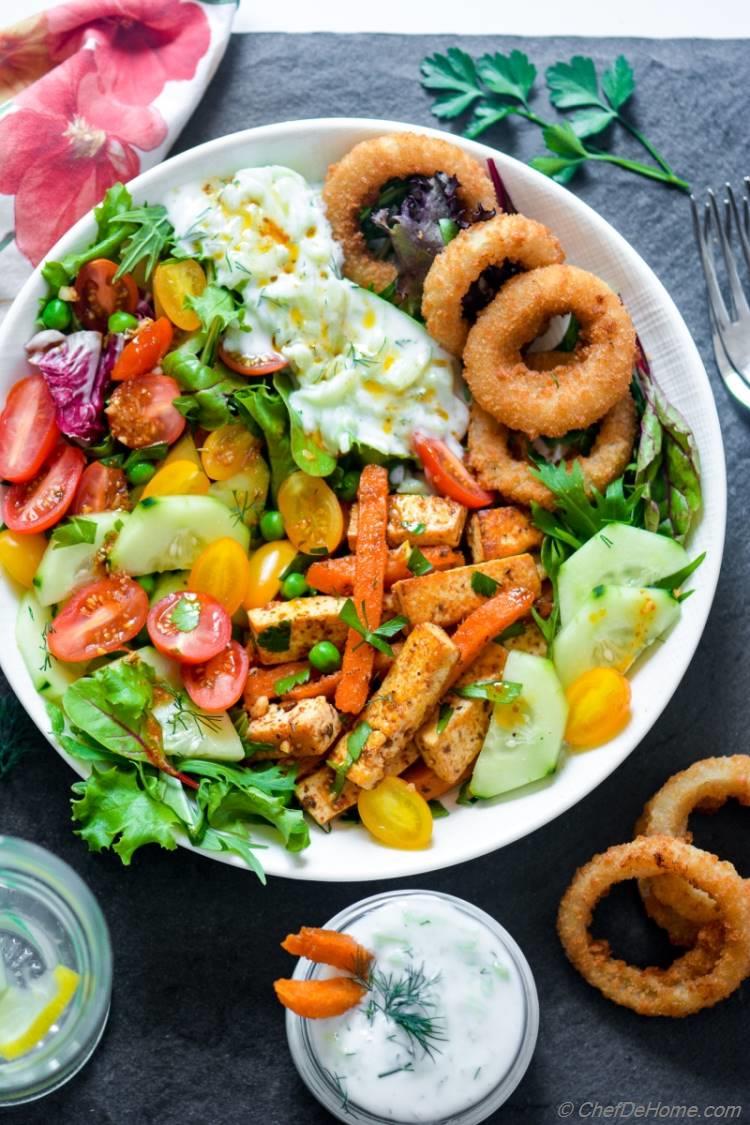 Well... I still need to share with you the happy ending... I made Shawarma Fries Salad Bowl for Sunday Brunch and who finished it even before I did? You guessed it! Vishal! My tofu hater, vegetable-taste-like-grass claimer, finished everything in the bowl. I have to say, the sweetness of fries really complemented the spicy shawarma and taste was heavenly together. Plus the crunch of onion rings on top was like crunchy croutons (much more flavorful than simple croutons). These onion rings made every bite hearty and scrumptious! Tzatziki Sauce gave this salad Mediterranean flavors and creaminess. I hardly felt the need of cheese. Feel free to use some feta if you like (staple Greek cheese).
I wonder! Why would I ever use bread croutons for salads! Why not use crispy Onion Rings?! Which was the best decision!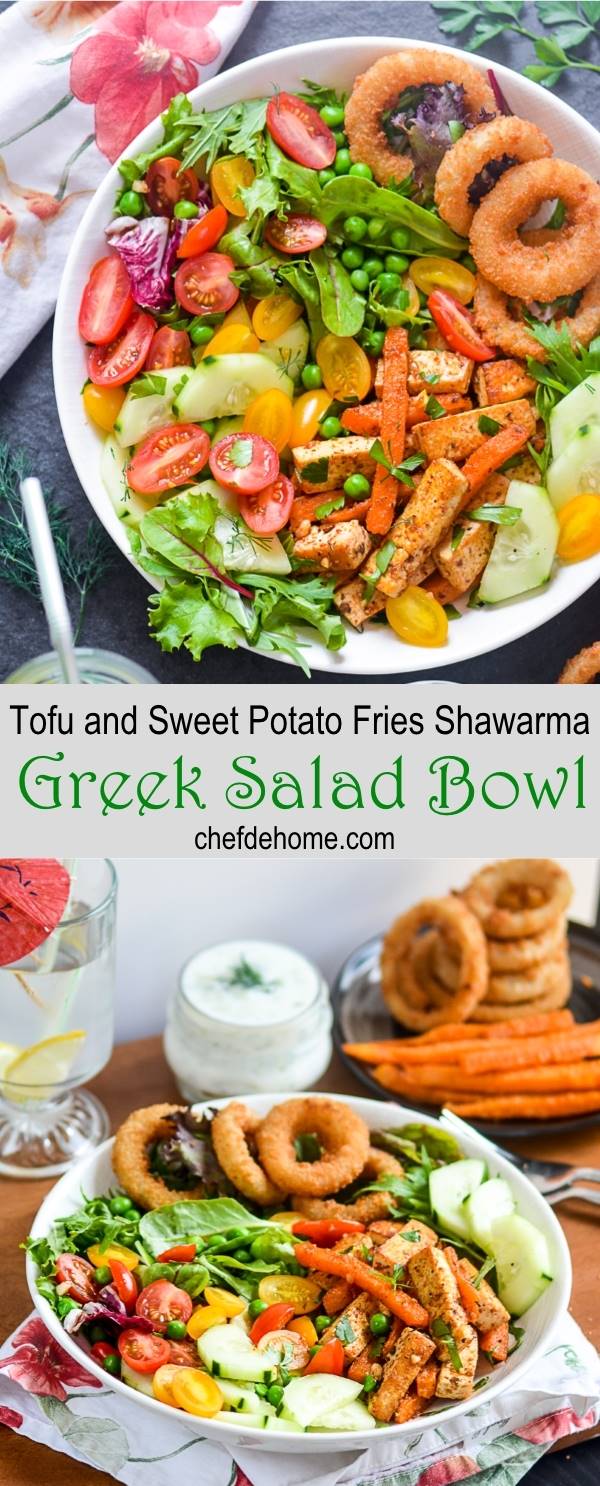 So, head over to your local store and grab Potato Fries and Onions Rings, then make this meatless, "Spring in a bowl" salad! All Meat-potato lovers in your family will love this! Promise!
Enough of me talking!!
You tell me! What are your favorite Spring Salads?
Have a great day!
Cheers!
Savita
Few more Spring-inspired recipes from my recipe repertoire:
Tofu and Sweet Potato Fries Shawarma Salad Bowl with Onion Ring Croutons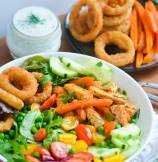 Total Time:
Prep Time:
Cook Time:
Cuisine:
American
(

Salad

)
Difficulty:
Easy
Yields:
6 Servings
- Serves:
6
(

4 substantial or 6 side servings.

)
Ingredients
Tofu Shawarma Marinade
Greek Salad Bowl
Tzatziki Sauce
Smart Swap: You can also replace Tofu with (lean animal protein) - poultry (Turkey) or fish (Salmon).
Directions
1.

To make Tzatziki Sauce: In a wide bowl, take all tzatziki ingredients except salt and pepper. Whisk to mix everything together. Add black pepper per taste.

Additional Notes:

You can always use Greek Yogurt for this sauce. But I ended up adding about 1/4 cup of water to get desired consistency. So, even plain creamy non-fat yogurt (with no added water) works okay for me!

2.

Cover and refrigerate Tzatziki Sauce. Add salt, just before using.

3.

Preheat oven at 425 degree Fahrenheit. While oven is preheating, marinate tofu starting with mixing all Shawarma Ingredients in a wide bowl.

4.

Slice tofu into any desired size. I prefer thick french fries cut. Add to marinate and leave aside.

5.

Bake Alexia Sweet Potato Fries: While tofu marinates, line a baking sheet with parchment paper. Arrange Alexia Fries in a single layer and bake for 10-12 minutes, until crispy, stirring halfway through cooking time.

Additional Notes:

I have used half packet of Alexia Sweet Potato Fries with Sea Salt for Shawarma Tofu Fries Salad. You can also bake whole packet and serve remaining half, on side, with Taztziki sauce.

6.

Bake Alexia Onion Rings: Once fries are baked, remove fries in sheet lined with cooling rack. Lower the oven temperature to 400 degrees Fahrenheit to bake onion rings. Arrange onion rings in a single layer on 1 or 2 baking sheet lined with parchment paper.

7.

Bake onion rings for 15-18 minutes until crispy brown. Turn them once after 10 minutes of baking, then continue baking until crispy, about 5-8 minutes.

8.

Make Tofu Shawarma - Heat a wide saute pan, add marinated tofu and cook until crispy from all sides (about 2 minutes each side). Reserve any remaining marinating liquid. Add crispy Alexia Sweet Potato Fries and mix into the tofu shawarma. Remove from heat, add remaining marinate, coat well and set aside for flavors to marry.

9.

Assemble and Serve: In individual bowls, Or in a wide, Party-style Salad Platter, arrange spring greens, cucumber, tomatoes, and green peas, then top with Tofu and Fries Shawarma, then finish with crispy onion rings and drizzle of fresh cooling taztziki sauce. Serve remaining fries, onion rings and sauce on the side to add use per personal preference! Enjoy!
DID YOU MAKE THIS RECIPE?
Tag
@SAVITACHEFDEHOME
on Instagram and hashtag it
#SAVITACHEFDEHOME
© Chef De Home. Post content including video and photos are copyright protected.
We Think You'll Love