Chipotle Seasoned Crispy Baked Potato Fries
Posted On:

Apr, 23
| Author:

Savita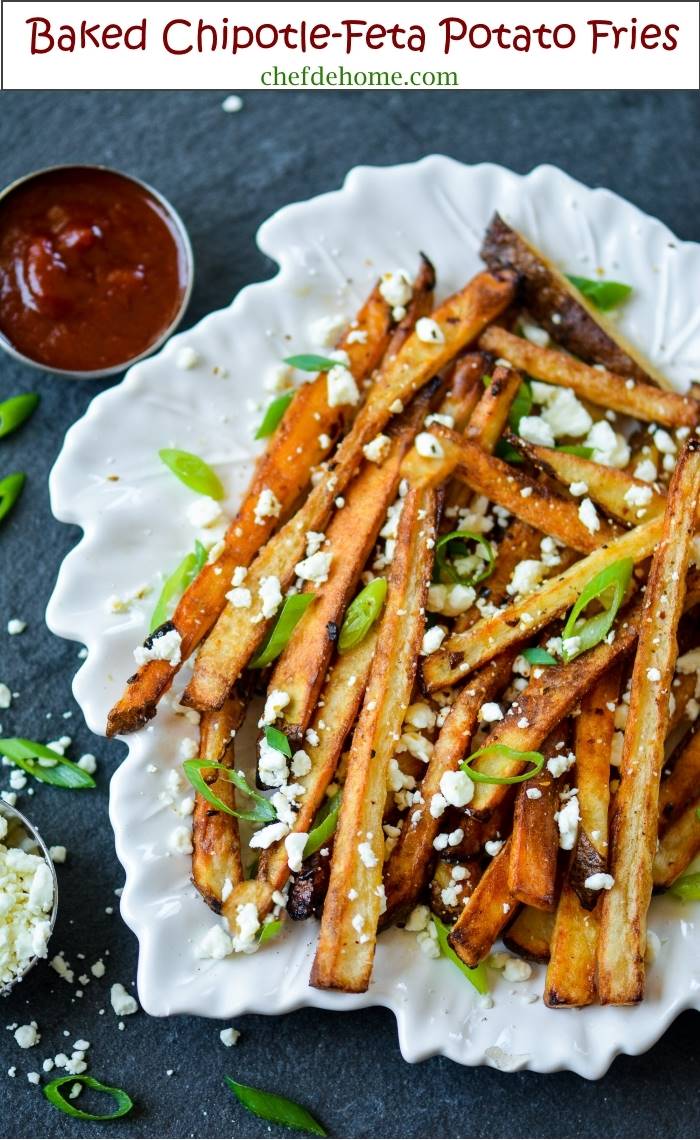 Sharing with you, baked, crispy, hand-cut potato fries with subtle smokey taste of chipotle. These fries are one of my favorite way to indulge in a starchy snack/side dish without worrying too-much about oil.
I love paring these fries with homemade grilled burger or a grilled cheese sandwich. Since I'm always so so lazy to take oil out for frying things.... baked fries has become my favorite choice to serve fries with sandwiches/burgers. Often, when I bake'em for lunch, I don't get time to take pictures. So, yesterday, I just made'em specially to share the recipe with you.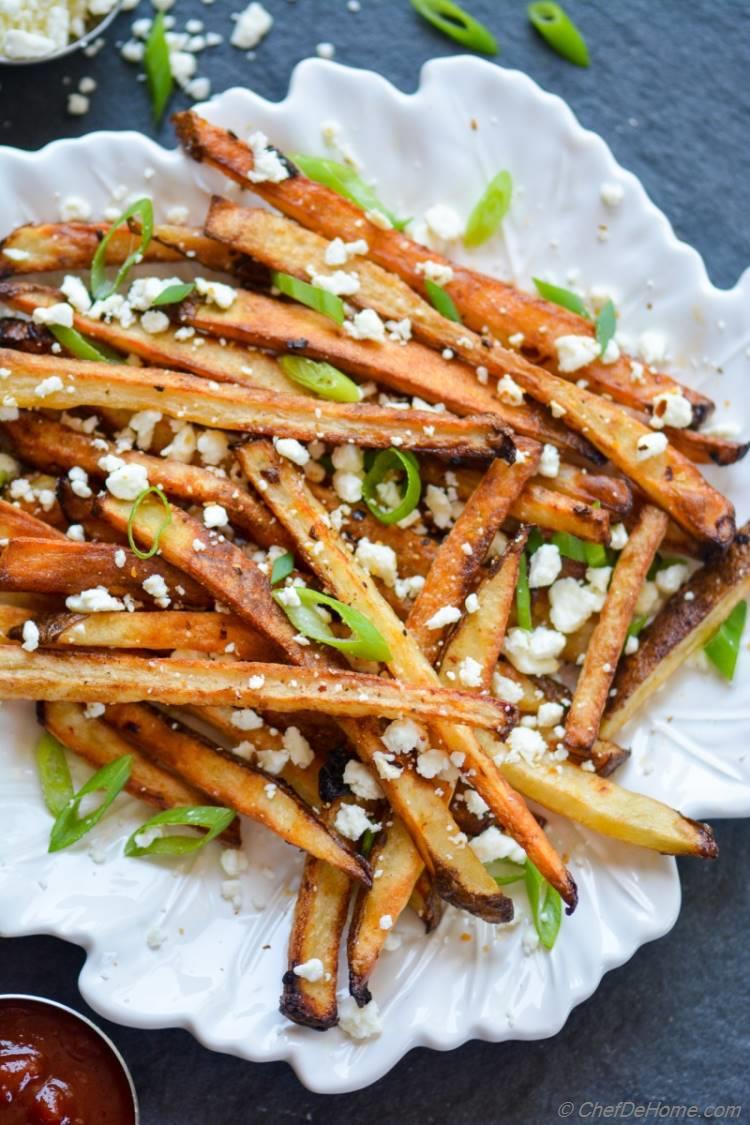 I'm sure you can tell from pictures that this batch of fries has marginally recovered from disaster...... well.... yesterday was my kitchen-chaos and disasters day and outcome was this, just a small bunch of fries and dinner (of course). Just to continue my spirit of blogging, I still managed to click few pictures and share the recipe with you.
Whenever, I'm planning to make a recipe for blog, I also finish dinner work on the side to make most of my time. Yesterday also, I thought, I'm gonna wait for fries to bake..... so why not finish dinner-food-prep in mean time.  I was planning to make Butter Chicken for dinner. I opened fridge and found no yogurt to make marinade. I switched gear and decided to make Chicken Tikka Masala instead. To my surprise, after I thawed chicken, I found it was chicken thighs not bone-less chicken (often, for chicken  masala,  I often use bone-less chicken.) Since de-bone chicken thighs were not going to yield much meat, I decided to use thighs only.
By this time, I also cut the fries and spread'em on paper towel to dry out, coated in chipotle and put in oven.  While fries were in oven, I decided to make marinade for chicken and while grating ginger, I also grated my middle finger :( Anyways..... I wore glove, finished marinade and then went to find me a bandaid... when returned to kitchen, fries were done and I was rather 1 minute late to take'em out. In worry of over-burnt fries, I hurriedly took out sheet tray with kitchen towel and it happened again...... I burnt my thumb with hot sheet tray.... pain was so intense or may be I just not recovered from grated hand yet...... that I left the tray in oven and rushed to apply some ointment before I get boils...... Few moments later, when ointment gave me some relief, I realized, my fries will be dead by now.... and so were they.... burnt at edges and few little one totally gone! And my mental chaos was at it's peak!
Some days are just like that...... I was asking myself, Why the hell do you try to finish everything at one time! and.... I'm still waiting for an answer....
Any ways, so I took some simplistic clicks of remaining fries (after recovering from my kitchen disaster slash chaos, of course)..... but, I can tell you they taste great! I promise to share more pictures whenever I get to make'em again. :)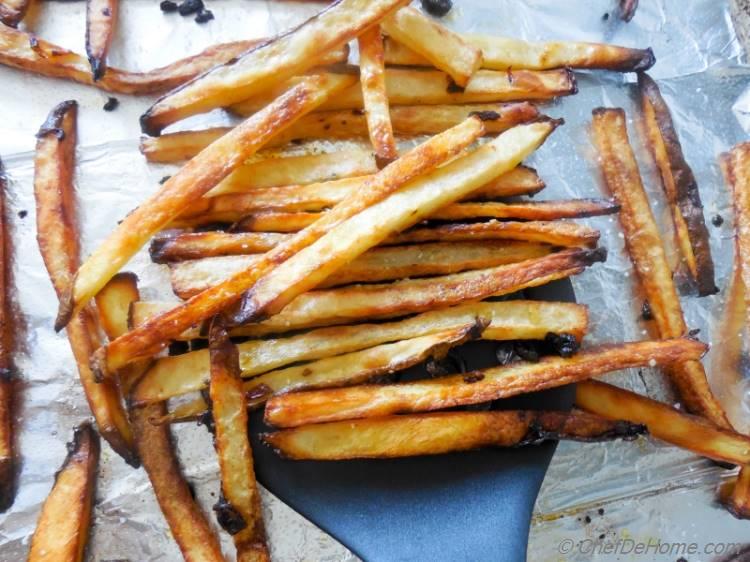 Secret to crispy (not burnt :) ) potato fries is in four simple things:
1. Making sure potato are cut even and are fully dry before going to oven. You can also sprinkle some salt on cut potatoes and leave for 10 minutes, then rinse and dry completely to get rid of more moisture. 
2. Oven should be nicely pre heated.
3. Use a sheet try and foil. Aluminum will heat up with sheet tray and make fries crispy. Don't use silicon sheet.
4. Use a good coat of oil on potato. So that oil can make exterior of fries crispy yet inside remains tender and delicious.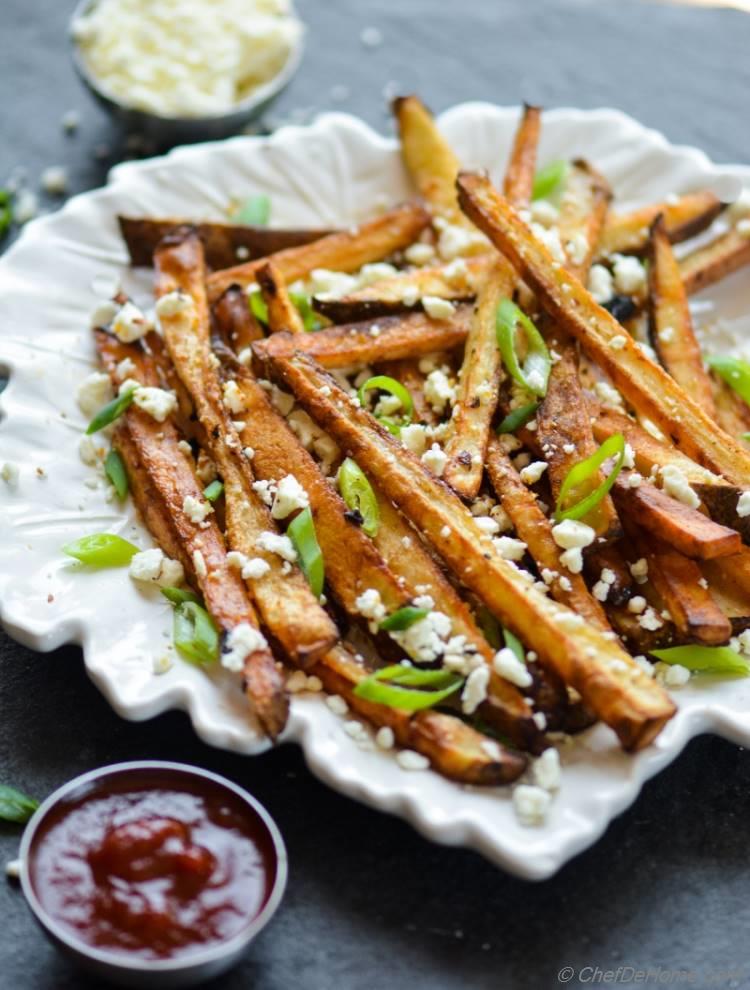 PS: My kitchen disaster did not end there..... You know, I could not even eat these fries. As I always keep these snacks, that I cook for blog, to eat with Vishal....... I tasted few fries and left rest covered on kitchen counter to reheat and eat, with evening tea, with Vishal. Due to a weird incident, I ended up spraying "Insect Repellent" in kitchen and there by had to throw away/wash all what was on kitchen counter.... This part of the story will continue in my next post, as I can see, it's noon and I have still not posted recipe.... :)
To be continued....
Have a great day friends!
Cheers to Home Cooking and once-in-a-while Kitchen Chaos ;)
Pairing Ideas:
Chipotle Seasoned Crispy Baked Potato Fries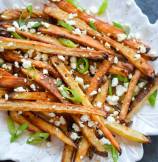 Total Time:
Prep Time:
Cook Time:
Cuisine:
American
(

Side Dish

)
Difficulty:
Easy
Yields:
4 Servings
- Serves:
4
Ingredients
Fries
Toppings
Smart Swap: Use Sweet Potato or Parsnip instead of Potatoes.
Directions
1.

Preheat oven to 450 degrees Fahrenheit (230 degree C). Wash potatoes and slice into thin long strips. Keep cut fries soaked in water while you slice rest of the fries.

2.

Transfer soaked fries on 2-3 layer of paper towels or clean kitchen towel to soak away all the moisture.

Additional Notes:

Moisture can result in not-so-crispy fries. So, it is important to dry fries fully.

3.

While Fries are drying, in a wide bowl, add olive oil, fine minced chipotle, lemon juice and salt. Mix to combine. Alternatively, you can also process everything in food processor to a fine puree.

4.

Add fries to bowl and coat well.

5.

Line two baking sheet with aluminium foil. Spread fries in single layer and bake in preheat oven for 25 minutes. Make sure to turn fries half-way through cooking.

6.

Transfer to serving bowl. Sprinkle salt, feta and chopped scallion on top and serve hot with ketchup on the side.
DID YOU MAKE THIS RECIPE?
Tag
@SAVITACHEFDEHOME
on Instagram and hashtag it
#SAVITACHEFDEHOME
© Chef De Home. Post content including video and photos are copyright protected.
We Think You'll Love