Pastitsio (Greek Lasagna)
The best ever Pastitsio, Greek Lasagna with layers of rich Greek Béchamel, aromatic Lamb Meat Sauce, and tubular pasta. Perfect for a comforting baked pasta dinner. You will love the flavors.
Posted On:

Sep, 21
| Author:

Savita
Lasagna from Sunny Greece!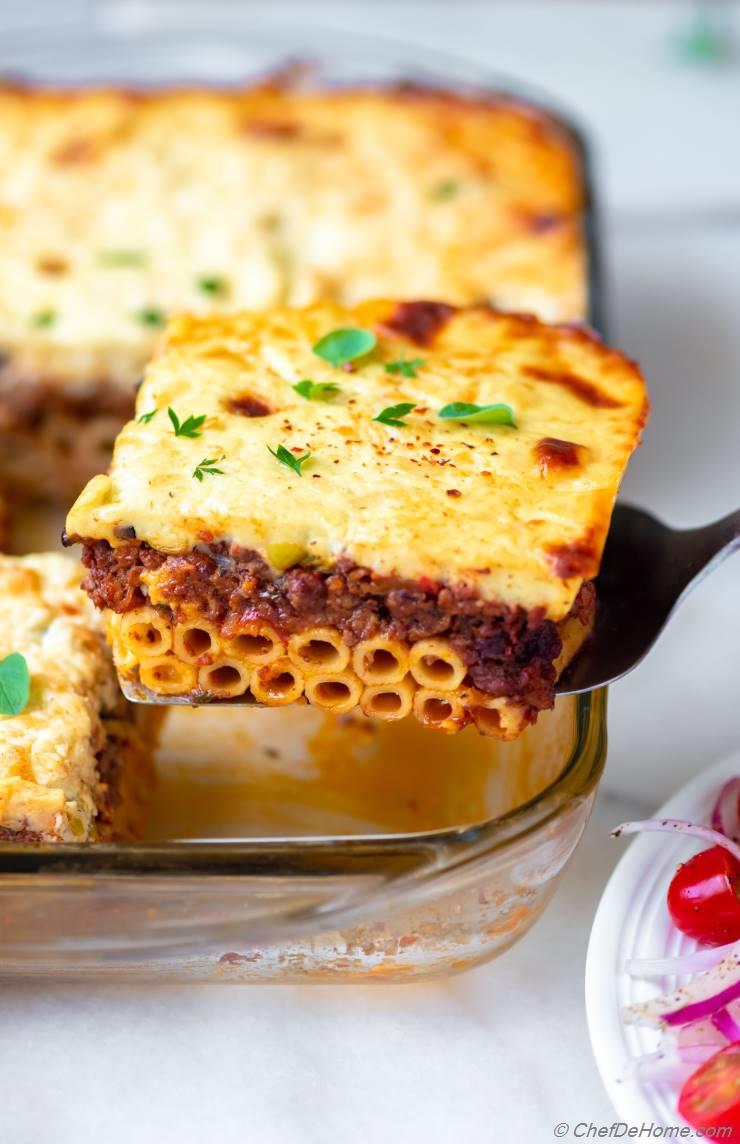 Pastitsio is Greek version of Italian Lasagna; The layers of rich Greek Béchamel, aromatic Lamb Meat Sauce, and tubular pasta translate to a lasagna that looks delicious and tastes even better! The labor of love-for-cooking, I look forward to Pastitsio as the aroma of cooking spiced meat sauce fills my kitchen. Once Pastitsio is out of the oven, it is totally irresistible! 
Also sharing easy substitutes to make Pastitsio quick with most ingredients from your pantry. How good does that sound? (read on to know more) 
Let's get started and make Greek Lasagna for dinner!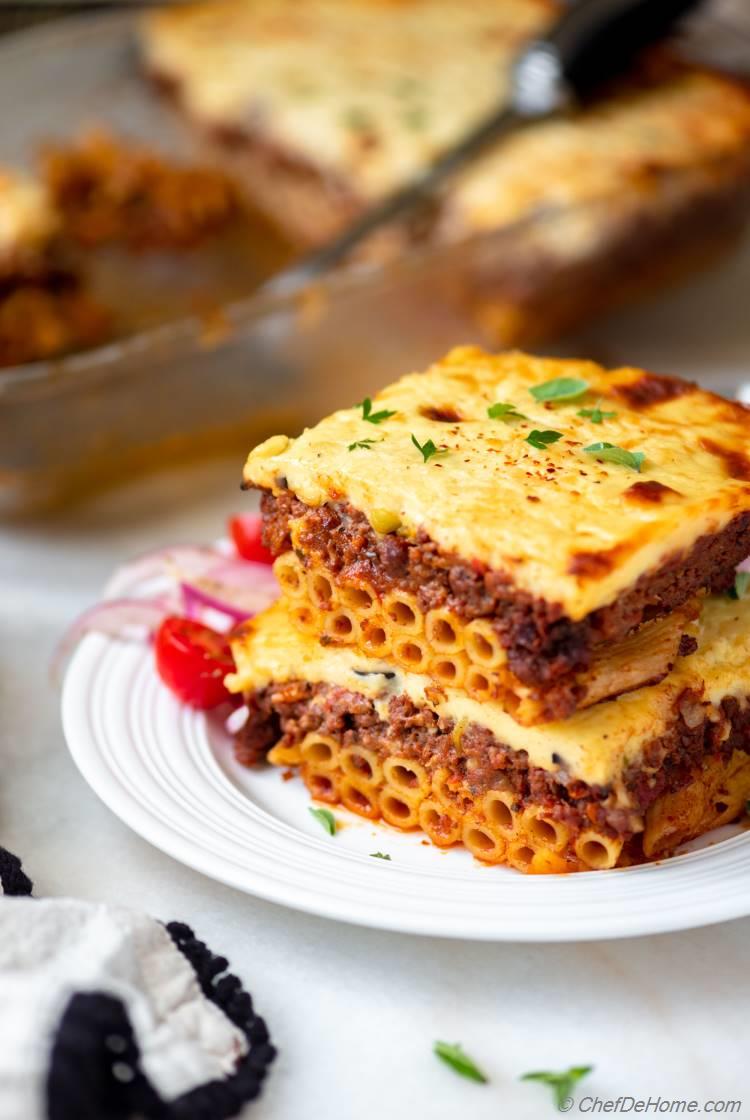 Pastitsio
I first shared Pastitsio, on the blog, 8 years ago. Since then my Pastitsio recipe and photography skills have come a long way. :) Last week when I made Pastitsio, I decided to also refresh the recipe on the blog. A major difference in old and new recipe is that in old version, I used lemon bread crumbs topping before baking and did not work to create neat three layers lasagna. 
This recipe has one of our family favorite component - lamb meat sauce. Trust me, the meat sauce is so delicious that you can even enjoy it directly over fresh cooked pasta. It tastes like a delicious Meat Bolognese Sauce flavored with warm spices. We love this sauce on spaghetti for Pasta Nights. 
There are three main parts of Pastitsio:
Lamb Meat Sauce 
Rich Greek Béchamel Sauce
Pasta
Lamb Meat Sauce 
This Lamb meat sauce recipe is bursting with flavor of cinnamon, and herbs - oregano and thyme. Plus I cook the the meat in red wine and marinara sauce (our favorite is Rao's Marinara). This way meat sauce is loaded with flavors of rich tomato sauce. I specially LOVE the aroma of meat cooking with red wine, and cinnamon.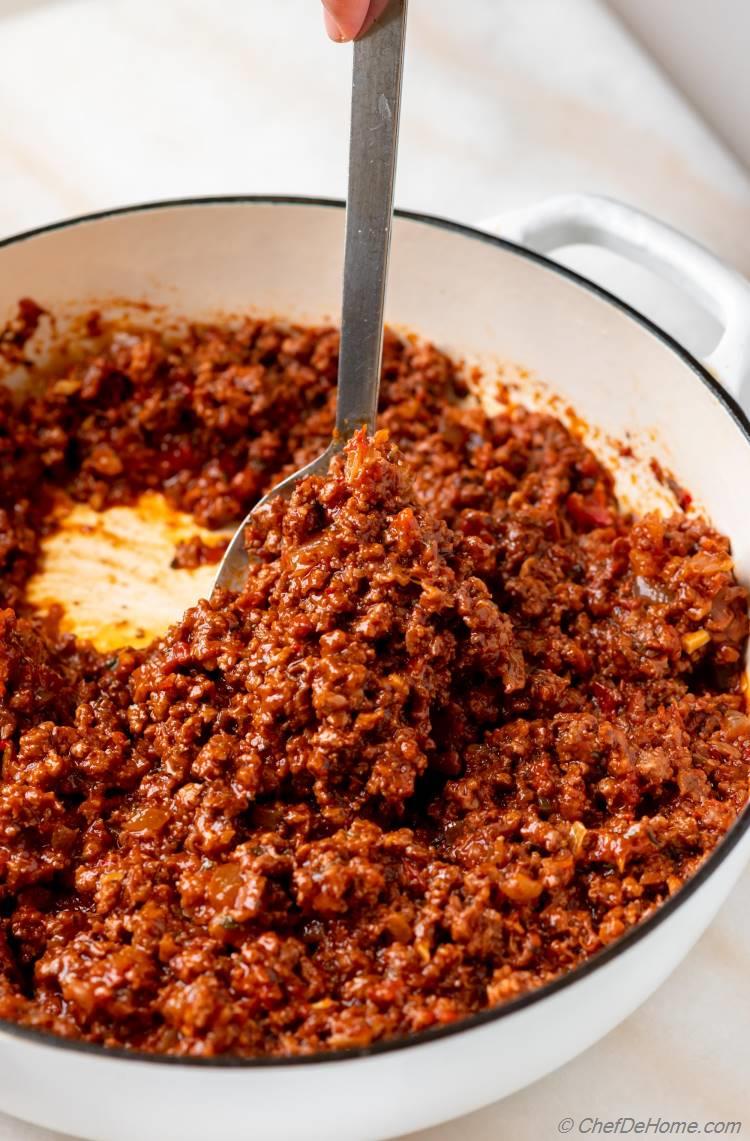 When cooking meat for meat sauce; I drain the liquid collected in the pan (that resulted from browning the meat). This helps three ways:
Spices don't boil in the meat liquid; instead are toasted in meat fat . This simple step will make a huge difference in flavor of meat sauce.
Meat sauce thickens well which is a key to good Greek Lasagna.
The flavor of tomato sauce stands out as this is the only liquid in which lamb cooks.
A perfect Meat Sauce for Pastitsio:
Here is how I make sure meat sauce is perfect to layer in this Greek lasagna:
Less to No liquid in the Meat Sauce: The liquid of meat sauce should be mostly cooked out. Less liquid in sauce means neat layers of Pastitsio Lasagna. 
Cool Down Sauce: Cool down the sauce before layering in lasagna. This prevents overcooking and steaming of ingredients when layered together. For best results, cooked ingredients such as meat sauce and béchamel should be lukewarm but not out-of-pan hot.  
Tip: Sometime, I cook a double batch of the meat sauce. To serve a portion later in the week with spaghetti and cheese. Comfort food at it's best! 
Rich Greek Béchamel Sauce
Greek Béchamel sauce is the key to make Greek Lasagna. Unlike Italian Béchamel, Greek Béchamel is thick and rich yet has balance of flavor. It is thickened with egg yolks to make a silky top layer of Pastitsio. At the same time, Greek yogurt in the Greek Béchamel cut the richness of egg yolks.
Silky sauce melts in mouth and the light tang of yogurt stands out in every bite of Pastitsio.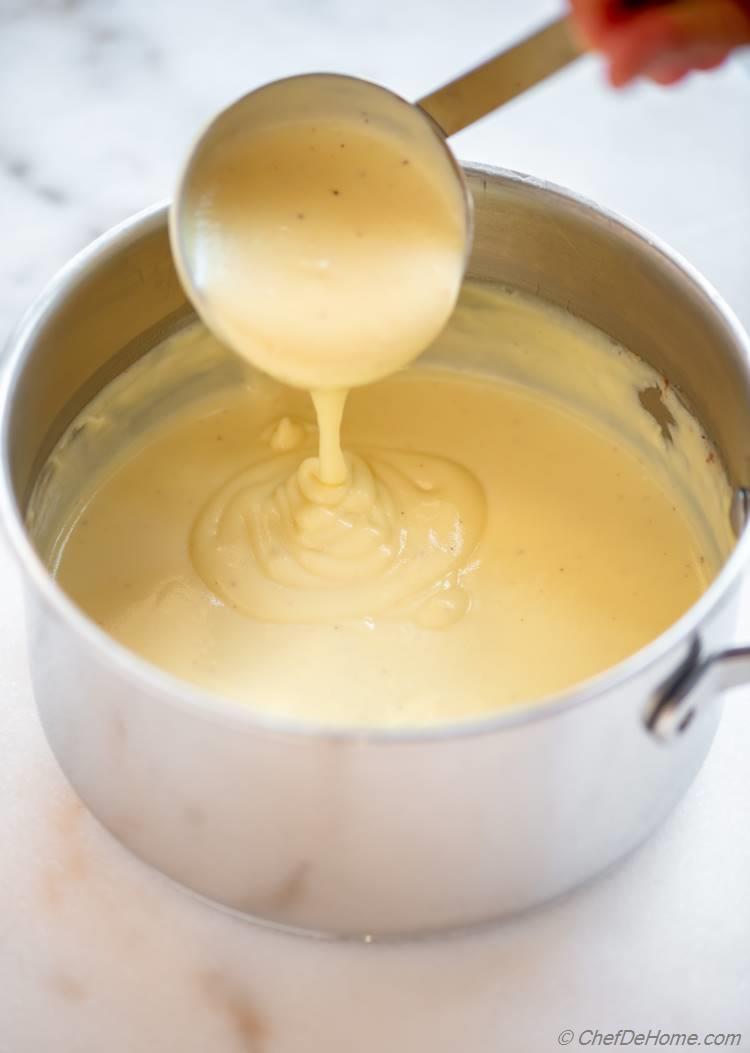 I also add diced olives and pepperoncini on top of the meat sauce. These are not traditionally used ingredients in Pastitsio but bring out the flavor of lasagna even better. I love a rich bite of Pastitsio balanced with few bits of chopped olives and peppers. 
Pasta
Traditionally Pastitsio Lasagna is made with Bucatini Pasta. Bucatini (No. 4 used for Pastitsio) is long spaghetti like pasta which is hollow inside.  However, I seldom find this pasta bucatini in local grocery stores. So instead of bucatini, I use mini penne rigate.
Here is why I substituting Bucatini with Penne Rigate (No. 72 from Barilla Pasta) works for Pastitsio:
Availability - I always have Penne Pasta in pantry.
The ridges on Penne Rigate and smaller tubular shape holds meat sauce very well. (In my experience, better than bucatini)
I use No. 72 Penne. It's more cylindrical with narrow hollow tube than regular penne. There is no visual difference in the slice of Pastitsio with bucatini vs penne rigate 72.
How to Make Pastitsio?
Often when I'm cooking Pastitsio for an easy weekend dinner, I don't worry about even layers, and use any pasta I have in hand. I love to make meat sauce and béchamel a day ahead. This saves a lot of time on night of Pastitsio-for-dinner.
If planning to make and serve Pastitsio the same day. I follow steps exactly as laid out in the Recipe Card. That is; cook the meat sauce. While meat sauce cools down, cook the pasta and béchamel sauce. 
Once the sauces and pasta are ready. Assembly is very easy. Here's how I assemble Pastitsio: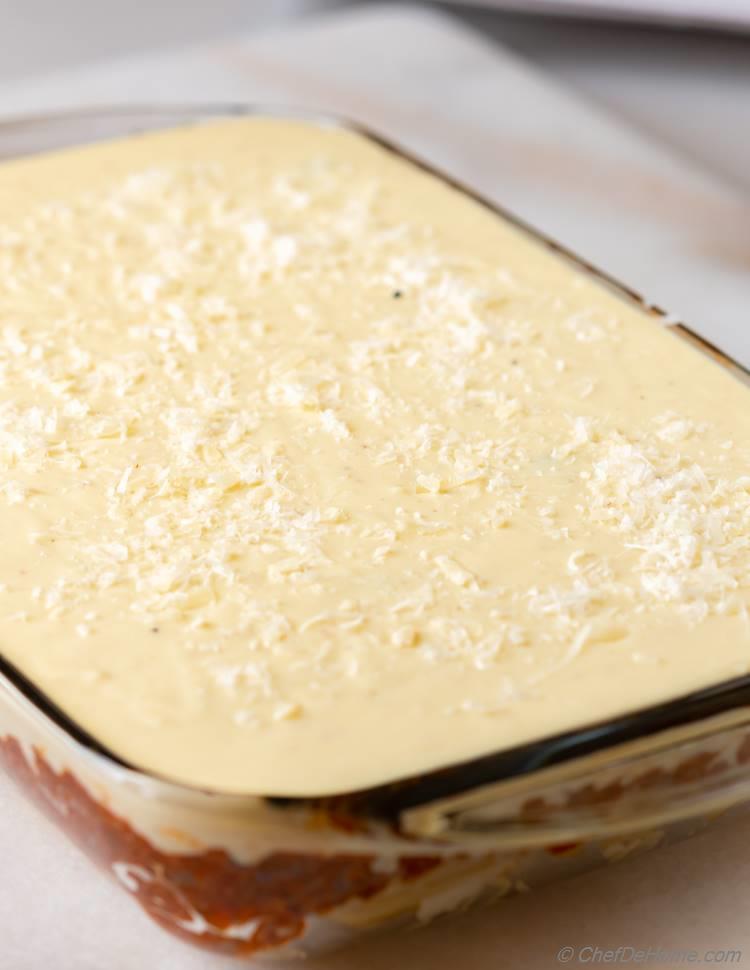 Layer Pasta: Start with layer of cooked pasta at the bottom. For perfect layer of pasta, whether you use penne of bucatini, arrange pasta evenly. Take same time to align the pasta as shown in pictures. Spread 1/2 cup of béchamel sauce on pasta layer. Press it down with pasta. This helps pasta stick together. And yield beautiful looking layers of Pastitsio.
Layer Meat Sauce: Spread meat sauce on top of pasta layer. Evenly.
Top with chopped olives and peppers. (my idea to balance the richness of rich Greek sauce). Trust me, you will LOVE how these two balance the flavors. Highly recommended.
Layer Béchamel Sauce: Last goes the layer of béchamel sauce topped with sprinkle of fine grated pecorino romano. It is important that cheese is fine grated. 
Bake until top is gold brown. Check Recipe Card for details and Recipe Notes for key things to remember. (a quick video coming soon)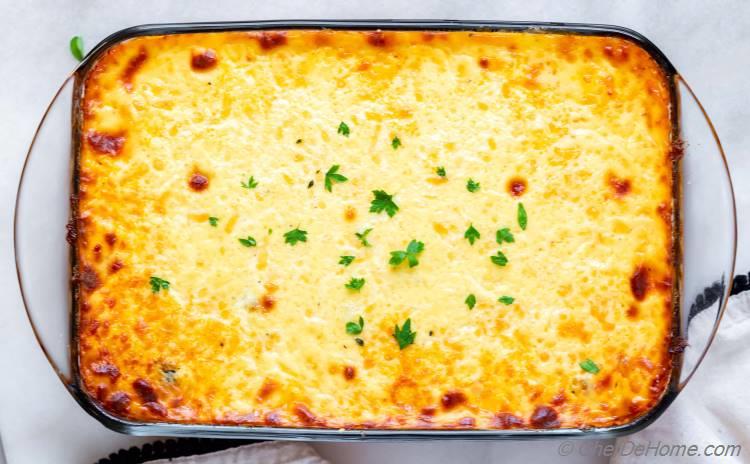 TIP: Pastitsio  is a 100% make-ahead recipe. In-fact, when planning to make Pastitsio for a dinner party, I assemble and bake Pastitsio a night before. Reheat in oven just before serving. Just like you would re-heat any Italian Meat Lasagna. 
When Making Pastitsio:
Few important things that I learned with experience.. When making Pastitsio, make sure to:
For best results; use a 3 quart, 2-2.5 inch deep baking dish. Deep baking dish will create better (deep and thick) layers.
Use finest grater to grate the cheese. Don't buy pre-grated cheese as it does not melt well. Coarse grated cheese also does not melt well.
Layer some béchamel sauce on the pasta layer to make pasta layer hold better. This helps in even slicing and even looking layers of Pastitsio.
Let Out of Oven Pastitsio rest for at-least 20-30 minutes before slicing. (Longer the better.) This gives layers time to settle and slices come out neat.
Don't garnish until ready to serve. Hot out-of-oven lasagna will quickly wilt the fresh herbs.
Pantry Substitutes:
I always focus to share recipes that you make your own. In my opinion, home cooking deserves the options to fit per home cook's preference. Don't you think? So if in hurry, don't worry about making everything from scratch. 
Here are few of my favorite short cuts when I'm time pressed.:
 Buy ready to use béchamel. Before using, heat sauce and then take off heat. Mix in "Finish Sauce" ingredients as described in the Recipe Card below.
Use your favorite style of pasta. Specially if you are not after layer of pasta looking like pictures of Pastitsio. (even I use linguine and serve it as baked pasta instead of lasagna.)
Use any kind of meat sauce. If you don't prefer lamb, make sauce with ground turkey, ground chicken. Even a vegetarian sauce such as my Mushroom Bolognese will work for vegetarians.
Simply cook meat sauce and béchamel in advance. (Both will stay good in refrigerator for 2-3 days.) On day of cooking, just par-cook pasta, assemble and bake. Warm and comforting Pastitsio Baked Pasta for dinner!
Happy Cooking!
Pair with Pastitsio: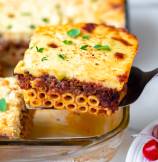 Total Time:
Prep Time:
Cook Time:
Cuisine:
Mediterranean
(

Pasta, Dinner, Main Course

)
Difficulty:
Intermediate
Yields:
8-10 Servings
- Serves:
8
Ingredients
Meat Sauce
Béchamel Sauce
Pastitsio
Garnish (optional)
Directions
1.

Prepare Meat Sauce for Pastitsio

:

Heat oil in large pot. Add onion and sauté until slightly brown at edges. Add ground lamb with 1/2 tsp of salt and cook breaking often until meat is no longer pink (3-4 minutes). Take pot off heat. Tilt and drain excess water with a ladle. Return back on medium-high heat. Add wine and let wine cook off. (2 minutes)

2.

Simmer Meat Sauce

:

Add spices, mix well. Add marinara sauce with 1/2 tsp of salt and bay leaf. Mix well. Simmer until lamb is tender and most of the liquid has been absorbed. (about 45 minutes to an hour) Set aside to cool down.

3.

Cook Pasta

:

Cook pasta 1 minute less than the al dente time mentioned on the pasta package. Once cooked, drain pasta, transfer to a wide bowl. Toss pasta with 1/4 cup of pecriono romano cheese and set aside.

4.

Prepare Béchamel Sauce for Pastitsio

:

Microwave milk in a microwave safe container. Set aside. In an heavy bottom sauce pan on medium heat, gently melt butter. (don't let butter brown.) Sprinkle flour on butter. Cook flour stirring often until flour is cooked but not brown, add /14 of warm milk and use whisk to mix so that milk mix in flour-butter mixture without lumps. Now add remaining milk and keep whisking until sauce is thick and leaves a smooth, thin coating on spoon (about 20 minutes).

5.

Finish Sauce

:

Take sauce off heat. Mix in grated pecrino romano, nutmeg, salt, black pepper. Whisk until cheese melts into the sauce. Add egg yolk, one at time. Mix well after each addition until no sign of yolk remains. Take 1/2 cup sauce out and set aside. Whisk beaten yogurt into the remaining sauce. Mix well to combine. Taste and adjust seasoning. Set aside.

6.

Preheat Oven

:

Preheat oven at 350 degree Fahrenheit.

7.

Assemble Pastitsio

:

In 3 quart deep (2-2.5 inch deep) lasagna baking dish, add pasta and spread in an even layer. Top pasta with 1/2 cup of reserved béchamel. Spread evenly and gently with hands. Top with meat sauce spreading evenly. Sprinkle diced olives, peppers and crumbled feta (if using) on the top. Top it with all remaining béchamel. Spread remaining grated cheese on the top.

Additional Notes:

For good looking slices, see note 5 and 7.

8.

Bake Pastitso

:

Bake in pre-heated at 350 degrees Fahrenheit for 50-70 minutes Or until top is golden brown, bubbling, and very so slightly pulling away from the edges. Let rest for at-least 20 minutes before slicing. Serve garnished with fresh herbs.

Additional Notes:

See Note 7.
Savita's Notes:
Ground Lamb: I used 80:20 (meat to fat ratio) ground lamb for this recipe. 
Yogurt: Please only use thick Greek yogurt. Yogurt should not be very cold. Leave it out of the refrigerator when starting to make sauce. Drain any excess water and beat with spoon to break lumps before adding to the sauce.
Cheese: Grate cheese with fine grater. I used lemon zester. Divide grated cheese into three parts. 1 cup for sauce; 1/2 cup for pasta; 1/2 cup for the topping.
Pasta: I used Barilla Penne Rigate No. 72. Traditionally, Bucatini No. 4 (tubular long pasta) is used for Pastitso. Penne Rigate No. 72 is narrow than regular penne. It is perfect substitute for bucatini; plus the ridges hold sauce well.
For Even Pasta Layer: For even good looking pasta layer (as you see in the pictures)
a. Arrange pasta evenly. Take same time to align the penne as shown in pictures.
b. Spread 1/2 cup of béchamel sauce on pasta layer. Press it down with pasta. This helps penne stick together. Yields beautiful looking layers of Pastitsio.
c. Once baked, wait longer before slicing the pasta. Showing picture in description for layers cut after 30 minutes of baking vs half a day.
Bake: Bake Pastitsio until béchamel layer sets, is golden from the top. I end up baking for 60 minutes up-to 75 minutes. 
Slice: Let baked Pastitsio rest for at-least 20-30 minutes before slicing. Longer the better. As this gives layers to settle and slices come out very neat.
Garnish: Don't garnish until ready to serve. Hot out-of-oven lasagna will quickly wilt the fresh herbs.
For best results; use a 2.5 inch deep baking dish. I used a 2 inch (3 quart) baking dish which worked fine but 2.5 inch will have even better (deep and thick) layers.
DID YOU MAKE THIS RECIPE?
Tag
@SAVITACHEFDEHOME
on Instagram and hashtag it
#SAVITACHEFDEHOME
© Chef De Home. Post content including video and photos are copyright protected.
We Think You'll Love