Chicken Bellagio - Cheesecake Factory Copycat
A low-carb take on Cheesecake Factory's Chicken Bellagio
Posted On:

Jan, 31
| Author:

Savita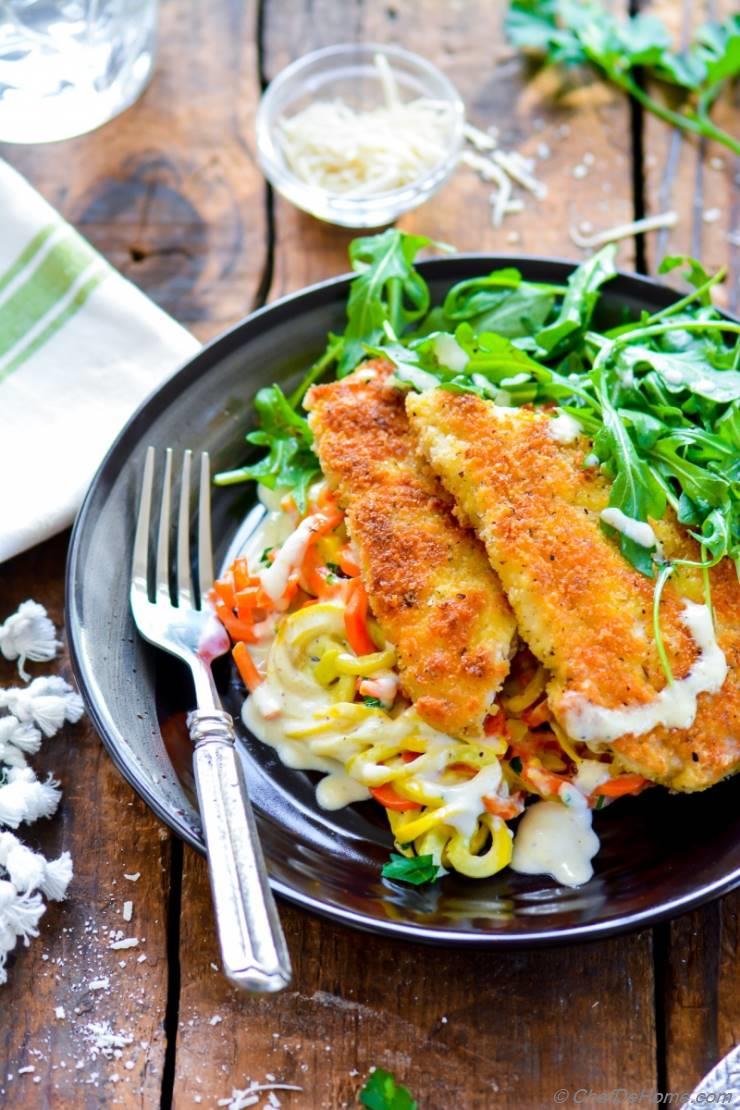 Chicken Bellagio - A popular Cheesecake Factory chicken and pasta dish made with crispy pan fried chicken, spaghetti coated in Parmesan cream sauce served with side of crisp arugula salad.
Friends, doesn't this sound like you reading the Cheese Cake factory menu and about to order a 30+ dollar dinner for Valentine's day?
Well, good news!! Now, you can make same Chicken Bellagio and Pasta dinner for your loved one at home and that too way under budget and low-carb as well!! drum-rolls!!!
Sounds like somebody keeping New Year promise pretty well ;)
When I first looked at this dish in Cheesecake Factory menu, I felt like I'm in Vegas.... in hotel Bellagio! I have a strong feeling that it's name is inspired from Bellagio! Most likely it means - A grand Vegas-style chicken dinner.
I must say chefs at Cheesecake Factory have really made this recipe grand. I mean, look at the crispy pan-fried moist all-white-meat chicken, then pasta coated in creamy rich parmesan cream sauce and peppery arugula to make a complete delicious meal. Sounds pretty grand! Isn't it?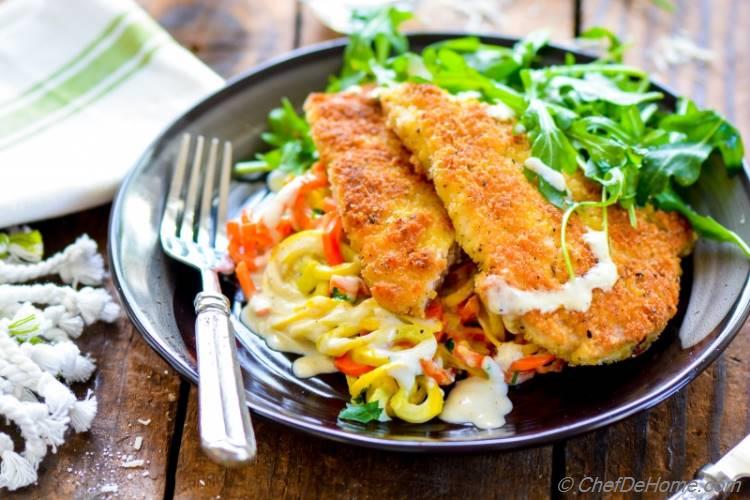 My First Veggie-Pasta Recipe
I think... I'm very late in bringing Zoodle a.k.a veggie-spiralized-pasta to my blog. I had spiralizer in mind for long time to cut-out carbs from our diet. Also of course to share my all new exciting recipe adventures with you. Honestly, it was also important to bring Vishal on-board before I start making zoodle with everything. :-) He is ready, finally!
So get ready for a lot more low-carb pasta-inspirations this year!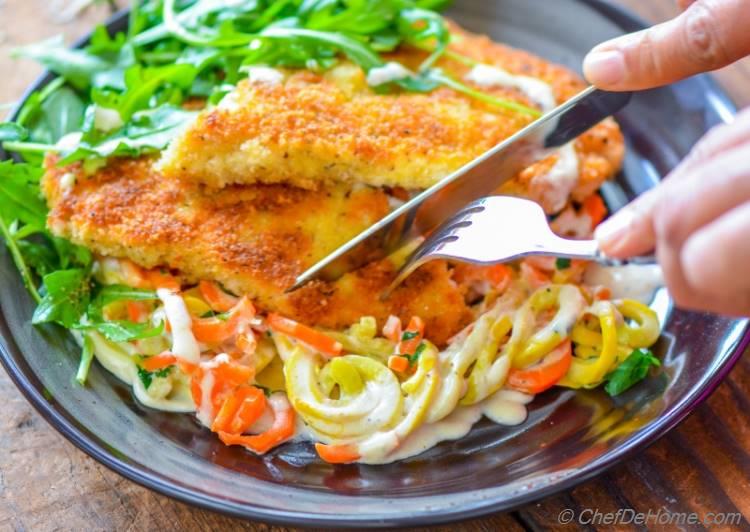 What all have I changed to keep it lite and low-carb?
Only carb in recipe are from: bread crumbs worth two slices of bread and lite dusting of all purpose flour.
I changed the regular wheat spaghetti in recipe with low-carb yellow squash and carrot pasta. Just spiralized and sauted in pan until crisp tender. The sweetness of veggie-pasta paired very well with creamy sauce and makes this otherwise filling dish very lite and guilt-free. 
I used all white-meat chicken. Breading and cooking in pan keeps chicken moist and juicy. No one can tell it is white-meat which tends get dry very fast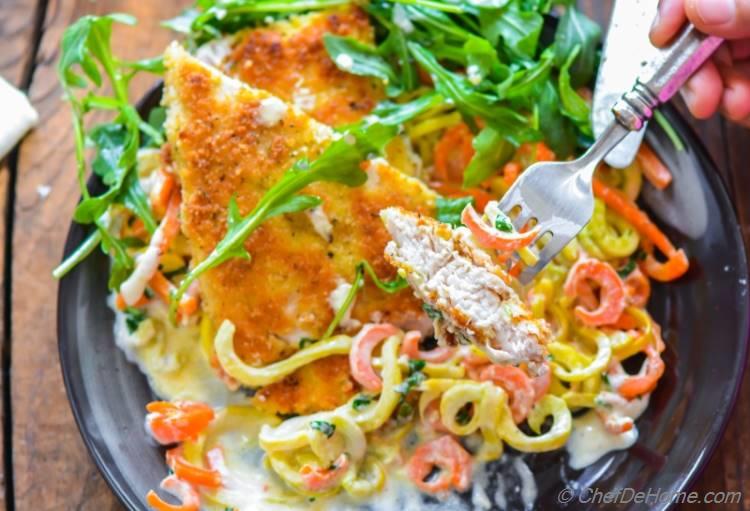 Also, I did not add prosciutto in this recipe. First  because it saves few unnecessary calories..... Chicken Bellagio is mainly a chicken and pasta dish and chicken is enough to make it star of any dinner. Second, we don't eat pork in my family. So prosciutto was out of question.
What will make it true Copycat?
Honestly, my version of Chicken Bellagio tastes even better that the original. However, here are few things you can add to make it a true copycat :
1. Replace veggie-noodles with wheat/semolina pasta.
2. Add prosciutto or ham.
3. Add additional butter (1-2 tbsp) while mixing the sauce with pasta. (in step-7)
4. Add more Parmesan in sauce.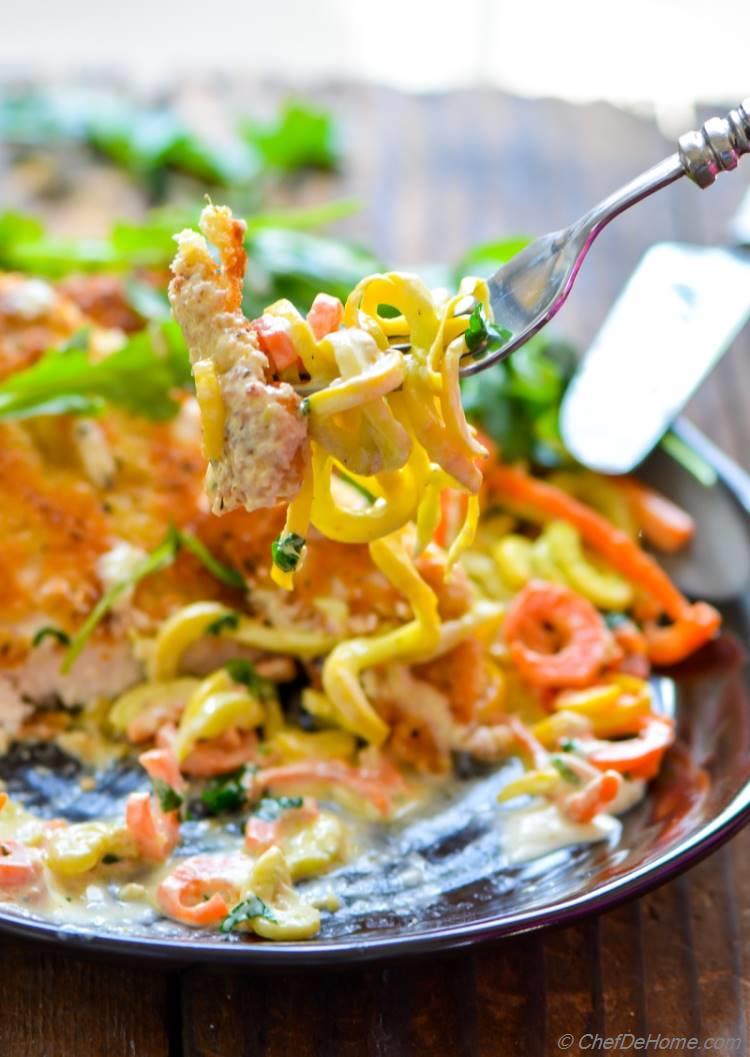 How is this Budget Friendly?
I'm not a strict budget blogger but I'm sure you agree, cooking at home does save a lot of money. Honestly, It never hurts to be little money savvy. Isn't it?
As far as I remember, whenever I try a new restaurant favorite at home.. There are mainly two reasons:
1) Being foodie, I'm impressed with dish and obsessed with recreating same flavors at home.
2) Loving the idea of enjoying it as or when I want to.. at home and still save ton of money and time.
I mean, Chicken Bellagio dinner for 4 in Cheesecake Factory will cost 60+ dollars. At home, less than 25!! (flour and oil on the house) Sounds awesome to me...
...and most important reason is million-dollar smile on faces of loved ones.
(Somehow I can tell, whenever I get a restaurant copycat right at home, Vishal is on-board to eat healthier. Mission accomplished ;)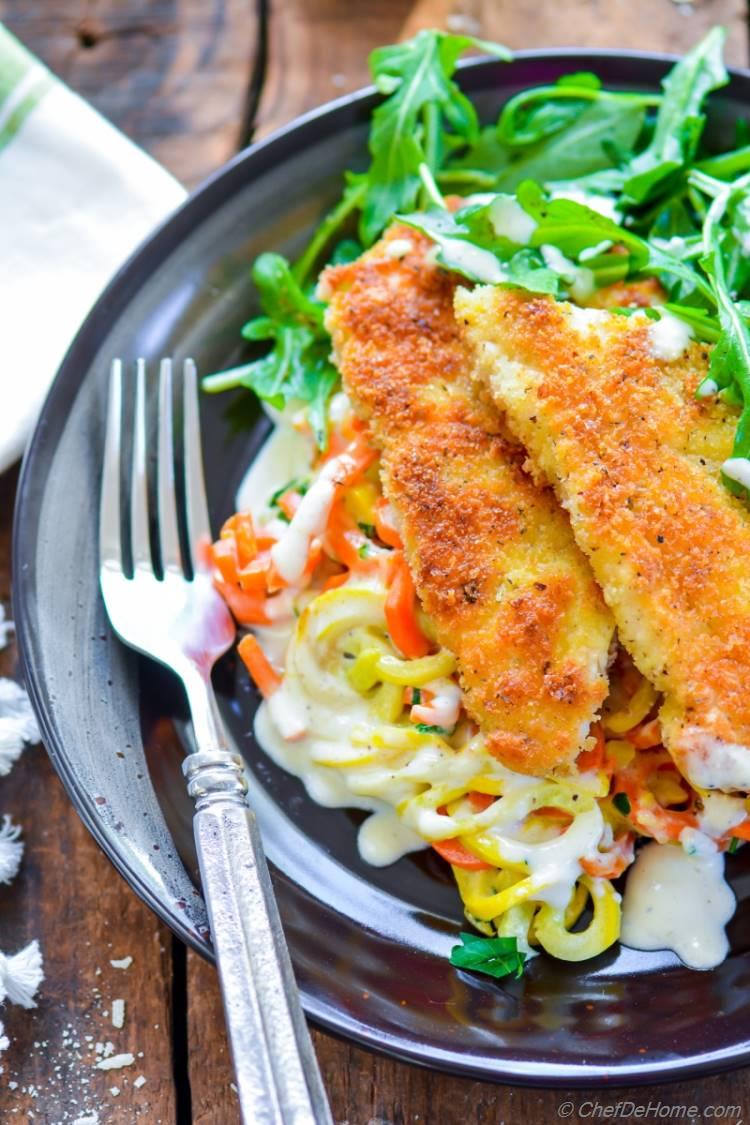 Make Ahead?
Oh yes! In my opinion, every recipe has room to make and prep ahead and Chicken Bellagio is no different. So here is what I do to get it on dinner table under 20 minutes:
1. Make Parmesan cream sauce up to 2 days in advance. It gets thick but does not go bad. Keep some chicken stock handy to thin-it-out to gravy consistency.
2. Squash or other veggie can be spiralized and stored in airtight container at least a night in advance.
3. Only thing left is chicken. I always buy chicken butterflied and pounded butter is really nice that day. Even though I prefer to cook the chicken just before serving.....
It can be cooked a day in advance and then warmed up in oven or in pan until it gets crispy. If you have all these ready, Chicken Bellagio dinner will be on table under 15 minutes.
If cooking chicken and boiling wheat pasta fresh, then 25-30 minutes. Seriously, wait for order in Cheesecake Factory is more than 30 minutes!
Oh, but they do serve yumm bread while you wait. So bring some to serve on the side. I hope you have great day.
PS: I have been not well from past week so showing up after a week-long break. I missed you all SO much. I'm really happy to be back and sharing life with you all.
Enjoy your day lovely friends. -Savita xx
Love Chicken and Pasta Dinners? Here are a few from my recipe repertoire:
Chicken Bellagio - Cheesecake Factory Copycat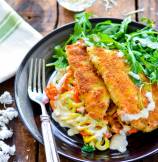 Total Time:
Prep Time:
Cook Time:
Cuisine:
Italian
(

Pasta, Main Course

)
Difficulty:
Easy
Yields:
2-4 Servings
- Serves:
2
(

No. of servings depends on serving size.

)
Ingredients
Parmesan Cream Sauce
Crispy Pan Fried Chicken
Pasta
For Serving (optional)
Smart Swap: Replace breadcrumb with almond meal to reduce even more carbs.
Directions
1.

Parmesan Cream Sauce - In pan, add heavy cream, and half of chicken and boil until thick and cream (2-3 minutes). Add white wine, whisk in well, heat to boil-off the alcohol. (1-2 minutes). Add parmesan cheese and cook for another 2 minutes on medium heat or until cheese has melted. Once sauce has thickened and cheese has melted, season sauce with salt, nutmeg, and black pepper. Remove from heat and set aside (leave sauce in pan for re-heating).

Additional Notes:

Also, if serving arugula salad, toss arugula with oil, lemon, salt and pepper and set aside.

2.

Crispy Pan Fried Chicken - Heat a non-stick or cast-iron pan on medium heat with few tbsp of oil. While pan is heating, in three wide plates add all purpose flour, beaten egg and bread crumbs separately. Season each with generous pinch of salt and black pepper. In breadcrumbs, add mix cayenne Pepper (or pepper flakes if using) with little extra salt. Place the butter-flied chicken into a ziplock or two pieces of plastic and pound gently to flatten to a 1/2 inch thickness

Additional Notes:

You can cut each butterfly into two halves. I used a bigger pan, so sauted whole butterfly.

3.

Dredge each chicken piece in flour and shake-off the excess. Coat in egg wash, then place in breadcrumb mix and pat to stick a good coat of seasoned breadcrumbs onto chicken. You can cut each butterfly into two halves. I used a bigger pan, so sauted whole butterfly.

4.

Place chicken in heated skillet and cook for 3 minutes each side.

5.

Until chicken coating is crispy brown and chicken is cooked through. Repeat steps 4-7 for remaining chicken.

6.

Veggie Spiral Pasta in Cream Sauce - Once chicken has cooked, from same pan (heat on) whip-off excess oil with paper towel. Add 1 tbsp butter, increase heat to high, and add spiralized squash and carrots. Saute 1-2 minutes until veggie pasta is crisp tender.

7.

While pasta is cooking, return the cream sauce to heat and add remaining chicken stock to loosen the sauce. Add half of sauce into pasta and coat gently.

8.

Remove pasta in two serving plates, top each with crispy fried pan-fried chicken and drizzle remaining sauce on top dividing equally in two plates. Add arugula on the side and serve!
DID YOU MAKE THIS RECIPE?
Tag
@SAVITACHEFDEHOME
on Instagram and hashtag it
#SAVITACHEFDEHOME
© Chef De Home. Post content including video and photos are copyright protected.
We Think You'll Love