Baked Salmon with Salsa Verde
A perfectly baked salmon fillet dinner with zippy roasted salsa verde and lite cilantro rice
Posted On:

May, 1
| Author:

Savita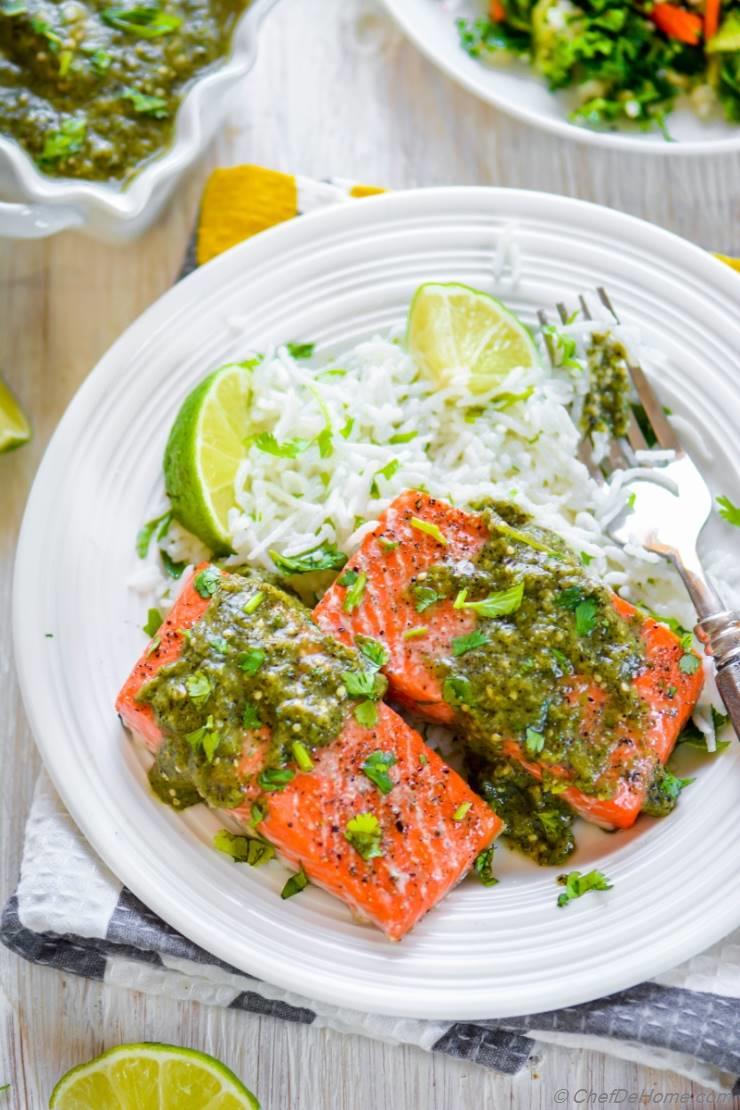 Let's start Monday healthy, full of omega-3s, less fat, and herbaceous, zippy, and spicy Mexican flavors... and let's not work more than 25 minutes to put this dinner together! How awesome is that?! 
Yes, my friends! I'm taking about a 10 minute perfectly baked salmon with delicious roasted salsa verde and cilantro rice for dinner!! 
It may not be called "one pot meal" but this flavorful meal just needs a sheet pan, sauce pan (for cooking rice), and a blender/food processor. That won't be hard, isn't it? 
Oh, and if you have bowl of leftover/precooked rice,  then this dinner will fly from kitchen to dinner table, under 15 minutes! (minus sauce pan from above list)
Salmon grilled, baked or broiled... makes a delicious lite dinner. Plus when served with something lemony and herbaceous like salsa verde, it makes me look forward to dinner. I'm always on look to cook salmon different ways for easy and healthy weekday dinners. One thing I have learned while exploring all the recipes so far.. salmon, lemon and herbs make a match no one can't resist.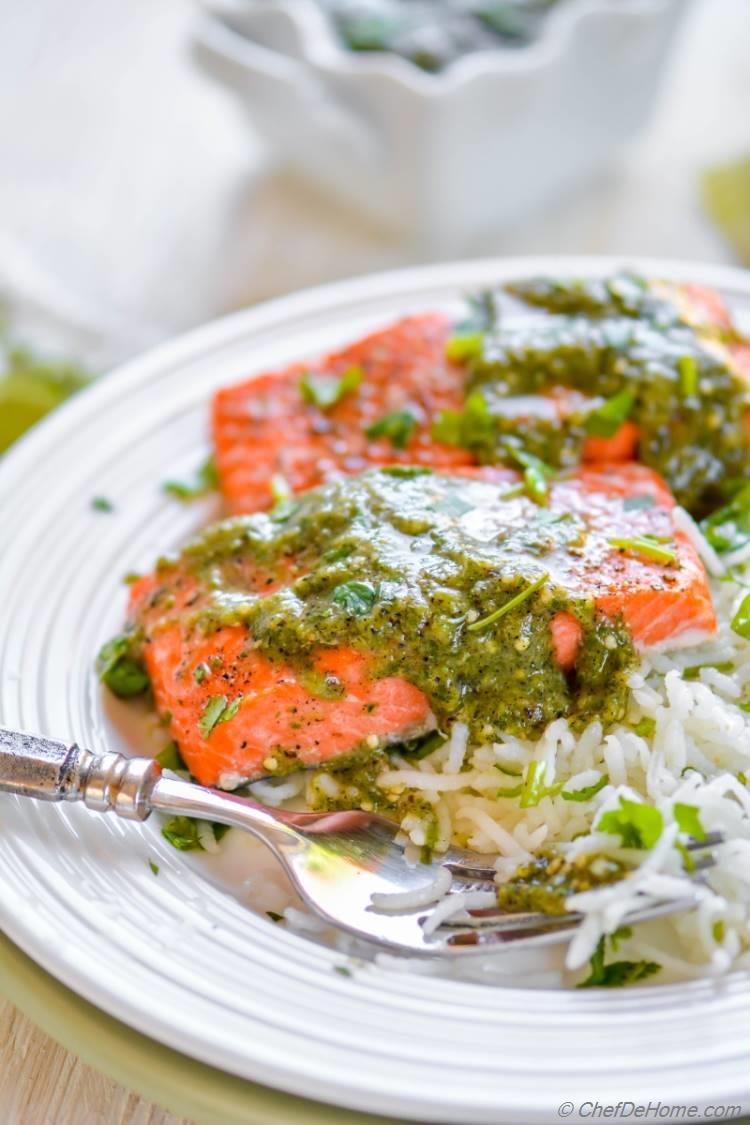 Speaking of which, I always like to give credit to everyone who inspires me for a delicious weekday meal. So, for this recipe, credit goes to America's Test Kitchen. These guys never fail to amaze me with their tricks and simple recipe ideas. This recipe was no different. It was so simple and straightforward that I have not changed much! (so unlike me)
Of course the Salsa Verde is my old recipe and decide to use that  instead of Test Kitchen's and made a few tweaks in cooking.... 
Speaking of which, I'm sharing this old picture of Salsa Verde from my Breakfast Chilaquiles post!
Look at the picture! This bowl of beautiful green roasted tomatillo salsa is bursting with flavor!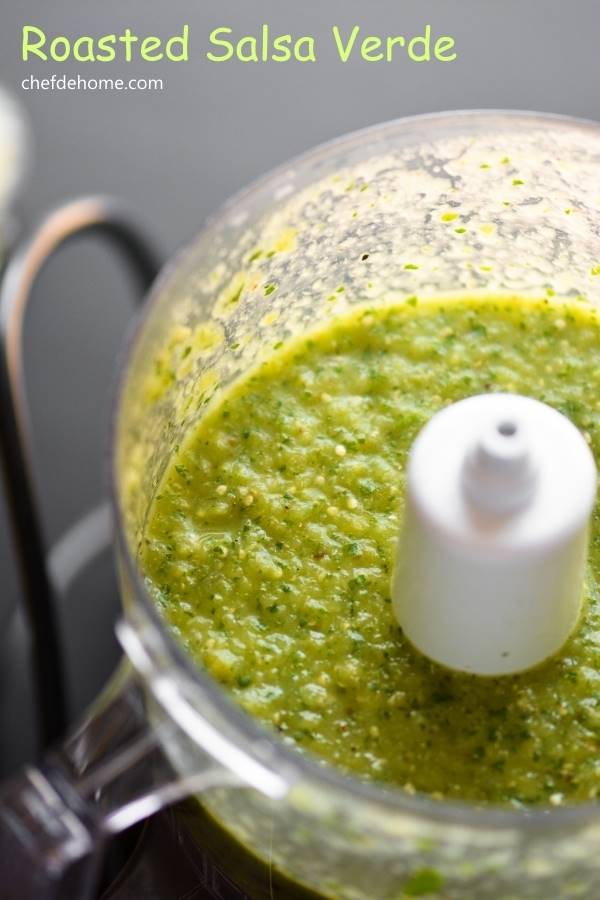 What I love most about this Salmon Dinner?
1. The ease of cooking without using many pans and pots. Most work is done in oven, from roasting tomatillos to baking salmon.
2. I often have some leftover rice... Or boiling a fresh batch takes 12-15 minutes. By the time veggies are roasted and salmon bakes... rice are ready! A quick mix of cilantro, salt, some oil and lime juice enhance the flavor of rice and compliments the roasted Salmon perfectly.
Test Kitchen has shared perfect instruction to bake salmon. They ask to score the fish on skin side, heat the oven at 500 degrees and then lower it at 350 to bake perfect flaky salmon in just 9-13 minutes.
I preheated the oven to 500 and first used it to broil tomatillo, white onion and jalapenos. After roasting tomatillos, I left the oven on and reduced the temperature to 350... then seasoned the fish to my liking and baked it in just 10 minutes! How easy was that?! 
Actually, it can be even quicker if you have some leftover salsa from weekend salsa party. ;-) Serve a few tortilla ships on side for picky eaters and everyone will happy on Monday dinner table. :)
Tell me?! Who will say no to this beautiful plate of dinner?!? - Perfectly baked flaky salmon soaking in salsa verde with side of cilantro rice!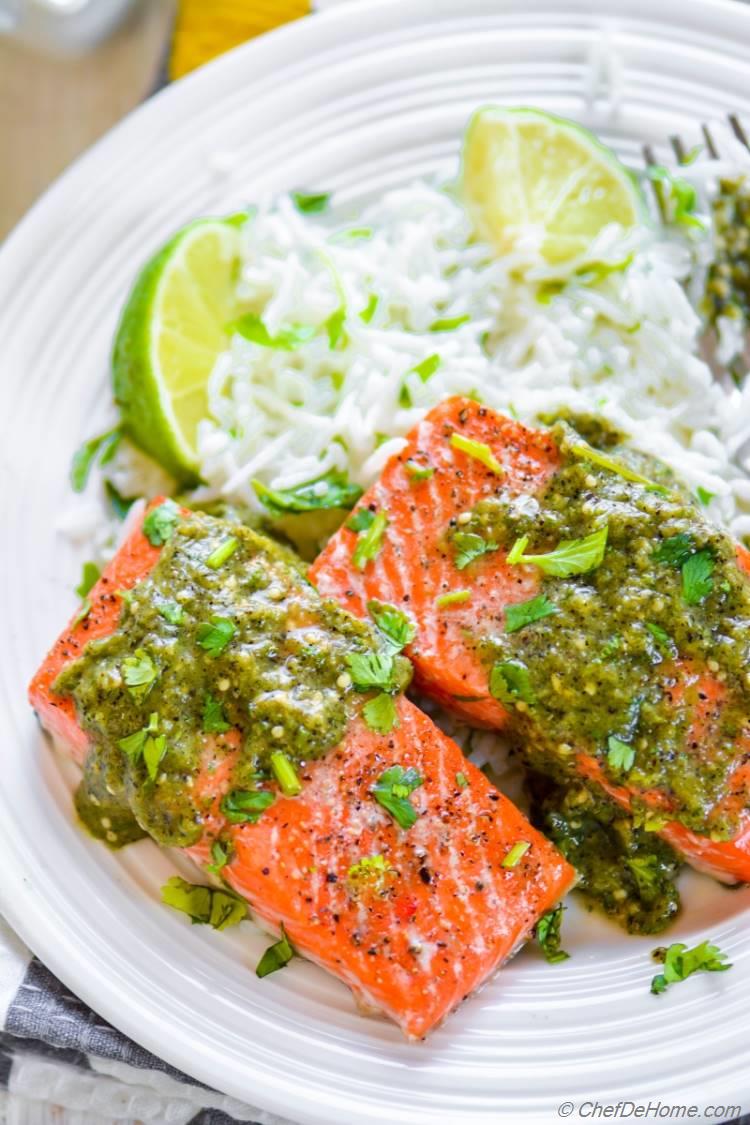 Diet Info:
Just so you know, this salmon dinner is low in fat, has good serving of Omerg-3s from salmon, lots of Vitamin-C and antioxidants from salsa verde. If you trying to limits carbs, eat a controlled portion of rice as per your diet-need.
Baked salmon dinner is also Gluten-Free. If you can serve this with veggies noodles instead of rice, it can be paleo too.
Make-Ahead?
It is not that hard to invest 20-25 minutes for a healthy dinner for weekdays. However, some days when I'm super time-pressed... I finish a lot of the work a day-ahead.
Let's see how:
1) Cook and cool rice. i even mix in seasonings and refrigerate a day before. I like to add fresh cilantro just before serving.
2) I often make Salsa Verde in advance. If I have leftover salsa from a recent spring party... a salmon with salsa dinner is in my near future! ;-)
3) For weekday dinner, just baking fresh salmon and taking rest from refrigerator makes dinner a 10 minute piece-of-cake! and yummy too!

Oh, if you like to use frozen salmon (I'm doing this a lot for weekday..) then don't forget to take it out of freezer and leave in refrigerator section in morning. Or if you forget, just submerged it fresh water and it thaws pretty quickly.
I'm addicted to serving this easy baked salmon with Salsa Verde for weekday dinner! What is you favorite easy pairings with baked salmon?
I wish you a wonderful week ahead!
Have Great Day!~Savita
If you like seafood, you will love these recipes:
Baked Salmon with Salsa Verde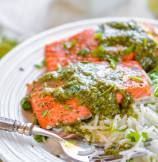 Total Time:
Prep Time:
Cook Time:
Cuisine:
Mexican
(

Main Course

)
Difficulty:
Easy
Yields:
2-3 Servings
- Serves:
3
(

No. of servings depends on serving size.

)
Ingredients
Roasted Salsa Verde
Salmon
Cilantro Rice
Smart Swap: Can't find tomatillos? Use fresh Ripe Red Tomatoes with same recipe!
Directions
1.

For Salsa Verde: Preheat the broiler or oven to 550 degrees F. Peel and wash tomatillos under warm water to get rid of sticky-ness. Peel and dice onion into big pieces. Leave garlic unpeeled. Also, slice jalapeno in half. Place all ingredient in a bowl. Drizzle oil and big a pinch or 2 or salt and black pepper. Spread all ingredients on baking sheet lined with aluminium foil and a rack (optional). Roast for 6-7 minutes until tomatillos are softened and slightly charred.

2.

Once roasted, remove salsa ingredients from oven. Leave oven on. Coat salmon fillets with salt and black pepper. Reduce the oven heat to 350,. Place salmon skin-side down on baking sheet. Bake for 9-13 minutes.

3.

Transfer roasted onion, tomato and jalapeno to a food processor. Discard the skin of garlic. Add vegetable stock and puree the ingredients.

Additional Notes:

To make green salsa, let this warm salsa come to room temperature before going to 4th step. Place blender jar over an ice in bowl to make cooling faster.

4.

Add lime juice, salt, pepper, and fresh cilantro. Process to make lush green salsa.

5.

Cilantro Rice - For cilantro rice, in a bowl, mix cooked rice with cilantro, lime juice, oil, salt and black pepper. Toss well. Set aside.

6.

To serve, in a serving bowl, add a serving of cilantro rice, top with a piece to 2 of salmon, salsa verde and lime wedges. Garnish with more cilantro and serve!
Savita's Notes:
DID YOU MAKE THIS RECIPE?
Tag
@SAVITACHEFDEHOME
on Instagram and hashtag it
#SAVITACHEFDEHOME
© Chef De Home. Post content including video and photos are copyright protected.
We Think You'll Love