Mango Cheesecake
A perfectly sweet, melt-in-mouth creamy and moist mango cheesecake with a simple baking technique to bake it right, every time!
Posted On:

May, 27
| Author:

Savita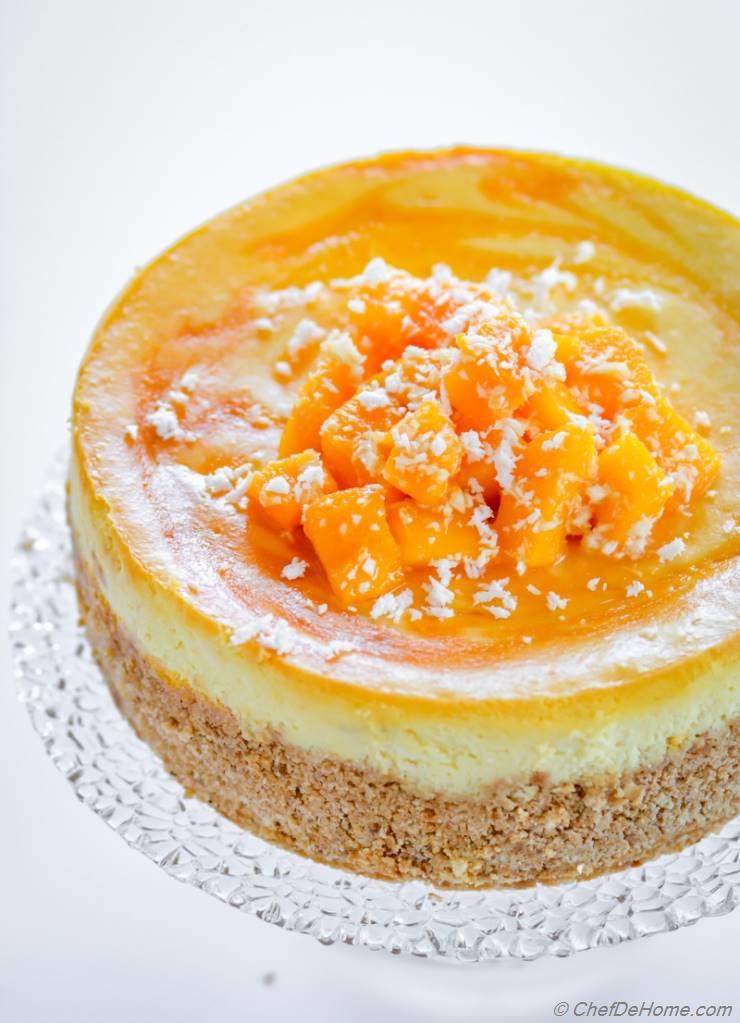 This mango season start a new mango dessert tradition, with this perfectly lite sweet, melt-in-mouth creamy and moist mango cheesecake. There is no better way to say: Mangoes, I love you and wait for you every summer season! 
Starting summer with a Mango Cake has become tradition of my blog. Last year was, Mango Pound Cake and a year prior Eggless Mango Cake. However, this is my first cheesecake recipe on the blog! 
Cheesecakes are rich creamy cakes but this one tastes very lite because tartness of mango balances the richness of cream cheese. Also, instead of just throwing the cake in oven to bake, I baked this cake in water bath which bakes cheesecake layers super moist and creamy! I don't like cheesecakes bone-clinging sweet, so this one is just pleasantly sweet.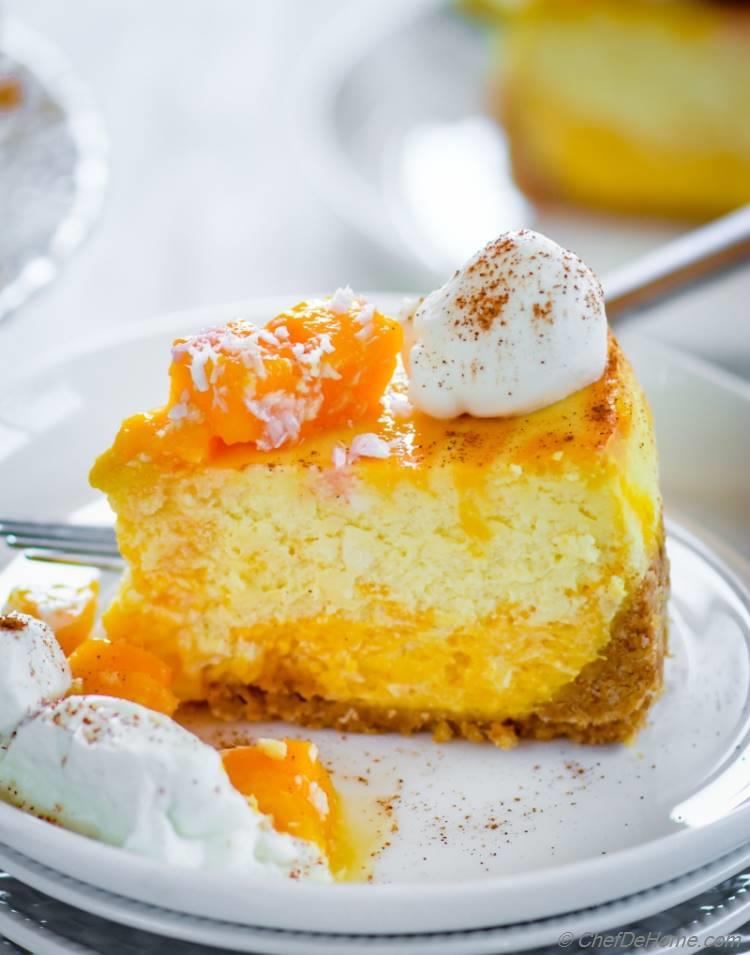 That I can tell you, for anyone who thought making cheesecake at home is too much or much much ;-) If I can bake it, so can you! I don't consider myself a big-time-baker. Even when I bake, it is mostly breads, one-layer-simple-baked-cakes and dinner roasts. I often have 100 excuses when someone ask me to bake a cake with layers or frosting... so that's reason I don't even have any cupcakes on my blog.
Honestly, I love baking something which is more than just flour, sugar, egg and heavy buttery frosting.. So cakes I share are mostly fruit flavored or have savoury notes so that no extra frosting/layers are needed. As of May 2016, that's what I prefer. Let's see if my foodie aspiration change me. ;)
And before we move on, the cakes you will find here are like clementine cake, almond flour cakes, marmalade cake or chocolate and chili cake.. or mango cakes!!
The most daunting part of this cheesecake was getting crust right and baking cake for right amount of time. I tried my best to do justice with crust and I'm sure going to practice and make it more even next time.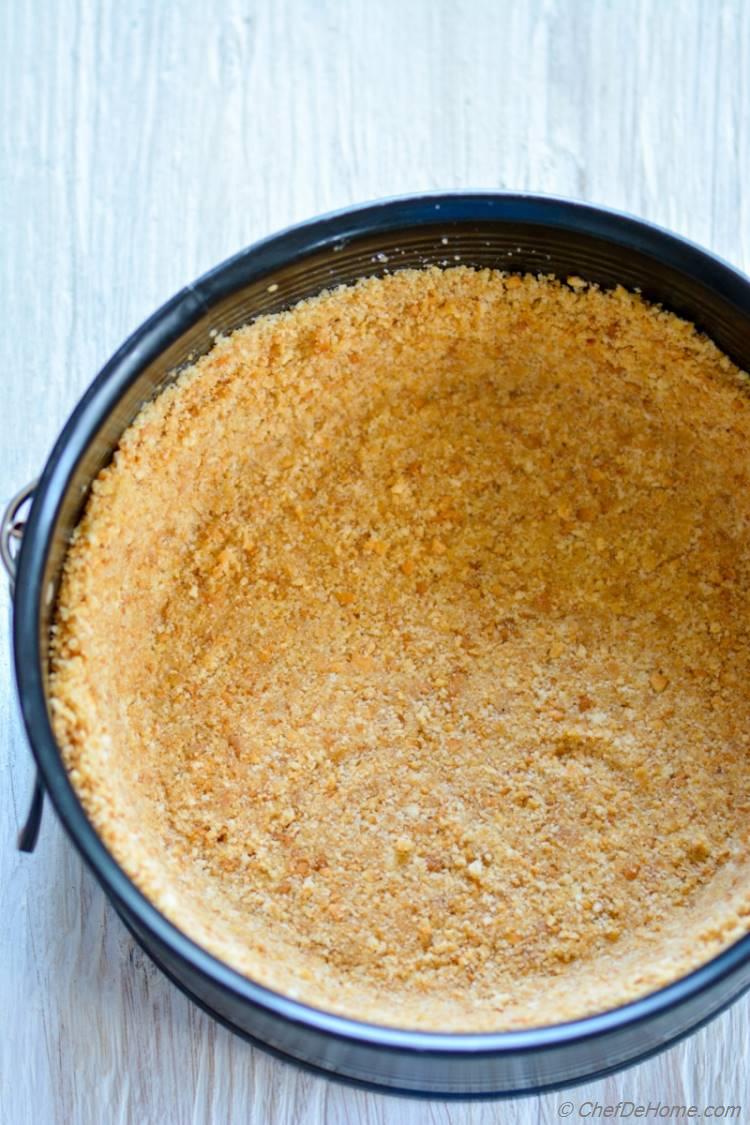 This Cheesecake is inspired from Tyler Florence's Ultimate Cheesecake (link in recipe notes). I used his idea because I loved the technique of baking cheesecake in water-bath to keep it moist and extra lite. I have tweaked the recipe to make Mango Cheesecake, but method of cooking has been adapted. I would have made just his cheesecake but I was craving mangoes!
Being Indian, Vishal and I grew up eating summer seasonal juicy mangoes, a lot of them. Not the kind of mangoes we get here. Yes, once in blue moon, we find a batch sweet but never as good or even close to taste of Indian mangoes. 
So as a substitute, when I crave for desserts with original sweet Indian mangoes flavor.... I use Kesar Mango Pulp. If you have an Indian store nearby or if you want this Mango Cheesecake as delicious as it looks, please get the mango puree or buy from the link I have shared.
Honestly, fresh mangoes vary in taste and texture which can't result in consistent same flavored cake. Yes, you can use fresh mangoes in salads, or in some cakes where consistency can be adjusted with other ingredients... but in pure simple cheese cake, I won't take that risk.
Okay, don't judge me for using mango pulp when fresh mango season is on full bloom. :) If you are really ready to put 20-30 minutes more into this cake, I can also tell you a way of making fresh mangoes work.
So to use fresh mangoes, remove pulp of mango, add equal amount of water and sugar and cook'em for 15-20 minutes on low heat. Then, puree the mix and strain through fine mesh to get rid of all fiber or solids. The remaining sweet mango liquid can be used as substitute for store bought mango pulp. Now, happy? :-) I guess you are!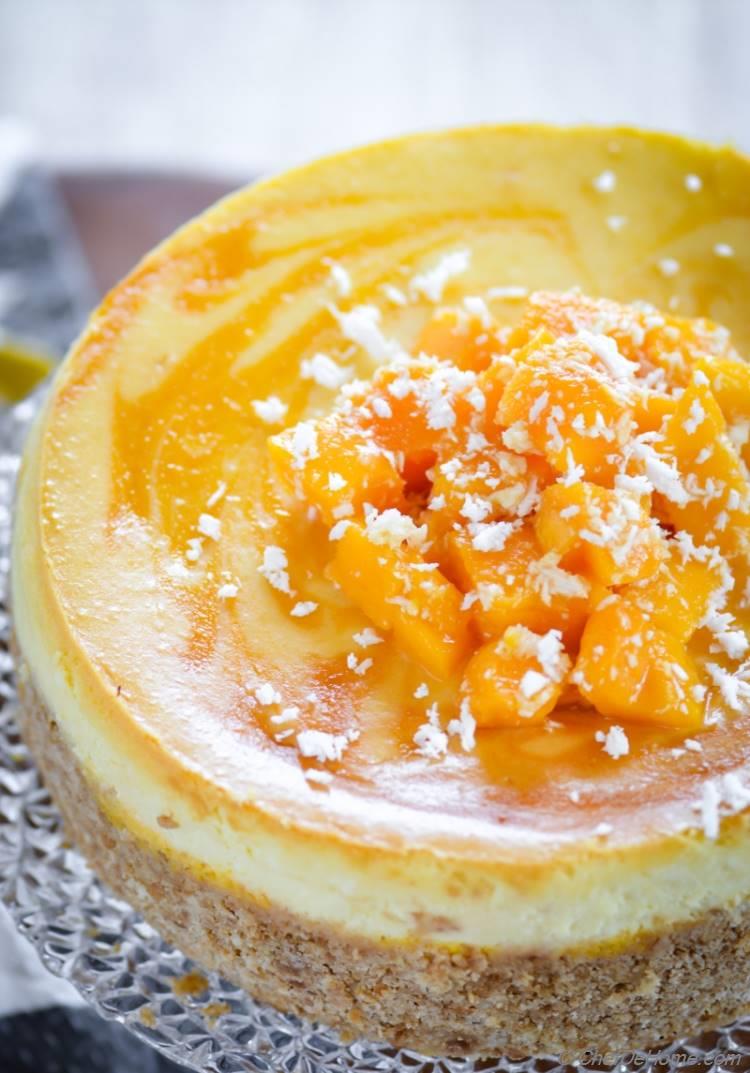 This recipe is on the blog for two reasons: our love for mangoes in summer and Vishal's to many request to make cheese cake. As far as I can remember, poor guy is asking me to make cheese cake from almost 3 years now. No, no, I'm not that stubborn and I love love cooking for him. Whatever he wants, he gets within reasons. ;) You know what I mean?! lol!
The story of his requests always ends like this:
Whenever we are near cheesecake factory, argument goes something like this:
Vishal: Today, we will finish dinner with a slice of Cheesecake!
Me: I don't want dessert. Let's just go home.
Vishal: You can skip it. I will still buy Cheesecake Slice and I won't share with you. ;)
Me: Let's go home, I will make one for you this weekend.
Vishal: I know you, you have made so many in these years. (taunting me)
Me: This time, promise! I will sure make it! I mean it. blah blah blah...
(some days, he buys my words and we come home without getting cheesecake)
Next week.....
Vishal: Today, we will finish dinner with a slice of Cheesecake!
Me: I don't want dessert. Let's just go home. I will make cheesecake this weekend. (gosh, i'm a liar!)
Vishal: You said that last week too, I'm getting one!
(and we end up in Cheesecake Factory, where he will get one slice and being kid-in-candy-store, I won't resist a slice either!)

One of my favorite cake in Factory is Mango Lime Cheesecake. This one is totally inspired from it. I never thought I will make cheesecake at home, but I'm so glad I did! Fell in love cheesecake again! Being not over sweet, rich and fluffy, also with layers of mango flavor balancing every bites, this is one of my THE BEST homemade baked cake so far!
I managed to share it just in time for holiday weekend! This cake is so good, it can fit any occasion. Weather it is birthday party, memorial day party or marriage celebration, this rich mango cheesecake will make you proud whenever served!! I promise!
I hope you get chance to try it soon!
Wish you a great long weekend!
Cheers! - Savita
Few other of my favorite mango and fresh fruit cakes: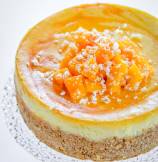 Total Time:
Prep Time:
Cook Time:
Cuisine:
American
(

Dessert

)
Difficulty:
Easy
Yields:
8" Mango Cheese Cake
- Serves:
6
(

No. of servings depends on serving size.

)
Ingredients
Graham Cracker Crust
Mango Cheesecake Filling
Toppings
Directions
1.

Preheat oven to 325 degrees Fahrenheit. Ready all cheese cake ingredients.

2.

In food processor, add crackers with sugar and pulse until crackers texture is like almond meal. Add melted butter and mix well.

3.

Spray cooking spray on a 8 inch spring foam pan. Add cracker and butter mix and press with flat bottom glass to make crust. Refrigerate until ready to use.

4.

In a mixing bowl with whisk attachment, whisk softened cream cheese and sugar until it is lite and fluffy, and sugar has fully dissolved.

5.

Add in sour cream, lemon zest, then one egg at a time until mixture is creamy, lite and just combined. Don't over whip.

6.

Remove half of cheese cake filling in a bowl, mix in mango puree mix with few gentle strokes. Transfer half of this mango mixture to the bottom of pan with pressed crust.

7.

Top with all of the cheese cake mixture.

8.

Then, top remaining mango cheese cake mixture on top and swirl gently with a knife to make pattern.

9.

Place few aluminum sheets in deep rim baking pan. Place cake an on the top. Raise the edges of aluminum sheet closing tightly around the pan to cover the bottom of cake pan, so that water does not steep into cake. careful add boiling water in sheet careful not to wet the cake.

10.

Bake cake in preheated oven for 65 to 75 minutes or until center just gently jiggles. If not sure, bake for 2 more minute at a time until cake gently jiggles. Remove from oven and leave in pan to cool down for 40 minutes.

Additional Notes:

Cake settles down and sinks a bit when cools so don't worry.

11.

Refrigerate for at least 4-5 hours before removing the cake from spring foam pan, cutting and serving. Looks in notes for slicing instructions.
Savita's Notes:
If you like enjoying a slice of cheesecake with some tangy berry topping to balance the richness, this cheesecake is for you! And it is self-sufficient with layers of mango and sour cream cheesecakes a.k. no need of extra sauce or berry toppings!
Slicing Tips:1. After cheesecake has been chilled for 4-5 hours, run knife through sides to loosen the cake from spring foam pan.
2. For even slices, dip knife in warm water and wipe before cutting each slice.
DID YOU MAKE THIS RECIPE?
Tag
@SAVITACHEFDEHOME
on Instagram and hashtag it
#SAVITACHEFDEHOME
© Chef De Home. Post content including video and photos are copyright protected.
We Think You'll Love