Vegetarian Baked Beans From Scratch
The best tasting vegetarian baked beans, cooked from scratch, still 5 minutes prep and packed with ton of flavor! No perching on stove and no re-checking cooking-liquid 10-times! Hurray!!
Posted On:

Jun, 2
| Author:

Savita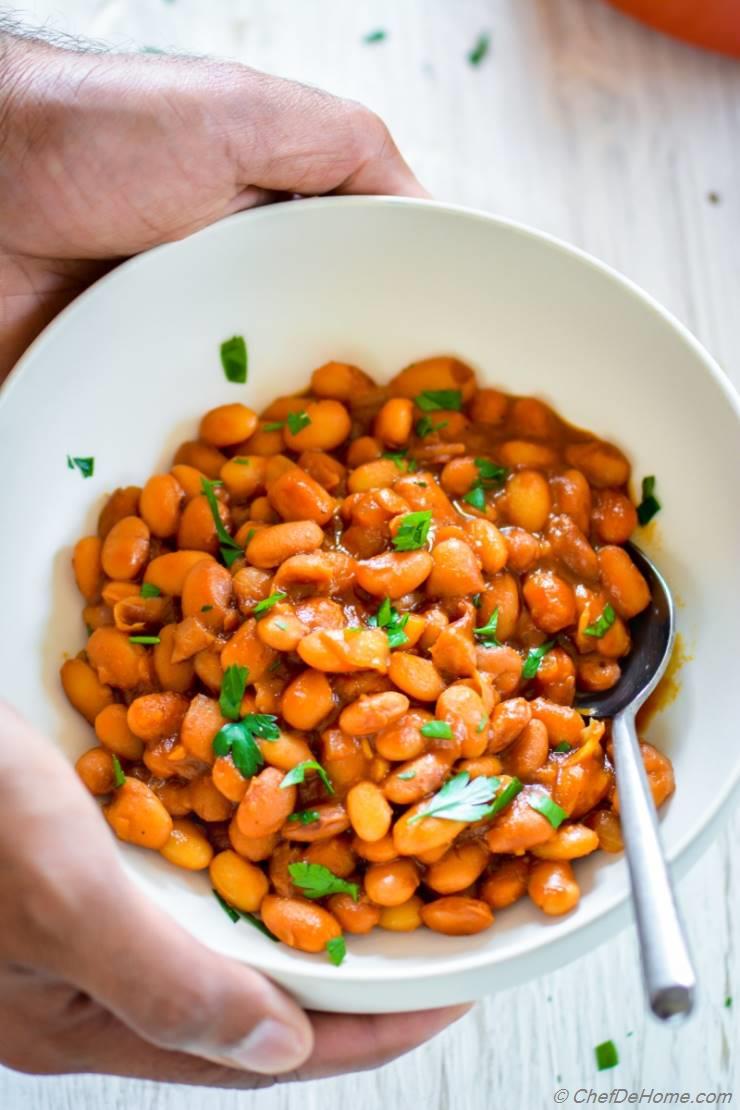 Sharing today, sweet, smokey and tangy, made from scratch vegetarian baked beans. These baked beans are way easier to cook than put-all-in-one-pot kind of cook-from-scratch recipes, and have ton of flavor. Above all, these are perfect to impress vegetarian guests in your next bbq party.  
I had my first introduction to baked beans in one of such party. Often beans are baked with bacon and other meats such as pork. Since I don't eat pork... I could never try'em.. until one such event, my gracious host friend did her foodie friend (me).. a huge favor!! She introduced me to "baked beans" without meat!
Baked Beans, Baked Beans, Baked Beans!! This is what I was chanting whole way home!!
Ask me? How can a smokey-flavor-addict, chipotle-en-adobo-addict will not love smokey bbq baked beans?!! Not a chance!
Today, I thought I should share with you this vegetarian baked beans recipe. In my humble opinion, every bbq party should have a pot of vegetarian baked beans so everyone, vegetarian and meat-lovers, all can enjoy.
Trust me, your vegetarian friends will "thank you" for this treat!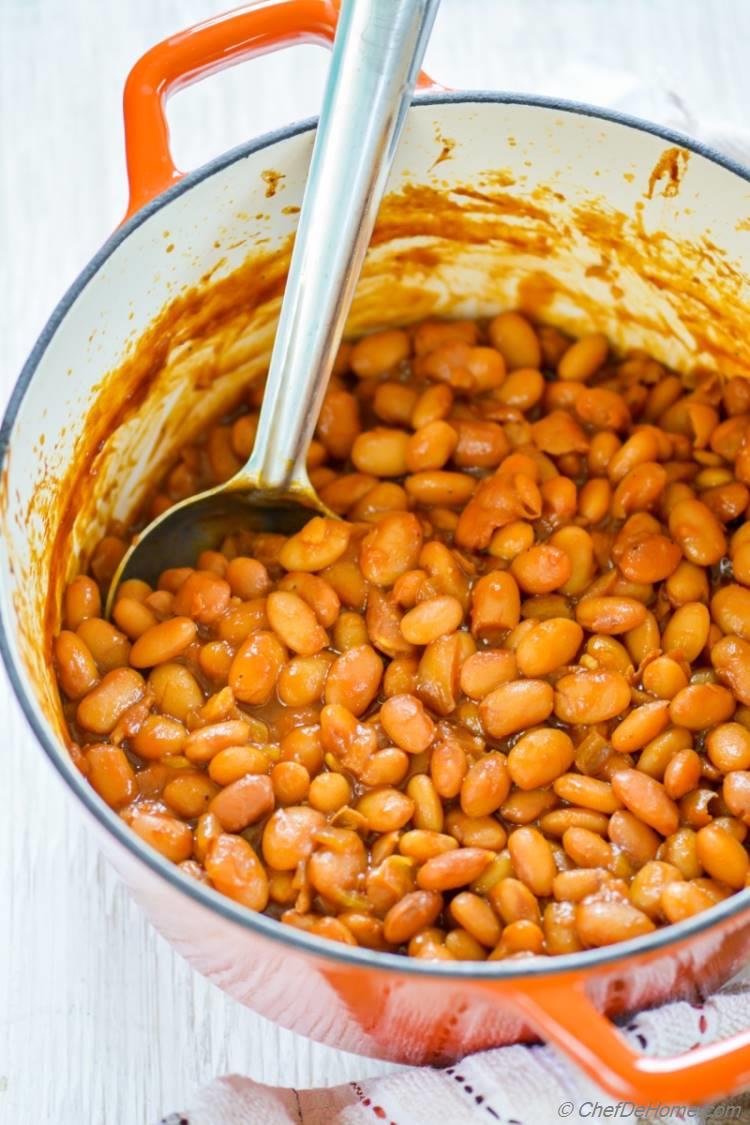 Why Baked from Scratch?
For me, this is how I cook most of my Indian beans recipes - start with soaking in water overnight, boil in morning and then season as per flavor wanted. In Indian household, beans, chickpeas, lentils are every day vegetarian dinner sides. Canned beans don't exist in our cooking. Even when recipe calls for can of beans, I soak'em overnight and cook the next day.
Oh, and cooking beans from starch saves money and homemade beans are much healthier than canned version. Also, cooking from scratch is not at all hard. Often I use pressure cooker to cook lentils. For these baked beans, I boiled the beans until just tender. Exactly as we get in canned version - al dente, ready to use for any recipe.
Can I use Canned Beans?
That was the whole idea of this recipe. I cooked beans before adding flavors which make'em easy to use for any recipe.  
I admit, there are times when I don't have time to cook from scratch. Specially when there is last minute invitation to a BBQ potluck and I had no time to soak beans overnight. Or let's say, I just forgot to soak beans overnight. :)  So, yes, you can even replace boiled beans with canned ones for this recipe. Please make sure to use low-sodium unflavored pinto or navy bean.
So, for this recipe, I soak beans overnight, then boil them in salted water for 20-25 minutes so as to cook'em just tender enough to get bath with bbq baked beans flavors in oven. I don't cook'em straight in the sauces because that does not give me control over liquid to bean ratio. Also, flavors don't get accurate with beans boiling in lots of water.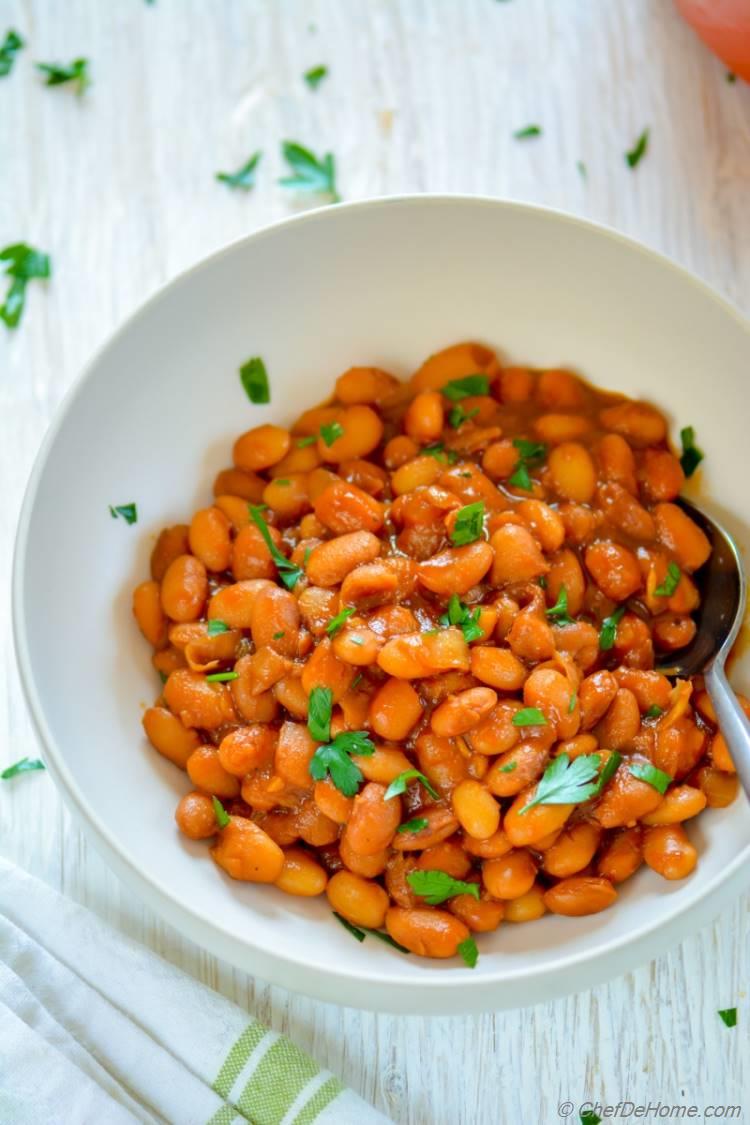 Why Vegetarian when everyone screams "Bacon" in baked beans?
Hey guys, somebody has to bring a side which all can enjoy?! Isn't it? Vegetarian or Meat eaters! This is my personal experience, in all get-togethers everyone wants to try vegetarian side where meaty-sides are just for carnivores. :) Also, when you see face of vegetarians lit-up to see a meat-labeled recipe cooked for them without meat... event becomes even more special.
Side Effect: Every one asks for recipe later. Good immune booster for the cook ;)
These beans taste so so good, I bet you won't even miss bacon. Try'em once. 
So let me sum-up why make these Vegetarian Baked Beans for next BBQ party or potluck?
1. No one, I mean, no one will resist sweet, smoky and creamy serving of these baked beans.
2. Baking from scratch, saves some money too! A big pot of beans will not cost more than $2-3. I soaked 1.5 cups of pinto beans overnight and they were 3+ cups after hydrating. 
3. Of course, home cooked beans are healthier and have no preservatives!
4. Above all, cooking vegetarian beans will make vegetarian friends not feel left-off.


Last but not least, these beans are even perfect for Sunday dinner, at home! Just grill some of your fav protein and serve beans on the side!
Enjoy your weekend!
Cheers! ~Savita
Beans are often on my dinner table. Here are few more recipes:
Vegetarian Baked Beans From Scratch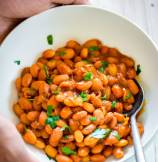 Total Time:
Prep Time:
Cook Time:
Cuisine:
American
(

Side Dish, Main Course

)
Difficulty:
Easy
Yields:
6-8 Side Servings
- Serves:
8
(

No. of servings depends on serving size.

)
Ingredients
Vegetarian Baked Beans
Smart Swap: Replace Pinto Beans with Red Kidney Beans
Directions
1.

Soak pinto beans overnight.

2.

Rinse beans under running water. In a large pot, add 6-7 cups of water for 3 cups of soaked beans. Add 1/2 tsp salt, mix well. Bring to rolling boil. Reduce heat to medium and continue boiling for 20-25 minutes or until beans are just tender.

Additional Notes:

Don't over cook beans Don't rinse cooked beans. Discard cooking liquid.

3.

Preheat oven at 350 degrees Fahrenheit. Heat oil in a cast iron or oven proof skillet. Add chopped onions and garlic, and saute until softened.

4.

When onions are soft, add all the spices and seasonings. Mix well.

5.

Add precooked beans with 1/2 cup water or vegetarian stock. Bring to a simmer. Cover and place in preheated oven.

6.

Bake for 1 hour or until beans are tender, creamy, dark, rich, and sauce has pancake consistency. Remove from oven and leave covered until ready to serve. Adjust salt before serving.
Savita's Notes:
Beans from Scratch:
Allow at-least 10 hours of soaking. I soak'em early in evening so as to allow more time in water. Always soak in big pot with lots of water to allow space for expanding beans.
Vegan Baked Beans? This recipe can be vegan. Just use a vegan bbq sauce and ketchup. Bbq sauce/ketchup which does not use honey or animal-based products.
DID YOU MAKE THIS RECIPE?
Tag
@SAVITACHEFDEHOME
on Instagram and hashtag it
#SAVITACHEFDEHOME
© Chef De Home. Post content including video and photos are copyright protected.
We Think You'll Love