Split Pea Soup in Slow Cooker
Slow cooked split pea soup with sweet leeks, carrots and hearty potatoes. Vegan, gluten free and oil free too.
Posted On:

Oct, 3
| Author:

Savita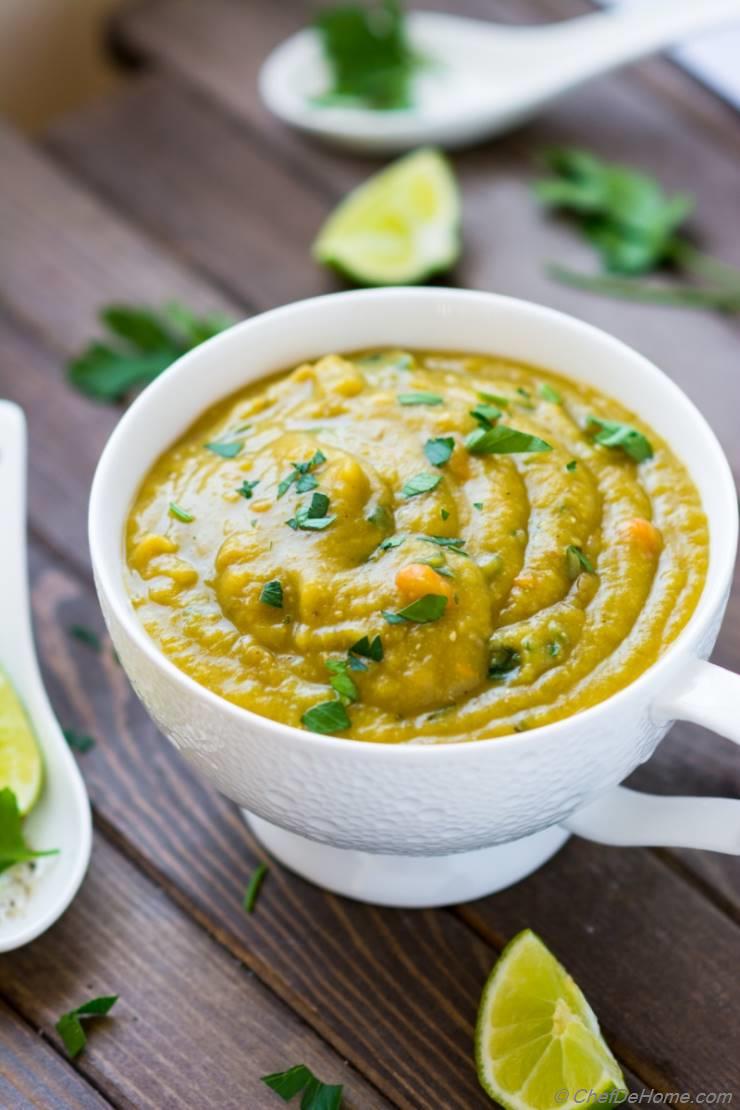 It's official! Soups are ON in my kitchen. Starting Monday with slow cooker split pea soup.
I was so eager to share my favorite Split Pea Soup recipe with you that I decided to post few hours early. This split pea soup is vegetarian. Yes, vegetarian, without ham and I can tell you it is still so so flavorful, delicious, and healthier (as well) because I slow cooked it with sweet leeks, carrots and hearty potatoes in slow cooker. 
In my humble opinion, this vegan and gluten free soup is perfect to kick-start meatless Monday -healthy and fit. 
Recipe calls for slow cooker but don't worry if you don't want to use one! I have also included instructions to cook it in heavy-bottom-pan.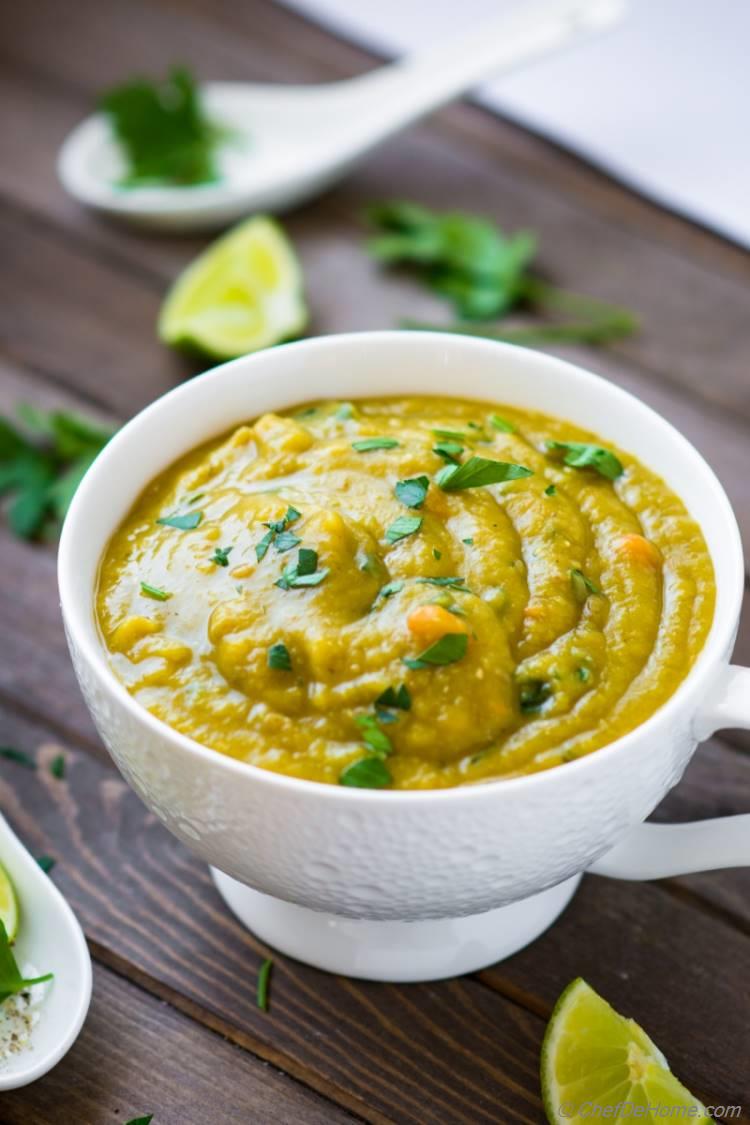 Honestly, I wait for fall-winter season every year to start serving soups in weekday dinner. First because soups need far less effort and are ready in one pot which means easy cleanup and effortless dinner. Second, because nothing can beat the comfort of a nourishing soup. Third, because soups are far more healthier.. Like this split pea soup! It has no oil, no dairy and yet it is creamy, and comforting thick soup which will warm body from with-in and also keep you full longer. 
Split pea or green peas in general is one THE most used lentil/veggie in my kitchen. I usually have green peas frozen to add to curries or green pea pilaf. For stews and soups, I keep a few handful of dried green peas, I mean, split peas in pantry.
Storing Legumes in Pantry in Fall-Winter Season:
I often buy only a few handful of lentils/legumes from wholesale store. This way, my pantry stays relatively clean. Even though legumes have long shelf life... these can easily go bad due to moisture like in late fall or winter season.
So, if I ever have to store dried lentils/legumes in pantry for long to cater to my soups/curry love. :) I tie a tsp salt in cheese cloth and store it in the legume. Salt absorbs any moisture entering the box and legume stays fresh, crisp and dry for a long time. So I can make your favorite soups or stew whenever I want to.. without a trip to grocery store. :)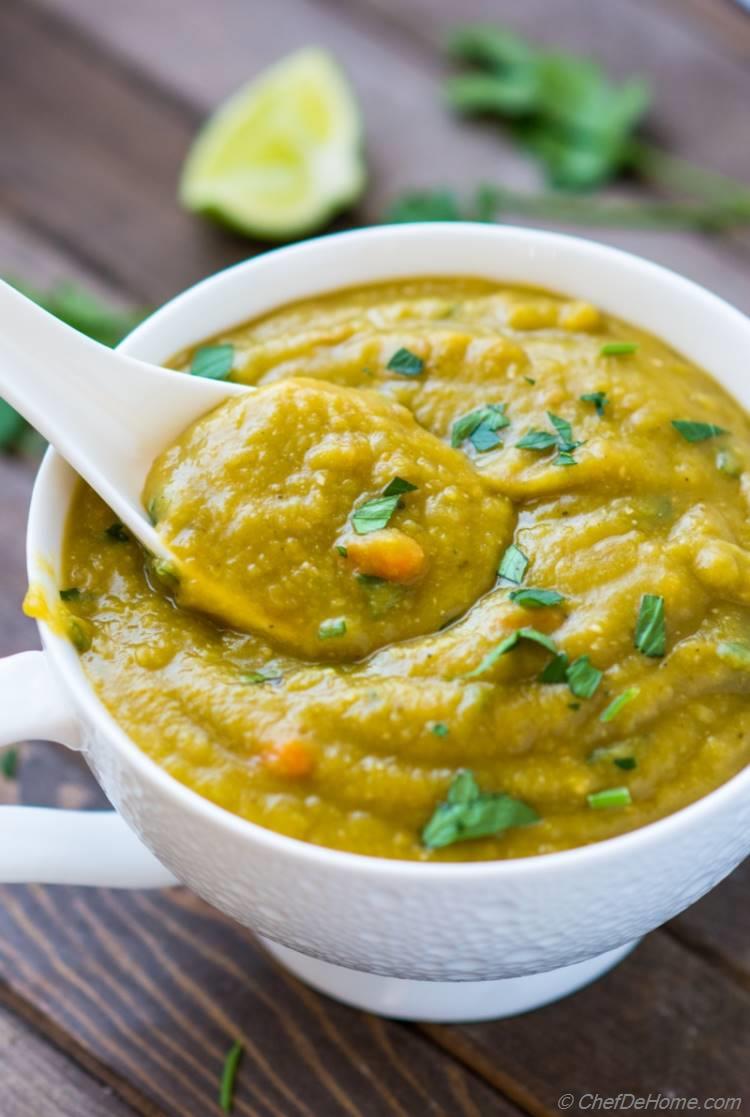 Like I mentioned, traditional split pea soup is prepared with ham.These days we are also on meatless diet. So this pea soup had to be vegetarian. Though the aroma of slow cooked sweet cooked leeks, hearty potatoes and garlic will not let you miss flavor in this veggie version.  
Cooking split pea soup is very easy... whether in slow cooker, pressure cooker, or in deep pan on stove... recipe for split pea soup is as easy as piece-of-cake. One thing is important though - I do pick and wash split peas thoroughly before adding to the pot. In fact any dried grain/lentil is important to be washed and picked before cooking to ensure clean and grit-free soup.
Here is what I do to prepare this soup:
Slow Cooker: For cooking split pea soup in slow cooker.. I first pick and wash split peas. Then, add all ingredients in crock pot with water or stock (depending upon availability). Cover and cook on low for 7-8 hours or until peas are tender and has started to break up. Once cooked, I simply use an immersion blender to puree the soup. A little adjust of salt and pepper and soup is ready.
Please note: Split soup is by nature a thick soup. You can adjust the consistency by adding more vegetable stock after pureeing the soup. For this batch of soup, I added 3 cups for cooking and 1 cup later.
Dutch Oven Or Heavy Bottom Pan on Stove top: For cooking on stove top, I like to add 2 tsp of oil and saute the onion, celery, and carrots until onions are translucent. Then add all other ingredients with washed split peas and water/stock. Bring to rolling boil, then simmer covered for 20-25 minutes or until peas are tender. It is important to simmer at low-medium to avoid soup from boiling-over. 

Diet Info: Split pea soup is as healthy as it it is creamy and delicious! It is vegan, and gluten free. Also, when cooked in slow cooker, it is oil free. Just make sure to use nonfat vegetable stock or use plain filtered water.
I'm always looking for news ways to enjoy soup. What is your favorite soup or soup variation that I can try next!? I would love to hear some ideas!
Friends, have a wonderful start of the week. If you have some split peas at home? Put your slow cooker to work today and enjoy a hearty meatless pea soup dinner tonight. Oh and don't forget to pin the recipe and tag us on Instagram @savitachefdehome 
Few more delicious soups from my recipe repertoire:
Split Pea Soup in Slow Cooker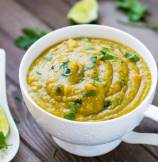 Total Time:
Prep Time:
Cook Time:
Cuisine:
American
(

Soup, Side Dish, Lunch, Dinner

)
Difficulty:
Easy
Yields:
1.5 quarts soup
- Serves:
6
Directions
1.

Add Soup Ingredients to Slow Cooker Pot

:

Thoroughly wash split peas under running water. Add all of the ingredients - split peas, chopped carrot, celery, leek, garlic, oregano and cumin with 1/2 tsp of salt into crock pot. Add 3 cups of water or vegetable stock.

Additional Notes:

For cooking on stove top, saute the onion, carrot and celery until onions are translucent, then add the remaining ingredients.

2.

Slow Cook Soup

:

Cover and cook on high for 4.5 hours or on low for 8 hours, until peas are very tender.

Additional Notes:

For cooking on stove top, cover and simmer for 20-25 minutes or until peas are tender.

3.

Puree Soup

:

Before serving, blend soup using immersion blender. (I like to keep it little chunky but you can puree it very smooth too. If using blender jar, handle carefully and puree in batches to avoid hot splash of soup.)

4.

Season and Serve

:

Once pureed, return soup to cock pot, add more vegetable stock or water (1/2 cup at a time) to adjust consistency per liking. Add lime juice. Taste and adjust salt. Add more black pepper if like. Serve hot with garnish of fresh chopped parsley.
Savita's Notes:
**Split pea soup gets thicker very quickly. If serving later, dilute with additional vegetable stock. Then, add salt, pepper and lime juice per taste.
DID YOU MAKE THIS RECIPE?
Tag
@SAVITACHEFDEHOME
on Instagram and hashtag it
#SAVITACHEFDEHOME
© Chef De Home. Post content including video and photos are copyright protected.
We Think You'll Love