Smoked Chicken Quesadillas
Chili's Copycat Smoked Chicken Quesadillas for dinner with easy home-style smoked chicken, jalapeno aioli, and fresco salad!
Posted On:

May, 30
| Author:

Savita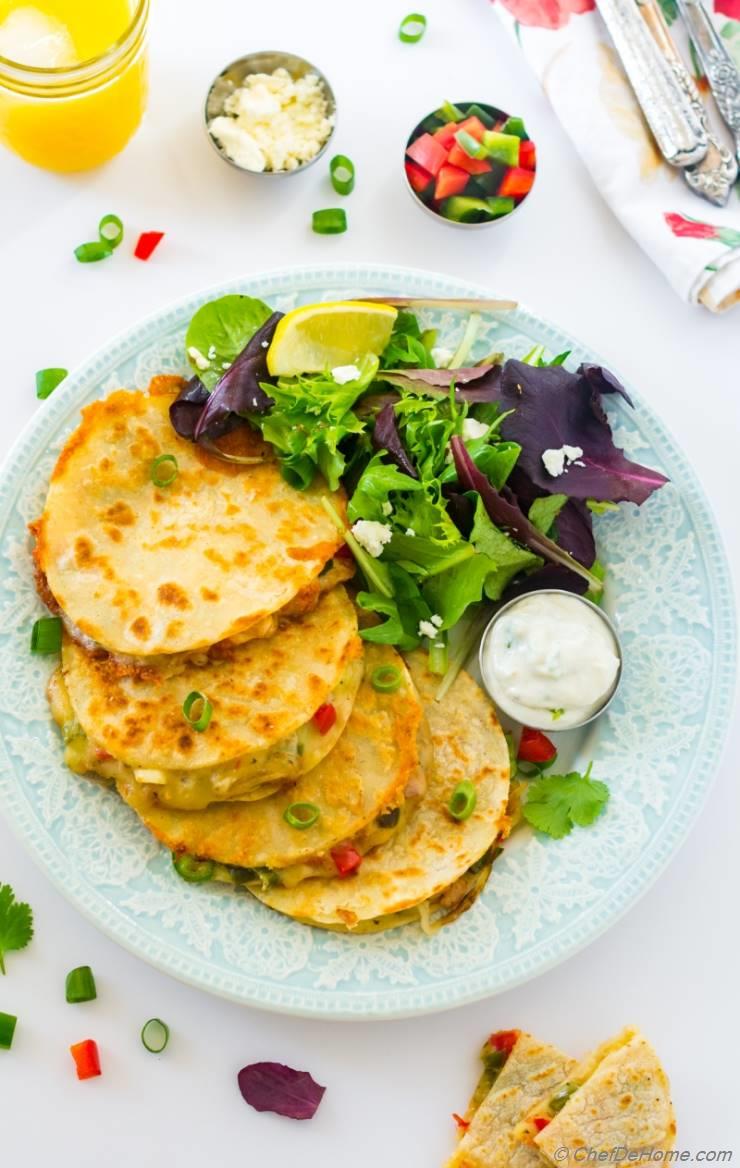 Smoked Chicken Quesadillas, or I should say, Chili's Smoked Chicken Quesadillas are tortillas stuffed with smoked chicken, sauteed bell peppers, onions, cheese, and jalapeno aioli sauce. Very easy to put together and bursting with flavor, this Chili's copycat recipe is perfect for a Mexican dinner night at home. 
Honestly, with easy home smoked chicken (you don't need smoker for this recipe), zesty jalapeno aioli, sweet onions and peppers.. I find these quesadilla even better than Chili's! Not just that, the money saved for dinner for a family of four, is worth the effort.
So, let's wear our CDH (Chef De Home) cap and get cooking! Shall we?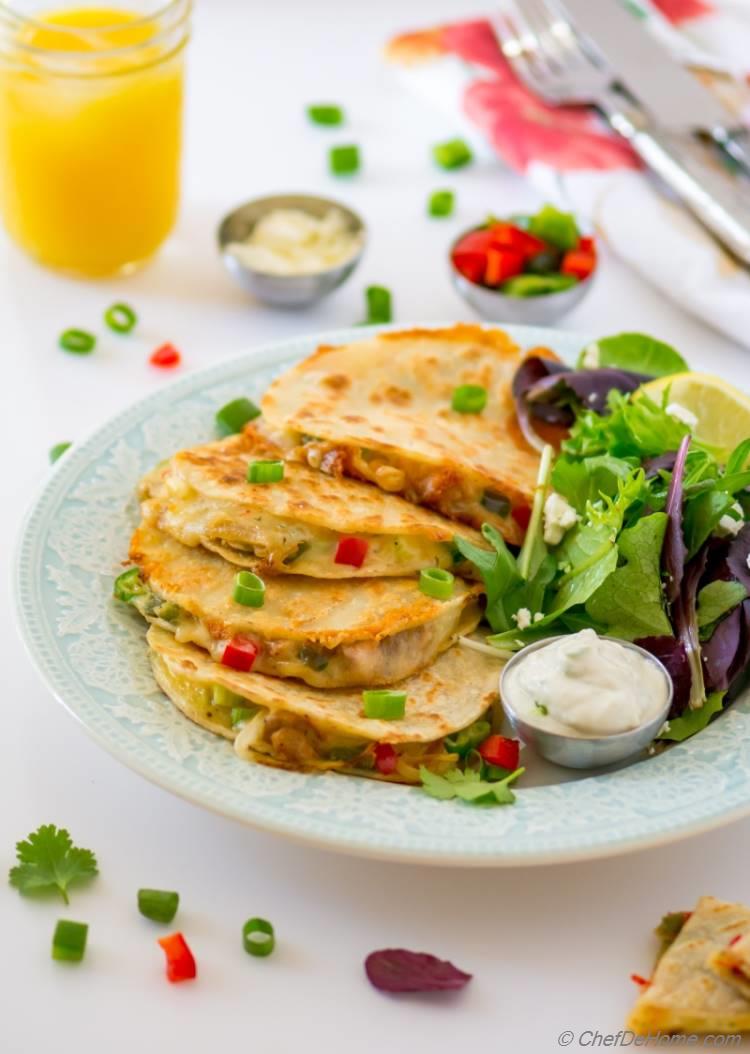 Whenever we dine out, I make sure to bring some inspiration home to share an exciting recipe with you. We love dinning at Chili's once in a while. Last time we were at Chili's on Cinco De Mayo. Restaurant was so packed that we got seat at the bar that too after 25 minutes wait. It was a Tuesday and we were in mood of some good tacos... but bar tender recommended us to try Mexican Grilled Corn and Smoked Chicken Quesadillas. I'm already fan of grilled Mexican-style corn and smoked chicken quesadilla!!! That made us even more hungry after that 25 minutes of wait. So our taco Tuesday became chicken quesadilla Tuesday!
Fresh greens and queso fresco salad, zesty jalapeno aioli, and smoked chicken in chesse-y quesadillas.... Everything was so good.. I not missed tacos, at all! In-fact, I told Vishal, I'm so taking this inspiration home.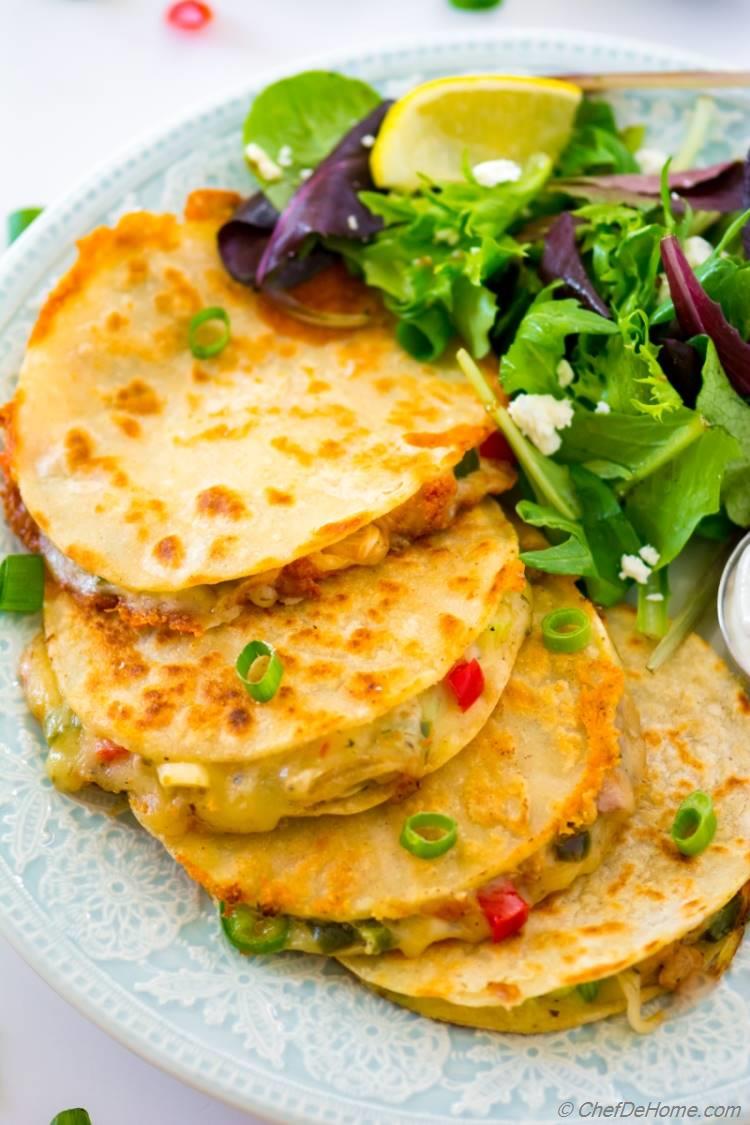 Smoked Chicken Without Smoker:
For smoked chicken, I marinate chicken in liquid smoke, worcestershire sauce, lemon, hot sauce, and some oil. Liquid smoke is one of the easiest way to infuse smoke in meat, at home, without a smoker.  I like to leave chicken to marinate for at least 30 minutes. During this time, chicken gets nice smoky flavor from liquid smoke, and ingredients such as worcestershire, lemon juice tenderize it. When grilled, chicken is juicy, moist, and have that signature orange-red smoke hue that you get by smoking chicken in smoker, for hours. Liquid smoke does that job in 30 minutes. You can grill chicken outdoor or cook it in oven/cast iron pan indoor. 
Once smoked chicken is ready, I saute bell peppers and cook onions. Original recipe uses caramelized onions but in my recipe, I don't use low-slow caramelized onions. I cook onions until these are soft and have started to brown and releasing their sweetness. This is quick and works perfect with my short-turnaround dinner timings. If you prefer, feel free to cook onions longer for more caramelizing or add 1/2 tsp sugar to quicken the process.)
For tortillas, I have used taco-size small corn tortillas. Corn tortillas does not fold very well. So, if using corn tortillas, it is better to stuff filling in two tortillas for one quesadilla. You can always use large flour tortillas. These will be easy to fold in half to make one quesadilla from one tortilla. Just so you know, Chili's smoked chicken quesadillas recipe uses flour tortillas. 
These three - smoked chicken, peppers and onions, and tortillas, plus cheese and aioli are main ingredients of smoked chicken quesadillas. Once these are ready, I assemble quesadillas. Follow the recipe step-4 to learn how to make quesadillas in detail.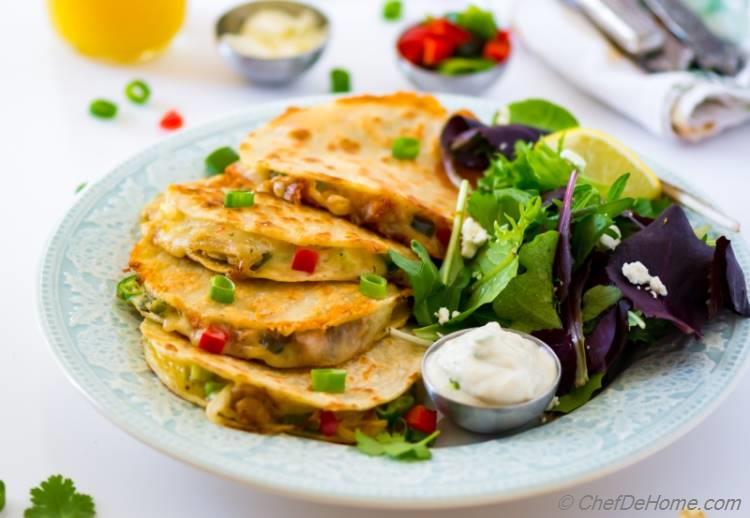 Quesadilla Side Kicks:
I must say, Smoked Chicken Quesadillas, specially if you looking for Chili's copycat recipe, will be more complete when served with side of jalapeno aioli sauce, and fresco salad. Few weeks ago, I shared the Fresco Salad which is my favorite side salad of all times. Crisp greens, lite dressing and queso. You can get that recipe - Fresco Salad Recipe.
I have included the Jalapeno Aioli sauce recipe in notes. Jalapeno Aioli is very easy and needs just 2 minutes to put together a batch. If not planning to making aioli, I would replace aioli in the quesadilla with garlic mayo, and serve sour cream on the side.

Friends, you can see, Chili's smoked chicken quesadillas are so easy to put together! I can tell you that these tastes just like (even better) than Chili's.
So, let's cut the line and cook delicious quesadillas for dinner tonight! Don't forget to take a quick picture and share with me on Instagram @SavitaChefdehome
I see you soon with another delicious adventure.
-Savita x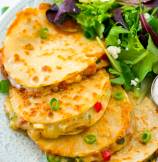 Total Time:
Prep Time:
Cook Time:
Cuisine:
Mexican
(

Main Course

)
Difficulty:
Easy
Yields:
10 Quesadilla
- Serves:
5
(

No. of servings depends on serving size.

)
Ingredients
Smoked Chicken Marinade
Quesadillas
Directions
1.

In a bowl (with lid), mix smoked chicken marinade ingredients with 1/4 teaspoon salt, 1/4 tsp pepper. Add chicken, coat well, cover with lid and refrigerate to marinate for at-least 30 minutes to 2 hour.

2.

Preheat grill or heavy bottom pan (if cooking indoor). Spray with oil, grill chicken on medium heat until cooked through. Remove on a board, let it site for 10 minutes, thin diced to small pieces to fill in quesadilla.

3.

On a grilling pan, add in diced peppers with pinch of salt for 2-3 minutes or until crisp tender. Remove peppers in a bowl. In same pan, add diced onions, turn heat to low and let cook until onions are soft and start caramelize. Season with salt and black pepper.

4.

To assemble quesadilla, spray same pan or an iron griddle with oil, keep heat on low, place 3-4 tortillas (depending upon size of griddle). Top each tortilla with equal portion of diced smoked chicken, sauted peppers, caramelized onions, generous drizzle of jalapeno aioli, and grated cheese. Top with second tortilla. Spray top with cooking oil. When cheese starts to melt, press tortilla with flat spatula to seal everything together. Flip top side down and cook until both sides of tortilla are brown, and quesadilla filling has warmed through with cheese melted.

5.

Serve hot, Chill's style with side of Jalapeno Aioli, fresco salad (recipe in notes)! Enjoy!
Savita's Notes:
AioliFor serving Jalapeno aioli, in a bowl add 1 cup mayo, 1 garlic minced, 2 tbsp lemon juice, 2 tbsp parmesan crumbled, 1/2 tsp salt, 1/4 tsp black pepper, 1 jalapeno, seeds removed and minced. Mix well to process in food processor until smooth. Serve and enjoy!
Check out Chill's Fresco Salad recipe
DID YOU MAKE THIS RECIPE?
Tag
@SAVITACHEFDEHOME
on Instagram and hashtag it
#SAVITACHEFDEHOME
© Chef De Home. Post content including video and photos are copyright protected.
We Think You'll Love