Fresco Salad
Make Chili's favorite lunch salad, Fresco Salad, at home in just 5 minutes!
Posted On:

Mar, 15
| Author:

Savita
Let's welcome Spring with a crunchy and vibrant queso spring salad!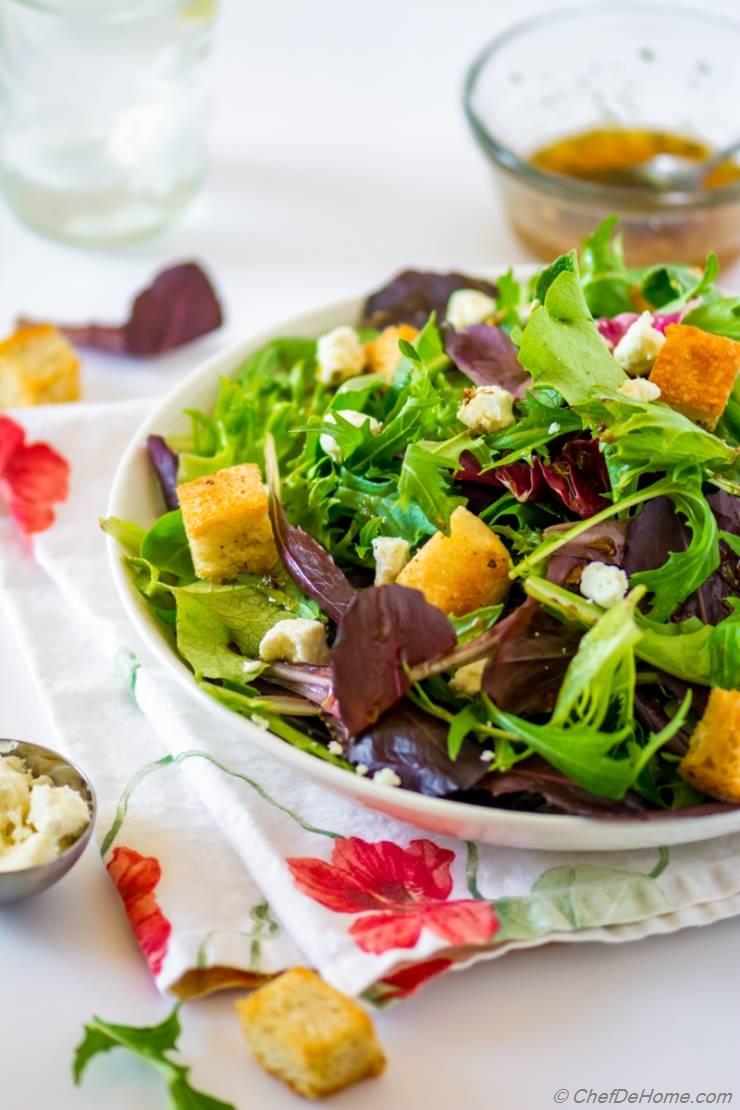 Chili's Fresco Salad - A crisp spring greens salad topped with queso fresco and lite coated in honey-lemon dressing! This is, THE simplest 6 ingredients salad recipe ever! It will brighten up any plate of food, bring some vitamin C, and calcium to the meal, and crunchy greens and lemon flavors will make meal more delicious!
Even though breakfast is called most important meal of the day... In my home, dinner is one such meal which we take time to cook... and eat. Just like chili's, I love serving greens or I should say, all veggie and crunchy salads on the side.
Little thoughtful addition of greens/raw veggies on plate works at many levels:
1) Their beautiful color brightens-up plate of food.
2) The Vitamin C, A, Es, calcium, and chlorophyll benefit health. 
3) Refreshing dressing adds zing to the overall meal. pure yum!
Few days ago.. while eating at Chili's I realized their fresco salad is the star of every plate. That connected me to my home cooking, where salad is part of our lunch as well as dinner. I wanted to share with you this idea of including greens in your diet... the flavorful way! Let's just not throw greens on plate. Spice them up, sprinkle a tad bit of salty queso cheese, splash some lemon, and then brighten up any meal. 
What a green way to welcome first week of Spring! Don't you think?!
This is what I love about Spring (one of many) that it brings fresh greens back in business! One look at fresh greens in Farmer's market.. and my "salad cravings" begin again! :) Salads and Greens are, for sure,, are "On" in my kitchen!
Get ready to fill your plate with health because I'm bringing lots of flavorful greens with my Spring recipes! 
My favorite pack of spring greens are: arugula, watercress, pea shoots, mustard, spinach and radicchio!
1) Arugula, watercress, spinach are "tender greens" which means dressing should be added just before serving or will loose their crispness fast.
2) Mustard, pea shoots, radicchio are crispy and sturdy. So, these hold dressing well, and for long time.
It is not practical and possible to pack refrigerator with one bunch of all of these... So, I rather pick a combination of 2 or 3, or buy a good quality Organic Spring Mix. Sometimes, I also buy a package of mustard greens, one package of spring-mix. Then, mix those just before making salad! 
Best part is, you can use any greens for Fresco Salad! I often prepare this same salad with just Curly Mustard Greens or Kale too. Like I said, just like Kale, mustard greens are sturdier and stand better to the real-dressing-test. But, these are also sharp in taste. So, not for everyone.  
In short, pick the greens for this salad depending upon your taste and use preference.
PS: For these pictures, i have used spring mix.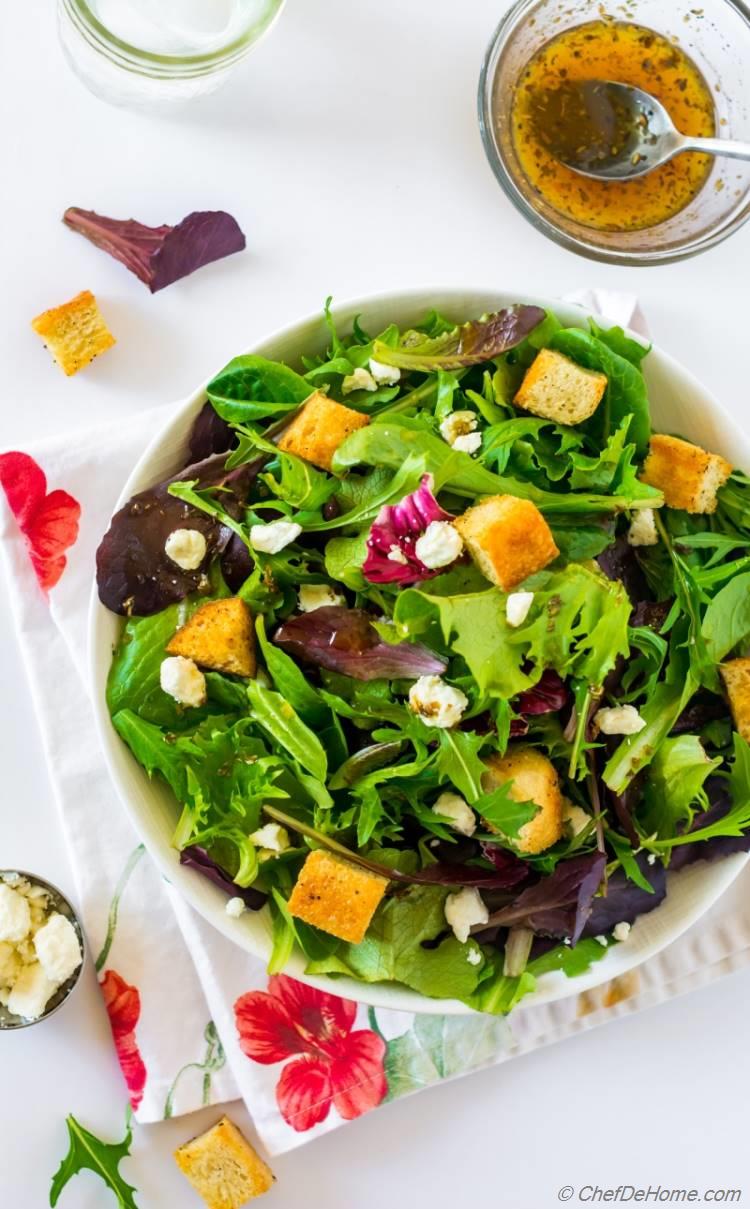 Lite Lunch Salad:
When I thought to share with you Chili's Fresco Salad, I decided to also add some croutons (mostly not on original version until you ask for) to give you idea of a complete lunch salad with side of some lite protein such as shredded chicken or grilled salmon. The honey-lemon salad dressing pair very well with seafood.
You see what I'm seeing? This recipe can also be a healthy and lite lunch. Pack croutons, dressing, and protein at night. Add to salad just before eating. A little thinking can help you make delicious meal, right from your own fridge!
Make-ahead Dressing
I like to make a batch of salad dressing in advance and refrigerate in (preferably) a glass bottle with lid. To make dressing, I combine olive oil, fresh lemon juice, honey, oregano, salt and black pepper. Top the lid and shake to emulsify the ingredients.... refrigerate in same bottle. This saves me from cleaning two more dishes - bowl and whisk. :) 
Once dressing is ready, and you have picked your favorite Spring greens... queso fresco salad is ready in no time! Just dress the greens, crumble some cheese on top, add croutons and devour! yum!!
Or pair it with a main meal such as:
1) Baked Chicken Scotch Eggs
2) Lamb Karahi Curry
3) Salmon Burgers
I'm so glad to bring to you this amazing salad! (Thanks to chili's fresco salad for inspiration.)
What are your favorite greens in Spring season? I would love to hear your thoughts!
-Savita
Serve on the side of a hearty meal for delicious serving of greens!
Fresco Salad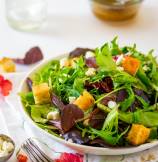 Total Time:
Prep Time:
Cook Time:
Cuisine:
Mexican
(

Side Dish, Salad

)
Difficulty:
Easy
Yields:
4 Servings
- Serves:
4
Ingredients
Salad
Honey-Lime Vinaigrette
Toppings, optional
Smart Swap: Skip croutons to keep salad gluten free.
Directions
1.

Honey-Lime Vinaigrette: To make vinaigrette dressing, in a bowl, add all ingredients but olive oil. Now, whisk the mixture while adding oil at slow stream to emulsify the dressing. Set aside.

2.

In a salad bowl, add spring green mix. Drizzle half of dressing on top. Toss gently. Add queso fresco and croutons, and serve! Enjoy! Serve remaining dressing on side.

Additional Notes:

If serving later, only add dressing just before serving or greens will start getting soggy.
Savita's Notes:
If serving croutons on salad, you can buy garlic or herb crouton from store. Or if you have some day old bread leftover? You can also make some at home.
To make croutons, Preheat oven at 400 degree Fahrenheit. Spread cubed bread on a sheet tray. Drizzle olive oil on top. Season with garlic powder, generous 2-3 pinch of salt and black pepper. Bake until brown and toasted. (10-12 minutes). top on salad! Enjoy!
DID YOU MAKE THIS RECIPE?
Tag
@SAVITACHEFDEHOME
on Instagram and hashtag it
#SAVITACHEFDEHOME
© Chef De Home. Post content including video and photos are copyright protected.
We Think You'll Love