This recipe is Copyright of ChefDeHome.com

Traditional Greek Tzatziki sauce with cucumber, dill and mint!
Make a bigger batch, Tzatziki Sauce disappears fast!
Flavorful and easy Tzatziki sauce, a Greek yogurt and cucumber sauce with traditional tzatziki seasonings - garlic, cumin, black pepper, lemon, and fresh herbs. If you have never tried Tzatziki? then this yogurt sauce is must try! It needs less than 10 minutes to make a big batch! It is also healthy, gluten free, carb-free, and very refreshing side!
I mean, low-fat yogurt, garlic, herbs, spices, cucumber makes it a fit and refreshing dip! I consider Tzatziki Sauce the official healthy summer dip of 2017!!
Serve it on side of grilled meats, or kabobs like I served it with Chicken Souvlaki, or serve it with veggies chips or pita... all dippers go great with this garlicky creamy tzatziki!
So, let's make some Tzatziki [tsä'tseke]!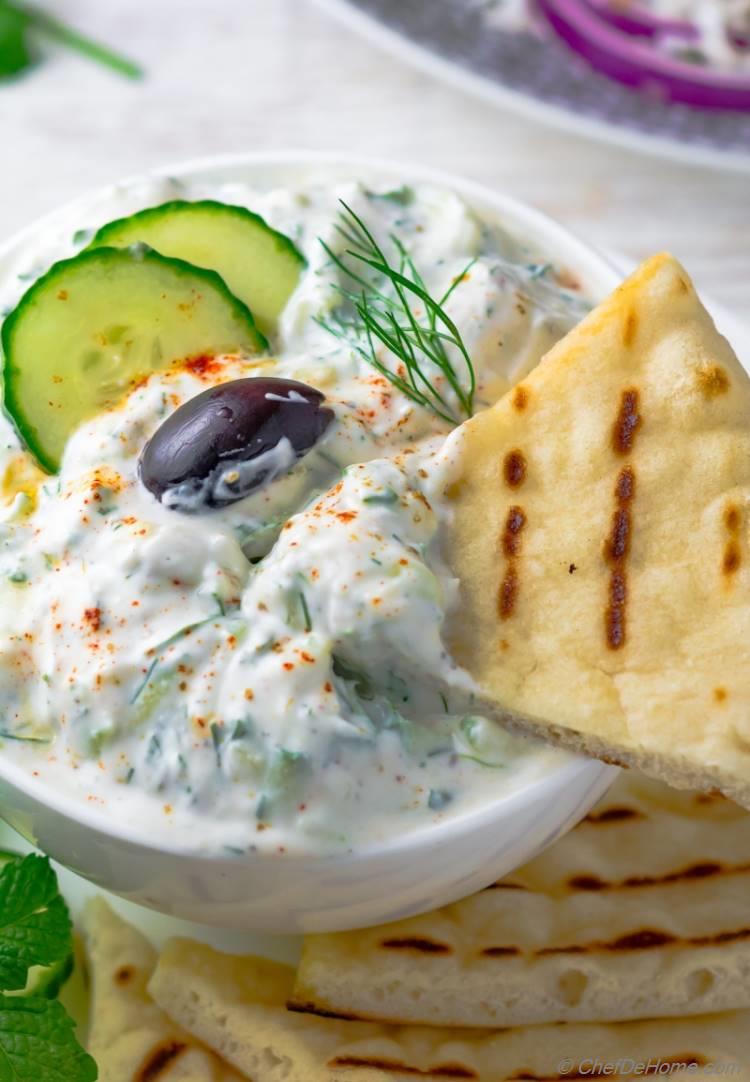 Greek Falafel platter is my favorite menu item in Greek restaurants but I'm never so happy with a tablespoon serving-size portion of tzatziki. A plate of 4-6 falafels and 1 tablespoon tzatziki! Really? Why do restaurants cut-cost on sauces, the quintessential flavor makers!?
Any ways.. honestly, I prefer to make a batch at home! Specially, when I make Mediterranean food at home, I never miss the opportunity to mix few cups of tzatziki sauce. Every one loves this sauce, hands down! I never have leftovers! If any, those work great as salad dressing, even as sauce in morning breakfast wraps.
Once, one of our neighbor brought homemade tzatziki sauce in a community party. It was so delicious and herbaceous that I ate it with spoon (don't tell anyone or I will be not allowed in community gatherings)! ;) She also told me that original tzatziki recipe often has more herbs, and may or may not have lemon juice. Restaurants mostly add dill leaves because that is most common flavor contributor after yogurt, garlic, and cucumber... Since then, I often add some fresh mint (whenever available), dill leaves, and even some chopped parsley in tzatziki. I skip lemon juice or add less if yogurt is very tart. 
To make tzatziki sauce, I grate hothouse cucumber on coarse grater (you can also small dice), wrap it in muslin cloth and squeeze out as much water as possible. This step is important otherwise tzatziki will get watery very quickly.
I then mix Greek thick yogurt with fresh chopped herbs, tzatziki seasonings - garlic,  lemon juice, salt and black pepper... then fold cucumber in it. I also add hint of cumin powder and cayenne for more depth of flavor.
That's it! Easy! Right?
Tzatziki sauce should always be served chilled which makes is perfect healthy summer dip. Chilling also brings out flavor of dill and garlic in yogurt. If serving next day, I highly recommend adding salt 15-20 minutes before serving.
Note: Always drain any water on top of yogurt. And use only thick Greek-style yogurt.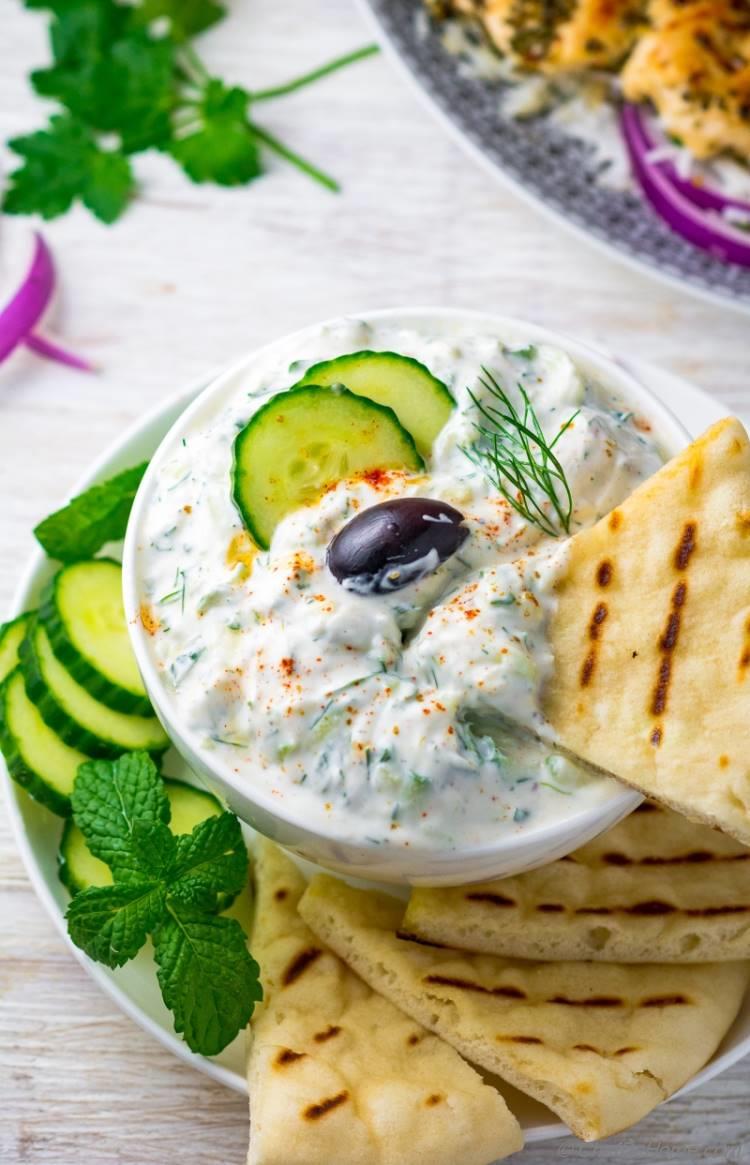 When I shared Chicken Souvlaki yesterday.. I wanted to add recipe for tzatziki too but decided to share a separate post. Two reasons: first because chicken souvlaki is dairy free. So I wanted to keep recipe dairy free. Second, tzatziki is not just a side, it is a complete robust sauce of it's own. It can be great option for vegetarian dinner with side of rice and grilled veggie kabobs. So tzatziki recipe gets it's own spot on CDH. :) It is also gluten free when served with gluten free sides/main course.
On a side note, it's good to learn one new word in one day. Like yesterday, we learnt [soov-lah-ki]..
Today, [tsä'tseke]. Make sense, right?
Tomorrow?
Ummm... 
Any guesses?
.
.
I will keep that a surprise.. but I promise it will be delicious!
All I can say is, save some Tzatziki Sauce too for the next recipe! hint hint 
-Savita
Easy Tzatziki Sauce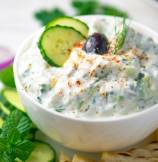 Total Time
Prep Time
Cook Time
Cuisine
Mediterranean
Category
Dip
Difficulty
Easy
Yields
3 Cups
(Serves:

8

)
Notes
No. of servings depends on serving size.
Ingredients
Tzatziki Sauce

1 Cucumber

(medium hothouse cucumber, grated)

500 Grams Yogurt

(about 2 cups, plain Greek thick yogurt, low fat)

2 tsp Garlic

(4-5 fresh garlic cloves, grated)

3 tbsp Lemon

(juice)

1 tsp Olive Oil

(optional)

1/2 tsp Cumin Powder

(roasted and ground cumin seeds)

1/2 tsp Black Pepper

(freshly cracked, adjust per taste)

3-4 tbsp Dill Leaves

(chopped, more for garnish )

1/4 tsp Cayenne Pepper

(optional, for garnish)

3/4 tsp Salt

(adjust per taste)

2 tbsp Mint

(leaves of 2 fresh mint sprigs, chopped)
Directions
1.

Grate cucumber, place in muslin cloth, and squeeze to remove as much water as possible. Transfer to a bowl.

2.

In bowl, add yogurt, grated garlic, olive oil, lemon juice, half of cumin powder, half of salt, black pepper. Mix well.

3.

Fold in cucumber, dill leaves, and mint leaves. Taste and adjust salt and more lemon juice (if needed). Sprinkle remaining seasonings on top just before serving! Refrigerate until ready to use. Serve with pita chips or on side of grilled meats. Enjoy!
Savita's Notes:
If using regular cucumber with seeds. Discard the seeds before grating. Seeds will not taste very appealing in Tzatziki and also it will dilute the dip as it sits longer.
© Chef De Home. All contents and images are copyright protected. DO NOT copy or re-use content/images/videos. For all content/post mentions with link back, contact ChefDeHome for permission.

Craving for more?
Join us: Weekly Newsletter, Facebook, Google, Twitter, Pinterest
Shop products we use: CDH Amazon Shop (affiliate links)
What would you like me to cook next?: Request a Recipe