Za'atar Chicken
Easy Za'atar Chicken with Lemon-Feta Potatoes, roasted in same sheet pan for quick Weeknight Dinner!
Posted On:

Aug, 15
| Author:

Savita
You will LOVE the flavors!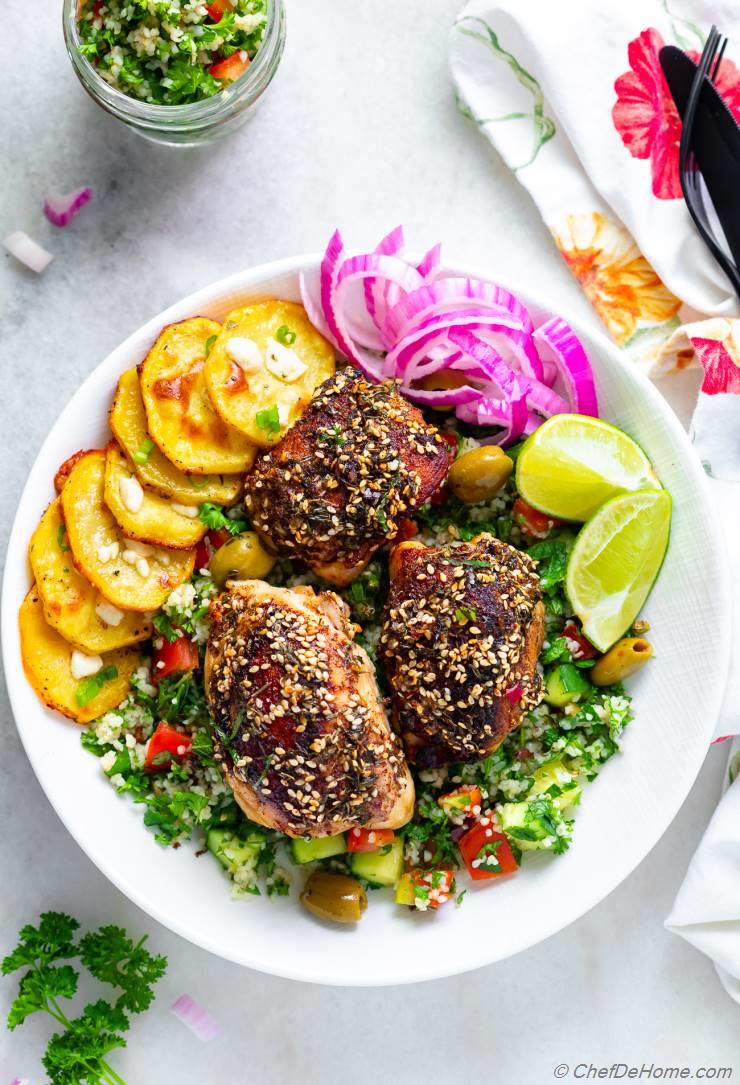 Za'atar Chicken with Roasted Feta Potatoes, an amazing and delicious Chicken Thigh Roast recipe with Middle Eastern spice blend Za'atar.. I roast chicken with seasoned Feta Potatoes in one sheet pan for a quick main course and side ready at same the time. A perfect weeknight meal! Gluten free, nuts free.
Spiced Sheet Pan Chicken Roasts are my favorite for quick weeknight meals. Spices add so much flavor, with few dishes used  cleanup is a breeze.
This Zaatar Chicken recipe is also great option for Meal Prep. Roast chicken over the weekend and refrigerate. On weeknights, make Chicken Bowl with Tabbouleh and Tzatziki, or Shred Chicken and add to Pasta, or make Pita Pockets with Tahini Sauce. Options are endless! (It keeps well in refrigerator for up-to 5 days.) 
Honestly, dinner can't get easier than this! What do you say? Let's make Zaatar Chicken!
Oh, and before we check the recipe, I highly recommend trying my Za'atar Seasoning for this recipe.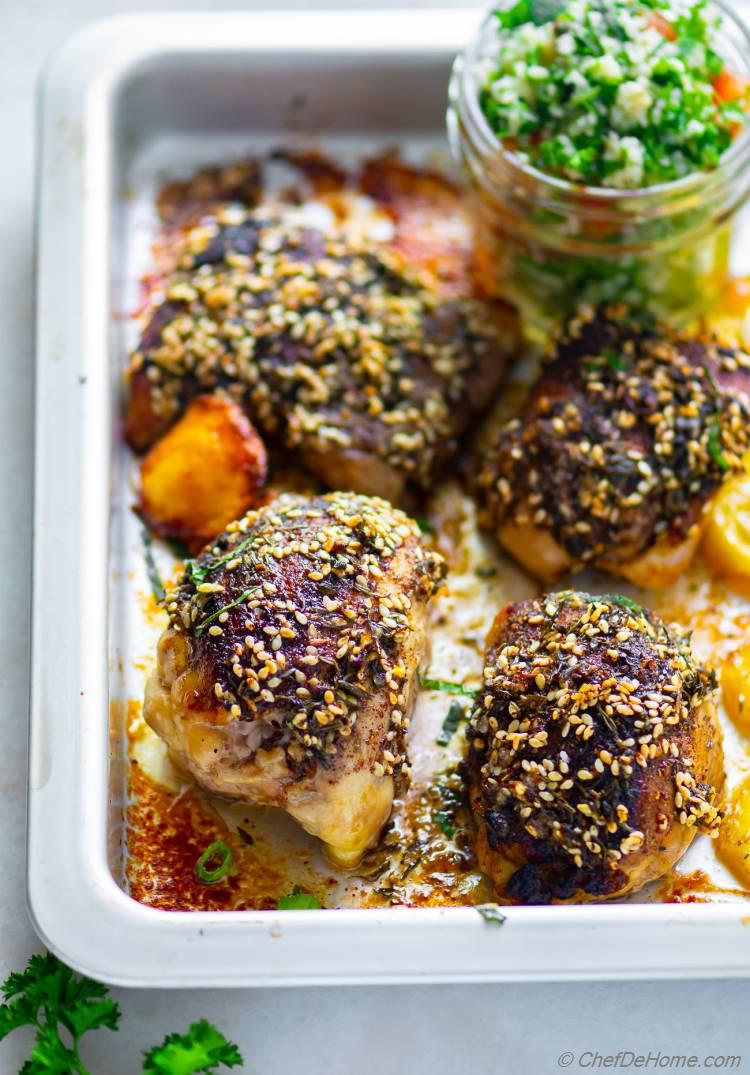 Za'atar Seasoning:
Za'atar seasoning is Middle Eastern Spice blend made with dried thyme, oregano, sesame seeds, and sumac. Store bought Za'atar seasoning sometimes are sold without Sumac. Read the ingredients and if you see sumac missing, buy Sumac for this recipe.
Sumac is a citrus-y Middle Eastern Spice which is as important for Zaatar Chicken Recipe as is Za'atar. Read more about this in my Zaatar Seasoning Post.
If you have never tried Za'atar or Sumac? This is The recipe to start with!
Chicken Thighs vs Chicken Breast:
Honestly, any given day I will choose Chicken Thigh for roasting than chicken breast. Where chicken breast is lean, thighs are more-worked-meat of bird. The baked chicken thighs are always more tender and juicy. Plus these are not as expensive as breast meat. To keep'em lean, I get rid of skin.
Note: If you using Skin-On thighs, sear chicken until skin is crisp brown before applying Zaatar Paste and roasting.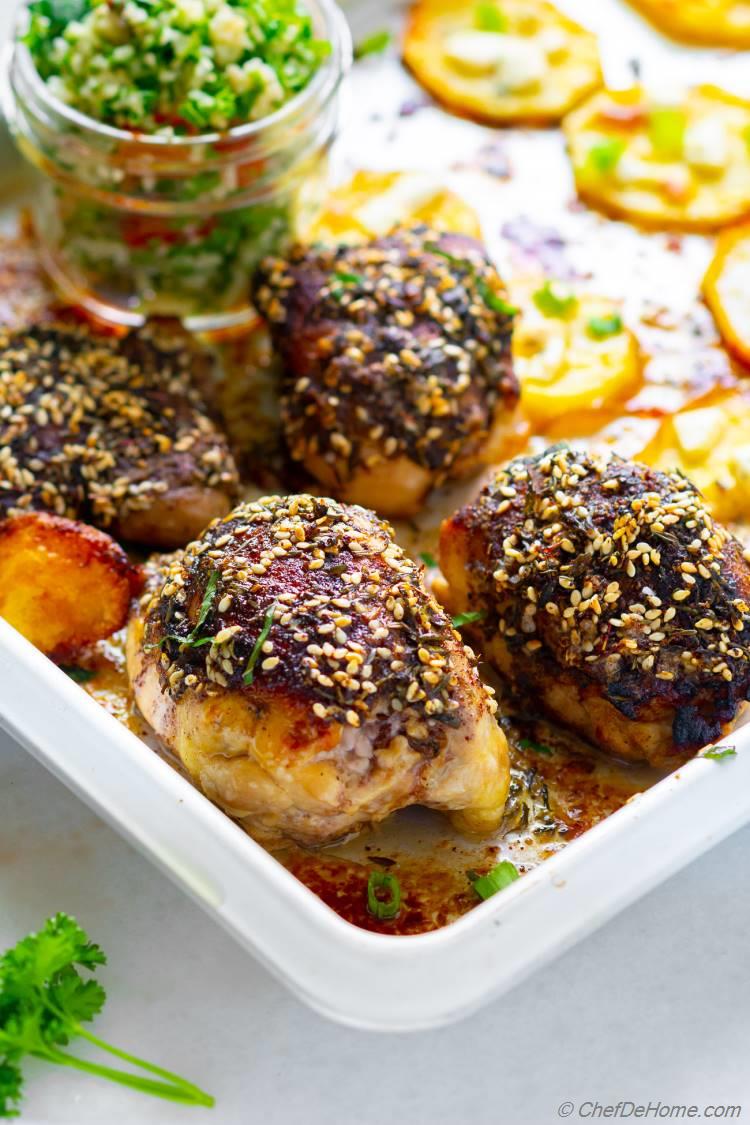 Ingredients for Za'atar Chicken:
Ingredients for Zaatar Chicken are simple and are very easy to find in pantry/fridge. Other than fresh chicken, za'atar and feta cheese, all other ingredient is on the house. How good does that sound?
How To Cook Za'atar Chicken 
Here's how I cook Za'atar Chicken:
I start by marinating the chicken in simple marinade of lemon, garlic and cumin. This simple step enhances the flavor of meat, makes it flavorful throughout not just the outer za'atar seasoned layer. 
I also pan-sear the chicken to lock-in juices. Only the side which get brush of Zaatar. The other side is seared when chicken bakes in oven with Potatoes.
Easy! right?
The best part about this recipe is Chicken and Potatoes bake together. By the time chicken bakes, potatoes are perfectly tender, with delicious juices of chicken, lemon flavor, hint of salty feta. Seriously, I'm a fan!

Tip:If you not planning to bake Zaatar Chicken without potatoes, use a cast iron skillet to sear the chicken. Then, flip chicken cooked side up, apply za'atar paste and bake in same skillet. No need to get out extra sheet pan. 
Let me sum for you, what makes this Za'atar Chicken Recipe special!
Flavor: This chicken so flavorful. I marinate the chicken in lemon, garlic, and cumin.  Then pan sear it to seal in juices. Then, flavor doubles when chicken is rubbed with zaatar spice. 
Feta Potatoes: Even Zaatar Chicken is everyone's favorite, Feta Potatoes make a delicious side without much effort. And they are so delicious with hint of lemon, and feta cheese melted on top.
Do these look delicious or what?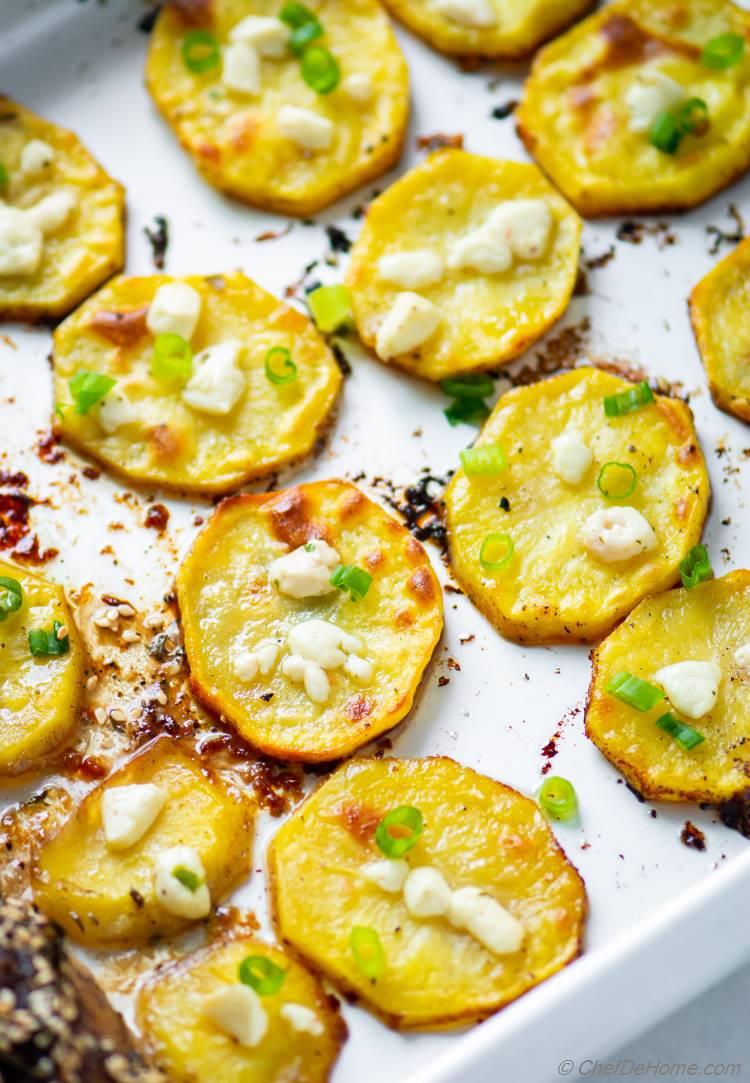 Make Your Own Middle Eastern Meal:
I serve Za'atar Chicken with Traditional Tabbouleh and side of homemade Tahini Sauce or Tzatziki Sauce. Honestly, Mediterranean diet is so lite, these small condiments bring so much more flavor on plate. Like this Chicken Recipe uses less oil and more spices. This is the good thing about spice-forward recipes, the spices add so much flavor, you don't need anything else.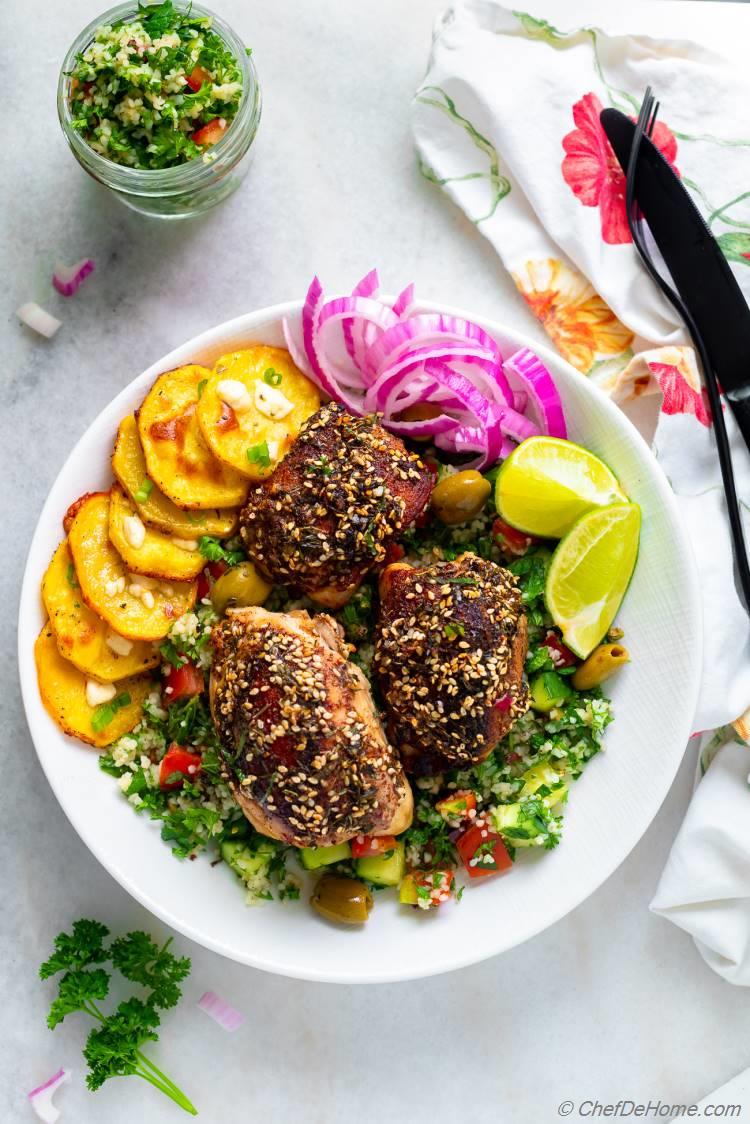 Oh, If you ever plan a Mediterranean Menu, I got you covered for a full-blown menu! Here are my top favorites:
Chicken Souvlaki
Tzatziki Sauce
Tahini Sauce
Tabbouleh 
Za'atar Chicken
Pita Bread
Oh, yumm! Need I say more?
Note:If you need a vegetarian main course, I recommend trying my Ratatouille Recipe. 
Za'atar Chicken is also dairy-free. Only feta cheese is used for potatoes. I hope you will enjoy it as much as we do. -Savita x
More Vegetarian Sides Ideas.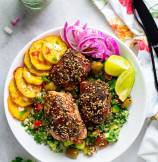 Total Time:
Prep Time:
Cook Time:
Cuisine:
Mediterranean
(

Side Dish, Main Course

)
Difficulty:
Easy
Yields:
4 Servings
- Serves:
4
(

Total time does not include marination time.

)
Ingredients
Za'atar Chicken
Roasted Feta Potatoes
Directions
1.

Prepare Ingredients

:

Place oven in middle rack. Preheat oven to 450 degrees Fahrenheit. Spray two rimmed baking sheets with cooking oil spray. In a small bowl, mix *Za'atar Seasoning with 1.5 tbsp olive oil, 1/4 tsp **salt, and paprika.

Additional Notes:

**Salt: If seasoning blend used has salt, please adjust per taste.

2.

Marinate Chicken

:

In a bowl, add minced garlic, cumin, 1/2 tablespoon za'atar, 1/2 tablespoon olive oil, 1/2 tablespoon lemon juice, **salt and black pepper. Add in chicken breast, coat well and leave to marinade for 30 minutes.

3.

Prepare Potatoes

:

Slice potatoes to 1/4 of an inch thick round slices. Add to bowl, 1/2 tablespoon olive oil, 2 teaspoon lemon juice, generous two pinch of salt and black pepper. Place in single layer on prepared baking sheet leaving 3-4 inch space on one side for chicken.

4.

Pan Sear Chicken

:

Heat a cast iron griddle, add a tsp oil. Take chicken out of marinate and place in hot skillet, thick part down. Let it cook undisturbed for 5 minutes or until chicken in contact with skillet is caramelized.

5.

Bake Chicken and Potatoes

:

Transfer chicken from cast iron onto baking sheet, caramelized side up. (Place in single line on side of potatoes.) Brush zaatar paste on chicken. Bake at 450 for 22-25 minutes or until chicken registers 165 in thickest part. (5 minutes before done, take sheet out. Top potatoes with crumbled feta. Place bake and continue to bake.)

6.

Assemble Plate, Serve and enjoy!

:

Take sheet out of oven, set aside to rest for 5 minutes. Then, transfer chicken to platter. Take out potatoes with help of tong and serve on the side of zaatar chicken. Garnish with chopped parsley or chives. Serve with side of tabbouleh. Enjoy!
Savita's Notes:
*Za'atar Seasoning is Middle Eastern Spice blend made with dried thyme, oregano, sesame seeds, and sumac. Store bought Za'atar seasoning sometimes are sold without Sumac. Read the ingredients and if you see sumac missing, add additional Sumac. Or make homemade Za'atar Spice blend using my Za'atar Seasoning Recipe
**Salt: If seasoning blend used has salt, please adjust per taste.
DID YOU MAKE THIS RECIPE?
Tag
@SAVITACHEFDEHOME
on Instagram and hashtag it
#SAVITACHEFDEHOME
© Chef De Home. Post content including video and photos are copyright protected.
We Think You'll Love