Chicken Fajita
Posted On:

Jun, 22
| Author:

Savita
This will be your favorite Chicken Fajita Recipe ever!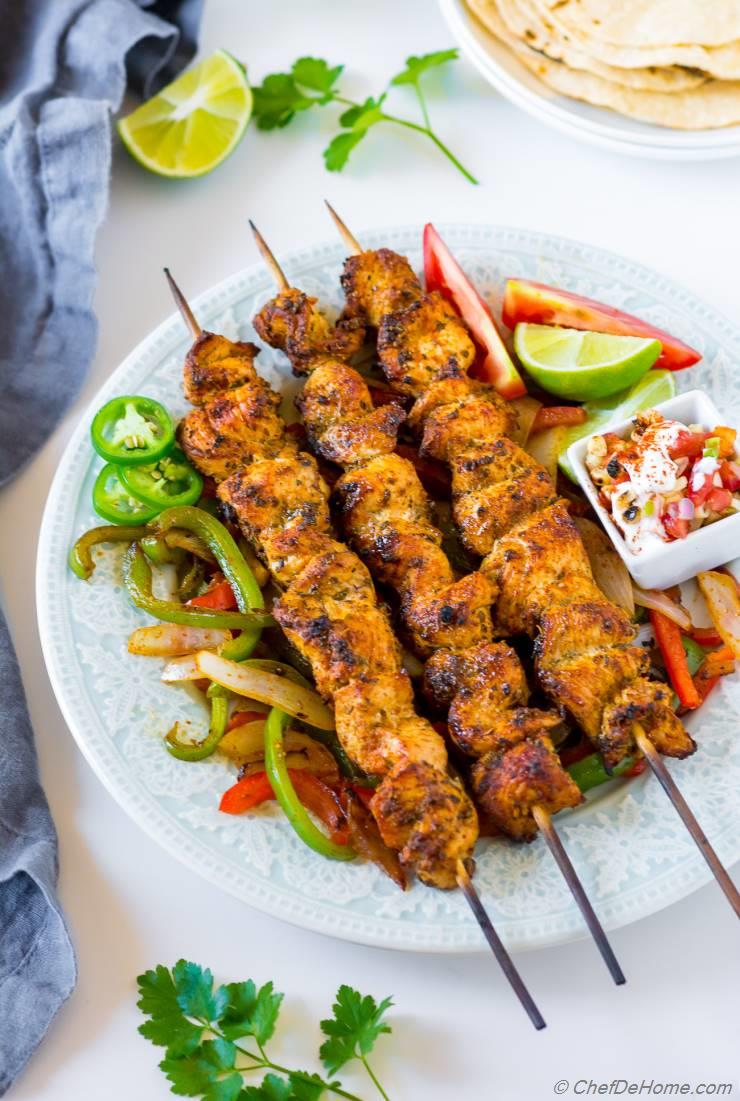 The vibrant and flavorful, ultimate spiced smokey chicken fajitas seasoned with homemade fajita seasoning, served with caramelized peppers and onions, and side of Esquites! A healthy and delicious summer dinner in matter of minutes. Gluten free, and whole-30 diet friendly.
We are often grilling on summer weekends. So, chicken for my spiced chicken fajitas is often grilled liked kabobs. If I have a gathering, I make lots of small skewers and put on grill. This way everyone can grab a few skewers, sauted pepper-onions, tortillas and toppings! It is like, make-your-own chicken fajitas! 
Oh, and even though picture shows grilled chicken fajita kabobs... I have shared both ways to cook. You can either grill and saute peppers on the side, on the grill. Or can also cook chicken in the cast iron pan. (details ahead)
So, what do you say? Let's make some Chicken fajita!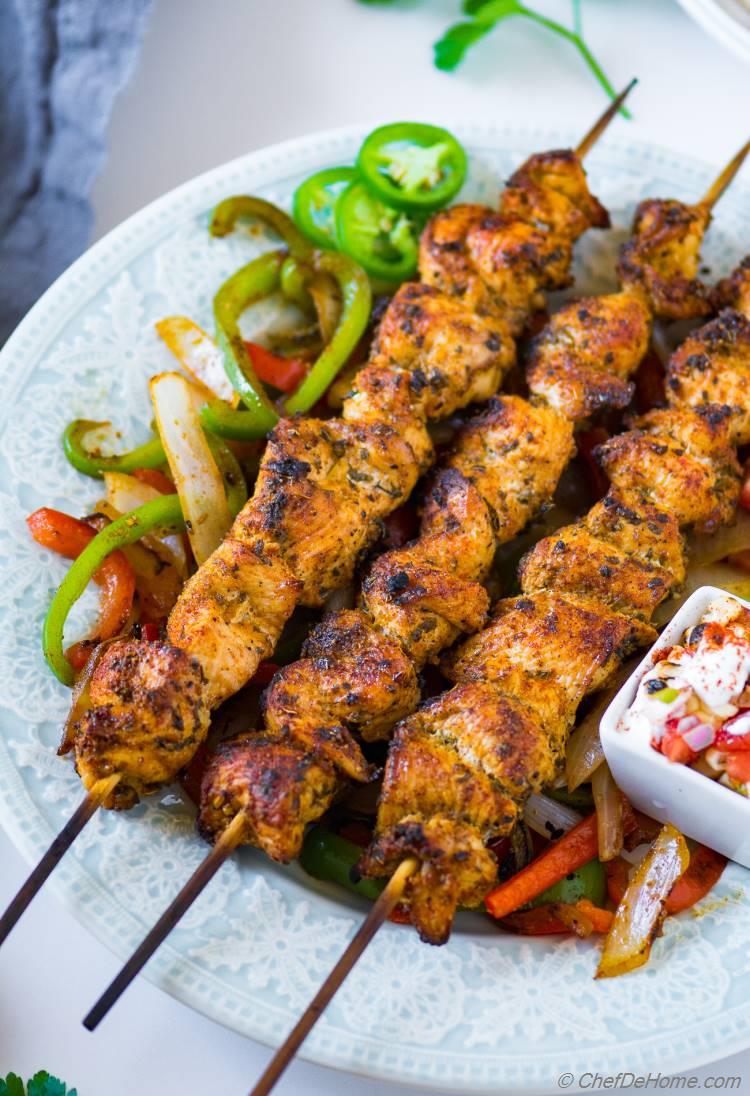 This week has been healthy Mexican food week on CDH. Don't you think?
We started with no-salt, no-starch homemade fajita seasoning which is shining on these chicken fajitas. I felt, it will be unfair to talk about seasoning but not share fajitas. :) So, here I'm. Finishing week with a healthier Mexican favorite. Chicken is cooked in very less oil (benefit of grilling.. hint hint), it is healthy doss of spices. I served gluten free tortillas on side with homemade Mexican corn side - esquites. Esquites is also gluten free and adds ton of sweet-sour flavor on chicken fajitas. Plus it has no oil, no cheese but just non-fat sour cream. Delicious and Healthy! I highly recommend it. 
Not just weekend grilling, healthier fajita are often on my weeknight dinner menu. Specially, when I don't want to be in kitchen more than 20 minutes. Now, quick does not mean not flavorful. Flavor is MUST! This is when fajita seasoning comes in. It coats chicken in delicious layer of flavors which gets caramelized when cooked on grill plus seals in juices and makes chicken moist from inside. I can tell you, the aroma of seasonings is so inviting! It is by no-mistake an irresistible dinner every time.
Honestly, it will take more time to order fajita in Mexican restaurants... than to make a big batch at home for a family. For an instance, forget about money saved.. but the time saved is priceless.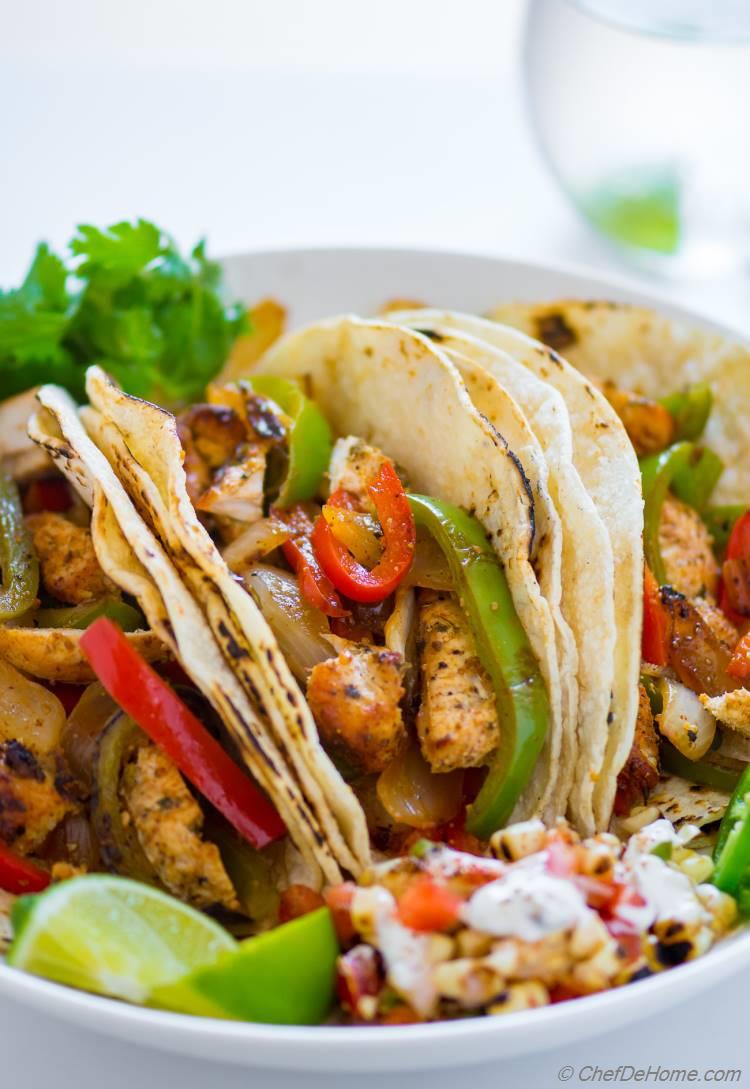 Recently, we visited San Diego fair. Two things that make me nostalgic about fair are: churros and fajitas. Cinamon sugr churro is always hard to resist. I love the air filled with fragrance of spiced sauted fajita pepper and onions. If you remember, I captured my fajita peppers nostalgia in this Sausage Pepper Pasta.
Like I said, today, I thought Chicken Fajita recipe needs a separate place on blog. Fajita is more of an all-round season recipe than summers. In summers, when I have access to grill, I grill fajita marinated chicken and saute peppers in grilling pan outdoors. In winters, or on weekdays, I cook chicken fajita in a cast iron skillet or heavy bottom skillet.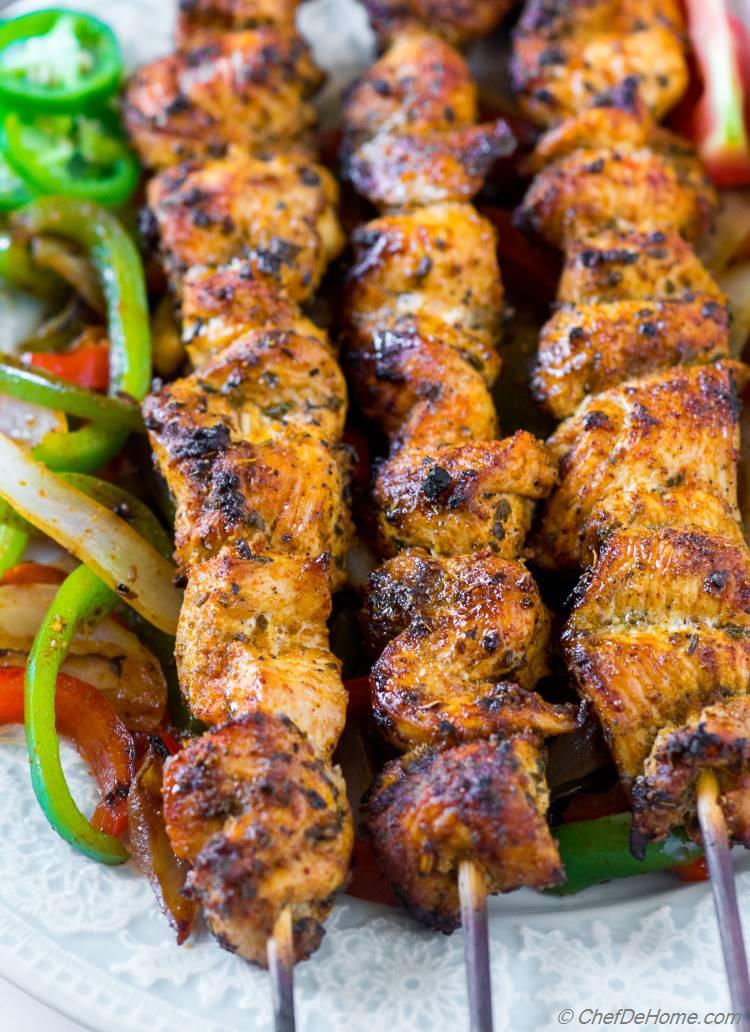 To make chicken fajita, I start by mixing fajita marinate of lime juice, olive oil, and half of fajita seasoning. Marination does not have to be long. However, I recommend 20-30 minutes. You can marinate chicken for fajita up to 24 hours in advance. To marinate, I put thin sliced chicken pieces with fajita marinate in a seal-able bag. Massage well and leave aside while I slice fajita veggies - red and green bell pepper, onions, mushrooms (if using) etc.
I also use this time to slice some lime wedges, and make esquites for topping/side.
To Cook Fajitas in Cast Iron Pan or Flat Grill Top:
Once ready for dinner, I heat a heavy bottom skillet or flat grill cook top, add in marinated chicken. No need of more oil since marinate has oil already. By the time chicken is fully cooked, fajita spices cover chicken in charred flavorful coating. In lt 5 minutes, I also add in sliced veggies with remaining seasonings.Veggies just get crisp tender and flavorful with juices of chicken and spices.
To Cook Fajitas on Grill:
I skew marinated chicken on skewers (pre-soak skewers if using wooden to avoid burning on grill). Grill on medium flame until chicken is fully cooked from all side. (3-5 minutes each side). While chicken grills, I saute peppers and onions in griddle with remaining seasoning. 
Some splash of lime juice on sizzling chicken fajita with sprinkle of fresh cilantro... salsa, creama, and soft tortillas on the side! (if you prefer gluten free? Use gluten free corn tortillas) #dinneriscalling
I heart this recipe. 25 minute Chicken Dinner can't get better than this! Plus a one-pan dinner promise makes it perfect for weekdays!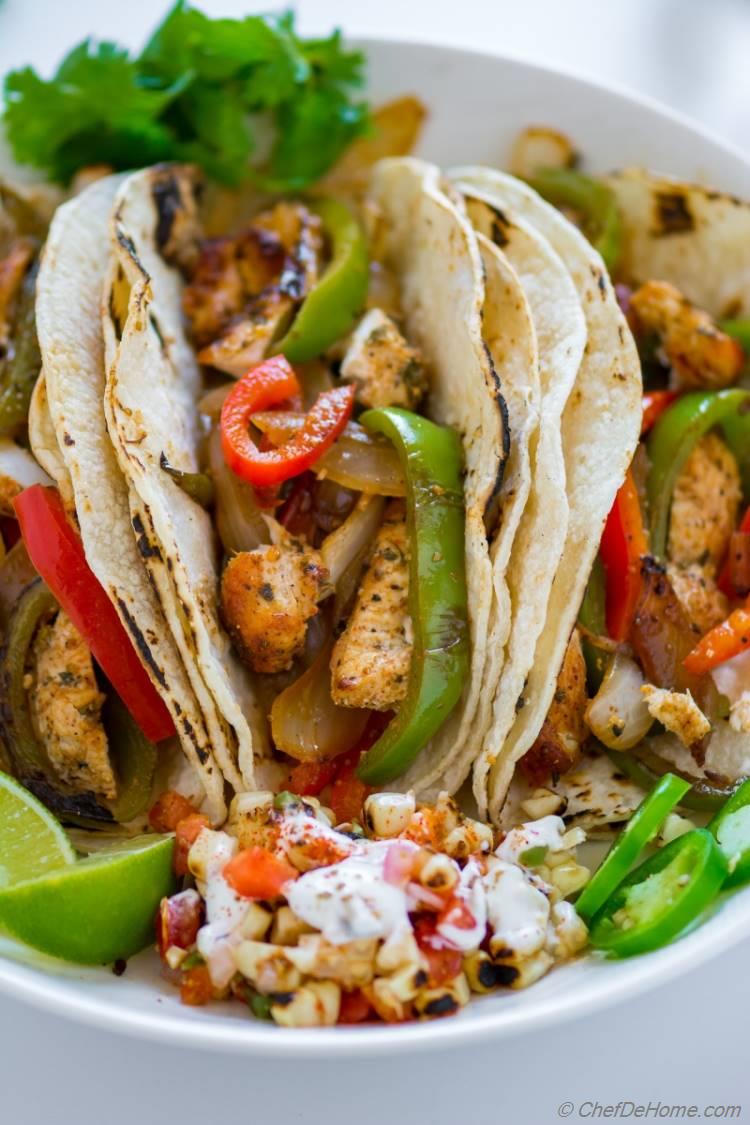 Speaking of sizzling chicken fajitas.. You can actually turn same recipe into sizzling chicken fajita in three simple steps:
1) Cook chicken fajita as instructed in recipe
2) When ready but still very hot, de glaze pan with 1/4 cup vodka or white wine.
3) Serve immediately while still sizzling.

I'm so glad that this easy chicken fajita recipe has finally made to blog. I guarantee, you will fall in love with the flavors. This week was all about Mexican food. Let's see what next week has in store! Check back soon!
Happy Weekend!
I covered our san diego county fair visit on Instagram. For more stories, live tutorials, and delicious finds, follow us on Instagram: @savitachefdehome You can also tag our recipe you tried @savitachefdehome and share with us.
Some side-kicks for complete Mexican meal!
Chicken Fajita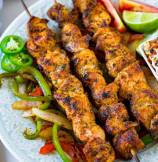 Total Time:
Prep Time:
Cook Time:
Cuisine:
Mexican
(

Main Course

)
Difficulty:
Easy
Yields:
2-3 Servings
- Serves:
3
(

No. of servings depends on serving size.

)
Ingredients
Fajita Marinated Chicken
Fajitas
Directions
1.

In a seal-able bag, mix fajita marinate ingredients - lime juice, olive oil, 1.2 teaspoon salt, and 1.5 tablespoon of fajita seasoning.

2.

Add chicken pieces, seal. Massage bag to distribute seasoning on to the chicken. Make sure all pieces are well coated in marinate. Refrigerate until ready to use.

Additional Notes:

Marination does not have to be long. However, I recommend 20-30 minutes. You can marinate chicken for fajita up to 24 hours in advance.

3.

Once ready to grill, preheat grill. Skew marinated chicken onto skewers. Grill on medium heat until chicken is fully cooked.

4.

While chicken grills, heat a heavy bottom pan. Spread onions and peppers in single layer seasoned with remaining seasoning and 1/4 teaspoon of salt. Let veggies caramelize, turn and cook other side. Don't let veggies get mushy. These should just be crisp tender. Remove from heat and keep warm while chicken gets ready.

5.

Serve on side to make your own chicken fajitas. Serve warmed tortillas and salsa on side with lots of lime wedges. Splash lime juice on fajitas before eating. Enjoy!
DID YOU MAKE THIS RECIPE?
Tag
@SAVITACHEFDEHOME
on Instagram and hashtag it
#SAVITACHEFDEHOME
© Chef De Home. Post content including video and photos are copyright protected.
We Think You'll Love