Sweet Spicy Roasted Butternut Squash Soup with Apple
Posted On:

Sep, 14
| Author:

Savita
This roasted butternut squash soup is vegan, gluten free, and loaded with sweet, tangy, spicy flavors! Can't be missed!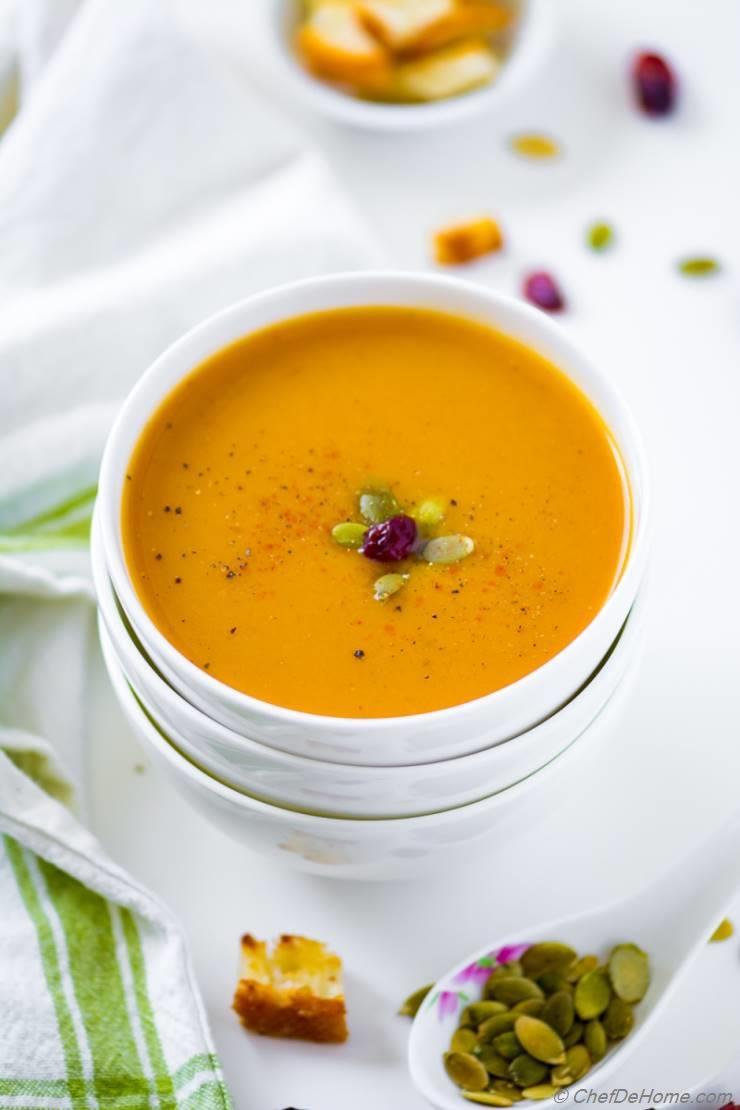 A flavorful, spicy, and super easy fresh roasted butternut squash soup with tangy Granny smith Apple and subtle heat of chilies! This comporting bowl is perfect accompaniment for a chili night dinner! Gluten free, and vegan.
This butternut squash soup is also low-oil since I only use oil spray to roast butternut squash and to saute onions. I cooked this soup in filtered water and added good dose of herbs and spices to compensate for the flavor.. Or I you can use a low-fat homemade vegetable stock.
After all, a healthy soup does not have to boring.. This soup strongly supports this theory! I'm not sure where to begin describing who much depth of flavor is packed into this no-cream creamy soup. First sip of the soup and you taste the sweetness of butternut squash and tang of granny smith apples.. As sip is complete, you feel the heat of chilies that make you take another sip of soup. :)
I'm telling you, it is THAT kind of addictive sweet and spicy butternut squash soup! That much and you know what? Soup comes together in 20 minutes once I have roasted butternut squash! (sharing complete guide for perfect roasting ahead)
Sounds like a promising Autumn dinner! Don't you think?
So, let's make some Spicy, Sweet, and Tangy Roasted Butternut Squash Soup!! Shall we?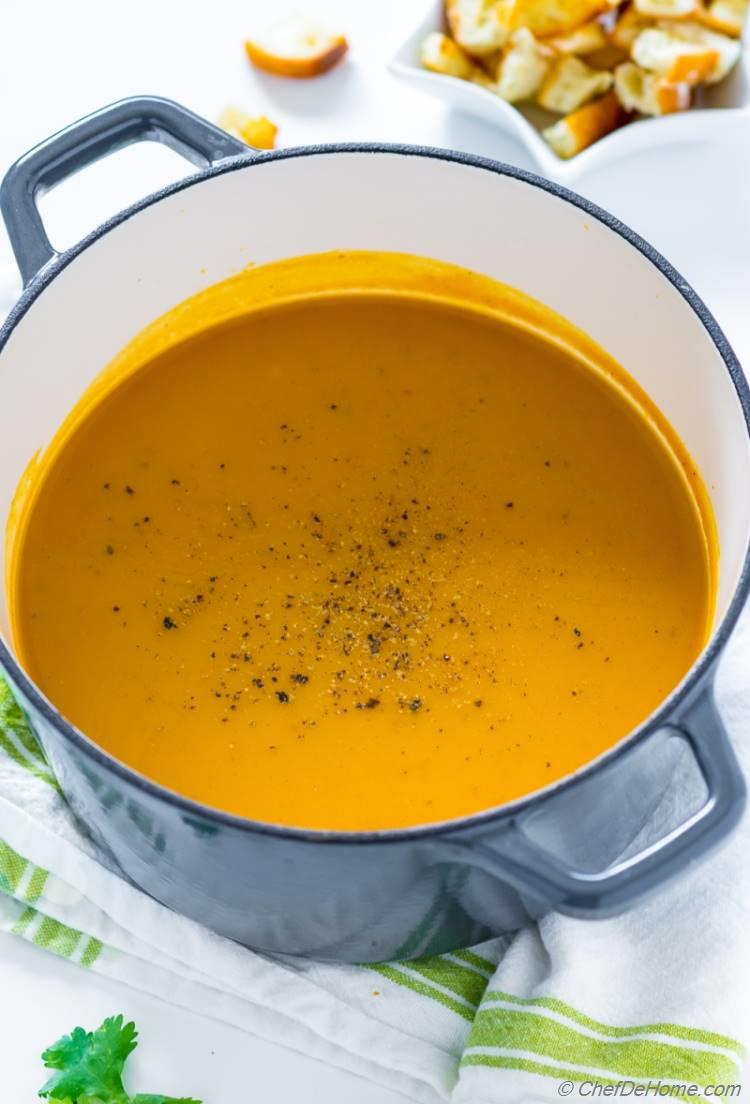 Last weekend, I bought some fresh organic butternut squash. When I cut open the squash... it's fruity sweet fragrance was just amazing. Even raw squash filled my kitchen with sweet aroma. Honestly, if I buy squash late in season.. I don't think I have ever experienced such sweetness. Loved it!
I had an idea of spicy, sweet and sour soup cooking in my notebook since long.. Sweetness of squash gave me nudge in right direction. I still had a few tablespoons of adobo sauce left from last week's recipes. You know? My trio of Chipotle Salsa, Chipotle Barbacoa, and Chipotle Tofu Enchiladas! OMG! Chipotle should pay me for spreading so much love! ;)
Oh, did you guys notice the theme for this week?! I did not plan it! But it has become my favorite spicy soup/stew week of the fall! We started with Thai Red Curry, a famous saucy curry from Asia flavored with Thai chilies, coconut milk and spices! We embarked on Green Chili, a green tomatillos and green chili based hearty stew with creamy beans and chicken. Today's spicy and sweet butternut squash soup recipe completes the trio!  Don't forget to check other two!
Ok, so let's get back to my butternut squash apple soup before I completely loose track of what was I saying..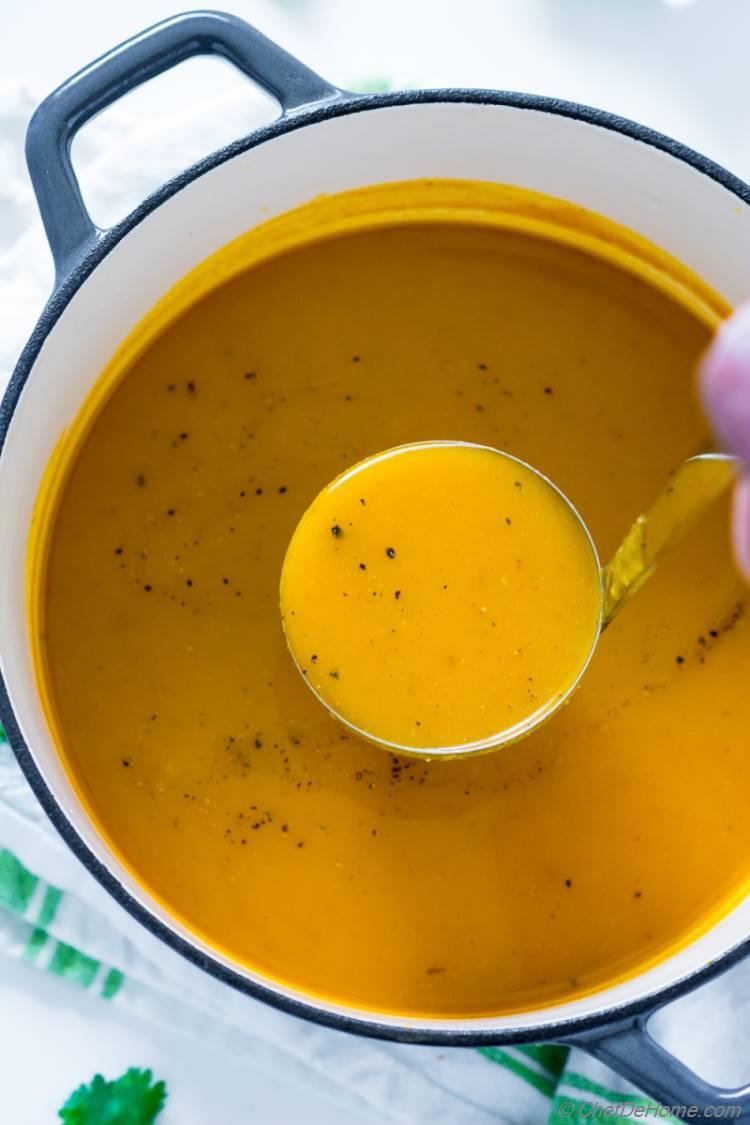 After I had roasted the butternut squash which took about 30-35 minutes... I prepared Butternut Squash Apple Soup in just 20 minutes! Sweetness of squash goes very well with tangy ingredients such as goat cheese, yogurt, sour cream. Today, I used apple to marry two seasonal ingredients. Plus also to keep it dairy free, vegan, and closest to nature.
One thing that will pleasantly surprise you is Guajillo Chilies. It is Mexican red chili which is mild hot but still has a kick. Plus it is fruity like Ancho chilies. I used two because we like soup with some heat. For recipe, I have suggested only one without seeds. With two chilies blended in, this squash soup had a flavorful after-sip heat which we enjoyed a lot!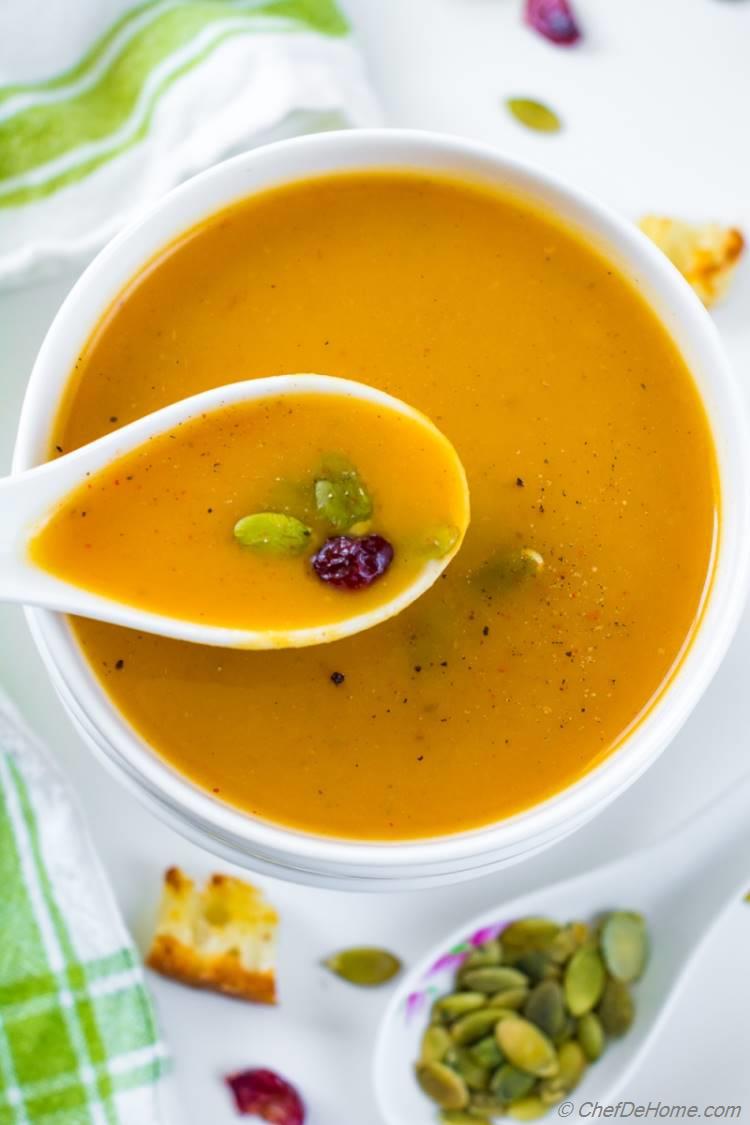 To prepare this soup, I start by cooking the butternut squash. If you using frozen squash, you can boil it with apples and other soup ingredients for 15 minutes longer. I used a whole fresh butternut squash. Instead of peeling and dicing it... I roasted it whole! This makes cooking butternut squash super easy and least pain-staking.
My quick reference guide to roast butternut squash:
1) Crisp tender medium butternut squash. Suitable for saute/chunky stews - Bake 25 minutes at 400 degrees Fahrenheit.
2) Fork tender medium butternut squash. Suitable for quick cooking in soups, or serve as-is.  Bake 30 minutes at 400 degrees Fahrenheit.
3) Very soft medium butternut squash. Suitable for making butter, or pie-fillings.. Bake 35 minutes at 400 degrees Fahrenheit.
Please note above varies based on oven temperature and size of squash. Start checking after first 22 minutes to get right cooked butternut squash every time.
Once squash has cooked and is fork tender.. I let it cool while I prepare the rest of ingredients. Peel and core an apple, de-seed chilies, chop yellow onion and peel garlic.
I saute onion, chili, garlic in a heavy bottom pan. Once onions are soft, I add in other soup ingredients - roasted butternut squash, apple, spices, adobo sauce, salt, black pepper and water.. 15-20 minutes later, everything is well cooked and ready to blend. I simply use immersion blender to puree the soup. All ingredients are soft so immersion blender makes creamy smooth soup. No fancy blender or batch processing required! 

In few lines, this Roasted Butternut Squash Soup is:
1) A simple but pack-a-punch butternut squash soup which will be your favorite this fall! Sweet, and spicy! yumm!!
2) Needs very less work! Recipe includes instructions to roast whole squash split in half. Once cooked, just peel off skin! No messing or cutting with raw butternut squash!
3) This is one pot soup with no need of fancy blenders! An immersion blender makes a creamy soup. No need to puree! Just make sure to remove seeds of chilies before adding to soup.
4) Last but no way the least! If you are looking for a special diet soup? I mean, gluten free or vegan butternut squash soup then look no further! This recipe is both - gluten free and vegan. It has no creams - dairy or non-dairy but yet it is very creamy.
In my book, overall it is a healthy, warm and all-round seasonal soup. This weekend, get home some fresh butternut squash and apples. Then try this soup!
Enjoy! Wish you a wonderful weekend!
-Savita
Pairing Ideas:
Sweet Spicy Roasted Butternut Squash Soup with Apple
review

)
(1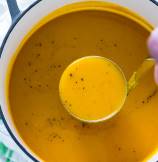 Total Time:
Prep Time:
Cook Time:
Cuisine:
American
(

Soup, Side Dish, Lunch

)
Difficulty:
Easy
Yields:
2 quart soup
- Serves:
8
(

No. of servings depends on serving size.

)
Directions
1.

Preheat Oven and Prep Butternut Squash to Roast

:

Preheat oven at 400 degrees Fahrenheit. Line a baking sheet with aluminium foil. Slit butternut squash in half. Brush with 1/2 tablespoon oil. Season with generous pinch of salt and black pepper.

2.

Roast Butternut Squash

:

Roast until flesh is fork tender but not mushy, skin is brown blistered. About 30-32 minutes. Let squash rest while you prep rest of ingredients - peel and dice apple, peel garlic, and dice onion. Once squash is cool enough to handle, peel off skin with small knife and cut into pieces.

3.

Saute Aromatics for Soup

:

Heat remaining oil in a dutch oven. Add onion, garlic and guajliio chili. Saute until onions are soft. Don't let onion brown (4-5 minutes).

4.

Simmer Soup

:

Add in diced apple, squash, spices, adobo sauce, and 4 cups of water (or vegetable stock). Bring to boil on high heat, then lower heat, cover and simmer for 15 minutes.

5.

Puree Soup

:

Let soup cool slightly. Using an immersion blender, puree the soup until smooth and silky. Mix in sugar or honey(if using). (make sure it if fully mixed). Taste and adjust salt. I add up-to 1 teaspoon to bring-out flavor of butternut squash and apple. Please adjust per taste.

6.

Garnish and Serve

:

Serve hot with toasted pumpkin seeds, croutons, or sweetened cranberries as per your preference.
DID YOU MAKE THIS RECIPE?
Tag
@SAVITACHEFDEHOME
on Instagram and hashtag it
#SAVITACHEFDEHOME
© Chef De Home. Post content including video and photos are copyright protected.
We Think You'll Love