Chipotle Barbacoa
Slow Cooker Chipotle Barbacoa - juicy meat barbecue in slow cooker with sweet and spicy marinade of smokey chipotle chilies!!
Posted On:

Aug, 30
| Author:

Savita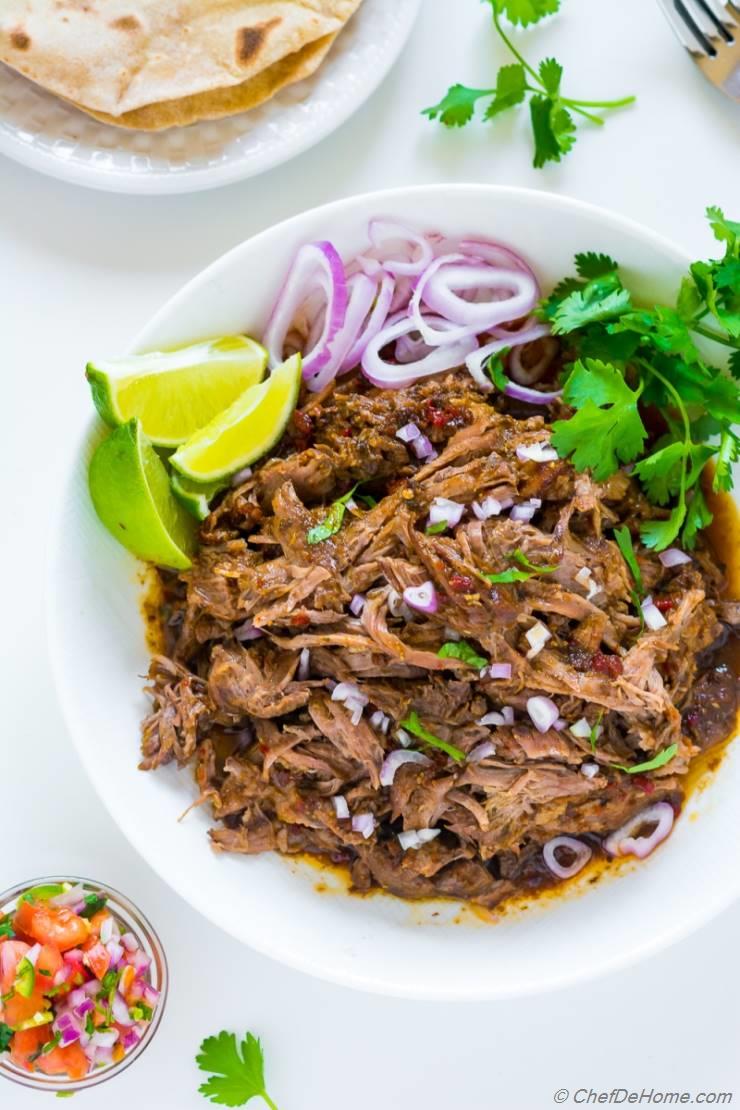 Chipotle Barbacoa, a classic pull-apart tender meat barbacoa slow cooked with smokey chipotle chilies, and flavorful mix of sweet and spicy marinade! Loaded with ton of flavor, this meat main course is must try once in lifetime! 
You know what? Today, I have made this traditional Mexican Barbacoa recipe everyday kitchen approved!
Simply dust your slow cooker, get delicious Mexican babracoa ingredients, and your favorite shoulder roast meat (I used lamb).. and this comforting main course will be the best homemade BBQ ever! Pull apart tender, juicy, sweet, spicy with smokey kick of chipotle. All of this without a messy fire-pit, fancy BBQs, or agave leaves!
Oh, and don't worry if you don't want to use slow cooker. I'm also including Oven method of cooking!
So, let's make Chipotle Barbacoa!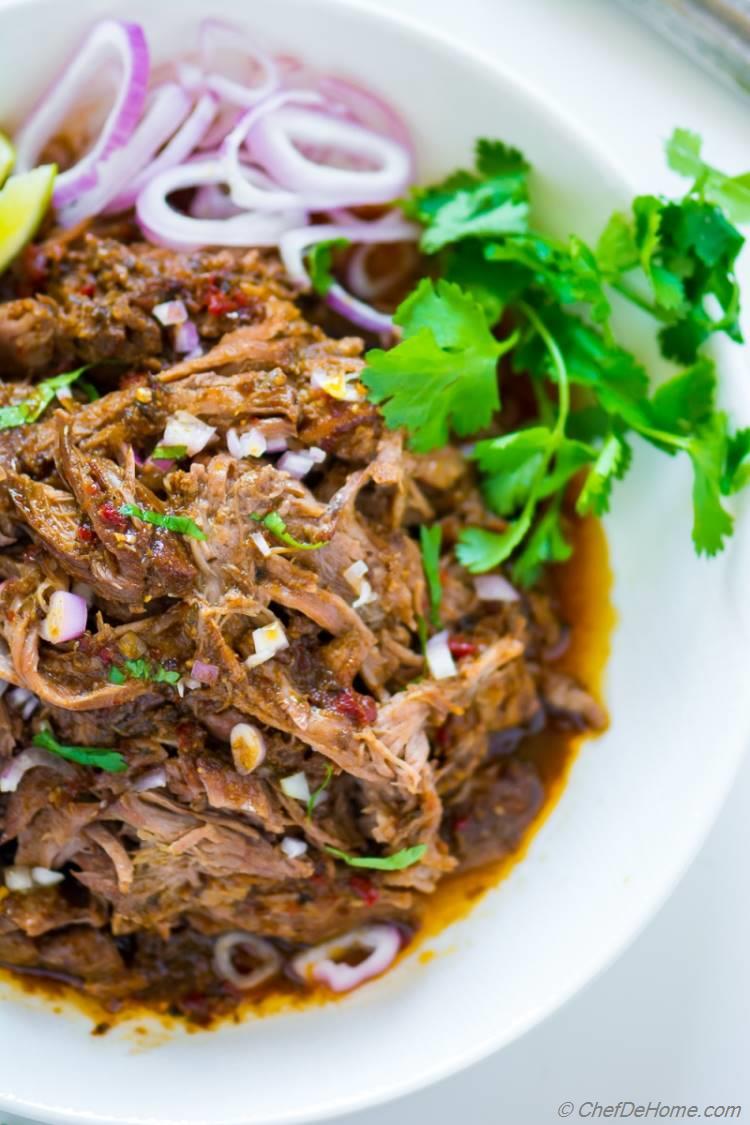 Do you know word BBQ is derived from Latin word "Barbacoa"? Barbacoa is the traditional way of slow cooking meat until it is pull apart tender, and has a layer of smoky flavor. Often sugar and heat of chilies are two main ingredients in any kind of barbecue or barbacoa. This Chipotle Barbacoa is no different. It has sweetness of agave, smoke and heat of chipotle chilies with pull-apart tender texture! 
I promised you, we are going Mexican this week! And it's all about Chipotle! I mean, literally! Everything I'm sharing this week is famous for Chipotle chilies and is inspired from Chipotle Mexican Grill's recipes. Chipotle Sofritas, Chipotle Salsa, Chipotle Cilantro Lime Rice are few of my old personal favorite.
This recipe is inspired from barbacoa recipe of chipotle. Only difference is, I decided to use Lamb instead. Lamb is traditional barbacoa meat and it stays more moist and flavorful when slow cooked.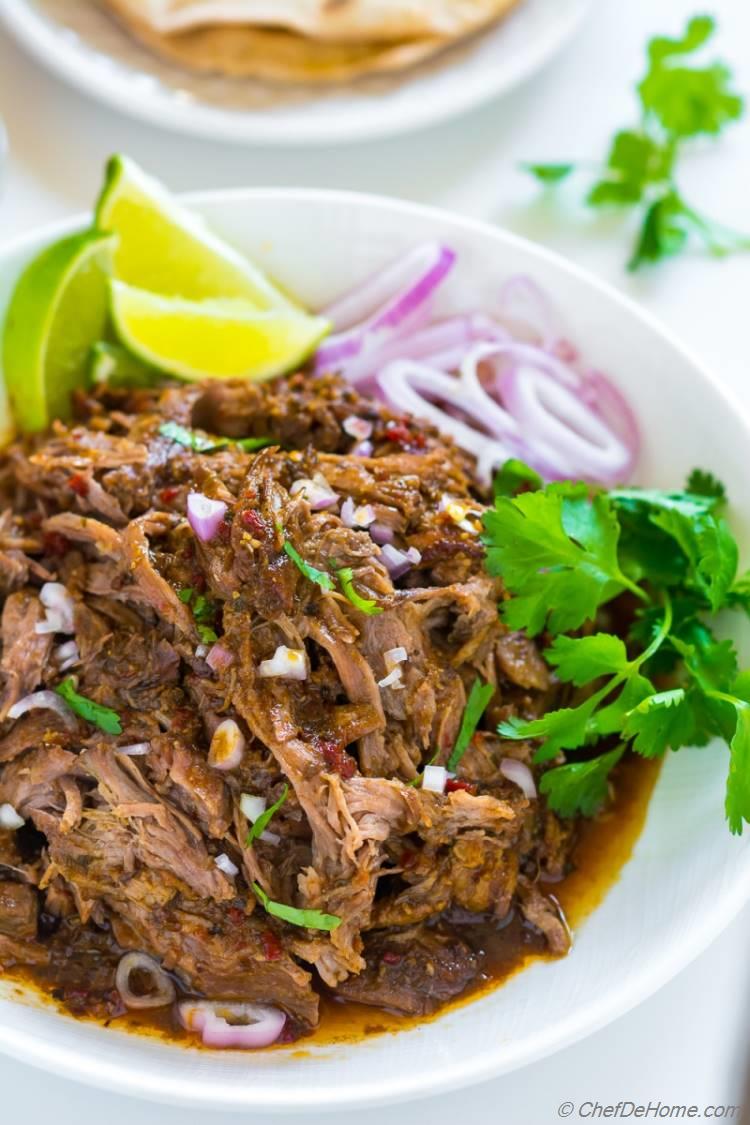 To make Barbacoa, I start by making the chipotle marinade.
The main ingredients for barbacoa marinade are Chipotle with adobo sauce, ancho chilies, sugar, lemon, cumin, garlic, and oil. It takes just 5 minutes to blend a batch of sauce. I discard the seeds from dry chilies and add all of the these ingredients to food processor. Few quick pulses and chipotle barbeque marinade is ready!
Authentic Mexican barbacoa is prepared in fire-pits where marinated meat (mostly lamb) is wrapped in agave leaves and slow cooked until meat is pull-apart tender. I had no resources to find agave leaves, so I added a little hint of agave syrup in marinade for some sweetness and subtle flavor. 
I borrowed suggestion from Rick Bayless's Barbacoa Recipe and added some beer to marinade. OMG! The flavor it added was amazing! Barbacoa at chipotle may not have beer but it was our favorite in this barbacoa recipe. Vishal has asked me to prepare it three times since. I'm telling you! This barbacoa recipe is a keeper! (Thanks Rick Bayless for pro tip!)
So, before meat goes to slow cooker, I pan-sear it until lamb is brown and little crusty from all sides. Browning enhances the favor of meat when slow cooking. Please don't skip this step. I used shoulder roast of 3 pound boneless lamb. When lamb is seared in pan, it renders down outer layer of fat. I added a tablespoon of that flavorful liquid collected in the pan into the slow cooker and discarded rest.  (You can even reserve it to cook some omelette or hash browns for breakfast.) 
Slow Cooker Method:
Once main three ingredients - pan-seared lamb, chipotle marinade, and beer meet in slow cooker... my job is over and slow cooker gets to work. 5.5 hours on high and lamb is pull-apart tender, moist, literally melt-in-mouth-tender.. Plus loaded with flavor.! Vishal was home from work by the time lamb was ready. He ate 2 tacos just while I was shredding the meat. Go figure! :)
Can you believe this homemade recipe for barbacoa needs less active time than going to Chipotle's and ordering?! 
Just 20 minutes active prep time! Season the lamb, pan sear it. While lamb is going, mix the marinade. Combine everything in slow cooker and done! That's it!
How does that sound? Easy-pezzy!!
Plus everyday kitchen approved! Isn't it? Prepare it for labor day get-together, serve it for taco Tuesday, or save the recipe for a cozy weeknight dinner! This chipotle barbacoa will be 'The Star' on every occassion! I can promise you that!
Plus look at the amount of money saved! Recipe doubles or triples easily! Barbacoa at chipotle will cost you $10-20 for 2. At home in $20-$25 you can feed family of 4+ with hearty meat and rice kinda servings! Plus can save some leftovers for barbacoa tacos or breakfast burrito! Yumm!
Dutch Oven Method:
If you don't own a slow cooker or just because you don't want to.. here is the method to prepare Chipotle Barbacoa in oven, in a heavy bottom vessel such as dutch oven.
After marinade is ready, heat oil in dutch oven. Add seasoned lamb and sear it until brown from all sides. 
After lamb is pan-seared, remove from dutch oven, discard half of the liquid collected at bottom. Add in marinade, beer with 2 cups of water. Bring to rolling boil, cover it with tight lid. Cook on stove top at medium-low for 2 hours or until lamb is pull-apart tender. Once lamb is done, remove in a plate. Bring any remaining liquid to rolling boil and cook until it is thick to your liking. Mix in shredded meat, garnish with red onion, serve salsa on side! Enjoy Chipotle Barbacoa even without slow cooker!

Are you Chipotle Chilies fan? I'm sure you will love these recipes:
1) Chipotle Chicken Tikka Masala
2) Chipotle Salsa
3) Chipotle Chicken Stuffed Peppers
4) Chipotle Chicken Cream Sauce Pasta 
5) Chipotle Chocolate Pudding Cake
Are you also a Chipotle Mexican Grill's recipes fan? Then I'm sure you will love these recipes:
1) Chipotle Tofu Sofritas
2) Tomatillo Salsa
3) Chipotle Taquitos
4) Cilantro Lime Rice
Wish you a great day ahead! Get ready for labor day long weekend! Bring some lamb, chipotle chilies, try Chipotle Babracoa and enjoy!
-Savita x
Chipotle Barbacoa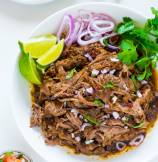 Total Time:
Prep Time:
Cook Time:
Cuisine:
Mexican
(

Main Course, Dinner

)
Difficulty:
Easy
Yields:
4-6 Servings
- Serves:
6
(

No. of servings depends on serving size.

)
Ingredients
Chipotle Barbacoa
For serving
Directions
1.

Season lamb with salt. Heat 2 oil in a saute pan. Sear the lamb until it brown and crusty from all sides. (about 2-3 minutes each side, 10-12 minutes total)

2.

Make the chipotle chili marinade by combining vinegar, chilies, adobo sauce, sugar, agave, garlic, and salt in a food processor.

Additional Notes:

Make sure to remove seeds and stem of dried chilies.

3.

Add lamb to slow cooker with chili paste, cumin powder, cinnamon, bay leaf, beer and 1/2 cup water.

4.

Cook on high for 5-6 hours until lamb is tender and falling apart.

5.

Transfer to lamb to a plate and shred the meat with clean hands. In meantime, pour liquid in a sauce pan and cook on high heat until gravy thickens to your liking. Mix it back in shredded lamb.

6.

Serve with garnish of red onion, fresh salsa, lime wedges. Enjoy!
Savita's Notes:
DID YOU MAKE THIS RECIPE?
Tag
@SAVITACHEFDEHOME
on Instagram and hashtag it
#SAVITACHEFDEHOME
© Chef De Home. Post content including video and photos are copyright protected.
We Think You'll Love