Chipotle Tofu Sofritas Vegetarian Enchiladas
Vegetarian Spiced Tofu enchiladas loaded with flavor and a vegan enchilada sauce!
Posted On:

Sep, 1
| Author:

Savita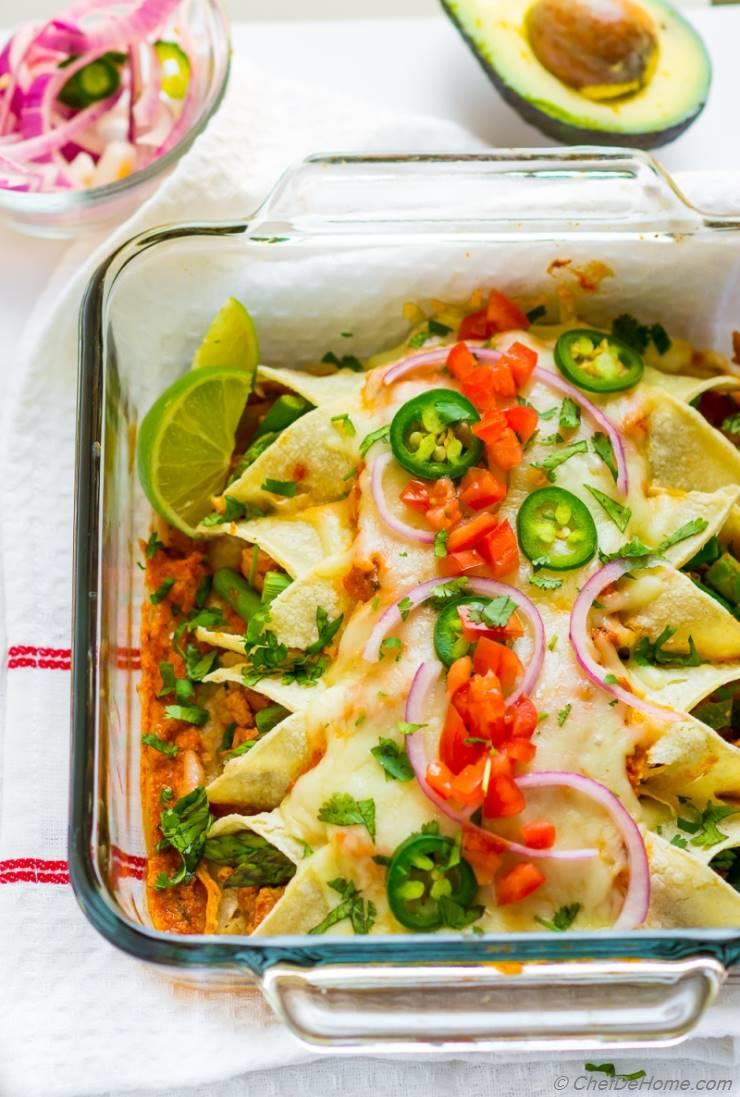 This vegetarian enchilada recipe is my favorite for many reasons: bold Mexican flavors, stuffing of my favorite Chipotle Tofu Sofritas, delicious greens - asparagus and spinach, and are slathered in a homemade rich and cream Cashew Cream Red Enchilada Sauce!
Oh, and you can easily make these vegetarian enchilada "vegan"! More on this ahead!
Keeping promise of Mexican food week! I couldn't think of finishing the week without a hearty vegetarian dinner recipe. In my home, when we talk vegetarian + Mexican + easy then Chipotle Sofritas tops the chart. Hands down my favorite tofu recipe ever!
A lot of people ask me "what are your favorites from your blog recipes?" By far, Tofu Sofritas is something that I crave for every other week! We avoid eating out on weekdays.. So when Vishal opt to eat chicken, I prefer sofritas if I have a can of chipotle and Tofu in hand.
These vegetarian enchiladas recipe is tale of one such weekday dinner. I had half can of Chipotle Adobo leftover from Chipotle Barbacoa. I made barbacoa enchiladas for Vishal and Vegetarian Enchiladas with asparagus, spinach, and Tofu Sofritas for me. Recipe came out so good that I could not resist making a second batch the next morning..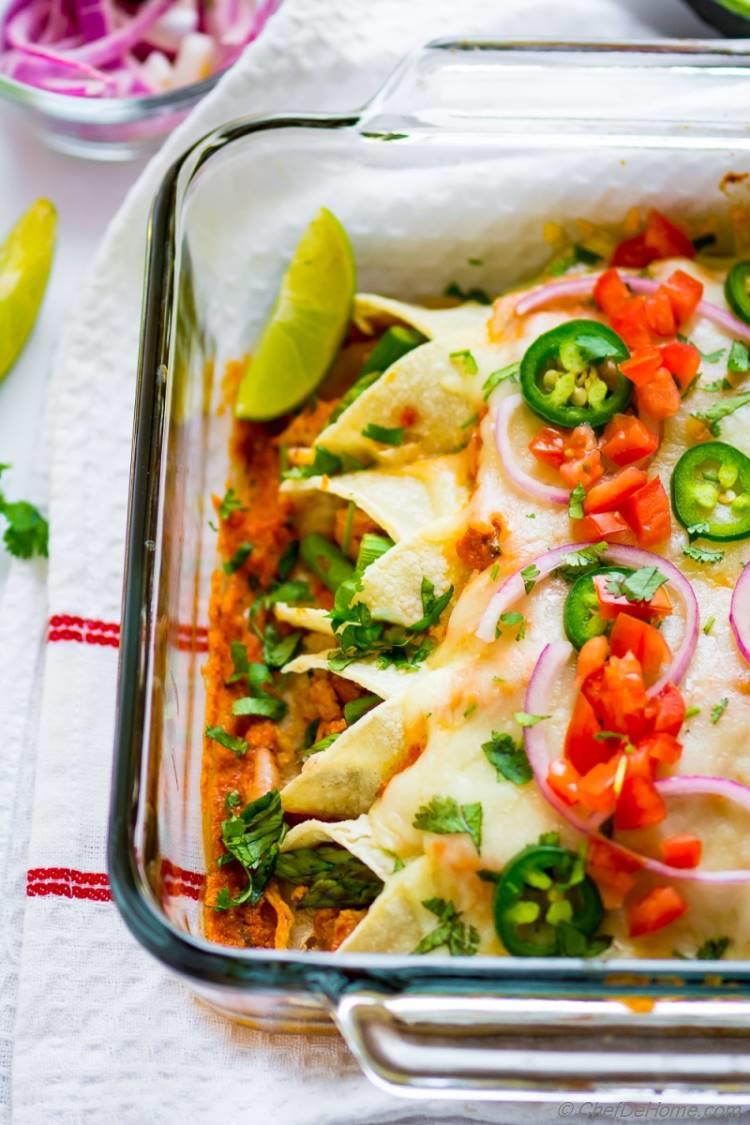 ..Just to share with you! You are welcome! :)
With this recipe, I'm also introducing Vegan Enchilada Sauce made with Cashew Cream. 
This cashew cream sauce is my take on Mexican red enchilada sauce. Recipe is very versatile and also stays good in refrigerator for one week. Not just enchiladas, I love topping it on burrito bowls, or serving it as healthy vegan dip with grilled veggies.
I kept it vegan but also added cashews to make it creamy. Idea was to have option to skip cheese. Cashews make sauce rich and creamy which keeps enchiladas moist, flavorful and also hold'em together.  
I highly recommend trying it! 
(Nut Allergies? then you can replace this sauce with my other Red Enchilada Sauce Recipe. This one is nut free and can be vegan.)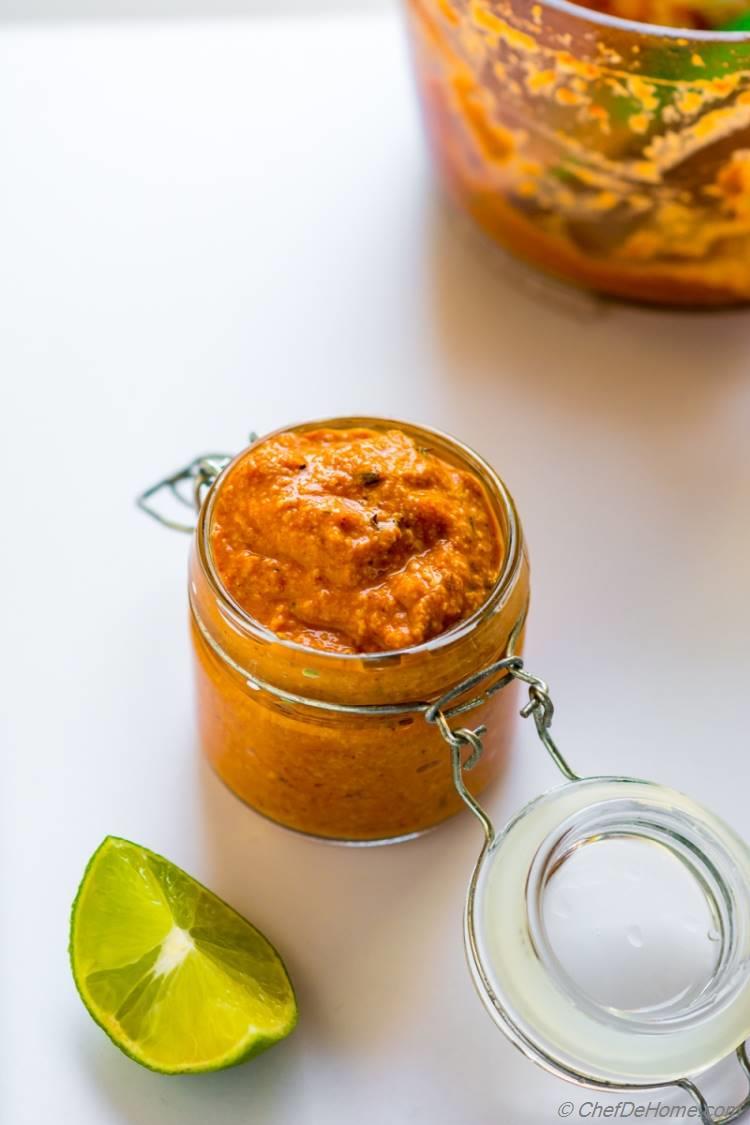 In nutshell, these vegetarian enchiladas are loaded with delicious flavors, veggies, are vegan (when topped with vegan cheese and cream), and also gluten free because I have used gluten free white corn tortillas.
Honestly, the cashew cream enchilada sauce is so creamy that cheese and cream are not even required. You can skip cheese, double the amount of enchilada sauce to keep these vegan and hassle free. That was the whole idea! Chipotle Sofritas of Chipotle Mexican Grill are vegan. Pairing'em with vegan sauce keeps theme alive! Don't you think?
To make vegetarian enchilada in 15-20 minutes,  I assemble the fillings in morning, or a night before. Sofritas I pre-prepare on weekend! A batch of Chipotle Sofritas lasts easily for 4 days in refrigerator and marinade stays good for about a week.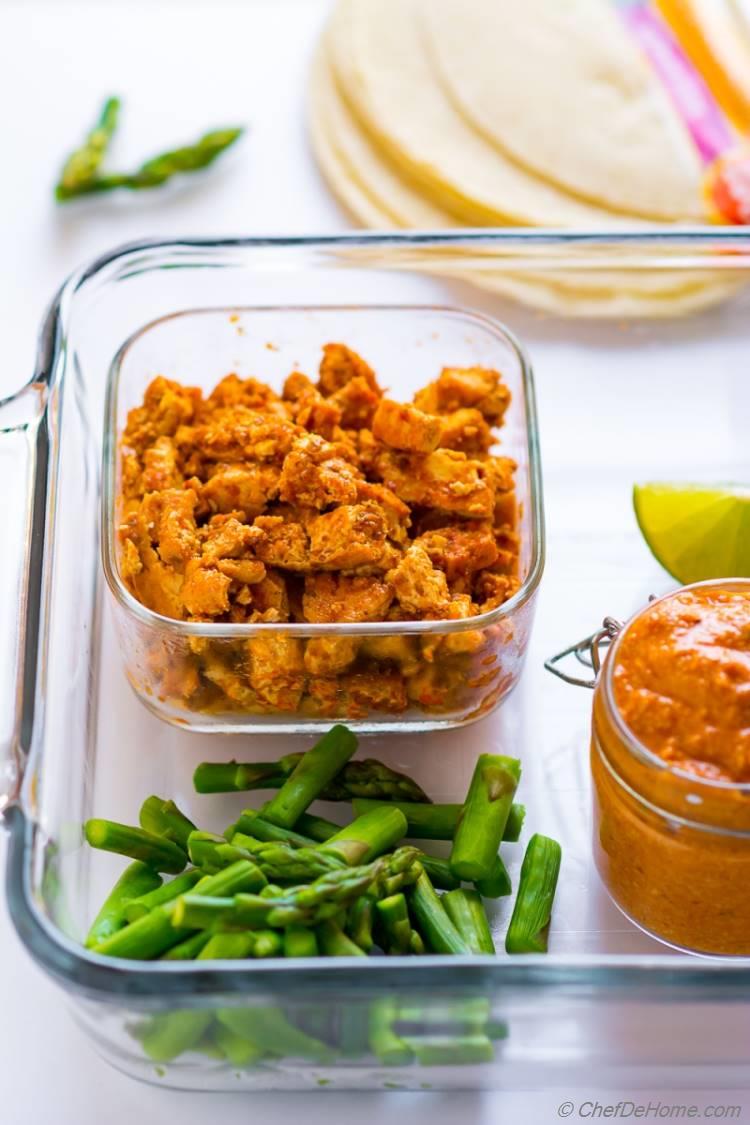 Once I have all the ingredients for enchiladas - sofritas, tortilla, spinach, asparagus, enchilada sauce, and cheese (when using).. the enchiladas come together super fast! A speedy dinner it is!
Vegetarian enchiladas can be served two-ways:
1) Without Baking Single-serve style: Warm tortillas, spinach, and also heat the enchilada sauce. Fill each tortilla with layer of sauce, sofritas, spinach, asparagus. Fold and place in serving plate. Top with more sauce (heated up), cheese, and salsa! Serve lime wedges on side and enjoy!
2) Enchilada Casserole family style: Today, I prepared these casserole style. To assemble enchilada casserole, I first layer a hearty amount of sauce at the bottom of casserole dish. Take one warm tortilla at a time. Slather some sauce, fill with portion of spinach, asparagus, and tofu sofritas. Fold and place in casserole on top of the sauce layer. Repeat with remaining 8-9 tortiallas, slather remaining sauce over the top.
Add cheese.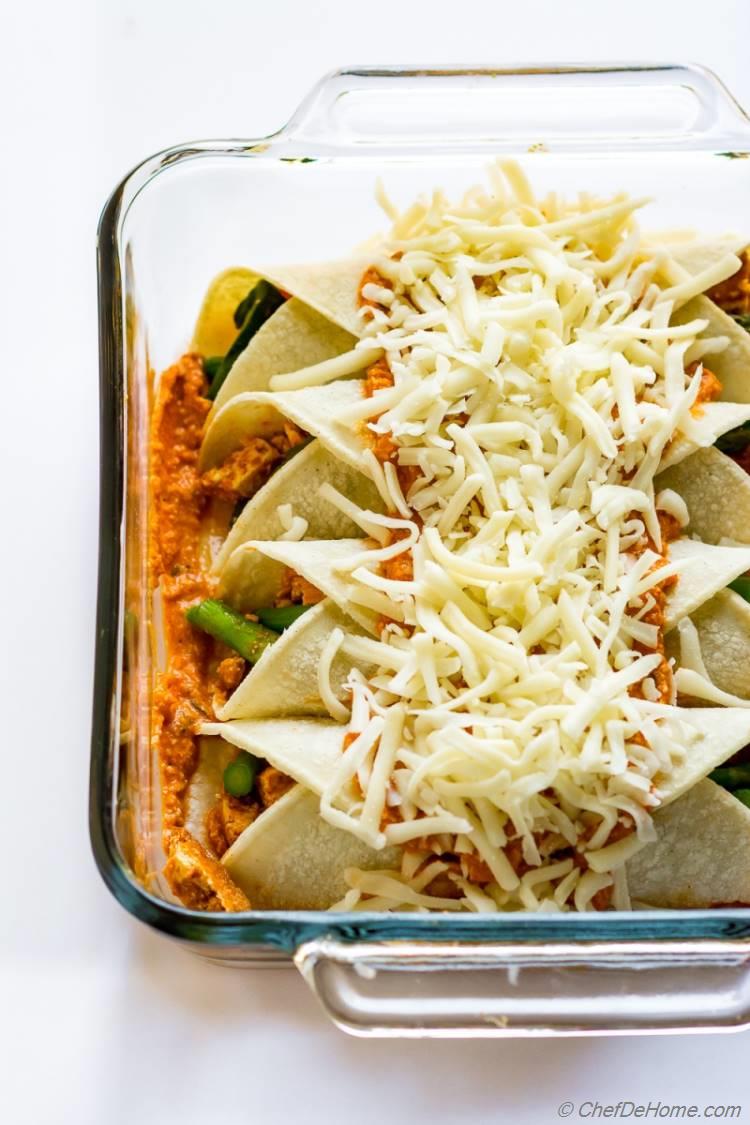 Bake until cheese is bubbling hot. Let it rest for 10 minutes before serving! If serving vegan, skip cheese and add more cashew cream sauce. Bake for 5-6 minutes until filling is heated through.
Top with fresh salsa, cilantro and lime wedges. Serve when still hot and enjoy!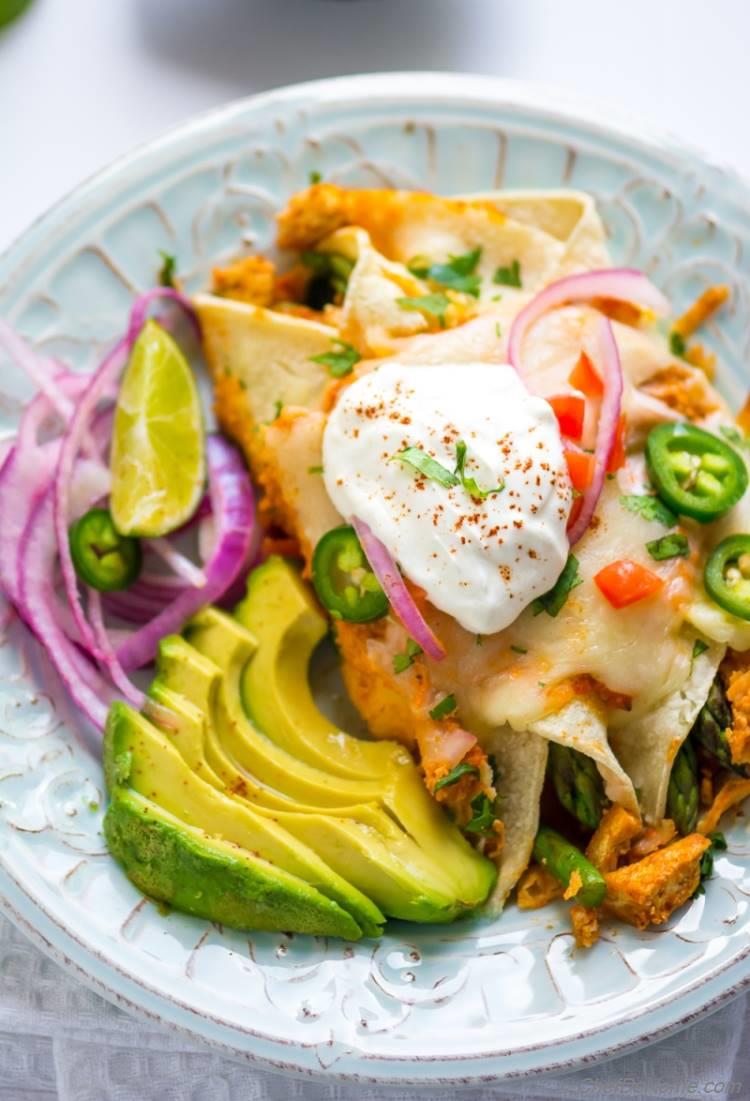 This concludes our Mexican Chipotle Recipe inspired week! I hope you enjoyed?
In retrospect, we enjoyed following recipes this week:
1) Chipotle Salsa
2) Chipotle Barbacoa
3) Today's Chipotle Sofritas Enchiladas!
Friends, I recommend trying these recipes! Specially these enchiladas!! Go get some tofu, chipotle adobo, tortillas and your favorite veggies! Try something different for Mexican Dinner tonight! 
What is your favorite Vegetrain Enchilada Recipe?  Don't forget to share with me!
Have a wonderful weekend! 
-Savita
PS: I'm still debating theme for next week's menu! Thinking Asian! What do you say?
Few side salad ideas for complete vegetarian meal:
Chipotle Tofu Sofritas Vegetarian Enchiladas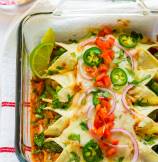 Total Time:
Prep Time:
Cook Time:
Cuisine:
Mexican
(

Main Course

)
Difficulty:
Easy
Yields:
3-4 Servings
- Serves:
4
(

No. of servings depends on serving size.

)
Ingredients
Cashew Cream Sauce
Vegetarian Enchiladas
Directions
1.

Follow recipe here to make Chipotle Sofritas.

2.

For Enchilada Sauce: Boil cashews, and yellow onion with water for 10 minutes or until onions are translucent. Drain water. In a food processor, grind onion-cashew, 1/4 cup water, tomato paste and garlic to a paste.

Additional Notes:

If using cashew butter, only boil onion and DON'T boil butter.

3.

Heat oil in saute pan, add ground paste and cook for 2 minutes. Add all spices. Mix well. Cook until sauce thickens. (1-2 minutes) Mix in vinegar and salt. Set aside.

4.

To make enchiladas, preheat oven at 375 degrees Fahrenheit.

5.

In a casserole dish, layer a hearty amount of sauce at the bottom. Take one warm tortilla at a time. Slather some sauce, fill with spinach, asparagus, and sofritas. Fold and place in casserole on top of the sauce. Repeat with remaining 8-9 tortillas, and any remaining sauce. Add cheese (if using).

6.

Bake for 10-15 minutes or until cheese has melted and sauce is bubbling. Let it rest for 5-10 minutes before serving!
DID YOU MAKE THIS RECIPE?
Tag
@SAVITACHEFDEHOME
on Instagram and hashtag it
#SAVITACHEFDEHOME
© Chef De Home. Post content including video and photos are copyright protected.
We Think You'll Love