Vegetarian Mulligatawny Soup
Healthy and nourishing Sweet Potato, Lentils, and Chickpeas Mulligatawny Curry Soup!
Posted On:

Oct, 16
| Author:

Savita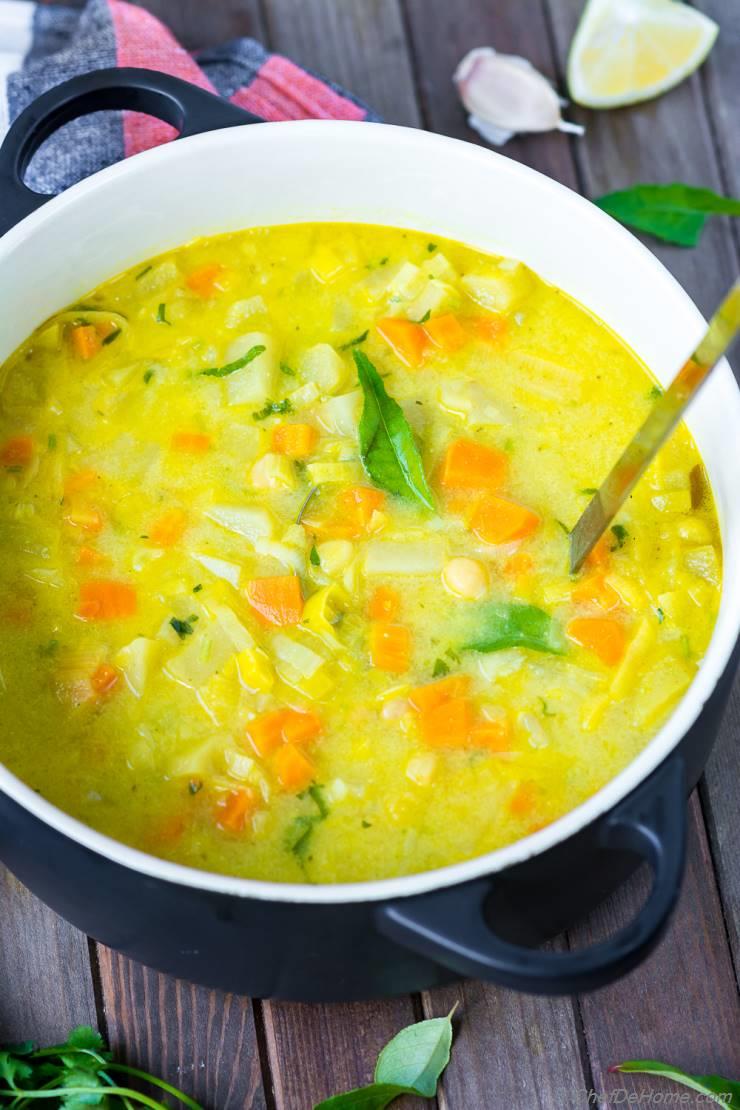 Starting Monday with vegetarian curry soup, famous by name Mulligatawny Soup all over the world. This soup has Indian-European origin and is more popular outside India.
Even though popular outside India, anyone who loves Indian flavor will immediately connect with this soup. Curry powder, lentils, garam masala, coconut milk, turmeric are some of quintessential flavors that shines through this soup and make it bursting with Indian flavors.
Mulligatawny Soup is known more as a Chicken soup with chicken cooked in rich coconut curry broth... but I was in mood of a chunky, filling, protein-rich but vegetarian soup. So I created Chickpea Mulligatawny Soup with lots of vegetables - sweet potatoes, carrot, leek, and star of the show - Green Apple. 
This Mulligatawny Soup is vegan, gluten free, and protein-packed. With apple, coconut milk, turmeric, lentils, and sweet potatoes.. it is also a nourishing healthy soup.
So, let's not wait! Make some Mulligatawny Soup!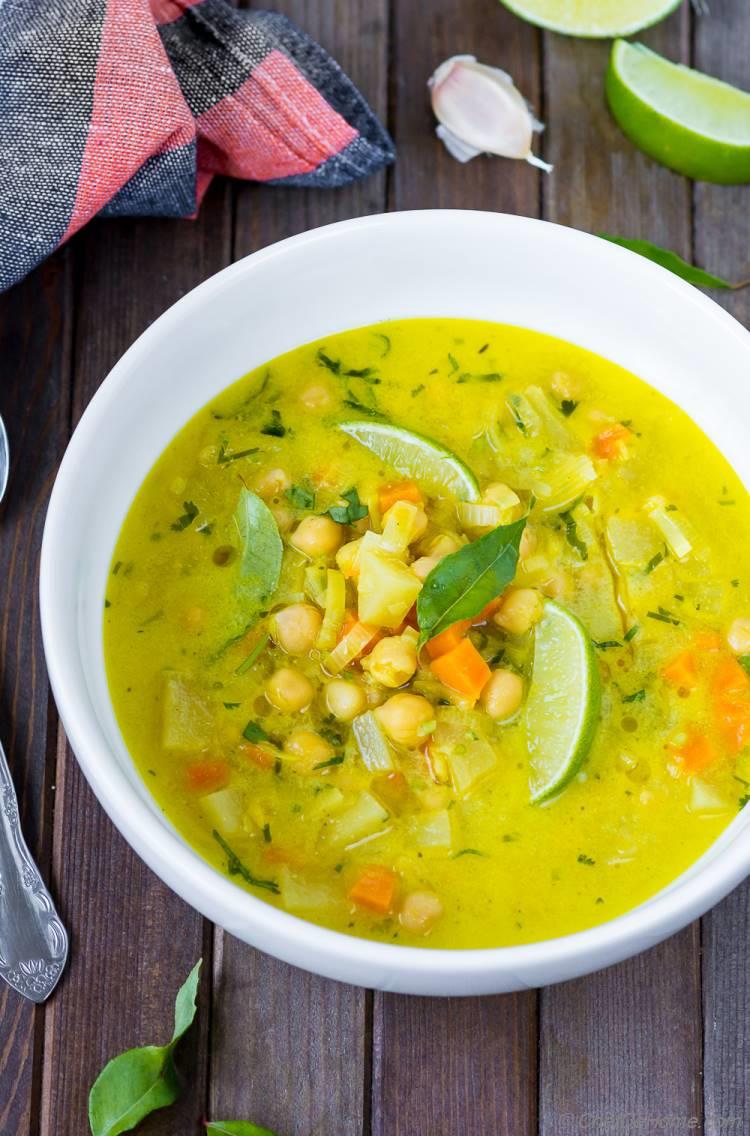 Curry soup in general are my favorite when spiked with spices and have sweet undertone to balance the flavors. When I was working on this recipe, I had one goal in mind. No sugar, no flour or creams yet a spiced soup which is lite and not overwhelming with spices. I'm glad to say this soup has all these:
1) It is lite and gluten free with flavor of coconut milk.
2) It has sweet undertones which are my favorite. You can't stop eating this soup because it disappears leaving a silky sweet mouth feel.
3) It is filling. With chickpeas, lentil coconut broth and veggies. One bowl of this soup and you will be full.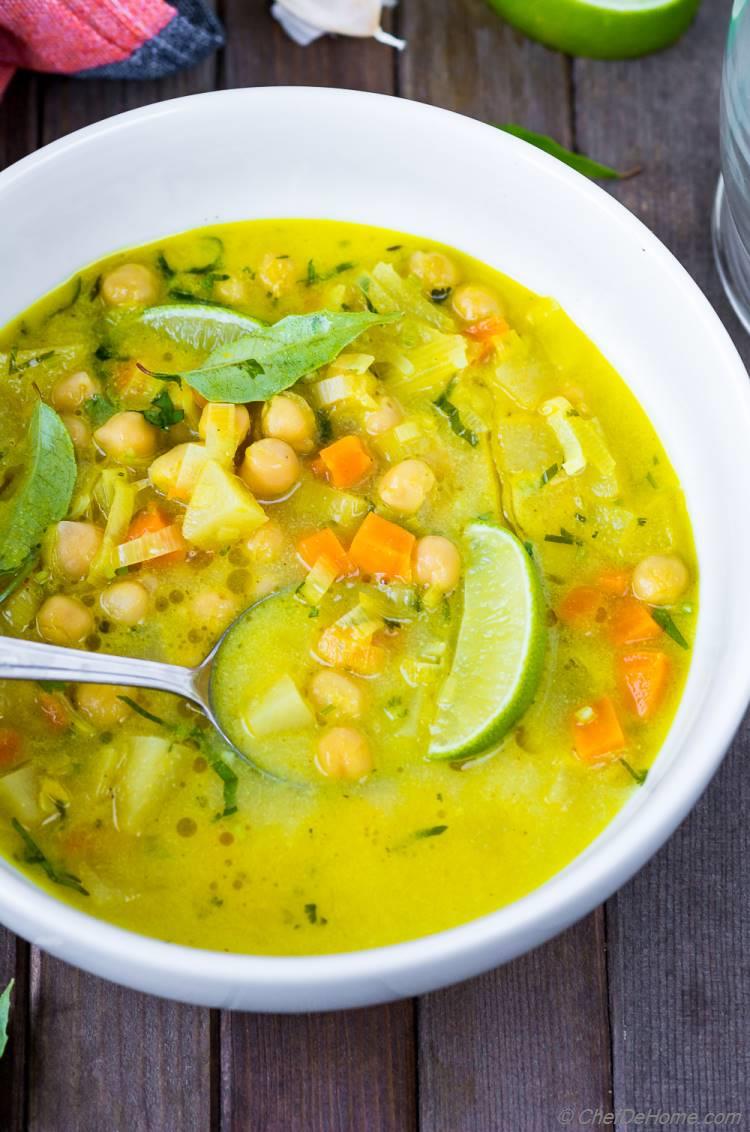 To prepare Mulligatawny soup, I start by cooking the lentils. Lentils are important component of this soup. I pre cook'em. So that I can puree these and add to soup.  This naturally thickens the soup so that no flour or starch based thickeners are required. 
While lentils cook, I prepare rest of ingredients. I used pre-cooked chickpeas for this recipe. So, I rinse the chickpeas and cook'em in with the Mulligatawny broth to make tender. 
Flavor Mulligatawny soup comes from spices - mainly curry powder and gram masala, coconut milk and curry leaf. If you can make a trip Indian store, I highly recommend grabbing a package of curry leaf. It is sold fresh in small pouch of about 1$ each. You would need a couple of leaves to bring out true flavors of Mulligatawny soup. If can't find curry leaf, please do use thyme and some bay leaf to bring depth of flavor in the soup. 
By the time, I have all the ingredients for soup.. Lentils are cooked. Pink lentils cook very fats. In about 10-12 minutes. I then blend cooked lentils with some water and set aside.
To build flavor base, I saute aromatics - leek, garlic, and ginger with carrots. Leeks are not traditional in Indian soups but I like the sweetness of leek and carrots in soups. You can also replace leek with yellow onion.
One the aromatics are tender, spices go in and kitchen becomes Indian restaurant. That aroma of cooking curry powder with curry leaf, garam masala, garlic. With kitchen filled with aroma of spices, you can tell your soup is going in right direction. 

A special ingredient in Mulligatawny soup recipe is Green Apples. These are very important part of this soup and certainly are non-Indian influence in the soup. Even though apple is a fruit, it plays delicious sweet and sour role in savory dishes. I'm totally hooked to adding apples in my soups. Remember I shared Butternut Squash Apple Soup? That was everyone's favorite for the flavor of apples.
Sweet potatoes and chickpeas are my touch on this Indian gone Anglo-Indian soup to make a vegetarian Mulligatawny soup. You care more than welcome to cook some chicken in soup for traditional version but this recipe is completely meatless Monday approved! It is filling, protein-packed with lentils and chickpeas, and still dairy free, vegan and  also gluten free.
For best taste, make sure to use good quality whole coconut milk.
I hope you will enjoy my Vegetarian take on Mulligatawny Soup Recipe.
Have a wonderful start of the week. I see you around soon with another delicious recipes.
-Savita x
Vegetarian Mulligatawny Soup
review

)
(1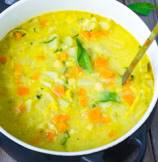 Total Time:
Prep Time:
Cook Time:
Cuisine:
Indian
(

Soup, Side Dish, Lunch, Curry

)
Difficulty:
Easy
Yields:
1.5 quart soup
- Serves:
6
Directions
1.

Cook Pink Lentils

:

In a pot, add washed pink lentils with 2 cups of water, 1/2 tsp salt. Bring boil. Cook until lentils are soft. (10-15 minutes)

2.

Saute Aromatics

:

While lentils cook, heat oil in heavy bottom pot. Add diced carrot, leeks, ginger and garlic with curry leaves and thyme. Sauté for 5 minutes or until leeks are tender.

3.

Cook Spices and Apple

:

Add all spices with 1/2 tsp salt, sweet potato, and apple. Continue saute for 5 more minutes.

4.

Simmer Soup

:

Put cooked lentils with 1/2 cup water and blend to smooth puree. Add it to pot. Also add chickpeas and 4 cups of water (or stock if using). Add 1/2 tsp black pepper. Bring to boil, cover and simmer for 15 minutes or until sweet potatoes are tender. Add coconut milk and continue simmer for 2-3 minutes.

5.

Garnish Soup and Serve

:

Remove from heat, taste and add lime juice (I add up-to 2 tablespoon), salt (I end up adding about 1/4-1/2 tsp). Stir in chopped cilantro. (fish out thyme or curry leaf if prefer). Serve hot and enjoy.
DID YOU MAKE THIS RECIPE?
Tag
@SAVITACHEFDEHOME
on Instagram and hashtag it
#SAVITACHEFDEHOME
© Chef De Home. Post content including video and photos are copyright protected.
We Think You'll Love